The law in Australia says that you need an Australian Financial Services Licence (AFSL) if you are a "person" who carries on a "financial services" business in this jurisdiction.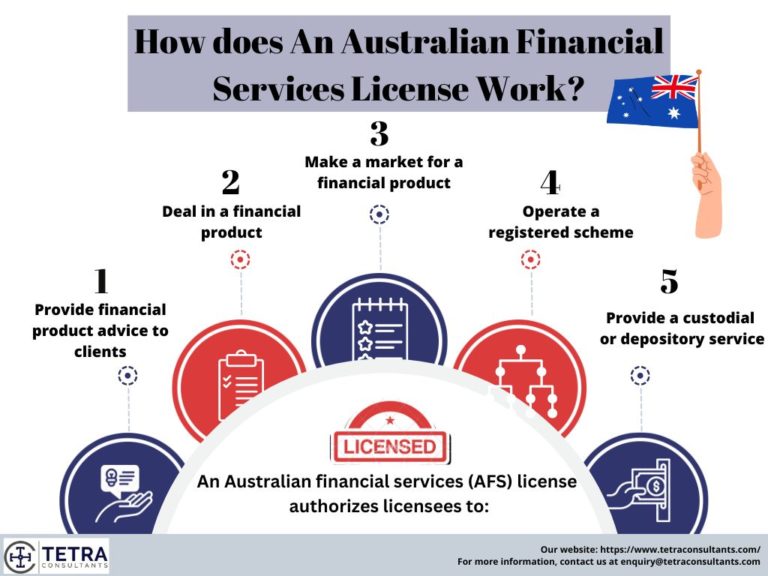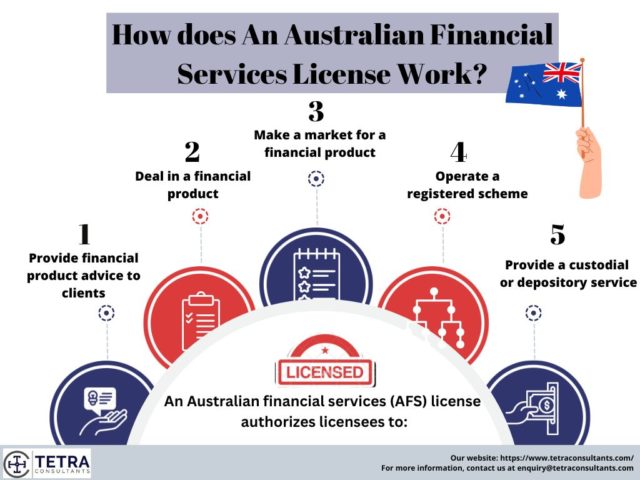 What is an AFS license?
An Australian financial services (AFS) license authorizes licensees to:
Provide financial product advice to clients;

Deal in a financial product;

Make a market for a financial product;

Operate a registered scheme;

Provide a custodial or depository service;

Provide traditional trustee company services.
Accordingly, the first question you need to consider is whether you need an AFS license. The Corporations Act 2001 of Australia Corporations Act) requires people who carry on a business of providing financial services to hold an Australia AFS license (unless they are covered by an exemption or are authorized to provide those financial services as a representative of another person who holds an AFS license). Accordingly, you may need an AFS license if, as part of your business, you do any of the following:
Providing financial product advice: personal advice or general advice. This is the selling part of your business.

Dealing in financial products. This includes applying for, issuing, varying or disposing of a financial product. This is the transaction part of your business. Issuers are, naturally, subject to higher capital requirements.

Dealing also includes underwriting an issue of securities or interests in registered managed investment schemes.

Providing custodial or depository services. You may need this if you hold financial products on behalf of someone else.

Make a market in a financial product.

Operating a managed investment scheme.

Providing a crowdfunding service.

Providing traditional trustee company services.
If you provide the above services or products, you will need an Australia AFS License. Tetra Consultants' team of licensing experts specializes in assisting International clients from the steps to register company in Australia to the process of applying for an Australia AFS License. 
What type of business do you operate?
Below is an indicative list of the different industries that may need to apply for an Australia AFS License.
Financial Planners.

Managed Discretionary Account Providers (MDA Advisers and MDA Operators).

Managed Investment Schemes (Fund Managers, Responsible Entities and Custodians).

Remittance Providers.

Traders (Foreign Exchange, Futures, and Contracts for Differences).

Brokerage Providers (e.g. Insurance and Securities).

Payment Product Providers (e.g. PayPal).

Multi-disciplinary financial institutions, including banks.
An entity may apply to be authorized to provide one or more types of financial services, and/or provide one or more financial product classes to retail and/or wholesale clients. Financial product/service delineations and boundaries are complex and it is easy to overlook or inaccurately define an aspect of your activities. There are a number of other things  we will need to determine before we apply for an Australia AFS license, including the following: 
To whom will you be providing financial services?  Will they be 'retail' clients or 'wholesale' clients or both? 

If you are providing financial product advice, then will you provide general or personal advice? 

If you intend to operate a registered scheme, then what kind of assets will the scheme own?  Please note, except in limited circumstances, ASIC will require that you have made an application to register a scheme before it will grant you an AFS license to operate the scheme. 

Which entity will make the application? Individual, partnership, trustee of a trust, proprietary company, or public company?
Steps to apply for Australia AFS License
While we would love to provide a standard process for AFSL applications and variations, we have realized after preparing hundreds of applications over the years that the standard template process does not work and is not a 'one size fits all.  Instead, our licensing team provides a tailored quote after speaking with you about your business plans. However, our team has summarized the prevalent steps when applying for an Australia AFS License to include:  
Planning and strategizing 

Setting up of an entity in Australia

Meeting the regulatory requirements like the number (and experience) of responsible managers you nominate

Preparation of documents and license applications including compliance manual

Applying to the regulatory (ASIC)

Liaising with the regulatory  (ASIC) for any additional information
Conclusion:
Engage

Tetra Consultants

If it is unclear clear whether you need an Australia AFS License, or which authorizations are appropriate for your business, we suggest you obtain formal advice from our team of licensing experts (which gives you protection in the event of ASIC scrutiny). There are serious penalties and repercussions for operating without an Australia AFS License or without the correct authorizations.

Tetra Consultants can additionally assist you with applying for other

offshore financial licenses

in the choice of your jurisdiction. 

Contact us

to find out more on how to apply for an Australia AFS License and register company in Australia in order to ensure the smooth operation of your financial entity. Our team will revert within 24 hours.