As one of the pioneers in blockchain technology, Estonia is one of the best places to open a cryptocurrency company due to the relatively low fees for obtaining a license. Before setting up a cryptocurrency business in Estonia, investors are required to obtain an Estonia crypto license. Another license many fintech firms may apply for is the crypto wallet license in Estonia. Estonia crypto regulations are stringent as they are in accordance with the Anti-Money Laundering (AML) and Combating the Financing of Terrorism (CFT).
The crypto wallet license provides companies with access to a virtual currency wallet service to store cryptocurrencies. Based on public-key cryptography, cryptocurrency wallets allow users to send and receive cryptocurrencies over the network.
There are 2 types of wallets:
Cold storage (offline wallets – such as hardware wallets and paper wallets for cryptocurrency) 

Hot storage (online wallets) 
Cold wallets can store digital coins offline whereas hot wallets include conventional and multi-currency wallets for cryptocurrencies.
A single cryptocurrency license in Estonia allows for the provision of cryptocurrency wallet services for both cold and hot storage, as of 2023
Changes to the application of crypto licenses
Previously, in the case where a company needs to obtain both the crypto exchange license and crypto wallet license, 2 separate applications must be submitted and two separate licenses are issued.
However, under the new regulatory framework, the Estonian Financial Intelligence Unit (FIU) provides a license called the Virtual Currency Service Provider, which has consolidated the previous license forms into one.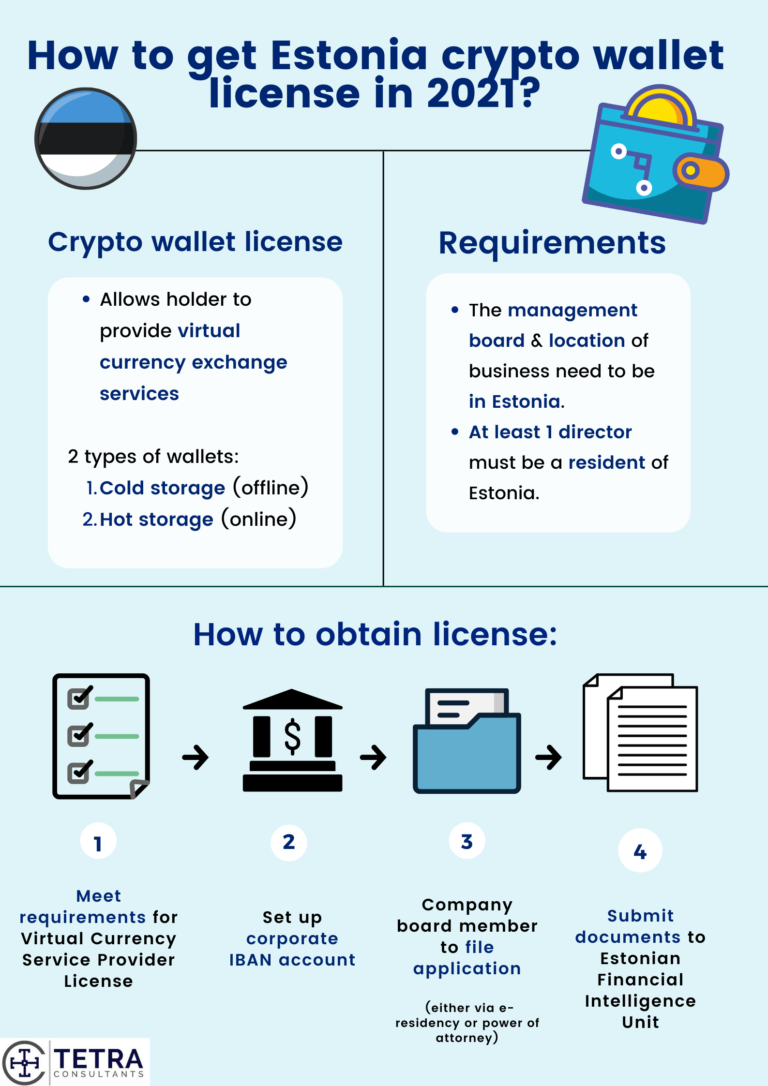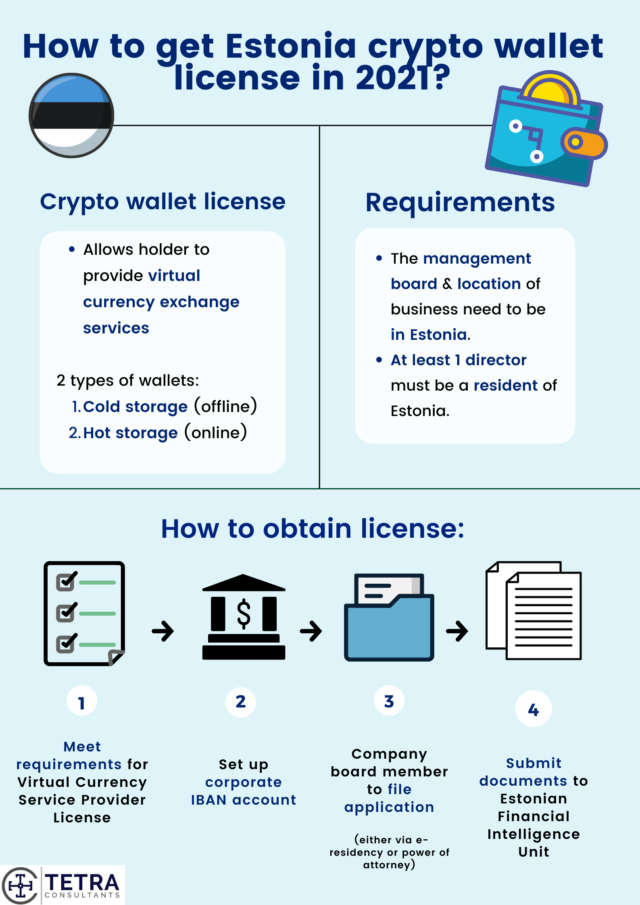 How do investors obtain a
crypto trading license
in Estonia in 2022?
The application for crypto license is to be filed by a Board member of the company. The state fee for filing an application is 3300 Euros and is paid to the Estonian Ministry of Finance. The minimum share capital of the cryptocurrency business is at least 12,000 Euros, which can be used to finance the company's activities. The issue of the license is examined within 60 business days after application and is valid for a timeless period.
It should be noted that opening a corporate IBAN account before applying for a license is necessary. In addition, the management board and the location of the business need to be in Estonia and at least one director must be a resident of Estonia.
The license application can be done by either:
Submitting electronically using an e-residency card, or

Issuing a power of attorney document to authorize a company representative
Documents required for the application of a cryptocurrency license
It is mandatory to obtain a cryptocurrency license to legally operate a cryptocurrency business in Estonia. In order to obtain the Estonian cryptocurrency license, the following documents must be submitted to the Estonian Financial Intelligence Unit (FIU):
Contact details of the business owner, such as phone number, email and website address.

Personal documents of shareholders.

Procedural rules and internal control regulations. The document is to be developed in accordance with the Money Laundering and Terrorist Financing Prevention Act.

Documents proving the absence of criminal records of the shareholders/board members.

Completed application form.
Conclusion
Estonia offers one of the most friendly environments for entrepreneurs to work with cryptocurrencies or blockchain technology. Therefore, it is important to obtain an appropriate crypto license if the company engages in cryptocurrency activities. This is to avoid the serious consequences of operating without a proper license, such as being fined by the regulator or having the company's reputation in the industry be damaged.

Tetra Consultants provides our clients with an easy, hassle-free way to obtain a crypto wallet license in Estonia. Our team of experts will guide you through the full application process, ensuring that you successfully meet the new requirements. Contact us now for a free, non-obligatory consultation and we will revert within 24 hours