Thinking of setting up an offshore company in Cyprus? Cyprus is a crucial European business hub which provides significant advantages to foreign investors such as a thriving economy, a low tax haven and a welcoming territory for foreign investments. Moreover, Cyprus has one of the lowest corporate tax rates in Europe and the EU of 12,5% and has an extensive network of double taxation agreements. With Cyprus offshore companies offering a high degree of privacy, coupled with simple and straightforward procedures to register company in Cyprus, it is no wonder Cyprus is a leading choice among both local and foreign investors. Whether you are an aspiring entrepreneur or an experienced business owner, we will explore the steps to register offshore company in Cyprus.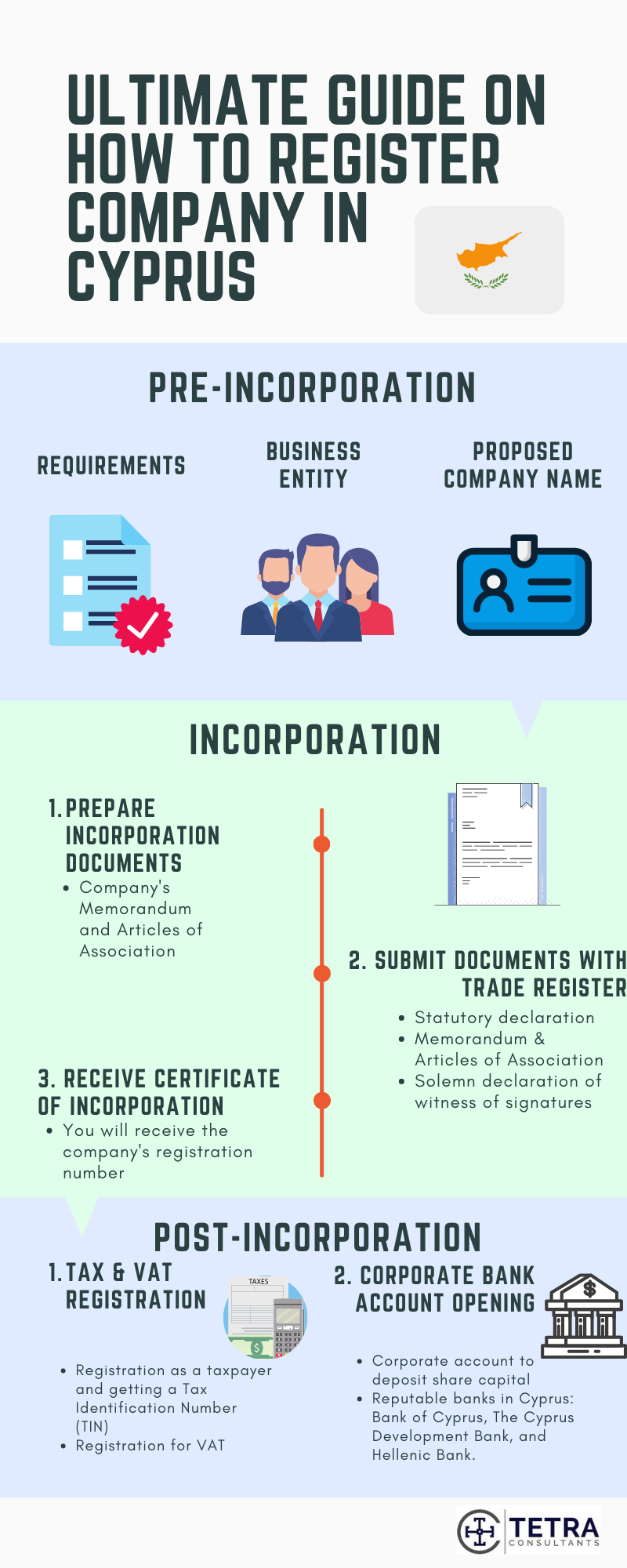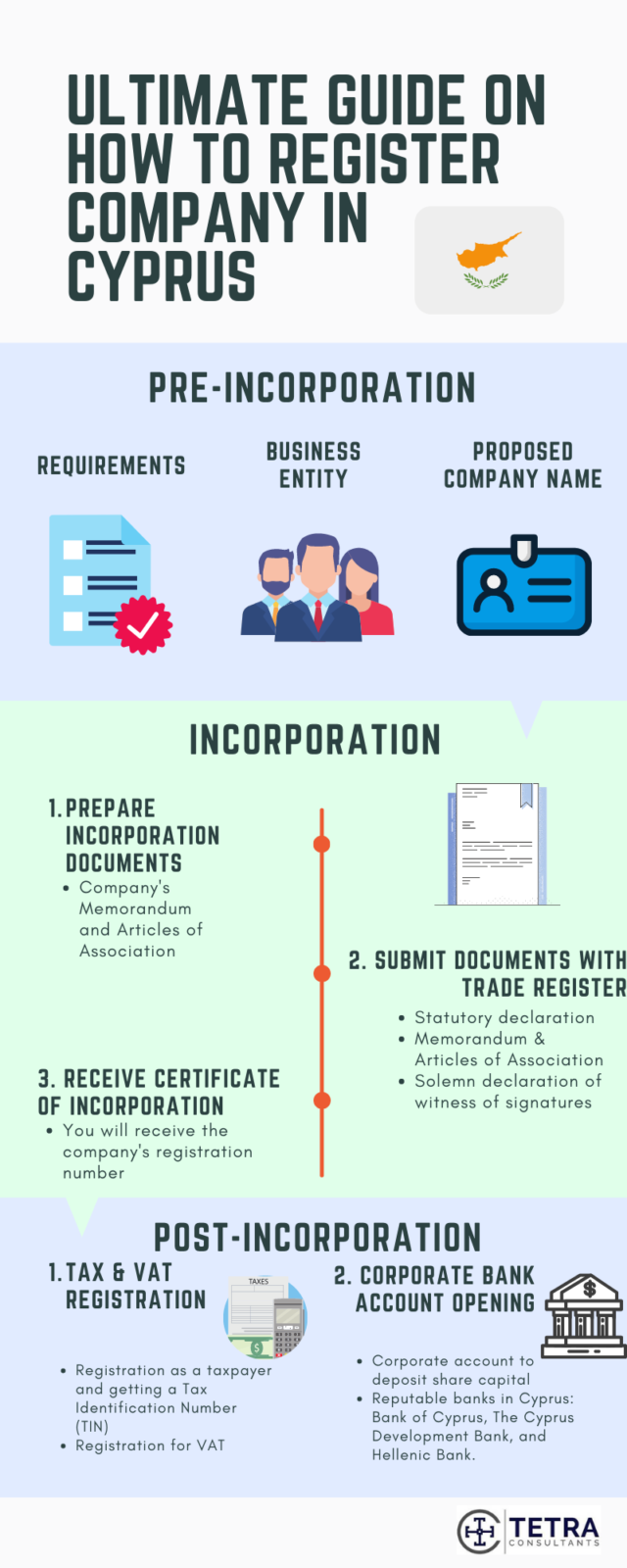 Pre-incorporation procedures
While setting up a company in Cyprus brings about a myriad of benefits, here are 3 things you will have to know before you incorporate your offshore company with the Cyprus Registrar of Companies.
1. Requirements to start an offshore company 
To open an offshore company in Cyprus, there are several conditions the foreign company has to comply with. There are no restrictions on the nationality or residence for the shareholders and directors. Companies who desire anonymity may use nominee shareholders, on the condition that the Central Bank is informed of the identity of the beneficial owners. 
The term offshore company is seldom utilized these days as it has been replaced by International Business Company (IBC). 
With full foreign ownership in a Cyprus offshore company permitted, both local and foreign investors are welcome to open an offshore company in Cyprus. The requirements are minimal, such as:
Minimum of 1 shareholder and maximum of 50 shareholders (Private Limited companies) 

Minimum of 7 shareholders (Public Limited company)

At least 1 director (Private Limited company)

At least 2 directors (Public Limited company)

1 secretary 

No minimum share capital to be deposited upon registration, except for Public Limited company with 25,630 euros

Registered office address in Cyprus
2. Choose a legal entity
Cyprus offers different types of business entities for you to choose from, where each business entity caters to different types of business activities. Foreigners who wish to operate business in Cyprus can choose between these 8 business entities, which includes:
Private Limited Company by shares

Public Limited Company by shares

Limited Liability Company by guarantee

General Partnership

Limited Partnership

International Trusts

Branch Office

Sole Proprietorship
Private Limited Company by shares, also known as a Cyprus limited liability company, is the most common and popular type of company registered by foreign investors in Cyprus.
Before you register a business in Delaware, it is crucial to fully understand your business model before choosing the most suitable business entity. Some considerations you should take into account include the type of business activity, tax obligations as well as potential personal liability. 
3 . Reserve company name with the Registrar of Companies
Prior to starting a business in Cyprus, you must first decide a proposed name for your company and reserve a company name. Before you submit an application for approval of the proposed name to the Registrar of Companies, it is recommended that you conduct an online search on the business entities' register to check the availability of the name. 
Your proposed name should not be too similar to an existing business name, misleading or undesirable. If the proposed name contains restrictive words or expressions, you will have to obtain the necessary content of the competent governmental authority.
The application for approval of the name has to be submitted to the Registrar of Companies, via e-filing, by hand or by post. The application cost 10 euros for every proposed name and there is an additional fee of 20 euros for every proposed name if you wish to accelerate the name approval process. You should submit 3 different names for approval to ensure its uniqueness. Once the name is approved, you can access the name approval results via e-services.
You will need to submit the application for the company's incorporation within 6 months during which the approved proposed name is reserved. 
Incorporation procedures
1. Prepare company incorporation documents 
Just like any other legal entity registered in Cyprus, an offshore company also takes the same form. You will need to prepare the company's Memorandum and Articles of Association. You may wish to engage a professional to draft the incorporation papers of an offshore company in Cyprus.
2. Submit company incorporation documents with Cyprus Trade Register
Once the incorporation documents are prepared, you will have to submit them with the Cyprus Trade Register. Additionally, the following documents attested by an enlisted legal counselor/advocate in the Republic of Cyprus have to be submitted: 
A statutory declaration (form HE1) signed and sworn before the court by the entrusted lawyer

Memorandum and Articles of Association in accordance with the proposed type of the company, duly signed in the Greek language. 

Solemn declaration of witness of signatures

A certified translation of the Memorandum and Articles of Association in a language other than Greek, either by an affidavit or by sworn translator of the Republic of Cyprus, in case you wish to create a file of translations for obtaining certified copies of the Memorandum and articles of association in a foreign language.
3. Receive Certificate of Incorporation
After all documents are submitted and registered, your company will receive the Certificate of Incorporation, where it will state the company's registration number. 
The company is also able to obtain other necessary legal copies and certificates upon request, such as Certificate of Shareholders, Certificate of Directors and Secretary, Certificate of the Registered Office Address, Certified copy of the Company's Memorandum and Articles of Association, Certified copy of the Certificate of Incorporation.
Post-incorporation procedures
1. Tax and VAT registration
Once you have obtained your company's Certificate of Incorporation, you will need to register for taxes and Value Added Taxes (VAT). You are required to obtain a Value Added Tax Number with the Tax Department.
2.  Corporate bank account opening
Once the Cyprus company registration is completed, you will now need to open a corporate bank account to deposit the share capital. Depending on your business goals and needs, your company can choose to set up a Cyprus business account or an international offshore account. You can do so with reputable banks in Cyprus, such as Bank of Cyprus, The Cyprus Development Bank, and Hellenic Bank. 
While nominee directors are not necessary for Cyprus business setup, you may still require one to set up your Cyprus bank account.
Offshore company as a Cyprus Holding Company
Another way to use an offshore company in Cyprus is that of a holding company. A Limited Liability Company is usually used to structure a Cyprus Holding Company. A holding company allows businesses to diversify investments across several industries according to the investors' interests and the advantage of the company.
It is advantageous to open a holding company in Cyprus as they are subject to a special tax regime and are entitled to various tax exemptions.
Cyprus business set up is hassle-free if you are familiar with the entire incorporation process. Tetra Consultants strives to provide our clients with a seamless experience when setting up a company in Cyprus. Our team of experts will ensure that your Cyprus company can be operationally ready as soon as possible.