Setting up an offshore company in Dubai has been highly attractive in recent years due to the high level of confidentiality offered to businesses, the lenient requirements for accounting and auditing practices and the absence of corporate taxes. The three main free zones for offshore company setup in Dubai are namely the Jebel Ali Free Zone, Ras Al Khaimah (RAK) and the Ajman Free Zone. In order to begin Dubai company registration, it is essential to first understand how to set up an offshore company in Dubai.
How to set up an offshore company in Dubai?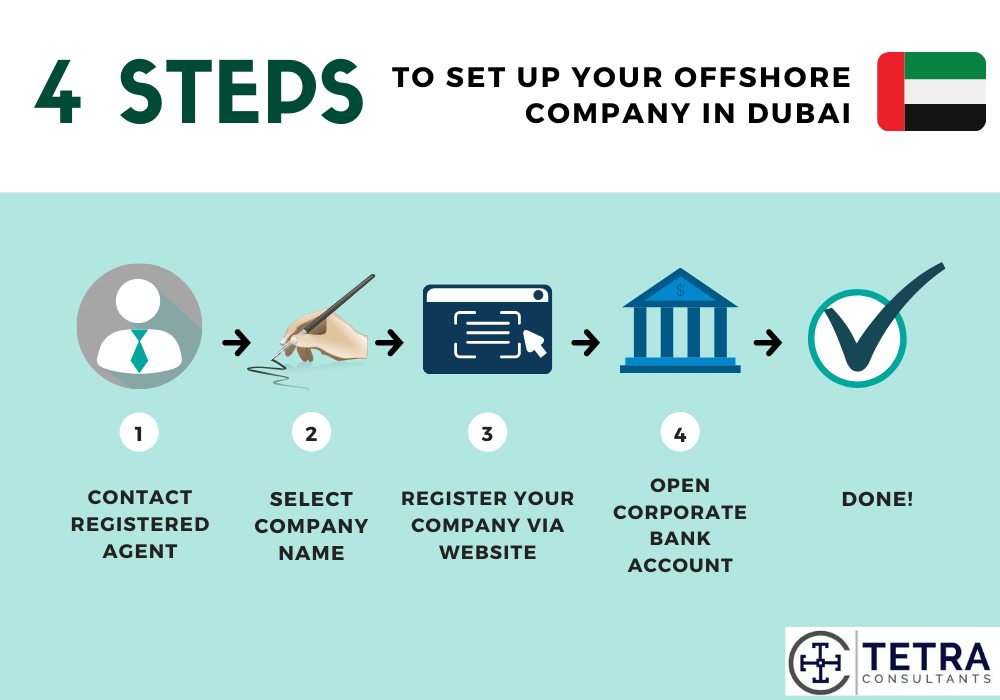 #1 Contact a consultant
Tetra Consultants provides the full-service package of Dubai business set up including company formation, corporate bank account opening, free zone set ups and residence visa application. Depending on your business needs, our team of experts will advise on the requirements, timelines and procedure of your Dubai business set up. Our main goal is to ensure that you are legally able to conduct business in Dubai and have a corporate bank account with a reputable bank to facilitate your payments.
In order for Tetra Consultants to provide accurate advice, some of the information we require includes intended business activity, jurisdictions of customers/suppliers and nationalities of directors and shareholders. Once we receive this information, our team will send over a business proposal on the most suitable business entity and tax structure.
#2 Select the name of your company
Next, you will want to decide on the name of your company. There are several restrictions to trade names in the UAE. For example, the name of your company cannot be similar to the names of existing businesses and established international brands. You are also not allowed to use the names of cities in the UAE or 'UAE' itself, or begin your company name with 'International', 'Global' or 'Middle East'. Some industry-specific or financial-related words such as 'school' and 'bank' are generally not allowed and will require further approval from the relevant authority in the industry.
To check for the availability of your desired business name, you can do a quick trade name search on the Department of Economic Development.  Reservation of your company name can be done through your registered agent.
#3 Register your offshore company with the relevant authorities
The next step is to submit and complete your offshore company application form. This can be done from the official website of each jurisdiction. The documents required to register business in Dubai can be found on each jurisdiction's official website and will differ slightly depending on the specific jurisdiction. Typically, documents required include a passport copy, proof of residence, proof of wealth and a bank reference letter.
The officeholder requirements for a new business setup in Dubai also vary. For a Jebel Ali Free Zone Authority (JAFZA) offshore company, there need to be at least 2 directors, but for RAK and Ajman offshore companies, only 1 director is needed. All three types of offshore businesses are required to employ a company secretary and can be wholly foreign-owned. While corporate shareholders are allowed for both RAK and Ajman offshore businesses, they are not allowed for JAFZA.
#4 Open a corporate bank account
The last step to completing your new business set up in Dubai is the opening of a corporate bank account in Dubai. This can be quite tricky because it requires more financial and background checks for both the company and shareholders. It is also difficult to open a Dubai offshore bank account remotely because most of the document signings require the physical presence of either the director or a shareholder.
Conclusion
The process to start a company in Dubai is a complex one due to the large amount of paperwork required to register the company and open a corporate bank account. As such, Tetra Consultants highly recommends you to speak to an experienced consulting firm with regards to how to set up an offshore company in Dubai. 
Tetra Consultants will provide you with a fast and easy way to complete your Dubai company registration through our service package, which includes the incorporation of your business with the Registrar of Companies, provision of a registered agent and a registered address, opening of a corporate bank account and annual accounting and tax services in Dubai. Our team will also negotiate with the banks in the UAE to conduct a conference call instead of a physical meeting for the opening of the corporate bank account. In the event that travel is required, Tetra Consultants will send a representative to accompany you to the bank meeting.
Contact us now for a free non-obligatory consultation to find out more about how to set up an offshore company in Dubai.
Prepared by: Lim Yi Xuan and Jessica Zhou