Singapore has always been a popular choice for investors seeking to diversify their holdings and risk, or expand into the Asia-Pacific region, and for good reason. In 2020, Singapore has been ranked 2nd in the World Bank Ease of Doing Business index, and in particular has ranked 4th in its ease of Starting a Business, with a score of 98.2. Beyond the ease of doing business, deciding to set up investment holding company in Singapore also offers multiple key benefits, such as limitation of liability and protection from business risks, unrestricted foreign investments and tax incentives. Hence, this offers your business the flexibility to address the challenges brought about by today's globalized and volatile economy. Let our team of experts bring you through what exactly is an investment holding company, and how you can register company in Singapore.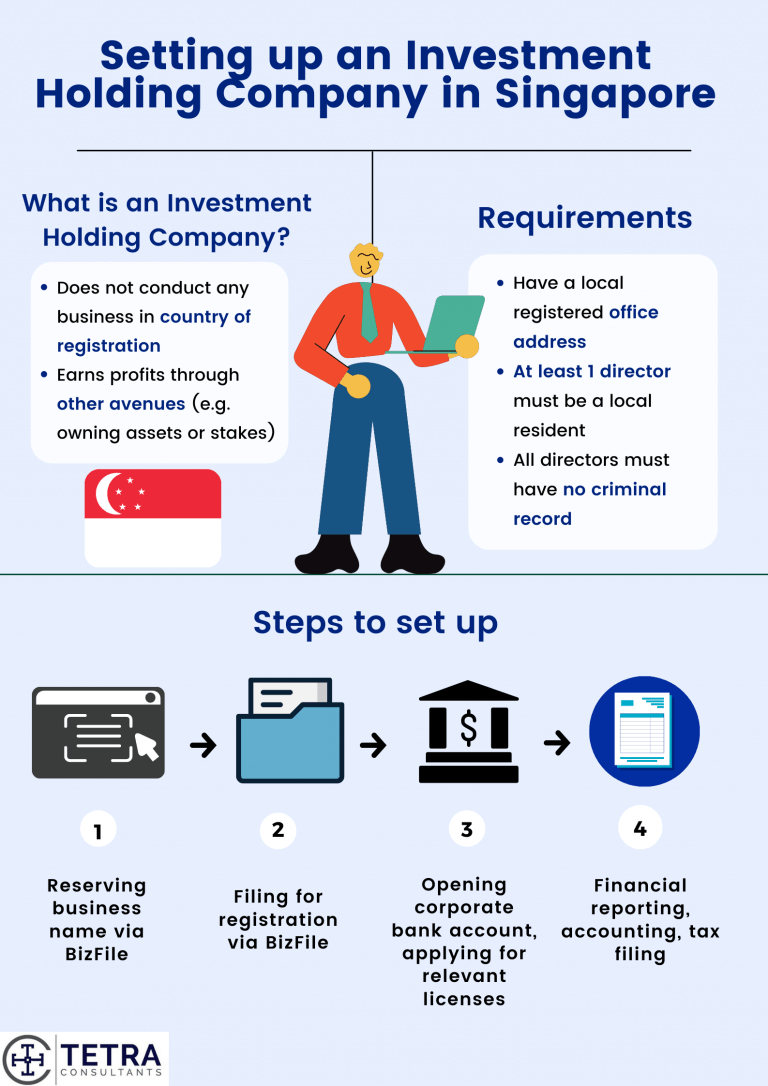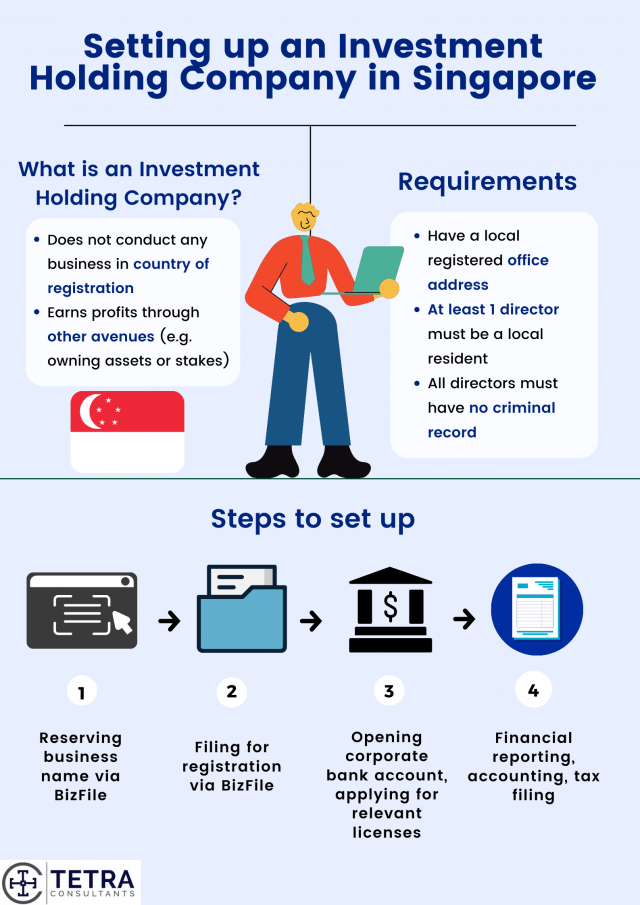 What is an investment holding company?
Investment holding companies are special in that they do not conduct any physical business operations in their country of registration, but rather generate profits through other avenues. Such avenues include owning a stake in other companies, or by owning a mixture of either tangible or intangible assets which may include property, stocks, artworks or patents.
Prerequisites to set up investment holding company in Singapore
There are a few prerequisites to setting up an investment holding company, and these are dependent on the structure of the company you intend to set up. There are a few options available, but the one we tend to recommend to our clients is the private limited company. This is because this offers the previously mentioned benefit of reduced liability, and also allows for continuity and succession. Unlike a limited proprietorship, ownership of a private limited company will continue even with the death of the owner or bankruptcy. For these reasons, the subsequent steps listed for how to set up a new company in Singapore will be based on private limited companies.
Singapore has no requirements on initial paid-up capital, making it relatively cheaper to start a business in Singapore. However, companies require an approved local registered office address, and directors need to fulfil a more specific set of requirements. At least one director must be a local resident (either Singaporean citizen, permanent resident or employment/EntrePass holder), and all directors must also have a clean criminal record.

How to set up investment holding company in Singapore
Once all these requirements are fulfilled, companies may proceed with the actual Singapore company registration process, which can be completed online using the BizFile web portal. The chosen name should also abide by a few guidelines. Firstly, it should be unique and not identical to an existing company. Secondly, it should not be unconstitutional, unlawful or contain any misleading, offensive, or vulgar elements. Lastly, stricter checks might apply by the relevant government agencies if the name contains specific terms (e.g. a name will be referred to the Ministry of Education if it contains "school", and the Ministry of Finance also has certain prohibitions on naming). Once all these requirements are fulfilled, the company will need to pay the $15 registration fee. The approved name will be reserved for 120 days, after which the name will be released and can be used by other companies.
Companies can then file for registration on the same BizFile portal. The following information should be prepared in order to expedite the Singapore company registration process:
A brief description of business activities and details of the company (including registered address).

Particulars of the shareholders, directors as well the company secretary. 

Foreign company owners and companies must separately submit a copy of their passport and residential address proof, as well as Memorandum & Articles of Associations, whilst Singapore Residents should submit a copy of their National Registration Identity Card. The fee paid for this will be $300.
Final steps and compliance measures
The final steps to set up a new company in Singapore are to ensure that the company continues to abide by all regulations so that business operations can continue smoothly. Certain businesses will also require you to apply for an additional license through the relevant authorities. Most businesses will need a corporate bank account to facilitate any payments to and from customers and suppliers. For this, we would recommend it to be out of Singapore, in reputable locations such as Switzerland or Hong Kong so that the company can qualify for a zero corporate tax rate. Do note that this has the additional requirement of needing the board of directors to be located out of Singapore, and for the customers and suppliers to be out of Singapore as well.
Other financial reporting, accounting and taxation requirements to be aware of include the need for proper bookkeeping to be done and filing for annual corporate tax. The company must also convene an Annual General Meeting and present its annual financial statements for shareholder approval.
Tetra Consultants provides our clients with an easy, hassle-free solution to start a business in Singapore. Our team of experts will guide you through the full set-up process, including appointing a qualified nominee director, completing the online company registration and opening a corporate bank account.
Contact us now for a free, non-obligatory consultation and we will revert within 24 hours.