With well-developed infrastructure and a highly skilled labour force, Japan is one of the leading economies worldwide. Acting as a gateway to the Asian market and being well connected to the world through its ports and airports, Japan has attracted foreign investment. Besides, the business-friendly policies including the various tax benefits, simpler regulations, and Intellectual Property protection has subsequently led to an increase in foreign investment in Japan. This article will provide the answers to the question "How to start a business in Japan in 8 easy steps?" and highlight the steps you need to take to register company in Japan.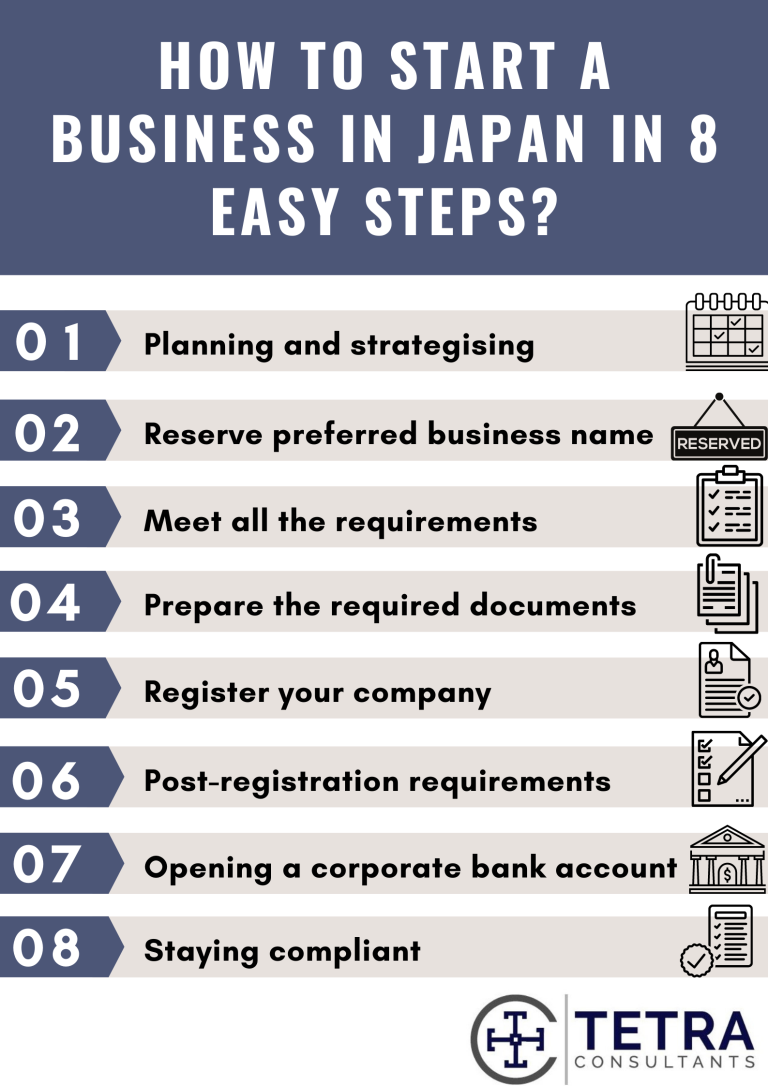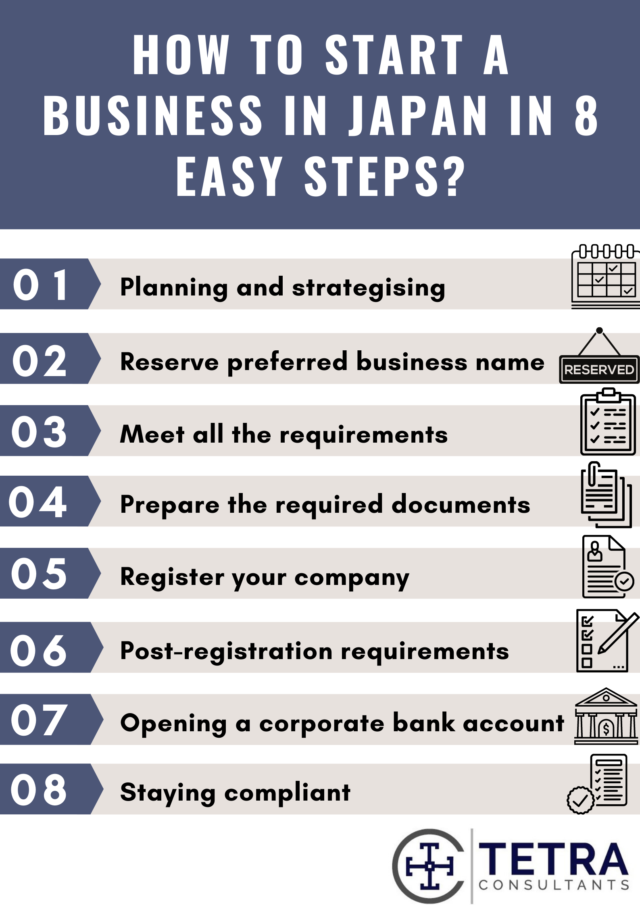 How to complete Japan company registration?
In order to start a business in Japan, you must follow these steps:
Step 1: Planning and Strategising
You must first decide the business you wish to incorporate in Japan. 

Following this, you must prepare your business plan describing your business activities, regulations of the business, and more. 

You must then proceed to decide on a business structure that is best suited for your business. The business structures available in Japan include:
Sole Proprietorship (Kojin Jigyo)

General Partnership (Gomei Kaisha)

Limited Liability Partnership (Goshi Kaisha)

Limited Liability Company (Kabushi Kaisha)

Joint Stock Company (Godo Kaisha)

Branch Office (Shiten)

Representative Office (Chuzaiin Jimusho)

Japanese Free Zone Company
Choosing a suitable business structure may be cumbersome because you need to understand the requirements of each entity, their benefits, and their drawbacks.

Therefore, Tetra Consultants will understand your business activities, requirements, and long-term goals before recommending a suitable business entity for you. 

For more information on the business structures available in Japan, please refer to our

website

.
Step 2: Reserve your preferred business name
Our team at Tetra Consultants will check for the availability of your preferred business name and reserve it with the Registry Office.

 

The chosen business name should not be vulgar, misleading, or offensive. 
Step 3: Check to see if you meet all the requirements
Some of the general requirements you need to meet to incorporate your business in Japan are:
At least one director

At least one shareholder

Local registered office address

No minimum paid-up capital
There are some additional requirements that you need to meet, depending on your chosen business entity.

Tetra Consultants will inform you of the requirements set by the government and ensure that you meet all of them. We offer our clients various services including our nominee director service, assistance in securing an office space, and more.

You will also be required to deposit an initial paid-up share capital in a bank account. Since it is difficult to open a personal bank account in Japan for a non-resident, it is advisable for the company to appoint a local representative director who will act on behalf of the company. The capital can then be deposited in his or her personal bank account.

Conversely, the paid-up capital can be deposited in the bank account of a third party.
Step 4: Prepare the required documents
The required documents we need to have before beginning the company registration include:
A letter of agreement from the representative director who is to assume office in Japan

For a foreign company, an affidavit that is notarised by the relevant authorities in the home country or their Embassy in Japan

Proof that the paid-up capital is deposited in the bank account
On receipt of the above-mentioned due diligence documents, Tetra Consultants will prepare all the additional required documents including the Articles of incorporation and the Notification of the Business's official seal. 

We will then get it notarised for you with the Notary Public's Office (Koshonin Yakuba), in the region of your registered office address.
Step 5: Register your company
Tetra Consultants will proceed to register your company with the Japanese Legal Affairs Bureau (Homukyoku). 

Once approval is granted, we will courier all the documents, including the Registry Certificate, Seal Certificate (inkan), the Memorandum and Articles of Association, and other incorporation documents to your preferred address. 

You will require these documents to open a corporate bank account and to conduct your business in Japan.

The above documents will be in Japanese. You can employ our translator service which will provide you with the translated version of the above documents in the language of your choosing.

Generally,

throughout this whole registration process, you will not be required to travel to Japan.
Step 6: Post-registration requirements
Tetra Consultants will then notify the National Tax Authority and register you for tax. You will obtain a tax registration number for your business.

Depending on your business structure and activity, you may need to obtain additional business licenses and our team will assist you in this.

If you wish to closely oversee your business in Japan, you will need to apply for the Start-up, Investor, or Business Manager visa. Our team of experts will assist you in obtaining the same.
Step 7: Open a bank account
Tetra Consultants will leverage our extensive banking network and assist you in opening a corporate bank account for your business.

Some of the banks you can open your corporate bank account in are:
Mizuho Bank

Sumitomo Mitsui Banking Corporation (SMBC)

MUFG Bank

Shinsei Bank
We will courier all the documents including your banking token and access code, to your preferred address.

You will then be required to transfer the initial paid-up capital to this corporate bank account.

If it is compulsory for you to travel to Japan to open your corporate bank account, a Tetra Consultant representative will accompany you to the bank meeting.

Alternatively, we will negotiate with the bank on your behalf to have the bank meeting virtually instead.
Step 8: Staying compliant with the local laws
Even after the registration, Tetra Consultants will continue to support you by ensuring your compliance with the local laws. 

Our dedicated team of experts will prepare the firm's financial statements, file the annual corporate tax returns, and complete other accounting and tax obligations that may arise.
Tetra Consultants will complete the incorporation process within a period of 3 weeks upon engagement. Within a period of 4 weeks, after the company registration is completed, we will open a corporate bank account with a reputable bank. All in all, the process should be completed within a period of 7 weeks. 
The total engagement fee depends on the services you require from Tetra Consultants. This fee includes the incorporation costs of your business, which depend on multiple factors including the choice of business entity, your business activity, and more. 
Conclusion:
With Tetra Consultants by your side, the registration process of your company will be smooth and hassle-free. Our service package includes planning and strategizing with our clients to choose a suitable business entity, completing the incorporation process so that you can focus your time and energy on your business, opening a corporate bank account by leveraging our extensive banking network, and ensuring your compliance to the government laws and regulations.
 Contact us to know more about setting up a business in Japan and the comprehensive service package we offer to our clients. Our dedicated and hardworking team of experts will revert within the next 24 hours.