Singapore has always been a hotbed for foreign investment, and for good reason. The city-state is well-known as a good place to do business, ranking 2nd in the 2020 World Bank's Ease of Doing Business Index. This applies to not only locals, but also foreigners, with foreign direct investment constituting 18.4% of the national Gross Domestic Product as of September 2020. This article will share exactly how to start a business in Singapore as a foreigner, and how this differs from the usual steps to register company in Singapore.
Typical process of Singapore company registration
The process varies based on the exact company structure you are opting for, though our team would recommend a limited liability company, otherwise known as a private limited company. This is because such companies limit your liability and risk, thereby protecting any personal assets, or assets held in other companies, and allow for greater succession and continuity than a sole proprietorship can.

There are no minimum requirements for paid-up capital, but at least one director and one shareholder are needed, as well as a locally registered and approved office address. Of these directors, none can have a prior criminal record, and at least one of them must be a local resident (either Singaporean citizen, permanent resident or employment/EntrePass holder). These criteria are where some foreigners might encounter a challenge, but rest assured, our team of experienced professionals can easily craft a nominee director agreement which will ensure that you are able to satisfy requirements without ceding any decision-making authority in your new company.

Differences in the process when foreigners set up a new company in Singapore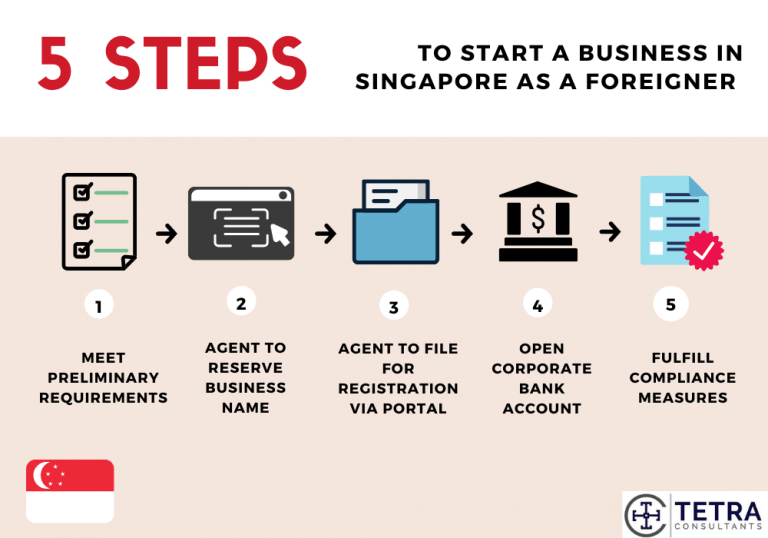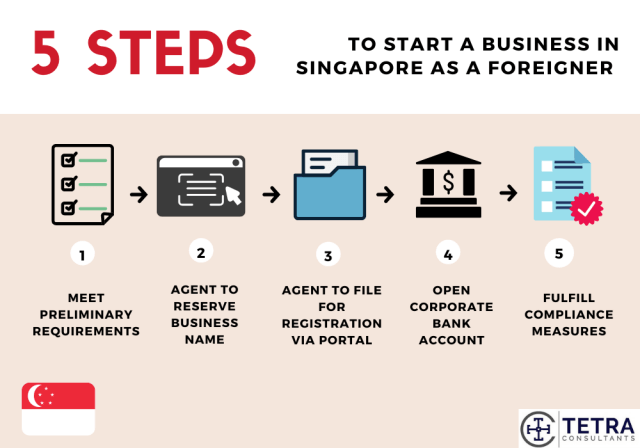 Whilst local companies can proceed to the next step of the registration process and reserve a name for their business, as well as conduct the actual incorporation of the company through the BizFile web portal, foreign companies will need to do so through a registered filing agent, such as a law firm, accounting firm or corporate secretarial firm. Do note that this does not prohibit foreign companies from 100% ownership.

This firm will then continue on the steps to

start a business in Singapore

on behalf of the interested party. The agent will need to reserve a name through the BizFile portal, ensuring that it is unique and not identical to an existing company, that it is not unconstitutional, unlawful or contain any misleading, offensive, or vulgar elements. This will cost $15, and the approved name will subsequently be held for 120 days before it will be released and can be used by other companies.

The agent will then file for registration on the same BizFile portal, and companies should prepare the following information in order to streamline the process:

A brief description of business activities and details of the company (including registered address).

Particulars of the shareholders, directors and company secretary.

Of particular note is that owners of foreign companies must separately submit a copy of their passport and residential address proof, as well as Memorandum & Articles of Associations. The fee for this will be $300.

Lastly, a corporate bank account should be opened. Foreigners should note that opening a bank account with a Singaporean bank will require them to be physically present in Singapore for an interview. Alternatively, they could opt to open their corporate bank account in countries such as Hong Kong or Switzerland, which would also have the added benefit of making them legally tax-exempt, assuming that their board of directors, customers and suppliers are located outside of Singapore.
Continuing to manage your business
There are few more compliance measures that companies must abide by in order to continue smooth operations in Singapore. These measures include proper financial reporting, accounting and tax filing procedures. The company must also convene an Annual General Meeting and present its annual financial statements for shareholder approval. Depending on the nature of the business, companies might also need to apply for additional licenses with the relevant authorities.
Foreign owners will also have the option of internet banking in most cases, and with Singapore's high level of internet connectivity and the efficiency of its banking system, they should encounter few issues with this. Foreign owners who want to take a more hands-on approach in managing their business also have the option of applying for an Entrepreneur Pass from the Ministry of Manpower.
How we can help you start a business in Singapore as a foreigner
As we can see, not only does Singapore allow 100% foreign ownership, it also does not make it any harder for foreigners to start a business in Singapore. These are the main reasons why Singapore remains so popular with both local and foreign investors. 
Tetra Consultants provides our clients with an easy, hassle-free and travel-free way to set up a company in Singapore. Our team of experts will guide you through the full Singapore company registration process, including appointing a qualified nominee director, securing an office location in Singapore and opening a corporate bank account.
Contact us now for a free, non-obligatory consultation and we will revert within 24 hours.