It is ideal to open a trading company in Hong Kong due to its strategic location and free trade policy. In this article, our team at Tetra Consultants has highlighted 8 things to know before you open a trading company in Hong Kong to help understand whether you should register company in Hong Kong.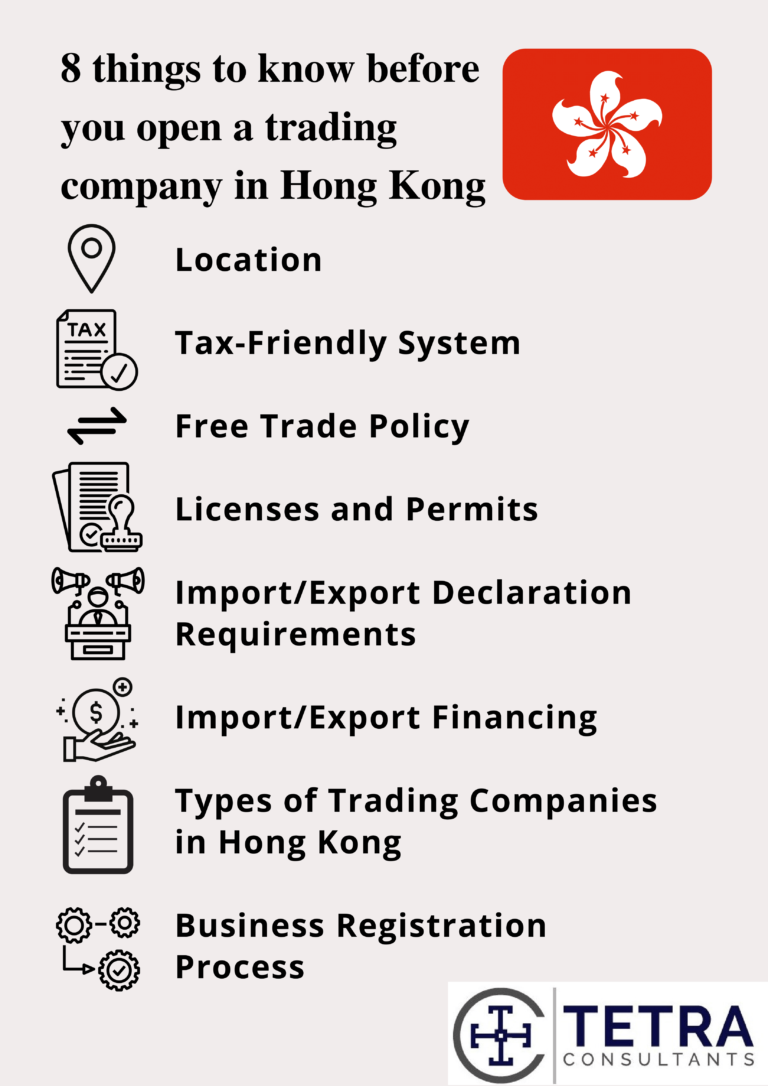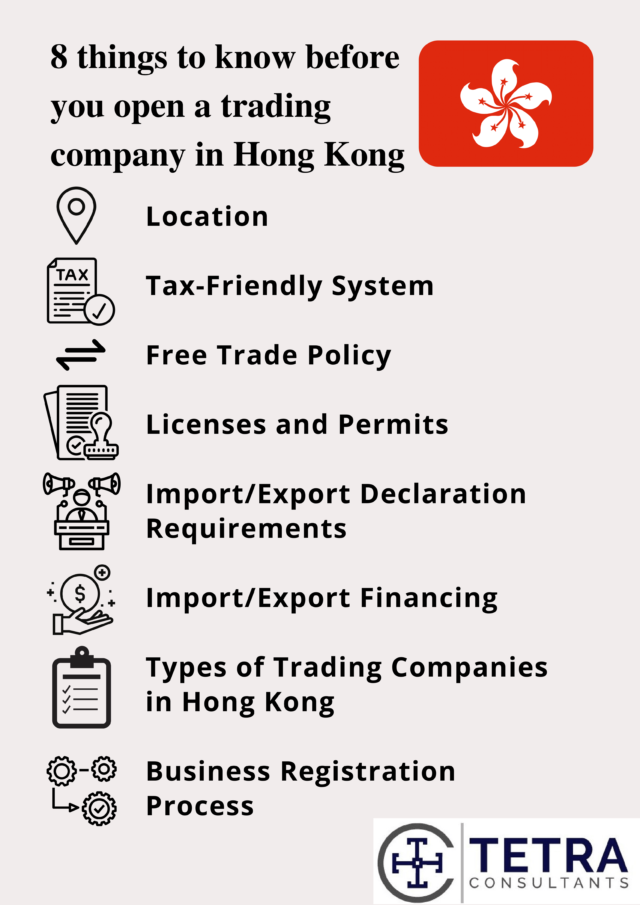 1. Location:
Due to the strategic location of Hong Kong situated at the heart of Asia, it is near to most of the largest and robust economies. It is not only a gateway to enter the Chinese market but also provides convenient access to Asia and the rest of the world. Therefore, Hong Kong offers the perfect business environment for trading firms.
2. Tax-Friendly System:
Hong Kong is known to have one of the world's most tax-friendly systems. There are only three direct taxes that are applicable to corporate businesses namely profit tax, property tax and salaries tax. These taxes are at fixed rates with allowances and further deductions available. Hence, these can help to reduce your tax burdens even further.
As a free port, Hong Kong does not impose any custom fees on imports or exports. In addition, Hong Kong does not impose any value-added tax (VAT) or goods and services tax (GST). However, excise duty is still applicable on four types of goods, regardless of whether they are imported or locally manufactured. The goods are liquors, tobacco, hydrocarbon oil and methyl alcohol. The excise duties are charged at specific rates per unit quantity for tobacco, hydrocarbon oil and methyl alcohol. Whereas for liquors, the excise duty is charged at different rates based on the alcoholic strength of the liquor.
3. Free Trade Policy:
One advantage of opening up a trading company in Hong Kong would be the benefits from the Free Trade Agreement (FTA) between Hong Kong and mainland China. In January 2004, the mainland China and Hong Kong Closer Economic Partnership Arrangement (CEPA) came into effect. It is a bilateral free trade agreement where all Hong Kong made goods that are exported to mainland China will enjoy zero tariffs. 
In order to enjoy zero tariffs, each consignment of goods that is exported to mainland China must be attached with a Certificate of Hong Kong Origin. This is issued by the Trade and Industry Department or one of the five Government Approved Certification Organisations. The five Government Approved Certification Organisations are the Hong Kong General Chamber of Commerce, Federation of Hong Kong Industries, Chinese Manufacturers Association of Hong Kong, Chinese General Chamber of Commerce and Indian Chamber of Commerce, Hong Kong. 
The CEPA not only entitles preferential access of Hong Kong products to the mainland Chinese market but also allows much faster and easier access to qualifying Hong Kong based service suppliers. Moreover, CEPA helps to facilitate trade and investment between Hong Kong and the mainland in certain key areas including customs clearance facilitation, trade and investment promotion, transparency in laws and regulations, etc.
4. Licenses and Permits:
There are various types of goods with which the trading companies in Hong Kong operate with. Depending on the type of goods, a special license may be required from the Customs and Excise Department of Hong Kong. According to special ordinances, certain goods are considered dutiable. For example, alcohol and tobacco are dutiable. Whereas, some goods require a special import or export license. Such goods are controlled chemicals and hazardous chemicals; animals or birds; pharmaceutical products, medicines, and dangerous drugs; foodstuffs; plants; pesticides; textiles and many others.
5. Import/Export Declaration Requirements:
Inspection of all goods and articles will be done by the Hong Kong Customs and Excise Department before they can be cleared for import. Occasional inspection of cargo may also be conducted.
In the case of imported dutiable goods, a Removal Permit with the Customs Department must be filed. In addition, the permit holders hold the responsibility to ensure that the goods are removed within the approved time and date; from the releasing location and conveyed to the designated receiving point. Furthermore, the packaging, quantity and description of the imports or exports must match the information listed in the permit. 
In order to be granted the import or export clearance, the documents required include manifests, bill of lading, invoice or packing list and relevant documents. 
6. Import/Export Financing:
With the increasing presence of international trade, it is important to finance trade. In Hong Kong, there are a number of financing options that are available for trading companies. The major trade finance instruments that facilitate trade are Letter of Credit (most commonly used), Short-term finance and Export credit insurance.
7. Types of trading companies in Hong Kong:
Once you have decided to open a trading company in Hong Kong, it is important to choose the most suitable type of company for your business. There are mainly 3 types namely Import Trading Company, Export Trading Company and Entrepot. Each type is not exclusive and one trading company can be involved in more than one type. 
Import Trading Company solely involves the buying of goods and services from foreign sources to meet the demands domestically. This mainly exists due to the impractically of producing such good locally, the quality of foreign-sourced goods and services and lastly
would be that the price of importing is cheaper than producing locally. 
Export Trading Company is the opposite of an import trading company. It is involved in the selling of locally produced goods and services to foreign buyers. 
Entrepot trading company is a combination of both import and export trading companies.
It imports goods or services from a foreign supplier and exports these to a different foreign entity. There is no additional value or processing applied to both imports and exports.
It is a popular type of trading in Hong Kong although it is no longer popular in other international trading ports.
It is efficient in minimizing transportation costs and maximizing the specialized agents of distribution and processing of these imports and exports.
8. Business Registration Process:
If you made the decision about setting up a business in Hong Kong, you may proceed to register business Hong Kong. The process is as follows:
Step 1: Planning of your business idea
Step 2: Choosing a suitable corporate entity
Step 3: Reserving of the company name and registration of the company with the Hong Kong Companies Registry
Step 4: Obtaining relevant licenses and permits
Step 5: Import/Export Clearance Procedure
Step 6: Import/Export Financing
Conclusion:
The process to open a trading company in Hong Kong may seem intimidating. With Tetra Consultants by your side, the registration process of your business in Hong Kong will be smooth and hassle-free. Our comprehensive service package includes planning and strategizing with our clients to select a suitable business entity, completing the registration process, obtaining required licenses, opening a corporate bank account, and ensuring your compliance with the government regulations. 
Contact us to find out more about setting up a company in Hong Kong and our dedicated and experienced team will revert within the next 24 hours.