If you are looking for greater confidentiality and more tax benefits, Dubai is the ideal place for you. Not only does Dubai offer zero corporate taxes, but it also has double taxation treaties with numerous countries to protect companies from the risk of double taxation. Although Dubai is growing in reputation as a tax haven for companies, it is not associated with the negative connotations of a conventional tax haven due to stricter monitoring and inspection of companies in the region. There are three principal jurisdictions in the United Arab Emirates (UAE) where business owners choose to open offshore companies. They are the Ras Al Khaimah (RAK), Jebel Ali Free Zone (JAFZA) and Ajman Offshore. All three jurisdictions offer benefits such as complete foreign ownership, exemption of import and export duty, and 100% repatriation of capital and profits. Before you decide to open offshore company in Dubai, it is important to compare the benefits of these three different types of offshore companies.
3 best jurisdictions to open offshore company in Dubai: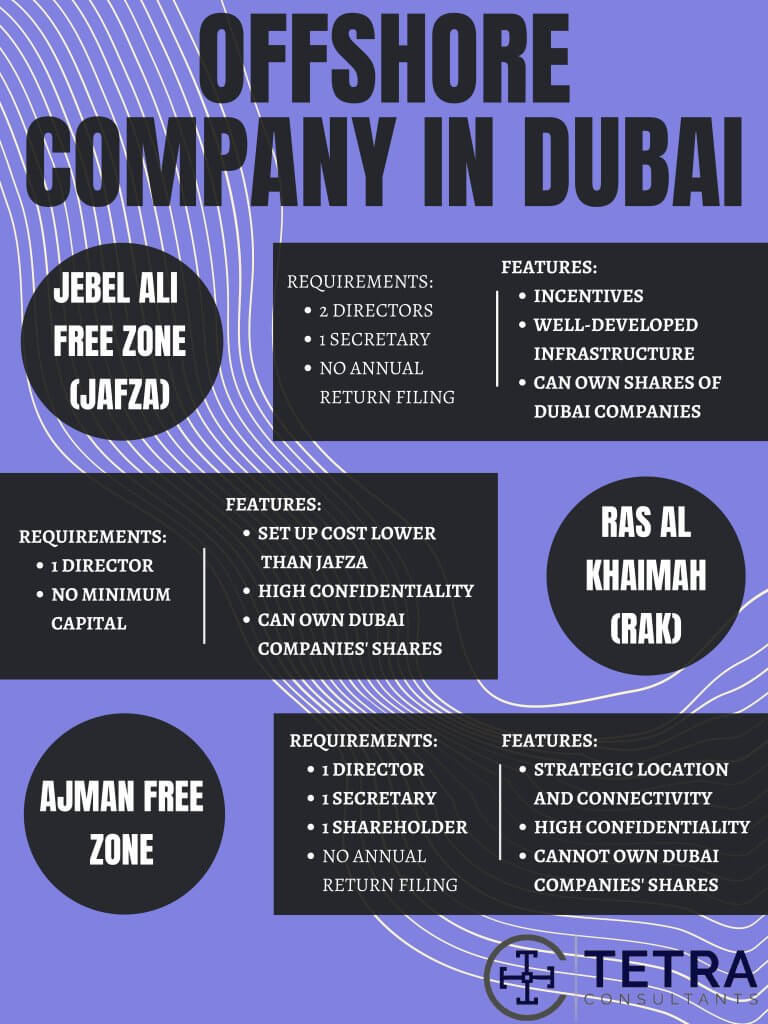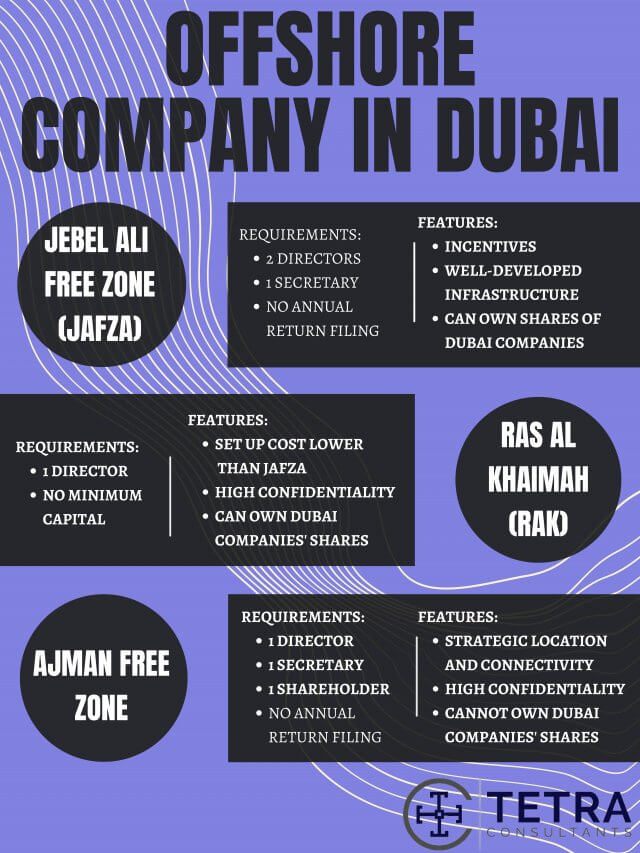 #1 Jebel Ali Free Zone (JAFZA) Offshore Company
Managed by the Jebel Ali Free Zone Authority, the Jebel Ali Free Zone was established in 1985 to promote trade through the Jebel Ali Port. As one of the world's leading Free Zones, there are many monetary incentives and support infrastructure such as ready-made factories and warehouses granted to companies registered in the region. JAFZA offshore companies are also relatively easy to set up because of the lenient requirements: Only two directors and one secretary are required for

Dubai company registration

, and the director and secretary can be the same person. In addition, there are no nationality requirements for officeholders or minimum capital required for

offshore company registration in Dubai

.

Although offshore companies are prohibited from trading within the Free Zone or the UAE, JAFZA offshore companies are permitted to legally own property in Dubai and hold the shares of free zone and onshore companies. This allows JAFZA offshore companies to earn returns on investments in Dubai companies and local commercial properties.

In addition, JAFZA offshore companies are not required to file an annual return. However, they are required to keep audited accounting records with their registered agents. These accounting records must be kept for at least 10 years and the auditor must be from the approved list.
#2 Ras Al Khaimah (RAK) Offshore Company
Ras Al Khaimah is another popular jurisdiction for offshore companies. Although RAK offshore companies are not as reputable as JAFZA offshore companies, the cost of setting up a RAK offshore company is much cheaper than that of a JAFZA offshore company. Benefits offered by a RAK offshore company are also largely similar to the benefits offered by a JAFZA offshore company. However, a RAK offshore company only requires one director and there are no minimum capital requirements. Previously, only JAFZA offshore companies were allowed to own property in Dubai. However, from 2019, offshore companies registered with the RAK International Corporate Centre (ICC) are allowed to own properties in the Dubai freehold areas. Similarly, RAK offshore companies can hold the shares of free zone and onshore companies.

Besides offering high levels of confidentiality, RAK offshore companies are also protected from lawsuits and other legal allegations. Since the requirements to set up a RAK offshore company are stricter to ensure that the incorporated company is ethical and credible, the RAK authority will ensure that stronger legislation is in place to protect companies and their investments once they are formed.
#3 Ajman Offshore Company 
Established in 1988, the Ajman Free Zone is growing in popularity as a jurisdiction to set up offshore companies. Not only does Ajman's proximity to the two international airports and four ports in Sharjah and Dubai facilitate the transport of goods, but it also provides greater access to regional markets. Since Ajman Free Zone only permitted the formation of offshore companies in the Free Zone since 2014, it is less recognised compared to JAFZA and RAK offshore companies. Nevertheless, offshore companies registered in Ajman enjoy similar benefits to those registered with JAFZA or RAK. This includes confidentiality of shareholders' and directors' personal information, no annual filing or physical office requirements, and a faster incorporation process.

Similar to a RAK offshore company, an Ajman offshore company only requires one director, one secretary, and one shareholder. There are no minimum capital requirements. However, unlike JAFZA and RAK offshore companies, Ajman offshore companies are not permitted to own properties in Dubai.
Looking to open offshore company in Dubai?
Since offshore companies are not allowed to conduct trading activities within the UAE, they are an ideal business structure for business owners seeking to set up company in Dubai to conduct international trade. Depending on your long-term goals and business model, Tetra Consultants will recommend you the type of offshore company to register in Dubai. 
Tetra Consultants provide you with a fast and easy way to register company in Dubai through our service package which includes the registration of your offshore company in Dubai with the Registrar of Companies, provision of a registered agent and address, opening of a corporate bank account and annual accounting and tax services. Our team will also negotiate with the banks in the UAE to conduct a conference call instead of a physical meeting for the opening of the corporate bank account. If travel is required, Tetra Consultants will send a representative to accompany you to the bank meeting. 
Contact us to find more information about opening an offshore company in Dubai and our team of experts will revert within the next 24 hours.