The Cayman Islands is a British-Owned territory that consists of 3 main islands that form its entirety and are popular for its tourism spots. It should come as no surprise that one of the country's largest contributors to GDP stems from the tourism sector. Apart from its tourism sector, the country has actually managed to develop a mature financial services industry, holding over 11,000 mutual funds in its jurisdiction. In 2019, 88.8% of Cayman Islands GDP production came from the products and service industry, with financial services contributing a whopping 30.4%. Not to mention, the islands also presents the highest quality of life and GDP production amongst its Caribbean neighbours, recording an estimated amount of USD 5.3 billion GDP production in 2021. The mature financial services sector coupled with its tax neutrality environment has managed to entice many foreign investors to register company in Cayman Islands. Before you decide to continue setting up LLC in Cayman Islands, allow Tetra Consultants to share with you 5 things you should know before setting up LLC in Cayman Islands.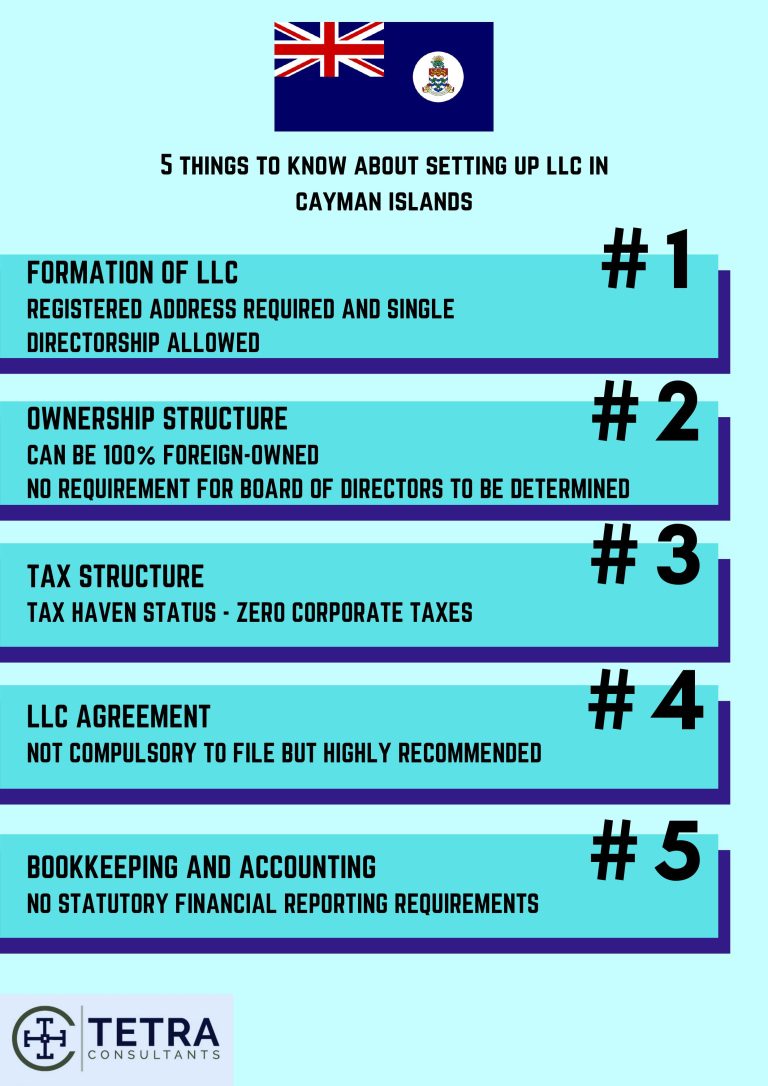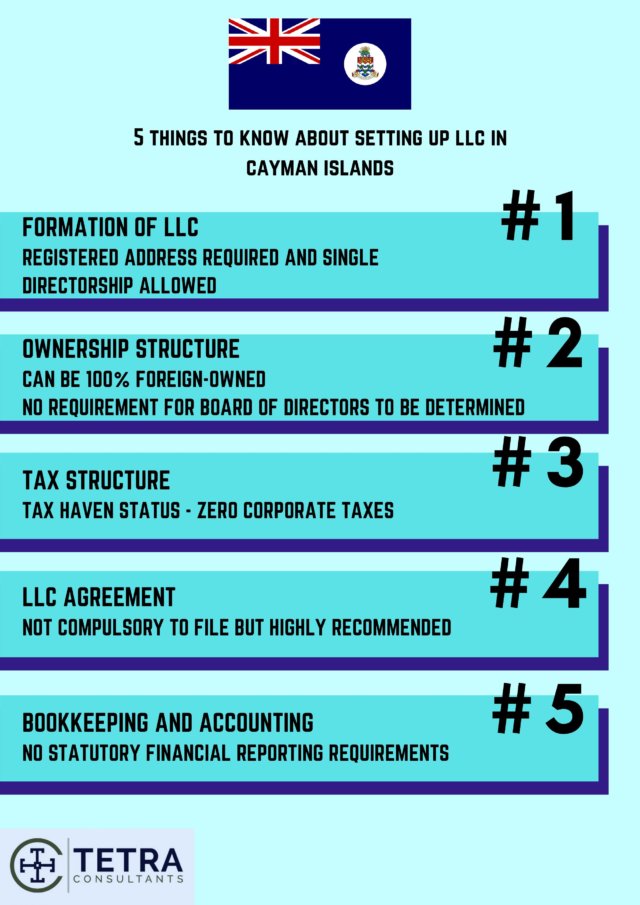 #1 Formation of LLC in Cayman Islands:
The first thing to know about setting up LLC in Cayman Islands is the formation of an LLC in Cayman Islands. Similar to most LLCs in ordinary cases, all companies are required to have an registered address prior to the commencement of their business operations. The registered office address is the identified physical location where official notices and communications will be made to. In the event of the successful formation of the LLC and the official office address has not been officially registered with the registrar of Cayman Islands, the company will be liable to a penalty of $200 per day from the day of receipt notice.

Next, the formation of setting up LLC in Cayman Islands requires only a single director and shareholder, of which the individual can hold both roles and own the LLC single-handedly. There are no requirements for more than 1 member and there are also no limitations towards membership count. To complete the formation of the LLC in Cayman Islands, a registration statement has to be filed to the Registrar as part of the formation process and it can be done either physically or electronically. Once the process has been given approval, the individual responsible for the submission of the due diligence documents and registration statements will then receive the registration certificate and the LLC will be officially incorporated.

#2 Ownership Structure :
The second thing to know about setting up LLC in Cayman Islands is the ownership structure. The important thing to note is that an LLC can be a 100% fully foreign-owned. To set up an LLC, there a minimum of one director or member is required for its formation. There is no additional requirements such as a resident director or Board of Directors required to be appointed prior to the LLC registration. Additionally, the LLC is considered to be a separate legal entity from its members, meaning that members or shareholders of the LLCs are not personally liable for the entity's debts or financial obligations. Additionally, another advantage of setting up an LLC in Cayman Islands is that the operating environment allows the companies to maintain corporate anonymity. Whilst it is compulsory to maintain the registers of members and directors at the office address and with the registrar, such information is not made public via any official gazette and this allows business owners to keep their personal information private for any commercial advantages they stand to gain.
#3 Tax Structure for LLCs:
The third thing to know about setting up LLC in Cayman Islands is the tax structure that it falls under. Truth to its "tax haven" status, companies including LLCS are subjected to zero corporate income tax levied upon them. Additionally,  capital gains taxes, income taxes, property or withholding taxes are not subjected to companies and LLCs in this particular jurisdiction. However do note if you are operating in the business line of trading of goods and materials, there are existing custom fees to be paid as well as licensing fees. These fees can be mitigated should you choose to operate within their identified Special Economic Zones (SEZ).
#4 LLC Agreement:
The fourth thing to know about setting up LLC in Cayman Islands is the LLC Agreement. Whilst not compulsory under the laws of Cayman Islands to be submitted, it is still highly recommended for firms to prepare and submit an LLC Agreement during the registration process. The LLC Agreement can be viewed similarly to a legally binding document such as the constitution of companies. In essence, the LLC Agreement contains a set of rules and regulations that governs the business operations as well as matters relating to shareholdership or membership. It will also determine who will be eligible to make executive decisions and such.
#5 Bookkeeping and Accounting:
The last thing to know about setting up LLC in Cayman Islands is the Bookkeeping and Accounting requirements needed for LLC. Although companies in Cayman Islands have no statutory financial reporting requirements, all LLC firms have to maintain a proper book of accounts recording all business transactions. The records have to be kept and archived for a minimum of 5 years and can be kept in any medium, including electronic. Whilst there is no need for the actual records to be located at the registered office address, the office must still maintain a complete copy of the records.
Conclusion:
Engage Tetra Consultants as we make your registration of business in Cayman Islands a smooth and hassle-free process. The team provides a comprehensive service package that includes planning and strategizing with our clients to select a suitable business entity, completing the registration and documentation processes, obtaining required licenses, opening a corporate bank account, and ensuring your compliance with the government regulations. 
Contact us to find out more about company registration in Cayman Islands and our dedicated and experienced team will revert within the next 24 hours.