Japan has never been the biggest recipient of foreign investments and has instead had much of its economic growth driven by keiretsus. Originating in the post-war era as a means of safeguarding themselves from the volatility and fluctuations of the stock market, they have become less relevant with the increasing stability of the stock market. Instead, their size has become an impediment to responsiveness, which has led to the Japanese government introducing a new company structure to attract foreign investments to boost the competitiveness of its economy once more. Introduced by the Companies Act 2006, the godo kaisha or Japanese limited liability company is significantly easier to incorporate and manage as compared to a traditional joint-stock company. Although they might have lacked credibility initially, the usage of this company structure by large multinational firms such as Apple, Google, Amazon and Walmart have proved that this is a viable means to register company in Japan. Starting a small business in Japan for foreigners has also been made easier by the fact that there are no minimum capital requirements for businesses, and they only need one director and one shareholder to incorporate. These positions are also not subject to any residency or nationality requirements.
Tetra Consultants is experienced in Japanese company formation and can help you to set up your company within 7 weeks.
Things to consider before you start a small business in Japan for foreigners
Business Visa
You will need a work of long-term stay pass when you undertake remunerative activities in Japan since you cannot do so on a regular visitor's pass. Hence, the Japanese Immigration Bureau introduced a Business Manager Visa in 2015 that allows foreign nationals to better manage their business and conduct profit-generating activities. These requirements are also similarly easy to fulfil. You are able to apply for this visa to legally manage your business if you have at least 2 full-time employees that are Japanese residents, and your business has an overall investment capital of at least JPY 5 million (US$45,000). 
Domestic consumer market
Lastly, Japan has the third-largest economy in the world. They are also the third-largest consumer market in the world. Coupled with their low unemployment rates, Japan has a large and high-spending consumer market that your business can capitalize on. The highly developed transport and information and communications technology infrastructure in the country also makes it easy for you to manage and operate your business. 
With that, let us look at some of the options for setting up a business in Japan that have minimal capital requirements and do not have foreign ownership restrictions.
3 types of small business for foreigners in Japan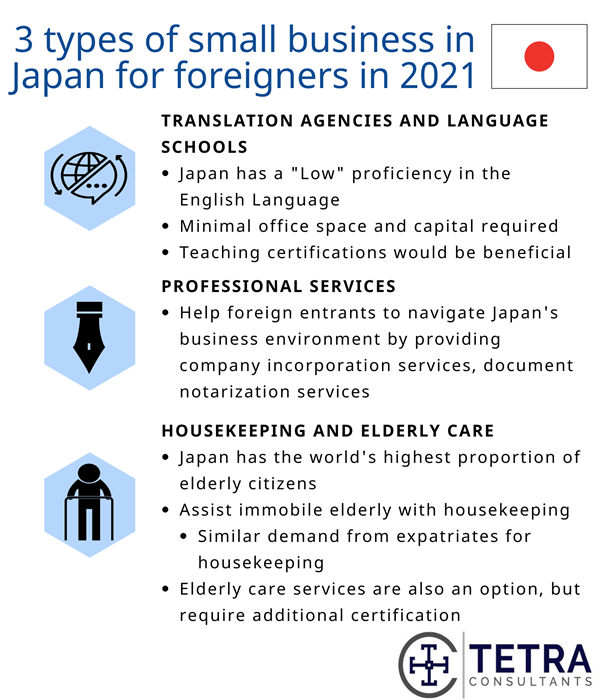 #1 Translation agencies and language schools
The official language in Japan is Japanese. Many companies have tried and failed to get their employees to learn and switch to English, which comes as no surprise given the "Low" proficiency of the country in the language according to Education First's 2020 English Proficiency Index. They were also ranked 55

th

overall in this index, implying that many foreign businesses might face difficulties in communicating in the country. While this is an obstacle that might apply to your business too, it also offers a lucrative opportunity to be capitalized on. 

You can consider partnering with locals to

start a business in Japan

providing either translation services or English and Japanese language tutoring services. This will allow you to tap on both the foreign market of investors looking to enter the country and the market of domestic companies that are looking to expand out of Japan. Such services can be provided even with limited space, and there is no need for you to locate your agency or school in a particularly prestigious (and thus more expensive) location. You can even consider providing your services online to expand your reach further. 

However, do note that while having additional certifications such as Teaching English as a Foreign Language (TEFL) might not be necessary, they are useful as a means of increasing the credibility of your business. 
#2 Business consultancies and other professional services
As an extension to translation services, you might also consider providing business consultancy services or other professional services. With the increasing number of foreign entrants to the Japanese market, more and more of such services are needed, and being able to speak English would put your business in a good position to tap on this growing market. 

Whilst the business environment in Japan has no doubt improved, there are still several intricacies beyond language that might prove challenging to navigate for foreigners. Your professional services business would be able to help them with company incorporation and document notarization, as well as the other business processes in Japan.
#3 Housekeeping and elderly care
Japan currently has the world's highest proportion of elderly citizens, with the proportion of elders (65 years old and above) currently standing at a quarter of their population. This is expected to increase to a third by 2050 given their low fertility rates and high life expectancy rates.

As these elders might not always be mobile, they might require additional assistance in terms of housekeeping. Given the rising number of expatriates that are relocating to Japan, there is also an increasing demand for housekeeping services from this particular group. Being able to speak English is also a bonus for this group since most of them would prefer communicating in English as opposed to Japanese. 

Housekeeping businesses require a low minimum capital to start since they do not operate out of an office, and do not require any particular specialized equipment or knowledge. 

Eldercare is also a potential business area your business can explore given the ageing population in Japan. However, as compared to housekeeping, it would require more certifications in nursing or geriatric care.

As a final note, certain industries might not be suitable for those looking to start a

small business in Japan for foreigners

as they have stricter minimum capital requirements. For example, cryptocurrency exchanges must be incorporated as a joint-stock company with a minimum capital of at least JPY 10 million (US$ 91,000). Joint-stock companies are also more expensive to operate since they are subject to stricter audit and financial reporting requirements. They might also have additional barriers on foreign ownership, as in the case of sensitive industries such as aerospace, defence or utilities that require pre-screening of foreign investors looking to purchase a stake greater than 1% in these companies. 
How can Tetra Consultants assist you to start a small business in Japan for foreigners?
Japan company registration is straightforward if you are familiar with the process. With Tetra Consultants leading the engagement, you will be able to channel your time and energy into other more important aspects of business.
With our lean-and-mean mentality, you can rely on our experienced team to provide you with a seamless experience throughout the whole process of Japan business set up. Our ultimate goal is for you to conduct business with your Japan company within the stipulated time frame.
Our service package includes everything you will require for Japan company registration:
Company registration with the Japan Registry Office (

Houmukyoku

)

Local company secretary and registered office in Japan

Provision of Japan nominee director

Tax registration

Annual accounting and tax services
Contact us to find out more about how to register business in Japan. Our team of experts will revert within the next 24 hours.