Thinking of starting a business in Cambodia? The Cambodian government highly values foreign direct investments and has provided foreign investors with a business-friendly environment in Cambodia. The nation lays out numerous attractive benefits to facilitate and ease the integration of international business owners into the country's economy. Prior to starting a business in Cambodia, while it is necessary to register company in Cambodia first, you should also develop a deeper understanding of Cambodia's unique culture and way of life. Here are 10 interesting facts about the country you should know about before starting a business in Cambodia.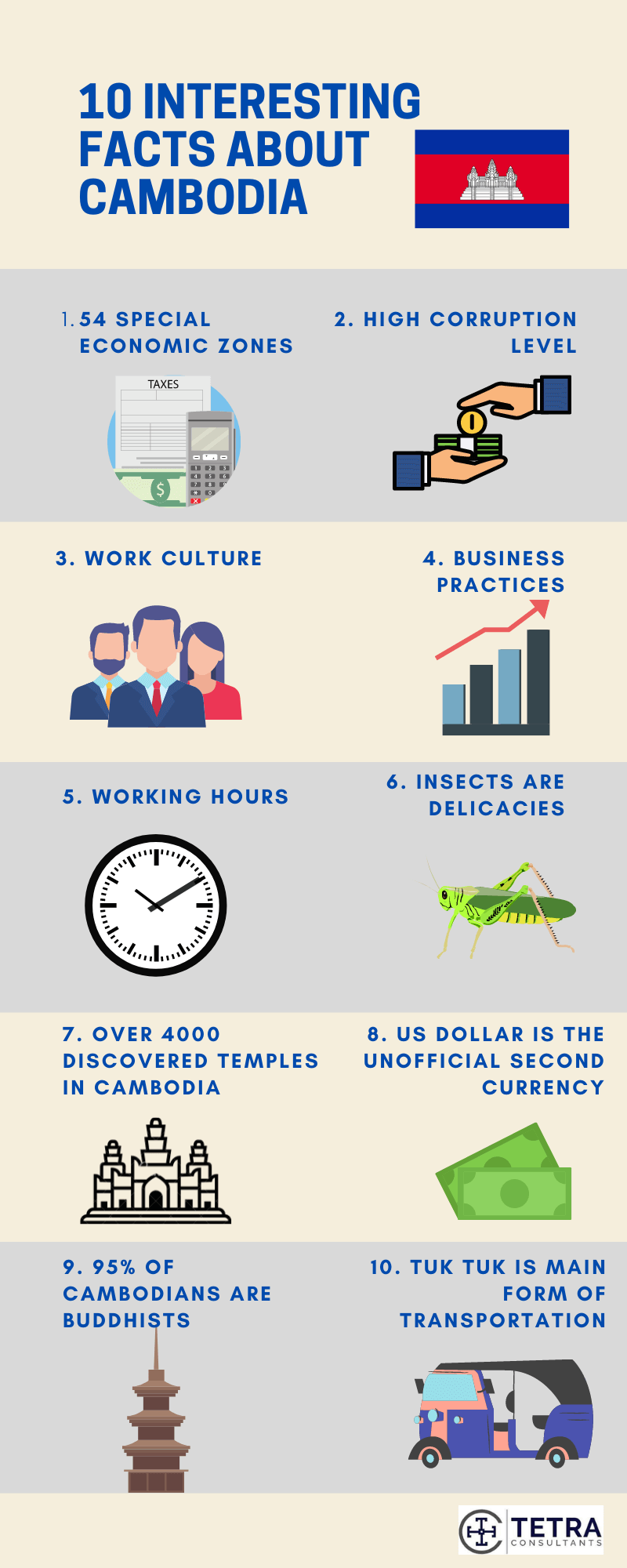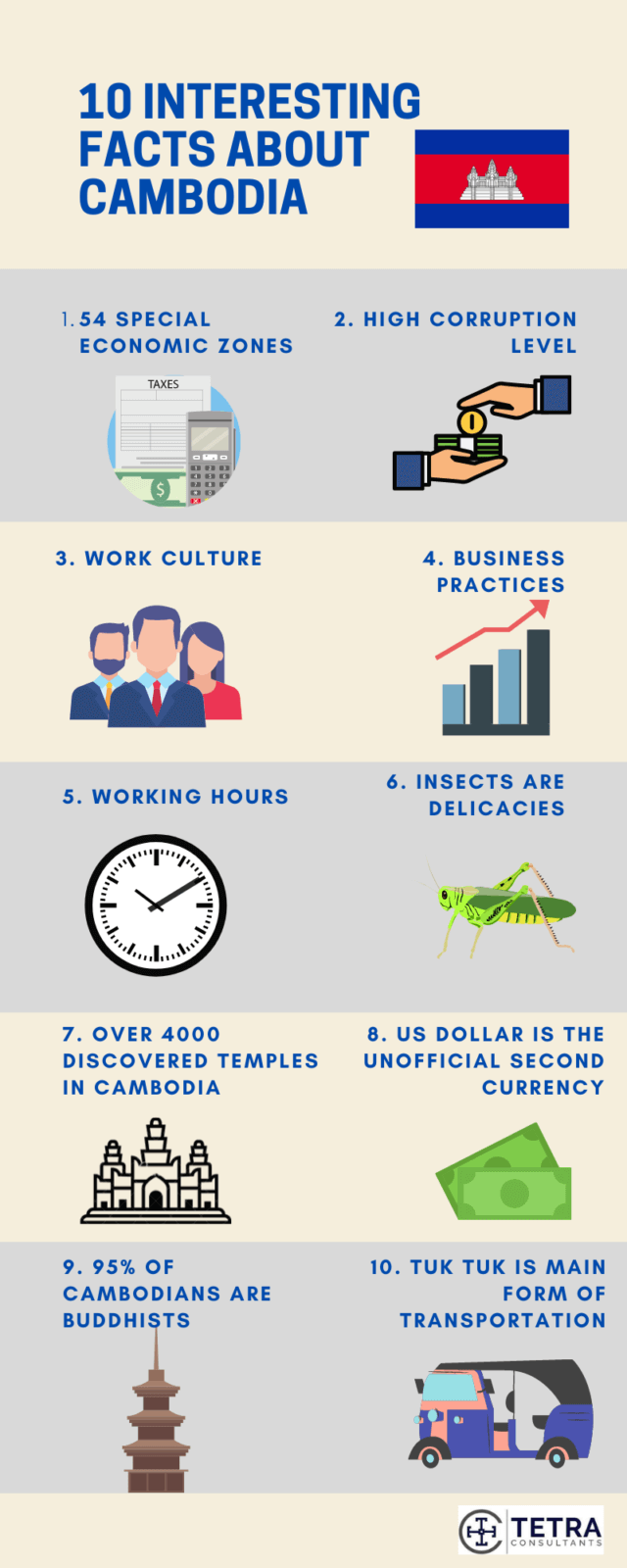 Types of Business Entities in Cambodia 
Cambodia offers different types of business entities for you to choose from, where each business entity caters to different types of business activities. Foreigners who wish to register business in Cambodia can choose between these 8 business entities, which includes: 
Sole Proprietorship

Limited Liability Company 
Single-member Private Limited Company

Private Limited Company

Public Limited Company
2. Partnership
General Partnership

Limited Partnership
3. Foreign business entities
Branch Office

Representative Office
The most common business entity is Private Limited Company in Cambodia and it is a type of limited liability company.
1. 54 Special Economic Zones in Cambodia
As of 2019, Cambodia has 54 Special Economic Zones covering mainly four zones, namely, the Phnom Penh Zone, Sihanoukville Zone, Manhattan Zone and Tai Seng Bavet Zone as per the Council for the Development of Cambodia. Furthermore, Cambodia's Special Economic Zones are almost privately owned and managed. The Cambodian Special Economic Zones Board (CSEZB) is a government organisation established to facilitate registration of investment projects and export-import approvals for business owners.
The primary purpose of a Cambodian Special Economic Zone is to initiate and form economic linkages between the urban and rural areas. As such, Special Economic Zones promote nationwide urbanisation through these economic linkages. With relaxed regulations and policies, Cambodia helps business owners increase export competitiveness and benefits international trade.
2. High corruption level
According to the Corruption Perceptions Index (CPI) published by the Transparency International Organisation in 2020, Cambodia ranked 160thout of the 180 countries evaluated. The CPI measures the perceived levels of public sector corruption in Cambodia. With rampant corruption in Cambodia, businesses looking to set up in Cambodia will have to deal with extensive red tape to obtain the business permits and licenses. 
As such, Cambodia's less than ideal ranking suggests a higher risk of corruptive activities which negatively affects an investor's confidence in the nation's political stability.
3. Work Culture
Cambodia is a collective society with a selfless spirit. Individuals in Cambodia are subservient to their family, neighbourhood and company. Societal harmony in Cambodia is maintained through its etiquette and protocol guidelines. 
Traditional greeting in Cambodia is a bow along with the folding of hands together at the person's chest level. However, Cambodians usually greet foreigners with handshakes. 
The display of emotions, especially anger, impatience or frustration, is regarded as a negative behaviour in Cambodia and these emotions should be kept to oneself. If this is not adhered to, this would result in a loss of face. 
In business settings, individuals are required to uphold a professional image at all times and speak formally. They should always speak in a clear and slow manner, and avoid using slang, adages or colloquial utterances. 
4. Business Practices
With strong emphasis on hierarchy in Cambodia's culture, business people here comply with the suitable protocols. It is necessary to show respect and deference to the person with the most seniority in the company. Similarly, it is mandatory for the most senior of the visiting delegation to greet the hosting group if a delegation is to meet a local group of hosts. 
Additionally, do show up exactly on the agreed time for important settings such as first business meetings or meetings with the Cambodian authorities. 
To reduce the possibilities of causing offence to others, individuals are advised to employ subtle communication styles. While handshakes are commonly used, you should take note of not being too firm as it may come across as hostile. If men have dealings with women, men should only shake their hand if women extend a hand first. Moreover, you should try to minimise eye contact with others.
Business name cards are usually exchanged with one another after an initial interaction. 
5. Working hours
While offices in Cambodia are usually open for 40 hours a week, there are many who work over Saturday mornings so as to fulfil 45 hours a week. This is due to the numerous public holidays annually of 28. While there are progresive steps to shift towards a less holiday-intensive schedule, it is inevitable that compromises have to be made. To make up for the "lost time" due to public holidays, several businesses have decided to add one workday in each month. 
6. Insects are delicacies in Cambodia
Insects are delicacies in Cambodia as insects were sometimes referred to as "hunger food" during the famine created by the late 1970s Khmer Rouge regime. It is recognised by the United Nation Food and Agriculture Organisation as a futuristic way to fight hunger in the world. Some examples of insects include maggots, tarantulas, crickets, cockroaches, red ants, grasshoppers/locusts and giant water bugs. Insects are incorporated in Camodians' diets and insects are regarded as an affordable and plentiful source of protein, amino acids and micronutrients. 
7. There are over 4000 discovered temples in Cambodia
While there are over 4000 discovered temples in Cambodia, there are even more hidden temples in Cambodia which have yet to be discovered. 
The largest religious complex in the world is Angkor Wat which is located in Cambodia. Built during the Khmer Empire rule in the 12th century, it consists of ancient tombs, pagodas and bridges within its walls. Angkor Wat was added to the UNESCO World Heritage list in 1992 and it is a classic example of Khmer architecture.
8. US dollar is the unofficial second currency of Cambodia
While Cambodian Riel is the predominant currency in Cambodia, Cambodia assimilated the US dollar and both currencies can be used interchangeably. Locals accept payment in US dollars, several shops quote their prices in dollars and ATMs dispense USD.
9. 95% of Cambodians are Buddhists
Buddhism is the official religion of Cambodia and it is estimated that over 95% of its population practice Theravada Buddhism. Buddhism has existed in Cambodia since at least the 5th century AD, and Theravada Buddhism has been the Cambodian state religion since the 13th century AD, except during the Khmer Rouge period.
10. Tuk Tuk is the main form of transportation
In Cambodia, you will see numerous Tuk Tuks driving along the busy streets of Siem Reap or Phnom Penh. Tuk Tuks in Cambodia usually consist of a motorbike pulling a separate trailer where the passengers ride. While the journey may make your heart pump, it is a quick and convenient way to navigate through the streets. Moreover, it is advisable to negotiate the prices of a tuk tuk ride with the driver before getting on one. 
Cambodia company registration is hassle-free if you are familiar with the entire incorporation process. Tetra Consultants strives to provide our clients with a seamless experience when setting up a company in Cambodia. Our team of experts will ensure that your Cambodia company can be operationally ready as soon as possible.