Deciding on which countries to expand your business can be a complex and difficult decision.  In this article, Tetra Consultants will share about the 6 top reasons to start a business in Brazil so that you can make a better decision about whether you truly want to register company in Brazil.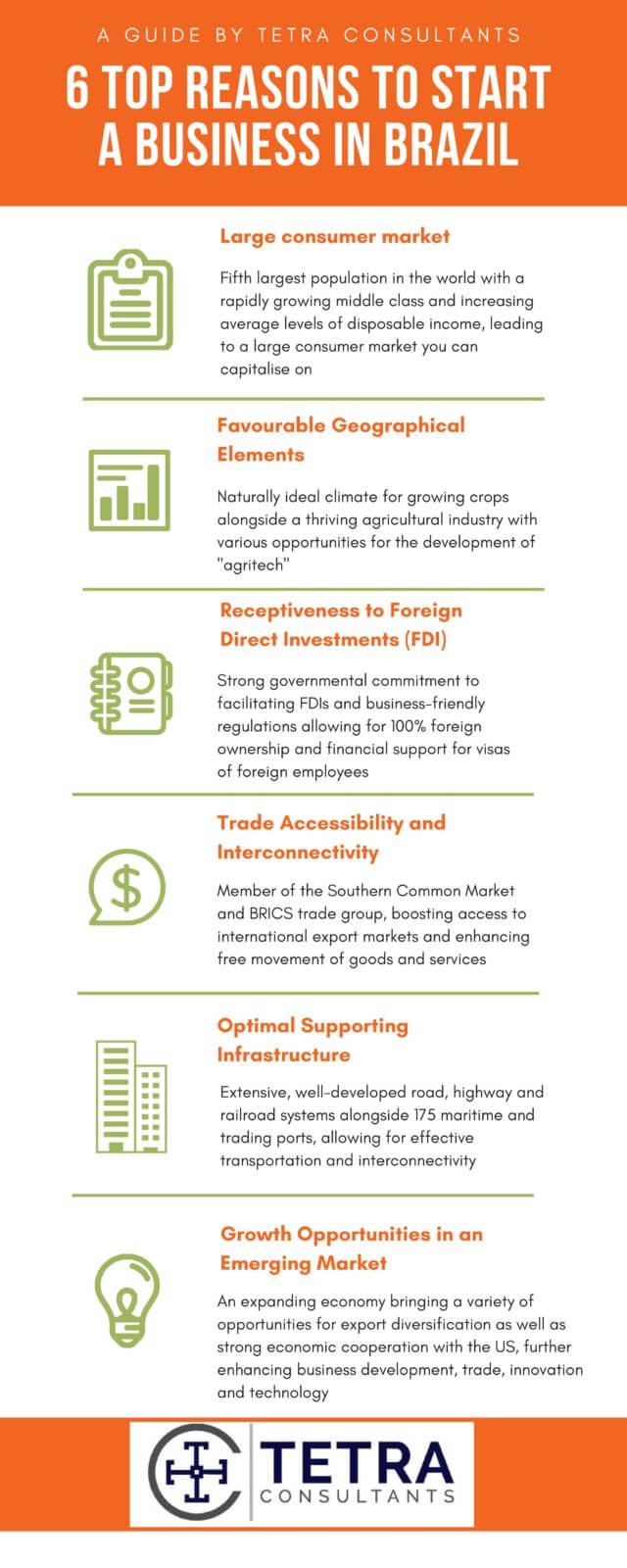 1. Large consumer market
Brazil's population is set to rise to over 214 million people domestically, providing an excellent opportunity for many to start a business in the country catering to a growing consumer base.  In fact, Brazil has the 5th largest population across all countries in the world, with a rapidly growing middle class as well.  Alongside the rise in aforementioned middle class is the increase is average levels of disposable incomes amongst Brazilian consumers, further contributing to the high levels of demand for a variety of goods and services businesses can seek to capitalise on.
Hence, the sheer volume and diversity of the Brazilian consumer market creates a favourable business environment for you to expand towards in search of new client bases and customers.  
2. Favourable Geographical Elements
Apart from the rapid population growth observed above, many other geographical elements make doing business in Brazil especially beneficial as well.  For instance, it provides a naturally ideal climate for growing crops, thus aiding in business initiatives related to agriculture production or the agricultural sector as a whole.  The strength of Brazil's agricultural sector is further demonstrated by its sheer resilience – despite the devastating effects of the global financial crisis, this industry remains a staple sector and part of the national economy, with a consistently strong agricultural output. 
Furthermore, one unique business opportunity companies could take up to take advantage of such favourable geographical conditions is the area of "agritech".  This refers to the development of innovative technologies and equipment enhancing agricultural production and increasing levels of efficiency.  Given strong government support for such an industry as it forwards the national agenda of maximising food security, there is likely to be support for the growth of "agritech" and the agricultural business as a whole.  Thus, favourable geographical conditions are a key benefit for many businesses. 
3. Receptiveness to Foreign Direct Investments (FDI)
A country's willingness to embrace FDI's and allow for foreign businesses to operate freely and independently is a critical factor to determining the business friendliness of a particular country.  For entrepreneurs considering starting a business in Brazil, business regulations allow for 100% foreign ownership and businesses are also allowed to financially support the visas of foreign employees.  Furthermore, this process of registering and incorporating one's business can be done abroad without having to physically enter the country first, therefore ensuring convenience and comfort for those considering setting up a business in Brazil.  In fact, Brazil's most recent government has declared strong commitment to supporting and facilitating foreign investment into Brazil.  This means that a business friendly environment aligns with the government's agenda and is likely to be maintained in the coming years.  As a businessman, this provide the guarantee that your firm will be able to effectively and efficiently set up and operate in the country.
4. Trade Accessibility and Interconnectivity
The benefits of setting up a company in Brazil also extends beyond its borders – once a strong corporate presence is established by your firm within the country, you are able to capitalise on strategic regional trade agreements to obtain easy access to other countries within the region.  For instance, Brazil is a member of the Southern Common Market, also known as MERCOSUR first set up in 1991.  The key objectives of the Southern Common Market includes the enhancement of free movement of goods and services, international economic cooperation in various platforms, and integrated legislation boosts the ease of businesses seeking regional operations across various national borders.  This Common Market also offers unique benefits like the removal of non-tariff restrictions and additional duties on goods and services, lowering costs for your business.  In fact, the MERCOSUR grants your company direct access to a whole host of other countries such as Argentina, Uruguay and Paraguay, further expanding your consumer market to maximise scale of business operations and thus revenue streams. 
Moreover, Brazil is also a member of the BRICS trade group, an alliance of emerging powers with strong regional and international presence (i.e. China, Russia).  This organisation not only provides additional trade benefits and access to exponentially large consumer markets in these countries, but also actively creates and facilitates commercial and trading opportunities through connections held by large powers.  Evidently, Brazil's connection to various countries as an international presence through indirect relationships means that doing business in Brazil is equivalent to doing business on an international scale.  
5. Optimal supporting infrastructure for business operations
For a business to operate smoothly, having proper transportation and infrastructural facilities is critical to success.  In this regard, Brazil is home to developed and extensive road networks, as well as one of the most expansive highway systems in the world.  Furthermore, Brazil also has various railway systems further aiding in land transportation for businesses.  Yet, such excellent transportation infrastructure is not merely limited to the country's domestic land, but extends to its connection to international seas as well.  In fact, there are over 175 maritime and trading ports, 32 of the 175 are publicly accessible.  There is even a strong and robust supporting network of land and maritime logistics which aid in making the process of moving goods both within the country and abroad a smooth and efficient one.  Hence, such infrastructure further contributes to Brazil's interconnectivity and strong trade relations by positioning it as a key trading hub for the region of South America.  
6. Opportunities for growth in emerging markets
Similar to countries like China, while Brazil has traditionally relied on its domestic economy, its economic and business focus has been shifting rapidly.  While Brazil is currently the 8th largest economy in the world, it is projected to rise in the rankings to be the 5th largest in just a few decades.  Currently, a significant percentage of products exported by Brazil are raw materials, thus providing entrepreneurs a valuable business opportunity to expand on these exports and increase levels of diversification.  In fact, Brazil and the US have sought collaboration to deepen economic and corporate relations on core themes like innovation, trade facilitation, green technology and business development, particularly for small to medium enterprises.  As such, these collaborative efforts coupled with the conditions of an emerging market provides fertile ground for successful business expansion or even initiation.
Conclusion
So, what are you waiting for?  Doing business in Brazil is undeniably accompanied with a variety of benefits, allowing your business to truly flourish and succeed.  Yet, registering a company in a foreign country might pose potential difficulties.  If you face such challenges, contact us to find out more about the process of starting a business in Brazil, and our dedicated and experienced team will respond within the next 24 hours.