Setting up a business in South Africa has become an increasingly popular choice and viable option for consideration amongst various foreign investors. The country has achieved a level of macro-economic stability never seen before in many years, leading many to term it as the next and new emerging economy. The advancement in the South African economy provides and creates new opportunities for social services and lays the foundation for increase in investments and additional growth. Not to mention, the national government debt of the country has decreased in recent years, reducing the government's liability over the years. This sophisticated and promising emerging economy has caught the eyes of investors globally given its strong entrepreneurial and dynamic investment climate. However, before you proceed to register company in South Africa, it can be a tricky experience for first timers and those who have no prior experience of incorporating a company. Tetra Consultants has prepared the ultimate guide on foreign company registration in South Africa.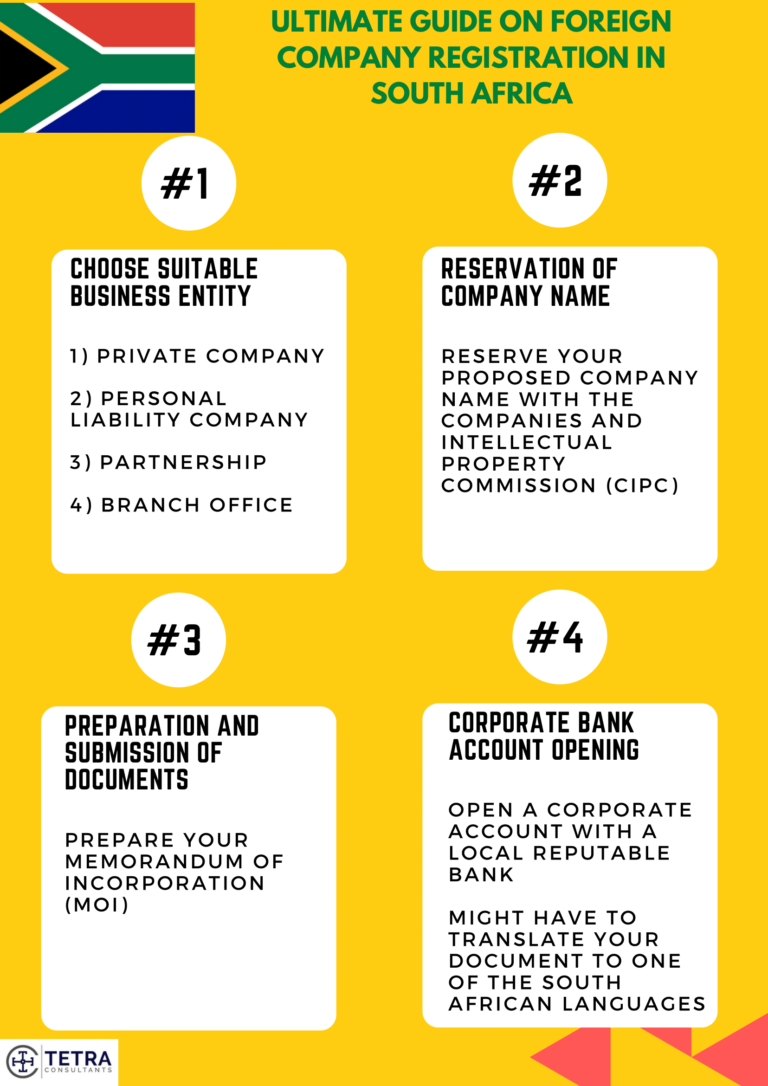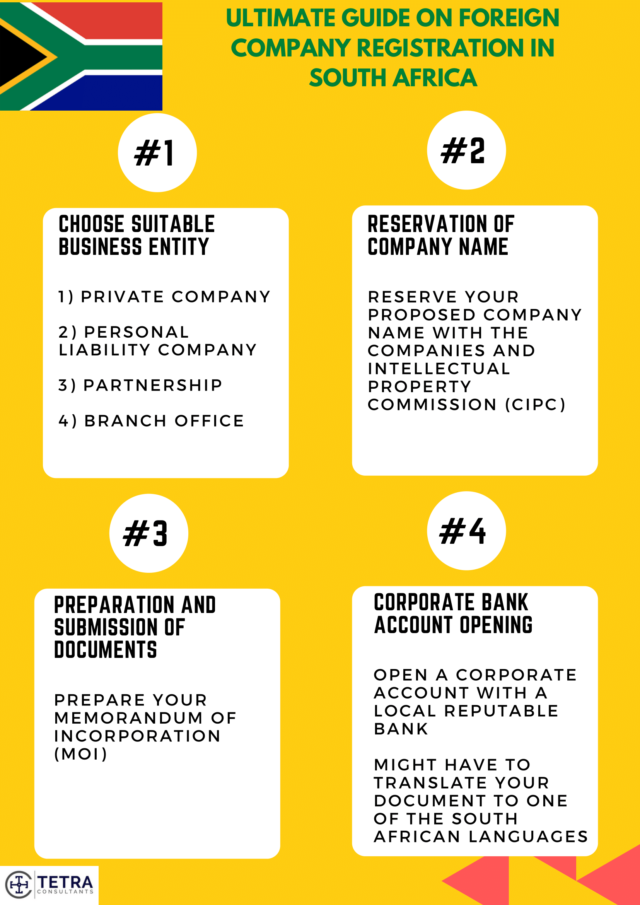 1) Choose a Suitable Business Entity 
The first step on the ultimate guide foreign company registration in South Africa is to know which type of entity you can operate your business in. In the jurisdiction of South Africa, there are generally 4 main types of business entities you can choose to set up.

1) Private Company (Pty Ltd)
A private company is one of the most common choices for foreign investors looking to set up business in South Africa. The private company is seen to be the equivalent of a Limited Liability Company (LLC) that can be found in other jurisdictions. Private companies that are formed are considered separate legal entities from its shareholders, meaning that debts and obligations of the companies are not made personally liable to the shareholders. Instead, in the event of winding down, shareholders are only limitedly liable to their own invested sum of share capital. To form a private company, there must be a minimum of one director and shareholder, but not more than 50 shareholders. Both directors and shareholders need not be residents of South African and can be from any nationality.

2) Personal Liability Companies (Inc)
A personal liability company is generally considered a separate legal entity and held conjunctly by current and previous directors. This form of business entity is most often set up by companies of doctors, lawyers or accountants. To form a personal liability company, there must be a minimum of one director on the board of management and all directors are subjected to unlimited liability during their time of helming the position while shareholders of the company still hold limited liabilities. A personal liability company is unable to offer its share to the public.

3) Partnership
Partnerships consist of 2 or more partners to run the business. There are three types of partnership that can be set up, namely general partnership, anonymous partnership and commanditarian partnership. The general partnership subjects all partners to be jointly responsible for all liabilities and profits. The anonymous partnership allows one of the partner's identity to be kept anonymous and is only held liable to the respective proportion of shares. In a commanditarian partnership, roles of partners are seen as solely financial participants with limited liability, similar to a typical shareholder.

4) Branch
Parent companies can choose to incorporate their own foreign business branch in the jurisdiction of South Africa. The foreign branch must be registered as external company if its conducting business activities or plan to do so within the jurisdiction of South Africa.


2) Reservation of Company Name:
The second step on the ultimate guide foreign company registration in South Africa is to reserve your company name with the Companies and Intellectual Property Commission (CIPC) of South Africa. The name reservation will last for a duration of 6 months and each application for company name registration allows you to submit up to 4 proposed names.
3) Preparation and Submission of Relevant Documents:
The third step on the ultimate guide foreign company registration in South Africa is to prepare all necessary documents for company registration. All companies that wish to incorporate in South Africa require a Memorandum of Incorporation (MOI). You will have to pull together certified copies of the identities of applicants, directors, shareholders, and notarised passport copies of individual directors and shareholders. You can submit the relevant documents via the online registration portal on CIPC.
4) Corporate Bank Account Opening:
The fourth step on the ultimate guide foreign company registration in South Africa is to open your corporate bank account with a reputable bank in South Africa. Some banks may require documents to be translated if it's not in one of the South African official languages.

Conclusion:
Engage Tetra Consultants as we guide you on how to register a company in South Africa through a smooth and hassle-free process. The team provides a comprehensive service package that includes planning and strategizing with our clients to select a suitable business entity, completing the registration and documentation processes, obtaining required licenses, opening a corporate bank account, and ensuring your compliance with the government regulations. 
Contact us to find out more about company registration in South Africa and our dedicated and experienced team will revert within the next 24 hours.