Many have come to wonder how to register company in Georgia, given that the country is located strategically at the crossroads of Europe and Asia, forming a logistical transit hub between the two major economies. The country traditionally enjoys stable economic growth through the years of 2014 until the start of the Covid-19 pandemic but has shown great signs of recovery. Apart from its strategic location and traditional stable economic growth, Georgia also engages in various foreign relations, maintaining strong bilateral ties with the European Union and the United States as well. As a result, many free trade agreements were born from it, incentivising foreign investors to register company in Georgia. For those who have wondered about how to proceed with Georgia business registration you have come to the right place. In this article, Tetra Consultants presents the ultimate guide to Georgia business registration.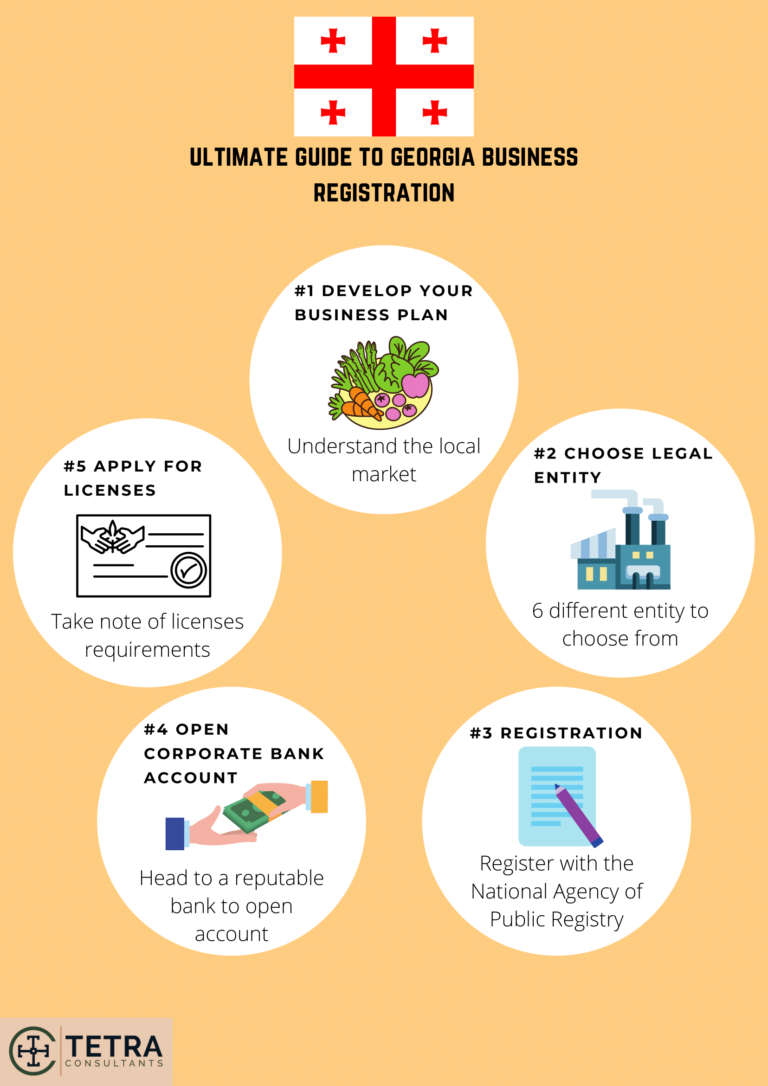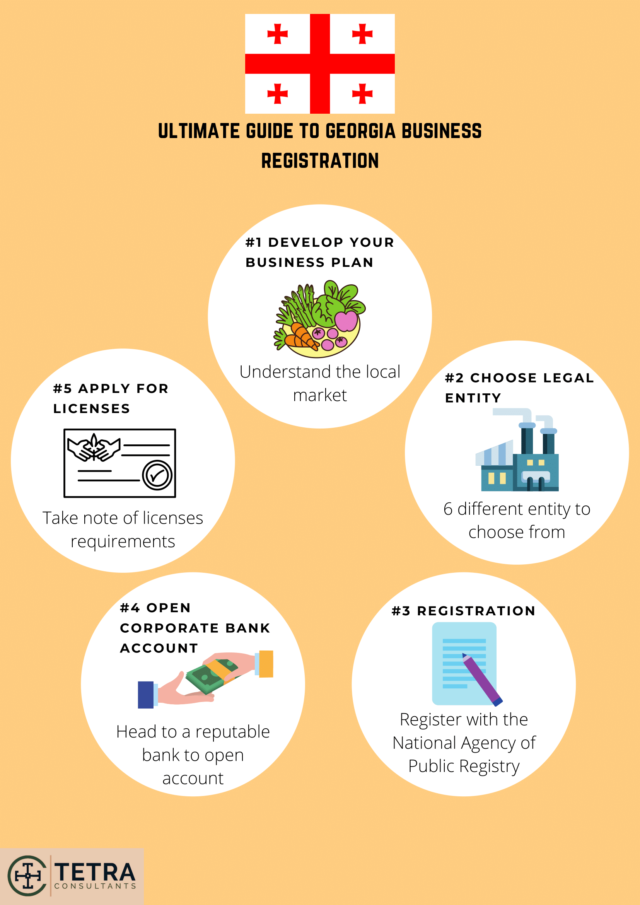 1. Develop Your Business Plan:
The first step to Georgia business registration is to develop your business plan. It is important to understand the business environment of Georgia prior to starting your business in Georgia. This is especially important to set the premises for your business to succeed. For example, the local population of Georgia is approximately 4 million as of 2021, representing a considerably low market size for those businesses who are intending to target the local market.
2. Choosing Your Legal Entity to Form:
The second step to Georgia business registration is for interested investors to determine the kind of legal entity they wish to incorporate or register as. Entrepreneurs and firms can either form their branch offices or choose from another 6 different legal entities when registering their businesses, which are:
Joint Stock Company (JSC)

A Joint Stock Company represents a business with shares listed with the Georgian Stock Exchange. The incorporation process requires only a single founder and there is no minimum share capital requirement. Shareholders of the JSC have to decide on an authorised capital and undertake limited liability.

Limited Liability Company (LLC)

LLC is one of the most common business entities to be found registered in Georgia. LLCs are considered a separate legal entity, meaning that shareholders and members of an LLC are not personally liable for any of the business's debts except their share capital.

Limited Liability Partnership (LLP)

LLP is formed by 2 or more partners which are split into mainly the general partner and limited or silent partners. The general partner is subjected to unlimited liability but has greater business decisions making power over silent partners who are only subjected to limited liability.

General Partnership (GP)

A GP involves 2 or more partners whose roles are the same, namely general partners. All partners face unlimited liability and are personally liable to the business incomes and debts.

Cooperative

A Georgian Cooperative is a legal entity whose partner's liability is in accordance to their contribution made in the company capital

Individual Entrepreneur (IE)

An IE in essence is similar to what others might recognise as a sole proprietorship. Business owners are personally liable to the debts obligation of the business and their personal assets are not separated from the business.
3. Registration of Business:
The third step to Georgia business registration is to register your business with the National Agency of the Public Registry of the Ministry of Justice of Georgia. In order to register your business, do ensure your charter, as well as any necessary due diligence, are in order prior to the registration process. For foreign firms, documents submission must be translated and notarised in order to be approved. The registration process is very simple and firms only have to pay the registration fee to any Georgian Bank. Subsequently, the company will fill their application for registration alongside a document evidencing the payment fees to the National Agency of Public Registry. Once successful, the incorporated business will receive an identification number and certificate of state and tax registration.
4. Open a Corporate Bank Account:
The fourth step to Georgia business registration is to open a corporate bank account. Documents that you would be required to present to the bank include tax administration resolution on company registration, the company charter, the state and tax registration certificate, a sample of the director's signature and copies of identification documentation of people who are authorized to represent the company.
5. Application of Business Licenses in Georgia:
The final step to Georgia business registration is to apply for business licenses required in accordance to your business activity. To note, special permits and licenses are required for more specialised industries such as medicine, construction, gambling, communications, energy, etc. Some of the more common business licenses may also include general trading licenses, consulting licenses, financial service license and more. Do contact Tetra Consultants for an easier registration process as we provide a hassle-free registration service on your behalf to provide you with an ease of mind.
Conclusion:
Engage Tetra Consultants as we guide you on how to start a business in Georgia in a smooth and hassle-free process. The team provides a comprehensive service package that includes planning and strategizing with our clients to select a suitable business entity, completing the registration and documentation processes, obtaining required licenses, opening a corporate bank account, and ensuring your compliance with the government regulations. 
Contact us to find out more about company registration in Georgia and our dedicated and experienced team will revert within the next 24 hours.