An offshore bank account is an account set up in a country outside of the home country of the account owner. Such a bank account is usually set up after the offshore business setup process is completed, as it is often more convenient and faster to open a bank account after offshore company incorporation. However, it is not compulsory to have an offshore company have an offshore account. In this article, we will be elaborating on the benefits of an offshore bank account.
Benefits of an offshore bank account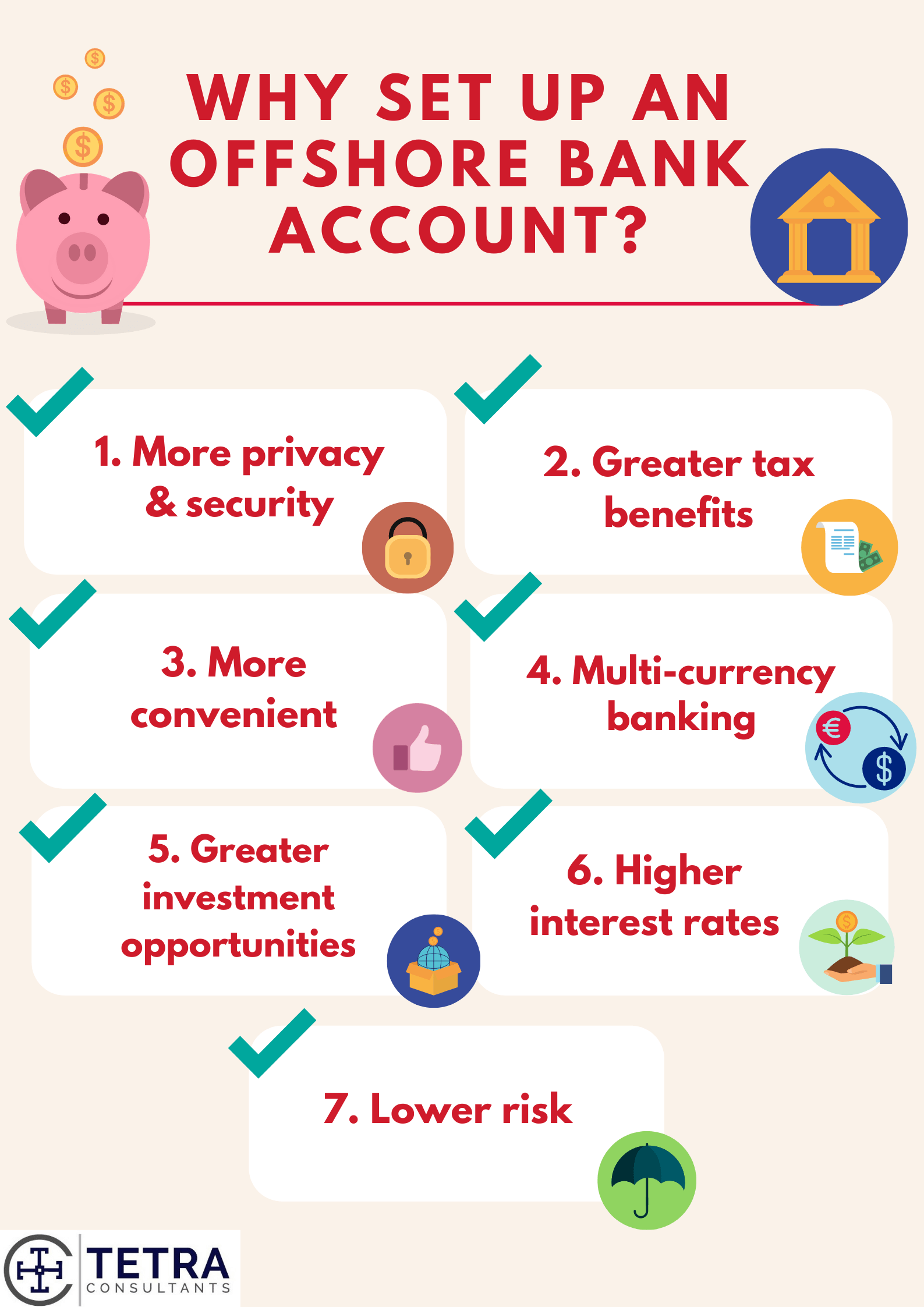 #1 More privacy and security
Having an offshore bank account implies that there is more privacy and security for the company. This is because of the strict government and banking policies guaranteeing greater confidentiality and asset protection for the company. The banks are not allowed to disclose any information about the company to the public.
#2 Greater tax benefits
Different countries have different tax systems with unique incentives available for businesses. Properly structured, by opening an offshore bank account for your offshore company, you will be able to minimize your tax obligations. 
#3 More convenient
Having an offshore bank account would create more convenience. Banks providing offshore accounts also provide other facilities, including internet banking, multi-currency banking, and more. You can take advantage of these to perform transactions all around the world without having to go through the trouble of setting up new bank accounts in different countries.
Moreover, banks providing offshore facilities are more liquid in nature and hence funds can be moved much faster than traditional banks can allow. For example in Singapore, reputable banks such as DBS, OCBC, Citibank and HSBC offer excellent internet banking facilities with world-class customer services. 

#4 Multi-Currency banking facility
As mentioned before, offshore bank accounts provide multi-currency banking. This would imply that your business can have a diversified currency portfolio such that you would not have to face the immense risk of currency fluctuations.
Moreover, global trade is easier to facilitate using these accounts as they also provide currency exchange services and may even feature a better currency exchange rate than in traditional banks.
#5 Greater investment opportunities
With an offshore bank account, you will have more investment opportunities than with your local bank because of the added access to international markets. You can then take advantage of international trends, whether located in the same region or another market.
 #6 Higher interest rates
In some countries such as Switzerland, Denmark, and Japan, the banking interest rates are negative. Therefore, it would be more advantageous to open a bank account offshore to take advantage of the relatively higher interest rates in nations like Mexico and Brazil. With higher interest rates on savings, you will receive more returns that can be reinvested in the market.
#7 Lower risk
Not only does an offshore account reduce the market risk faced by your company by providing you with various facilities to diversify your risk, but it also helps to reduce political risk. If a country is politically unstable, investment in the country will be lower, which may even result in a recession. Moreover, any savings of your bank will be at risk because of government measures such as capital controls and tax increases to avoid insolvency. Having an offshore bank account would ensure that your money is not devalued because of governmental actions.
Additionally, diversifying your business's assets into different countries and accounts would help reduce the risk of bank failures, currency fluctuations, and more. You will not be dependent on the financial market of a single country, but would have access to multiple markets. Offshore bank accounts can then serve as insurance against any possible risk arising in the home country.
Conclusion 
Now that you have understood the benefits of having an offshore bank account, the next step would be to identify which country would be best suited for your bank account. At Tetra Consultants, we understand that this decision process is difficult and would therefore like to offer our offshore incorporation services. Our team of dedicated professionals will support you through the full planning and strategizing process and assist you in executing the offshore bank account setup. Additionally, if you require offshore business setup services, we will also provide you with due assistance to complete the process.
Contact us now if you want to receive more information about our offshore incorporation services and how we can assist you in setting up an offshore bank account. Our team will revert within the next 24 hours.