What is an offshore company?
An offshore company is one that is incorporated in a jurisdiction different from the company owners' place of residence. Business owners may choose to set up an offshore company in places where business conditions are more favourable, and this can come in the form of lower costs of production such as lower wage requirements for workers and more favourable tax rates. Before you decide whether to begin offshore company incorporation, it is important to understand the reasons why such companies are advantageous.
What are the reasons to set up an offshore company?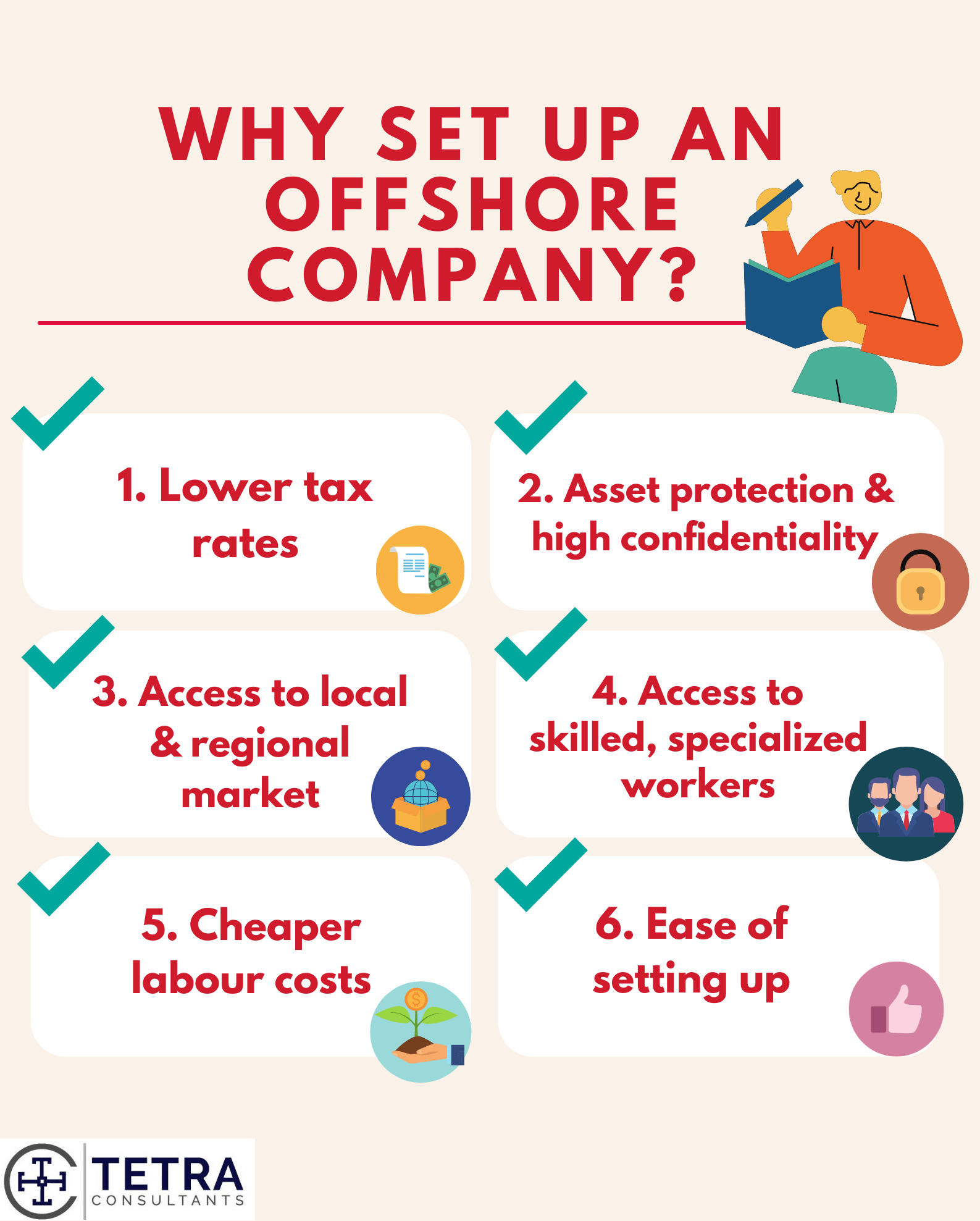 #1 Lower tax rates
Corporate tax rates can be quite high, depending on the location of your company. As such, you may want to set up your business in countries that offer a lower corporate tax rate so that you can save on tax expenses. This will allow your company to produce a greater net profit for re-investment into capital and equipment. Furthermore, a higher net profit reported on the income statement makes your company appear more attractive to investors.
#2 Asset protection
Having an offshore company can ensure that at least some of your company's assets are protected from creditors. When you move some of your main company's assets offshore, these cannot be seized by the creditor even if your main company becomes insolvent. By putting your assets in a separate legal entity, you are also essentially protecting them against unfair lawsuits because it is more difficult to locate and prove that you own these assets.
In addition, some jurisdictions have stronger laws regarding the protection of intangible assets such as intellectual property rights and trademarks. Hence, offshore company incorporation tends to be more attractive in jurisdictions with a good legal framework and effective law enforcement.
#3 High level of confidentiality
In some jurisdictions like Singapore, the list of company directors can be found online in the official Accounting and Corporate Regulatory Authority website. In this case, establishing an offshore company in jurisdictions with higher levels of confidentiality would be advantageous.
Some jurisdictions offer high levels of privacy to shareholders because the personal information of shareholders is kept confidential from the public. This makes it difficult for trade competitors in the same industry to attain information about the company or shareholder, hence reducing the likelihood of unfair trade competition.
#4 Greater access to the local and global market
Offshore business setup is also common for companies seeking to expand business in the region. Most governments tend to offer subsidies and incentives to attract companies in important industries such as the tech and healthcare sector to set up their business in the country. By incorporating in a different country, a business owner can easily gain access to local and regional markets, especially if the country has favourable trade agreements with neighbouring countries in the region.
#5 Greater access to qualified workers of a certain skillset
Different jurisdictions have workers that specialise in different skill sets. When setting up an offshore company, you may wish to choose a country that specialises in your area of business. This will ensure that the employees hired have the skills and experience needed for your business, hence increasing the overall productivity of your company.
#6 Cheaper cost of labour
Many companies also choose to have an offshore business setup so that they can capitalise on the cheap labour in a particular country. The cost of labour is high in most developed economies, due to the higher cost of living. Furthermore, some countries have a minimum wage policy that further increases the cost of labour for businesses. Hence, firms may choose to set up offshore companies in countries with a lower cost of labour to reduce wage expenses.
#7 Easy to set up
It is relatively simple to set up offshore companies nowadays because most of the application process can be done online. Most jurisdictions do not require the director of the company to travel directly to the country to set up the offshore bank account or company. Firms can also choose to employ offshore incorporation services to further facilitate their offshore business setup. The ease of setting up an offshore company and the relatively low registration cost in many countries have led many to choose offshore set up in order to expand their business overseas.
Looking for the best jurisdiction for your offshore company?
There are many benefits to setting up an offshore company in a different jurisdiction and the cost of doing so is relatively low. As such, many companies tend to consider offshore company incorporation when they are dealing with suppliers and customers from a different country or region. However, with a large number of jurisdictions available, it can be challenging to decide which to set up in.

Tetra Consultants provides you with advice on the set up of your offshore company based on the structure and industry of your business.
If you wish to find out which offshore jurisdiction best suits the needs and goals of your company, you can contact us for a free consultation. Our team of experts will revert within the next 24 hours.