Deciding the best and most suitable country to setup offshore company in is imperative for your business. In this article, we discuss the key factors you need to take into account when deciding the best country to set up an offshore company in.
What to consider when choosing the best country to set up an offshore company in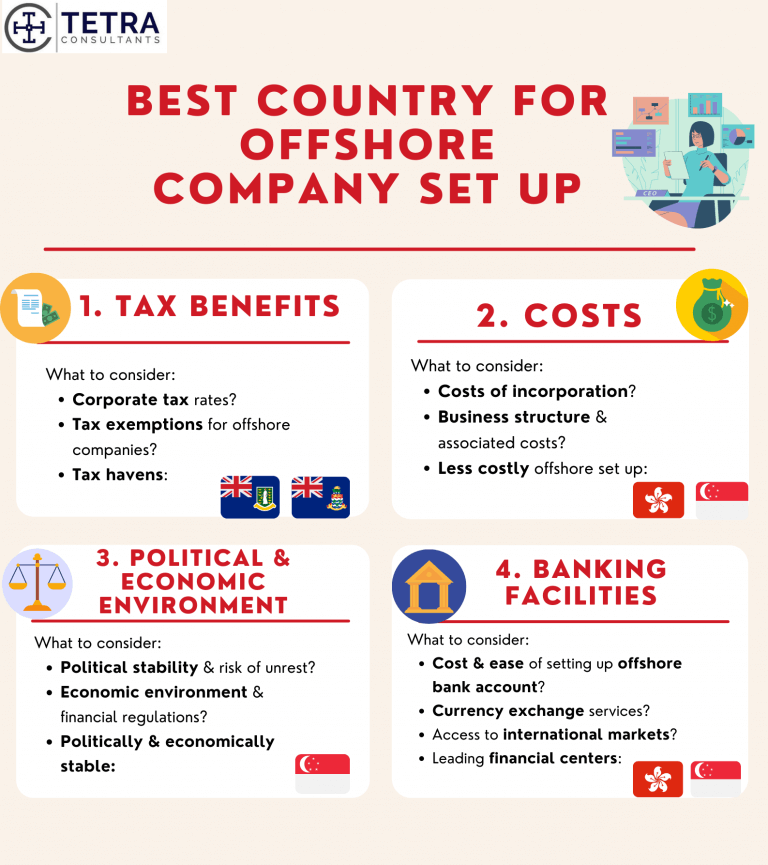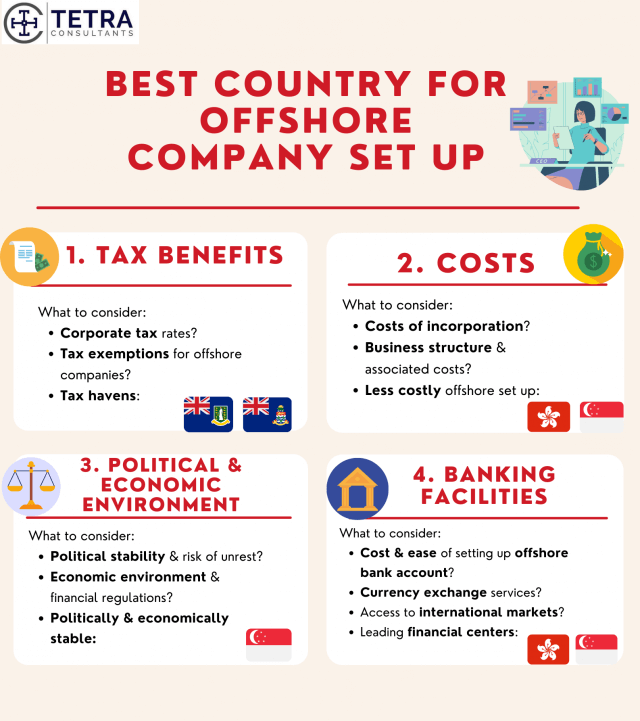 #1 Tax benefits
One key factor you need to consider when deciding which country to begin

offshore business set up

in is the tax benefits available to your business. Multiple countries provide complete tax relief for businesses such that they do not need to pay any corporate tax. These countries, including the Cayman Islands and British Virgin Islands, are known as tax havens. Contrary to this, other countries have higher tax rates or have no favorable treaty agreements. This leads to double taxation problems for companies, who would have to pay a much higher share of profit as tax to the government.
Therefore, optimizing your tax burden is imperative for your company to be able to continue growing and scaling. Hong Kong and Singapore both levy a corporate tax rate of 16.5% and 17% respectively. Despite the relatively high amount, both countries provide additional tax relief and tax exemptions for offshore companies to reduce their tax burden. Moreover, they also have double taxation treaty agreements signed with several countries which would be beneficial to your business.
#2 Costs
The

offshore company incorporation

process differs from country to country, depending on the specific government policies and regulations, and so does the cost. You need to decide whether the cost of

offshore business set up

in your chosen country is acceptable for your company.

For example, it is costlier to set up an offshore company in the Cayman Islands as opposed to Hong Kong or Singapore. However, you need to understand the business structure you wish to set up as costs differ based on this as well.



#3 Political and Economic Environment
The political and economic environment of the country is an important factor when deciding which country in which to begin

offshore business set up

. This is because having a more stable environment will result in a lower risk of political unrest and financial regulations imposed by the government which would benefit the company immensely by providing asset protection. Countries like Singapore have a relatively stable political environment as opposed to countries like Hong Kong.

Singapore is the most politically stable country in Asia with a reliable government resulting in low corruption. Moreover, it has an efficient legal system that will allow any potential business disputes to be resolved quickly and in a cost-effective manner.

On the other hand, Hong Kong has an unstable political environment caused by its relationship with Mainland China. This relationship has resulted in anti-government protests, causing severe unrest in the country and distrust in the government.
#4 Banking Facilities
You also need to consider the banking facilities available in the country of your choice. This is because having an offshore company will lead to a higher possibility of opening an

offshore bank account

. Firstly, you need to evaluate the cost of setting up an

offshore bank account

and the ease of doing so. Secondly, you need to understand whether the banks provide currency exchange services that will reduce the risk of fluctuations in the currency and reduce the transaction costs. Thirdly, since offshore banks have access to the international markets, there are more investment opportunities available to you unlike with a domestic bank.

Singapore and Hong Kong are a few of the leading financial centres in the Asian Pacific region. Both provide various banking facilities, including multi-currency accounts and internet banking needed by offshore companies to conveniently carry out their business.
Looking for the best country for your offshore company?
Besides the above factors, the goals of your company must also be taken into account when selecting the best country for your business. If your company is a well-established firm with higher capital looking for a long-term establishment of business, countries such as Singapore or Hong Kong would be a suitable choice. Conversely, if you own a small business with limited capital, tax haven countries such as the British Virgin Islands and Belize International Business Companies (IBC) may be more suitable. This is because of the 0% tax rate levied by the government and the cheaper offshore company incorporation cost.
We at Tetra Consultants understand that it may be difficult to identify which country you should set up your business in and would therefore like to provide you with our offshore incorporation services. Under this service, we offer planning and strategizing opportunities with our consultants so that we can find a country best suited to your needs. Following this, we will also assist you through the offshore company incorporation process so that you can begin operations as soon as possible.
Contact us if you want to receive more information about the best place to set up an offshore company for your business. Our team will revert to you within 24 hours.