If you decide to open a business in the financial sphere in the territory of Australia, you will need to obtain a financial license from the Australian regulator – Australian Securities & Investments Commission. Our specialists will provide assistance for you in the foregoing and save you time.
The Australia Corporations Act (2001) requires financial service providers in Australia to obtain an AFS license. Obtaining a financial license in Australia is a rather complicated procedure, but our specialists have many years of experience in obtaining this type of license and know how to avoid delays and difficulties in obtaining this type of license.
Tetra Consultants' team of licensing and business setup experts have summarized the most prevalent steps that take place during a typical engagement of applying for an Australia AFS license. In total, we expect to complete the procedure for obtaining a financial license in Australia in about 3 to 4 months.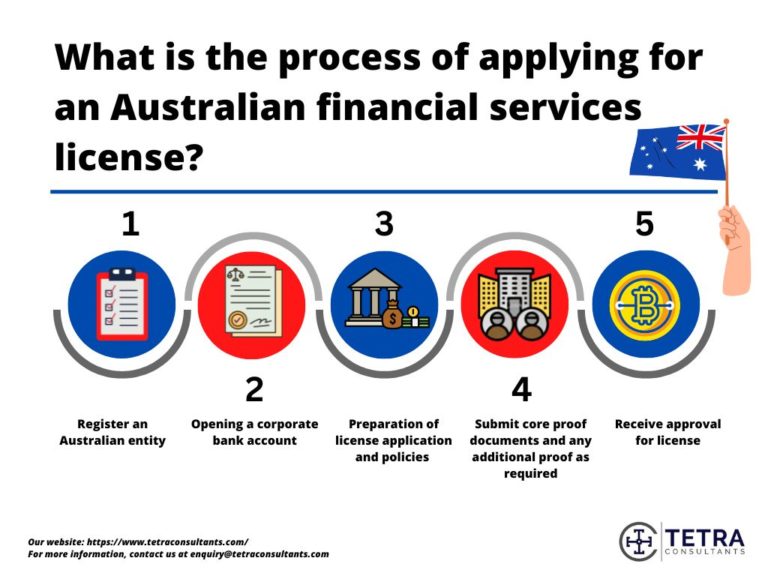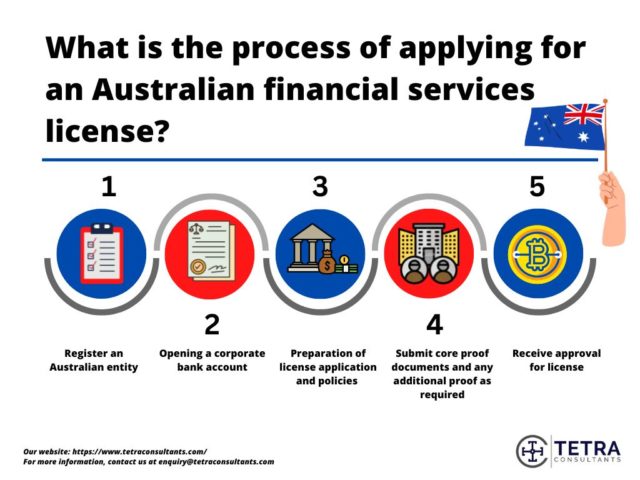 Steps to secure and applying for an Australia AFS License
Step 1: Planning and strategizing 
Tetra Consultants will assist you in incorporating your business in Australia by preparing required documents, providing you with a local registered address and director, and more. Generally, this process is completed within 1 week.

Once registration of the business is completed, we will proceed to

open a corporate bank account

with a reputable bank by leveraging our extensive banking network. This process should be completed within 4 weeks.
Step 2: Prepare the documents and License application
The first step that businesses need to undertake is to fill out the ASIC form FS01 which comprises five sections asking for information about the applicant, the business, the services and products provided by the business, ability to meet obligations, and more.

Tetra Consultants' team of experts will make sure that information keyed into the application should not be inaccurate or misleading, which may otherwise be taken as a criminal offense.
Step 3: Submitting the proofs of documents
Once the application form is submitted, Tetra Consultants' team of experts will prepare the sets of documents that will be required to send as proofs to ASIC which can include the documents like: 

Business Description:
Source of Business income
Additional information about the business
People Proofs for each manager:
Business references showcasing financial service experience
check of criminal history and bankruptcy
Financial Statements and financial resources:
Organisational competencies:
Proof of manager's competencies (skills, experience, and knowledge)
Step 5: Submitting additional proof (if required):
As part of the assessment process, you will receive requests for additional information to be provided. Generally, these requests are in the form of further documents called non-core proof documents in addition to the Additional proofs detailed above, or questions from an ASIC analyst looking to gain a deeper understanding of your business, processes, procedures, activities, etc. 

Accordingly, once the application and documents are submitted to ASIC, the authorities thoroughly review the application. If needed, they can ask for additional documents as proof of supporting documents. 

These additional documents must be submitted within 10 business days from when ASIC requested them.
Step 6: Approval of AFS License:
Once the ASIC has received the application form along with all the required documents, it will issue a letter of offer for the AFS License which includes the conditions based on which the license is being granted.
Conclusion: 
Engage

Tetra Consultants

to know more about the steps required to

register company in Australia

and apply for an Australia AFS license. Our service package includes everything from planning and strategizing to ultimately securing the licensing in a timely manner.

In addition, Tetra Consultants can also assist with attaining other

offshore financial licenses

depending on your long-term business goals. We can assist you in obtaining a specific license or authorization from your selected jurisdiction, in order to lawfully operate financial businesses.

Contact us

to find out more about how to secure an Australian Financial Services License to conduct business in the financial industry in the country. Our dedicated and experienced team will revert within the next 24 hours.