2020 might have been the worst year for the Canadian economy, with consumer spending falling drastically below 2019 levels for most of the first two quarters. Fortunately, due to effective treatment and management measures from the Canadian healthcare services and Government, they have managed to rebound in 2022. Canada was even ranked 19th in the April edition of the 2021 Bloomberg Covid resilience rankings, showing its effectiveness in containing the effects of the pandemic. With that in mind, it has once more become a good option for you to register company in Canada. Foreign company registration in Canada is easy since it only needs 1 director and 1 shareholder. However, at least 25% of the Board of Directors must be a Canadian resident. Even if there are fewer than 4 directors, at least one member of the Board must be a Canadian resident. Let Tetra Consultants show you which business is best in Canada, and how we can assist you with Canada company registration.
Tetra Consultants is familiar with how to register business in Canada and will help you to do so within 2 weeks. Throughout the process, you will not be required to travel overseas. Within the next 4 weeks, we will open a corporate bank account with either a local or international reputable bank. As such, you can expect your company to be fully operational and ready for business within 6 weeks from engaging Tetra Consultants.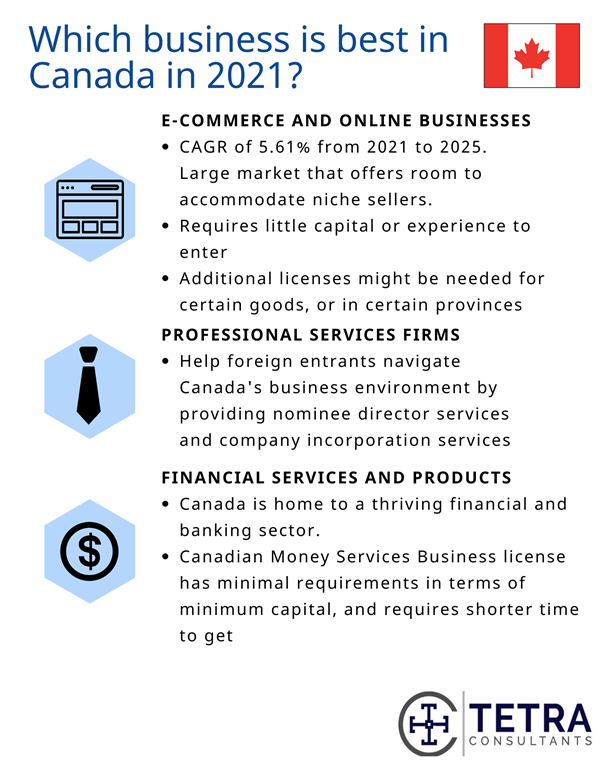 Ease of doing business in Canada
Canada was ranked 23

rd

in the World Bank's 2020 Ease of Doing Business Index, illustrating the relative ease with which your foreign company can operate in Canada. As earlier mentioned, there are minimal requirements to do so. No minimum capital is required as well, which makes it easy for small businesses to be opened. There are over 1.23 million businesses in Canada, of which around 98% are small businesses. 
Canada also has a high degree of economic freedom according to The Heritage Foundation's 2021 Index of Economic Freedom. This index measures the availability and access to economic opportunities, as well as the presence of barriers on labour, capital and goods movement and other regulatory barriers. Thus, your Canadian business will likely be able to capitalize on these economic opportunities without running into any significant barriers since Canada is ranked 9

th

on this index.
E-commerce and online businesses
Even though the e-commerce space has many dominant players like Amazon or Alibaba group, the sheer size of the market and its diversity allows it to accommodate other smaller sellers as well. According to Statista, the forecasted cumulative annual growth rate of retail e-commerce sales in Canada from 2021 to 2025 is 5.61%, just slightly below the global average of 6.29%. 

Opening an e-commerce business requires little capital or experience and allows you to reach a larger audience as compared to having a physical store. In fact, one of the reasons for the increased popularity of e-commerce was due to the restrictions resulting from the pandemic. With movement controls and lockdowns in many countries, physical stores suffered badly from the reduction in foot traffic. Thus, e-commerce stores had more operational flexibility and reach, whilst having lower costs due to not needing to pay rent for physical store space. This allows them to remain adaptive to the needs of customers and cater to specific niches that larger e-commerce operators might ignore. 

However, do bear in mind that your e-commerce business is still subject to most of the regulations that traditional physical businesses are, inclusive of company registration. This only applies to companies operating as independent sellers as opposed to selling through platforms like Amazon Marketplace. Tetra Consultants would recommend you operate as an independent registered seller since it allows you more chance to stand out from the other retailers on the Amazon Marketplace. You might also need additional licenses to sell certain restricted products like tobacco or alcohol. Provincial regulations on second-hand dealers might also apply. Our team of consultants will advise you on the necessary steps on the licenses required based on your business activities. 
Professional services firms
Given that there is a requirement for a local resident director, it opens up the opportunity for your company to provide nominee director services to foreign companies looking to incorporate in Canada. Since Canada is ranked 23

rd

in the Ease of Doing Business Index, it might also imply that there are still some obstacles to doing business in the country which foreign investors might need help navigating. Providing such services would be complementary to providing nominee director services too. Going back to the distribution of firms in Canada, most of such firms are small or medium enterprises that might not be sufficiently experienced or efficient in accounting, taxation or payroll processes. Thus, they would prefer to outsource such functions to professional services firms.

Canada's official language is English, but there are still certain provinces such as Quebec which use French. Thus, your firm can also offer translation services into English for foreign firms, or into France if your firm chooses to operate in Quebec. 
Financial services and products
The financial sector in Canada is one of the most profitable industries in Canada, and also provides the greatest number of jobs. More specifically, two of their domestic banks are part of the 25 largest banks in the world. These are the Royal Bank of Canada and the Toronto Dominion Bank. They have three cities deemed as financial hubs, Toronto, Montreal and Vancouver. Of particular note is Toronto, which is home to the Toronto Stock Exchange. This is the 8

th

largest stock exchange in the world by market capitalization. 

Canada also offers a

Money Services Business license

for firms dealing in foreign exchange or money transfer services, as well as the issuance of money orders, traveller's cheques or virtual currency. Canadian cryptocurrency legislation was recently updated in June 2020, increasing the scope of existing regulations to cover and protect crypto exchanges as well as payment operators who utilise cryptocurrencies. This offers investors the legal certainty and protection to confidently operate in the region. This is also tied to the good reputation of the Canadian banking and regulatory system, which made it through the 2007 – 2008 global financial crisis relatively unscathed. More specifically, starting a cryptocurrency exchange in Canada comes with fewer requirements, especially in terms of minimum capital, and is much faster. It takes only 1 to 2 months, as compared to other jurisdictions, which can take an excess of 6 months.     
How Tetra Consultants can help you find out which business is best for your company in Canada
Canada company registration is straightforward if you are familiar with the entire process. With Tetra Consultants at the wheel, you will be able to dedicate your time and resources to other more important business channels.
With our lean-and-mean mentality, you can rely on our team of experts to provide you a seamless experience throughout the whole process of foreign company registration in Canada. Our ultimate goal is for your Canada company to be operationally ready within the stipulated time frame of 6 weeks.
Our service package includes everything you will require to set up business in Canada:
Canada Company registration

Local company secretary and registered address

License applications (if required)
Contact us to find out more about Canada company registration. Our team of experts will revert within the next 24 hours.