There are over 1.23 million businesses in Canada, of which around 98% are small businesses. This shows that Canada has freely accessible economic opportunities and a low degree of regulatory, capital and trade barriers. These represent its high degree of economic freedom, and this is also supported by Canada's 9th place ranking in The Heritage Foundation's 2021 Index of Economic Freedom. Another contributor to this high degree of economic freedom is the ease to register company in Canada for foreigners. This only needs 1 director, 1 shareholder and no minimum capital. However, at least 25% of the Board of Directors must be a Canadian resident. Even if there are fewer than 4 directors, at least one member of the Board must be a Canadian resident. Additionally, Canada was ranked 23rd in the World Bank's 2020 Ease of Doing Business Index, illustrating the relative ease with which your foreign company can operate in Canada. The profitability of these businesses varies across sectors, but in general, most sectors see around 80% of businesses being profitable. The first step in ensuring that your business is profitable is to look at which business is most profitable in Canada. This provides an indication as to the attractiveness and profit potential of the industry and helps you to decide what business activity your company should carry out.
Tetra Consultants is familiar with how to register company in Canada and will help you to do so within 2 weeks. Throughout the process, you will not be required to travel overseas. Within the next 4 weeks, we will open a corporate bank account with either a local or international reputable bank. As such, you can expect your company to be fully operational and ready for business within 6 weeks from engaging Tetra Consultants.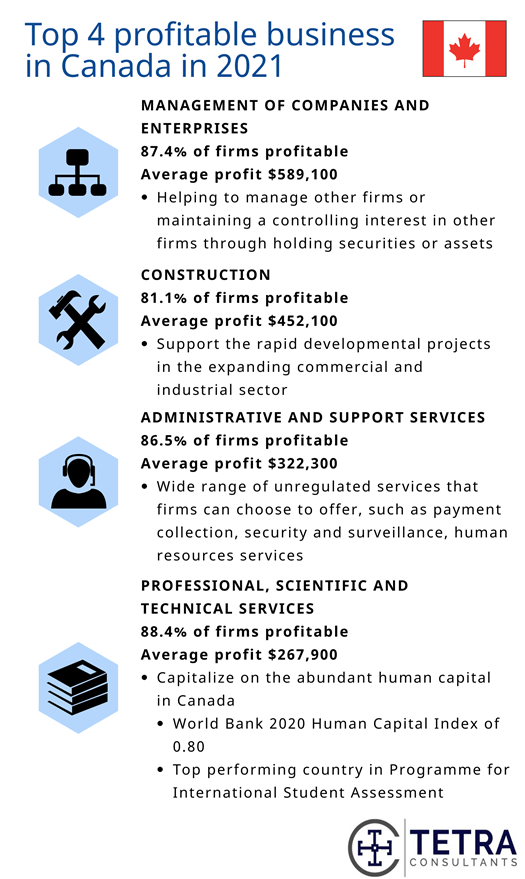 1st place: Management of companies and enterprises
Starting off our list of which business is most profitable in Canada, we have company and enterprise management firms. Such firms either directly manage other firms or maintain a controlling interest in other firms through holding securities or financial assets. Based on 2019 financial data of small and medium enterprises (SME) only, 87.4% of such firms were profitable and they each made on average $589,100. 

Although such firms are usually relatively profitable both in terms of the percentage of firms making a profit and the average amount of profit made by each firm, it is also relatively restrictive since it does require some specialized skill sets. Being responsible for the strategic and operational decisions of a firm, as well as its organizational planning is definitely not easy, and to be able to do it professionally requires both experience and training, which is why firms who do so are often paid well. Smaller firms tend to engage such firms since they lack their own experience in doing so and would rather tap on the experience and economies of scale that such company management firms would offer. Company management firms that hold equity in the companies they manage will also require capital to do so.  
2nd place: Construction
Second on our list is the construction industry. Based on 2019 financial data, these firms made on average $452,100 and 81.1% of them were profitable. 

There is a constant need for such services to support the increased amount of development projects across the country, especially in the rapidly expanding commercial and industrial sector. Unfortunately, much like in the case of company and enterprise management firms, it is a relatively difficult sector for new entrants to break into since it requires high amounts of fixed capital to acquire the necessary equipment. It is also heavily reliant on skills, therefore it would only be recommended for you to enter this industry if you have the relevant experience to do so, or have a business partner that does. Being a regulated industry, you will also need to apply for the necessary permits and licenses before you can commence business. 
3rd: Administrative and support services
Coming in third, we have administrative and support services. In 2019, such firms made an average of $322,300, and 86.5% of firms were profitable. 

Unlike the first two options on our list, it is relatively easier for new entrants to enter this industry since it covers such a broad range of activities. These activities include payment collection, security and surveillance as well as human resource services. A key distinction to make with our next business on the list is that the services under administrative and support services are usually not regulated services such as accountancy or legal services. The lack of requirement for professional certification thus reduces the barriers to entry for this sector, allowing greater access to new entrants. 
4th: Professional, scientific, and technical services
Lastly, in fourth place, we have the professional, scientific and technical services. 88.4% of such firms were profitable, and on average they made $267,900. 

Such industries are highly dependent on human capital and the skills of their employees. Given that the World Bank Human Capital Index 2020 gave Canada a score of 0.80, an increase of 0.03 from their score of 0.77 in 2010, Canada provides an abundance of human capital that your business can utilize. The Programme for International Student Assessment also put Canada as one of the top-performing countries, with its score significantly exceeding the mean in all the three tested categories of reading, mathematics and science. 
Summary of which business is most profitable in Canada
As we can see, whilst it might be easy to register a company, for it to remain profitable is another story entirely. Often, profitability is tied to many other factors such as barriers to entry and the rivalry of firms within the industry. Tetra Consultants is experienced in operating in Canada, and we will present the various options available for you to do business. 

Before you incorporate your company, we will also seek to understand your desired business activities and recommend the optimum company structure for you to do so. We would advise you on the relevant company incorporation costs and compliancy costs so that you can more accurately estimate the profit-loss position of your company. We also offer a full suite of services including accounting and taxation services. We are experienced in doing so and can help you to save time and effort in preparing the necessary reports. More importantly, we will ensure your business' compliancy and prevent unnecessary fines. This would then maximise the chance of success for your company and better help you to achieve your long term business goals.
How can Tetra Consultants assist you in finding which business is most profitable in Canada for you?
Canada company registration is straightforward if you are familiar with the entire process. With Tetra Consultants at the wheel, you will be able to dedicate your time and resources to other more important business channels.
With our lean-and-mean mentality, you can rely on our team of experts to provide you with a seamless experience throughout the whole process of foreign company registration in Canada. Our ultimate goal is for your Canada company to be operationally ready within the stipulated time frame of 6 weeks.
Our service package includes everything you will require to set up business in Canada:
Canada Company registration

Local company secretary and registered address

License applications (if required)
Contact us to find out how to register business in Canada. Our team of experts will revert within the next 24 hours.