Register company in Ajman
Ajman is a fast-growing emirate in the UAE that offers global investors and entrepreneurs comprehensive and attractive growth support and propositions. Over the years, Ajman has welcomed many enterprises from across industries seeking to expand and carve a niche in the growing local and regional markets.
With our lean-and-mean mentality, you can rely on our team of experts to provide you with a seamless experience throughout the whole process to register company in Ajman. Our ultimate goal is for your company to be operationally ready within the stipulated time period.
Our service package includes everything you need to register company in Ajman:
Register company in Ajman mainland & Ajman Free Zone Area
Company secretary and registered address
Opening local and international corporate bank accounts
Filing of trade or business license application
Annual accounting & tax obligation services

Low-Cost Business Setup in Ajman
The cost of establishing a business in Ajman mainland is lower than in any other Emirates. When compared to other business formations in the UAE, Ajman company setup expenses are reasonable and economical. Whether it is the cost of an Ajman general trading license, the fee for an Ajman general maintenance license, forming a single proprietorship, or renting office space in the jurisdiction, Ajman will always provide the best pricing.
Scalable Business Platform
Company incorporation in Ajman is an excellent fit for emerging businesses or new ventures since it provides significant growth and international visibility. Ajman's mainland company setup is not only cost-effective, but it also provides scalable business platforms. If you want to create a business in Ajman, you may do it with a low investment depending on the status of the business.
Ajman Freezone and Offshore
Ajman free zone and offshore business setting are also viable options. Ajman Freezone also has the lowest cost of doing business in the area. Ajman free zones make it simple for foreign investors to understand the advantages of establishing a business in Ajman Freezone. Set up a company in Ajman Freezone and re-domicile it whenever it is convenient for you. Offshore enterprises operating in the Ajman Freezone can take use of re-domiciliation services, which allow for direct inward foreign investment. Furthermore, establishing a corporation in Ajman Free Zone ensures total confidentiality with limited financial disclosures; little capital or document processing needs; complete ownership and tax benefits; and so on.
Other Added Benefits
Ajman company license costs the least whether on the mainland, in a free zone, or offshore. Aside from that, there are various advantages to registering a corporation in Ajman. For example, low-cost land, rental space, and reduced lease rents. Trading enterprises benefit from convenient access to two international airports and four ports. Infrastructure that is both affordable and of high quality.
How long does it take to register company in Ajman?
Tetra Consultants will complete the process to register company in Ajman within 3 weeks. After receiving due diligence documents of directors and shareholders, Tetra Consultants will search for the availability of the name with respective Ajman authorities. Our team will ensure the incorporation of a company in Ajman with minimal need to travel.
Once completed, you can expect to receive the details of your newly registered entity including the company number and certificate of incorporation.
Within 4 weeks, after registering the company in Ajman Tetra Consultants will open a corporate bank account with internationally reputable or local banks in Ajman for your business entity. Consequently, you can expect to start operation and issue invoices with your Ajman company within 7 weeks upon engaging Tetra Consultants.
Can a foreigner start business in Ajman?
Dubai Economy permits full ownership for foreign investors in accordance with the Federal Decree-Law No. 26 of 2020 that amended some provisions of Federal Law No. 2 of 2015 on Commercial Companies.
As per the guidelines published by Dubai Economy on its website, 100 percent foreign ownership is available for more than 1,000 commercial and industrial activities, excluding economic activities with a strategic impact, which relate to seven sectors.
Department of Economic Development – Abu Dhabi identifies 1,105 registered commercial and industrial activities, for which non-citizens, whether natural or legal persons, have the right to own economic license, and establish commercial companies with 100 percent or less ownership and practice these activities in the emirate of Abu Dhabi.
The announcement of full foreign ownership affirms the Abu Dhabi Government's keenness to attract more foreign direct investments by promoting an open and flexible business environment, stimulating the private sector, and enhancing the position of the emirate of Abu Dhabi on the global investment map.
Types of companies to consider when you register company in Ajman Mainland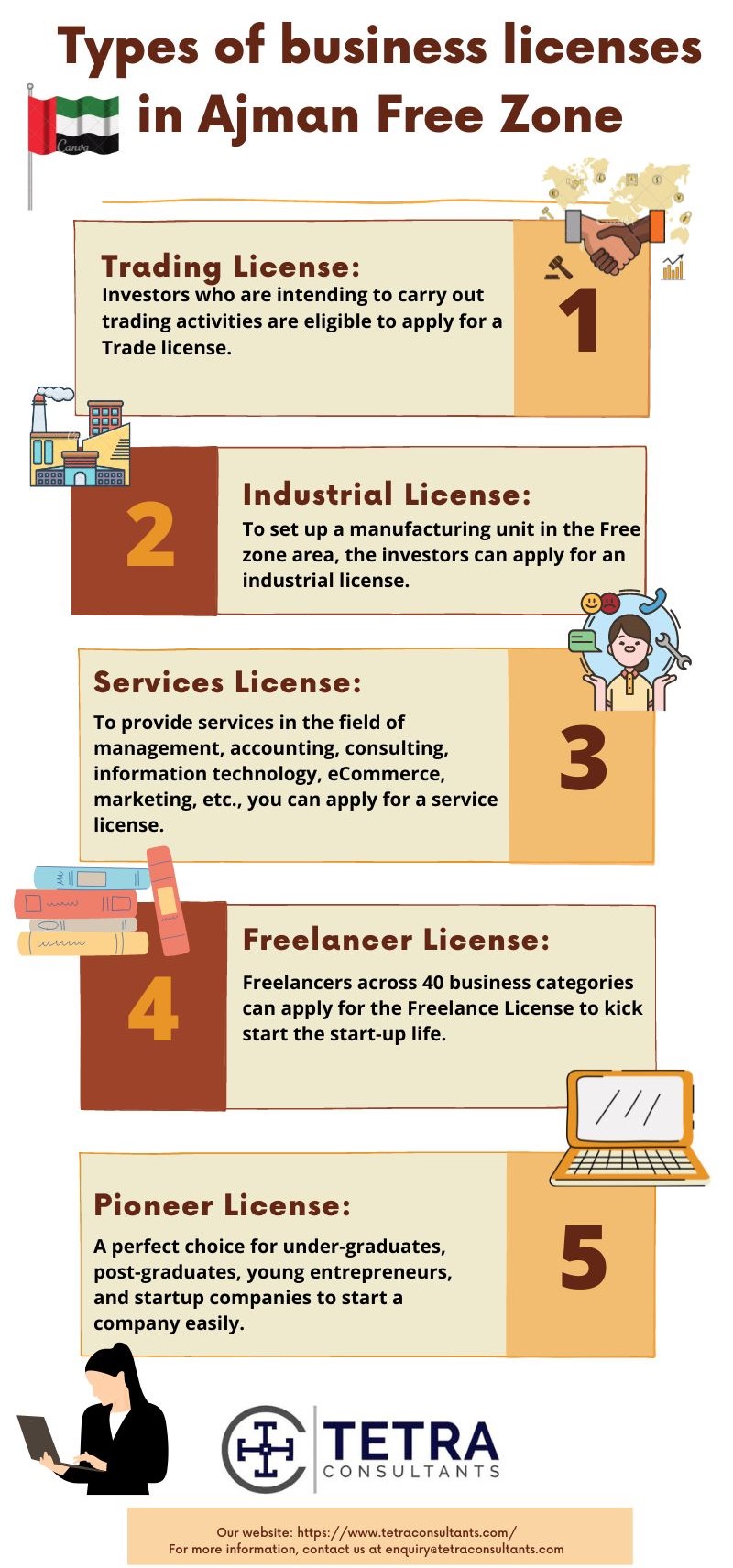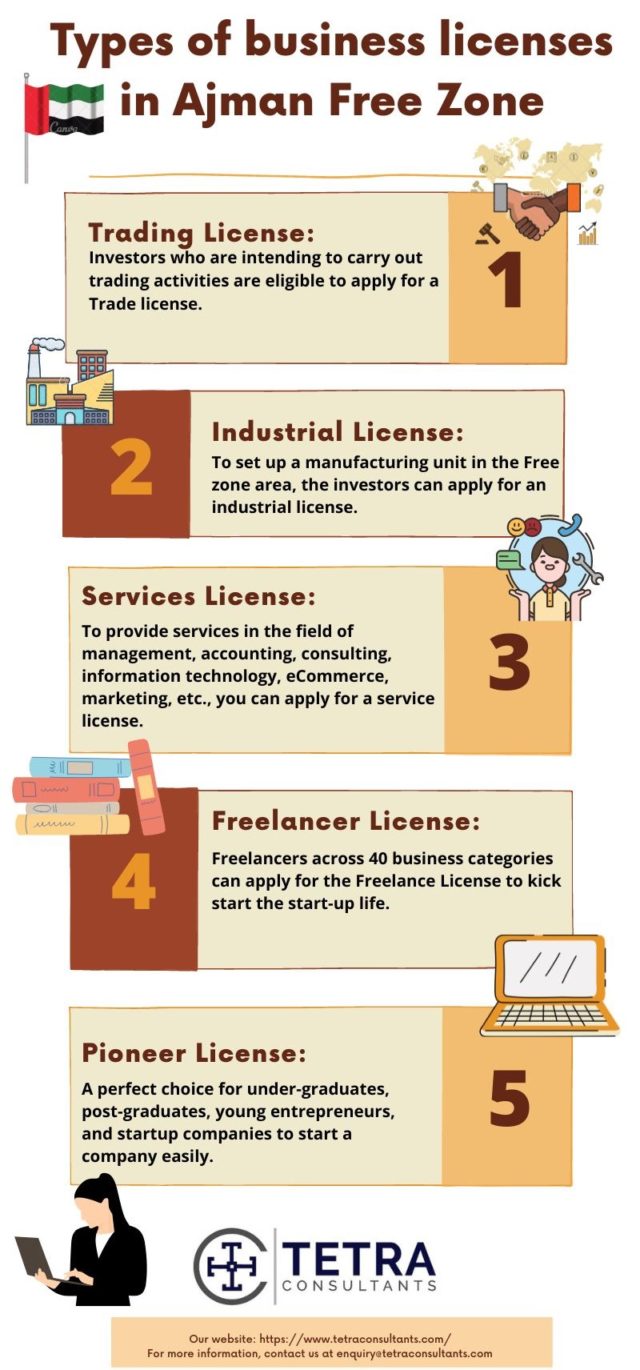 There are five types of business or corporate entities you can form in Ajman Mainland. You should choose them carefully because it will affect the rules and regulations your business will have to abide by after formation. However, do not worry if they seem too intimidating. We will help you select the best company structure for your business.
Here are the five types of business structures that you can register in Ajman Mainland briefly explained:
Sole Establishment
Sole Establishment is for investors and entrepreneurs who are looking to be the only owner in their business. Foreigners cannot form a sole establishment in some of the business sectors that are strategically important to the government of the UAE. For example, foreigners cannot form a sole establishment in the oil and gas sector. A sole establishment does not have limited liability, which means you can get more loans, but it has some potential risks as well.
Limited Liability Company (LLC)
Ajman Mainland allows the formation of Limited Liability Companies. In fact, the Limited Liability Company setup is more affordable here compared to the rest of the Emirates. When you form a Limited Liability Company, your liabilities are limited to the amount of capital you have invested in the business only. That means, if your business were to liquidate or go into bankruptcy, then your personal properties would be safe. The debts of the business will be limited to the capital invested in the business.
Public/Private Shareholding Company
If you are an entrepreneur with a solid business plan but you are in need of investment for your startup, then a public/private shareholding company is the best for you. The UAE is full of people who are looking to invest their money into something meaningful and comparatively risk-free.
If you plan to lunch a public shareholding company, then you need to develop a business plan first that details all the important aspects of your business. If you have never been through this process before, do not be disheartened, we will walk you through it.
Professional Firm
Professional firms are for people who are looking to sell their services instead of products or commodities. Professional firms make it easier for service providers to legally sell or trade their services in Ajman Mainland. Service providers like lawyers, accountants, consultants, healthcare professionals, etc. can reap the benefits provided by the professional firm company structure in Ajman Mainland. Professional firms can have a single owner, partners, or multiple owners.
Branch Office
If you already have a running business in some other country or even in the UAE, then you can open a branch office in Ajman Mainland. A branch office makes it easier to settle your entire brand here in Ajman easily. This means that you can streamline the process of registering your business in the UAE. It also helps with trademark registration for your brand name and logo. Unless there is already another business that has registered the trademark in the UAE beforehand, then you can easily get the trademark in the general journal of the UAE.
Register company in Ajman Free Zone
The Ajman Free Zone (AFZ), one of the UAE's oldest Free Zones, was founded in 1988, resulting in tremendous industrial growth by attracting a large number of enterprises to take advantage of the investment rights. In its early years, the Ajman Free Zone promoted industry, trade, and the financial sector in the UAE. The Ajman Free Zone allows you to discover the benefits of Ajman Port, which serves over 1000 vessels per year and has evolved as an important maritime focal point today. With the help of Tetra Consultants, you may become one of the Ajman free zone enterprises with all the resources you need to flourish.
Ajman Free Zone, strategically located at the entrance to the Arabian Gulf, is ideally positioned to service both the eastern and western commercial markets. Tetra Consultants' team of committed specialists assists you in estimating the Ajman free zone firm establishment cost as well as obtaining a general trade license in Ajman and other types of licenses permitted by the administration. The Ajman Free Zone is a developing free zone in the UAE, and with our assistance, you may obtain the appropriate Ajman free zone visa for your business needs.
Ajman free zone now contains roughly 256 industrial enterprises, accounting for 20% of total industrial units in the UAE and ranking third among the Emirates.
Type of business structure to register company in Ajman Free Zone
Before you proceed to register company in Ajman Free Zone, it is essential to understand the different types available. As per AFZA, the following types of legal entities are permitted to set up business in Ajman free zone, these are:
Zone Establishment (FZE) is an entirely independent corporate entity, which can be registered by a single shareholder with minimum capital investment.
Free Zone Company (FZC) can be incorporated by 2 to 5 shareholders or corporates with minimum capital investment.
Branch of a Foreign Company gets 100% ownership under this license and is allowed to perform any kind of commercial activity (license is provided to companies established outside the UAE). However, to make sales, the agent or distributor should be registered in the UAE.
Branch of UAE Company, a UAE-based company can freely set up a branch in Ajman Free Zone Area.
What are the kind of activities allowed in Ajman Free zone?
Activities not permitted
Insurance and reinsurance
Conduct business with onshore companies in the UAE
Establishing a branch in the UAE
Activities allowed
Intellectual Property rights holding
Property holding in Ajman
Online advertising activities
Benefits of registering a company on Ajman Free Zone
Ajman Freezone offers its investors a host of benefits such as the quick release of trade licenses, low business setup costs, multiple visa options, a wide range of business activities to choose from, easy corporate bank account opening, etc.
Additional Benefits:
Easy transfer of Capital and Profits
Reasonable prices for land leasing, office facility usage, and electricity
Availability of Low-cost Labour
Easy to Sponsor Dependents
Company Setup with multiple shareholders are allowed
Easy access to the Ajman Port
Licensing Types in Ajman Freezone
The following are the type of Licenses available in the Ajman Free Zone. The Business Setup Packages in Ajman Free Zone include different options (business center, smart offices, executive offices, and warehouses).
Trading License:
Investors who are intending to carry out trading activities are eligible to apply for a Trade license.
Industrial License:
To set up a manufacturing unit in the Freezone area, the investors can apply for an industrial license.
Services License:
To provide services in the field of management, accounting, consulting, information technology, eCommerce, marketing, etc., you can apply for a service license.
Freelancer License:
Freelancers across 40 business categories can apply for the Freelance License to kick start the start-up life.
Pioneer License:
A perfect choice for under-graduates, post-graduates, young entrepreneurs, and startup companies to start a company easily.
Ajman Free Zone – Facilities Offices
Smart Offices
Ajman Free zone Smart offices are suitable as a smart investment for startups and entrepreneurs. You can keep your costs lower, start your business immediately, get two employment visas and enjoy the numerous benefits provided by Afza Free Zone for an excellent return on investment.
Executive Offices
Get up to 5 employment visas and an executive office strategically located in Ajman Business Center in Free Zone. You can administer your business using these offices, depending on the size you need. These executive offices have excellent facilities, easy parking, and security.
Warehouses
Afza is keen on meeting the requirements of investors by designing and providing high-quality warehouses, with all service facilities and specifications, starting from 100 square meters and prices starting from AED 250 per square meter.
Lands
These are areas for investment and trade zones suitable for industrial investment, prepared as per accurate research on investors' needs in free Zone.
What are the requirements to register company in Ajman Free Zone?
It is required to apply for and receive a trade license to conduct business activities
Physical office space is required inside the free zone, regardless of its size. The office space can be rented in an Ajman Free Zone nominated eligible building. There are various options for an office, such as desk spaces, warehouses or small offices.
There is no requirement of appointing a resident manager or a director. As well as, there is no requirement of the business owner to be a resident of the United Arab Emirates.
Information required in Ajman Free Zone:
It is required to decide on a precise business activity before applying for an operating license
A decision needs to be taken on how many visas are required
It is also required to determine the size of the office. Which in turn determines the number of visas the business owner is eligible for. Two visas are provided on the smallest office size. However, in need of more than 2 visas, the office space needs to be bigger.
Other requirements:
A single shareholder company is required to have a suffix of FZE
Multiple shareholder company is required to have a suffix of FZC
Branches of foreign businesses and local mainland businesses, as well as partly or fully owned subsidiaries, are allowed
The minimum share capital is AED$50,000, which is required to be shown in the bank account at the time the company is registered
Documents required to register company in Ajman free zone
The investor shall fill in the application and attach the following documents:
A Freezone Establishment (FZE):
Passport copy that is valid for 6 months minimum
A No Objection Letter from the sponsor in case the applicant has a valid residence in UAE
A feasibility study shall be submitted in the case of Industrial & Services enterprises
No need to show a capital deposit in Bank
A Freezone Company (FZC):
Passport copy that is valid for 6 months minimum, for the representative or manager of the company.
A No Objection Letter from the sponsor in case the applicant has a valid residence in UAE
A feasibility study shall be submitted in the case of Industrial & Services enterprises
No need to show a capital deposit in Bank
A Branch of a Local Company:
Passport copy that is valid for 6 months minimum, for the representative or manager of the company.
A No Objection Letter from the sponsor in case the applicant has a valid residence in UAE
A feasibility study shall be submitted in the case of Industrial & Services enterprises
No need to show a capital deposit in Bank
A Branch of a Foreign Company:
Passport copy that is valid for 6 months minimum, for the representative or manager of the company.
A registration certificate issued by the competent authority in the country in which the company is registered
Contract of association of the company
A resolution issued by the competent authority to the company for carrying out the activity in the Freezone and appointment of a representative or manager by virtue of a duly attested Power of Attorney.
A feasibility study shall be submitted in the case of Industrial & Services enterprises.
What is the procedure to register company in Ajman Free Zone?
To register company in Ajman Free Zone is a rather easy and straightforward process, Our team of dedicated consultants equipped with the regulatory and legal environment of Ajman has summarized the prevalent steps that take place in a typical engagement:
Step 1: Determining the business activities
Ajman Free Zone is open to most of the business activities allowed in the UAE, such as accounting and bookkeeping, consultancy, hospitality, IT, marketing, trading, and transport.
As all the business activities going to be operated under the company's license will need to be listed carefully in the license application. If one fails in this step, many complications can follow in the registration process.
Tetra Consultants will fully understand the nature of your business along with the considering information necessary to file a license application at a later stage for relevant business activity.
Before Tetra Consultants can set up your company in Ajman Free Zone, you are required to provide a list of required KYC documents. Some of these documents include the names of directors and identification proof.
Step 2: Registering the trade name
For the next step, Tetra Consultants will register the trade name with the Ajman Free Zone Authority. If required we will also conduct the prior search through the Ajman trade register data available to check the availability of the preferred business name.
There are several regulations and restrictions for registering a company's name in the UAE in general, which may not be known to expatriates. Some of these restrictions are: i) avoid using the name of Allah or Islam, or any other religions in the name of the company, ii) if one intends to use their own name in the company's name, it should be in full form and not initials, for example, iii) check for availability, etc.
Step 3: Choosing the form of legal entity to be registered
The next step would be to choose the form of entity to be registered in Ajman Free Zone. Depending on the type of entities one intends to operate in Ajman Free Zone, the regulatory requirements may vary.
After understanding your business goals and activities, our team of dedicated consultants will recommend the most suitable entity for you to carry out your business. There are several business entities to select from that are a branch of a local or foreign company, a Free Zone Company (FZC), or a Free Zone Establishment (FZE).
Prior to incorporating an Ajman Free Zone company, you will be advised on the optimum paid-up share capital, company structure, legislations, and the type of licenses available to operate with such entity.
Step 4: Applying for a relevant business license & registration of entity
Depending on the type of activities to be carried out by your company, Our team will suggest suitable business licenses and other regulatory requirements comply with.
Tetra Consultants' legal team will draft the high-quality application form for the relevant business license application along with compiling the set of supporting documents required under such process.
Once the above steps are completed, Tetra Consultants will register your business entity with Ajman Free Zone Authority along with the submission of the business license application.
Once the application is approved you will be issued a license by the Ajman Free Zone Authority.
Step 5: Applying for visas
After obtaining the business license, foreign entrepreneurs will be required to apply for visas. The number of visas the main applicant is eligible to apply for depends on the size of the business they run.
Tetra Consultants will fulfill all your post-licensing requirements along with applying for visas and other work permits for the smooth operation of your business in the Ajman Free Zone.
Step 6: Opening a corporate bank account
Tetra Consultants will help you to open a corporate bank account. Our team has established partnerships with multiple reputable banks in Dubai. Tetra Consultants' banking team is experienced in this field and we will be able to timely secure banking solutions within the stipulated deadlines.
Typically, a corporate bank account opening will take roughly 4 weeks. In most cases, the directors and shareholders are not required to travel to Dubai. However, if travel is required, Tetra Consultants will have a representative accompany you to the bank meeting. Some of the banks we work with include Mashreq Bank, Emirates Islamic, and Standard Chartered Bank.
Alternatively, our team will negotiate with the banks to conduct a conference call instead or request a waiver. This is to minimize any engagement delay and to secure corporate bank account numbers as the soonest.
Why do companies register in Ajman?
Economic stability
The UAE is the 25th most competitive economy globally as per the Global Competitiveness Report 2019, leading the MENA region and works to enhance this status by diversifying its national income. Features of the UAE's solid economy include:
Strong financial reserves
Large sovereign wealth funds
Healthy international relations
Consistent government spending on infrastructure, digital transformation, and innovation
The progressive policy of economic diversification
Multi-specialty free zones
Increased foreign direct investments (FDIs).
Ease of doing business
The UAE presents a favorable business environment. Excellent infrastructural facilities coupled with professional expertise and personalized services give the UAE an edge over other countries. The UAE was ranked 16th globally, as per the World Bank's Ease of Doing Business Report 2020. Its rank in the various indices is as follows:
1st globally in 'getting electricity
3th globally in 'dealing with construction permits
9th globally in 'enforcing contracts.
10th globally in 'registering property
Political stability
The UAE has long-term political stability, with an open diplomatic policy worldwide. The UAE has more than 100 dynamic diplomatic missions abroad and about 200 foreign diplomatic missions in the country.
The UAE is a member of the Gulf Cooperation Council (GCC), Arab League, and the UN and its agencies and the 3rd most peaceful country in the region according to the Global Peace Index 2021, compiled by Institute for Economics and Peace, a New York think tank.
Social stability
The UAE is a safe place to live and invest in. Tolerance and respect for diverse cultures are innate to the UAE. The UAE is ranked 1st in the Arab region in the general index of the World Happiness Report 2020.
The UAE has a minister of tolerance and launched a year of tolerance and a national program for tolerance – read about tolerance in the UAE and has adopted effective anti-discrimination and anti-hatred regulations. The country additionally hosted the Human Fraternity Meeting, with the aim to enhance dialogue on the co-existence of humans and adopted effective regulations to support vulnerable community groups.
Skillful talent and labor
The UAE's talent and labor force is one of the most skillful in the world. Its multi-cultural population enhances workforce productivity and creativity.
The country's official language is Arabic, with English and other major languages also being widely used.
The UAE launched a new visa system, attracting a qualified workforce in the health, scientific, technological, and cultural sectors.
The UAE is seeking to be the first incubator of highly skilled professionals and talented human capital in dynamic, economic sectors.
Looking to register company in Ajman?
Contact us to find out more about how to register a company in Ajman. Our team of experts will revert within the next 24 hours.
FAQs
What is a free zone?
Free Zones are areas designated for international businesses, which need 100% foreign ownership. Companies in each free zone can trade only within the same free zone and nowhere else in UAE.
How do you register a company in Ajman Mainland?
Submit an application to the Ajman authorities of the Customer Services Center for initial approval.
Choose a business location and notify the Inspection Unit.
Get a membership certificate.
Submit required documents to the Register of Companies.
Get your business license.
Is audit required in Ajman Free Zone?
According to the implementing regulations of Ajman Free Zone (AFZ)​, a company registered under Ajman Free Zone (AFZ) has to prepare a financial statement and get the same audited and submit it to Ajman Free Zone (AFZ) within six months from the end of the relevant financial year of the company.