How to incorporate a company in BVI?
Prior to the start of the engagement, it is essential for you to understand how to incorporate a company in BVI. Tetra Consultants has assisted multiple clients to incorporate companies in BVI and we advise you to read through this guide to fully understand the steps to a successful incorporation process.
In essence, your engagement will be broken down into 4 phases:
Planning and strategy
Incorporate
Bank account opening
Staying compliant
By systematically following the above 4 phases, you can expect to start conducting business with your BVI company within 5 weeks. Contact us to find out more about how to incorporate a company in BVI. Our team of experts will revert within the next 24 hours.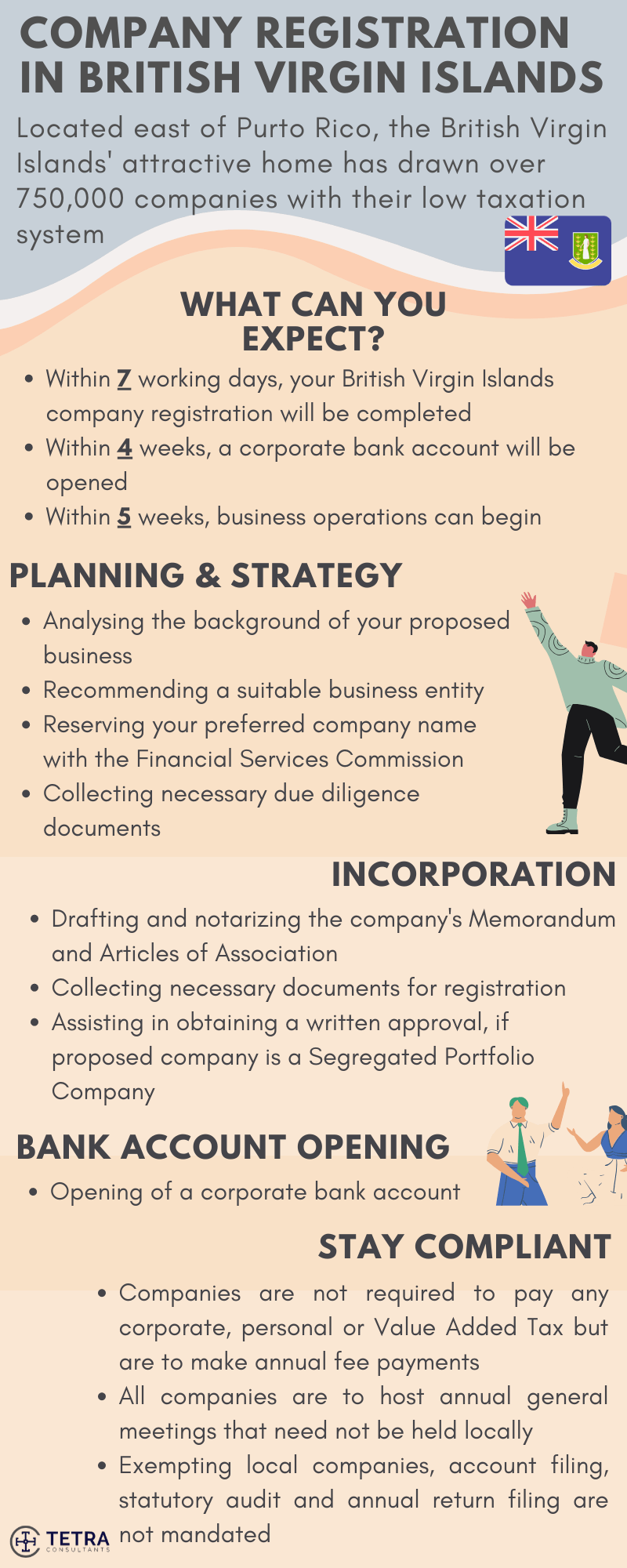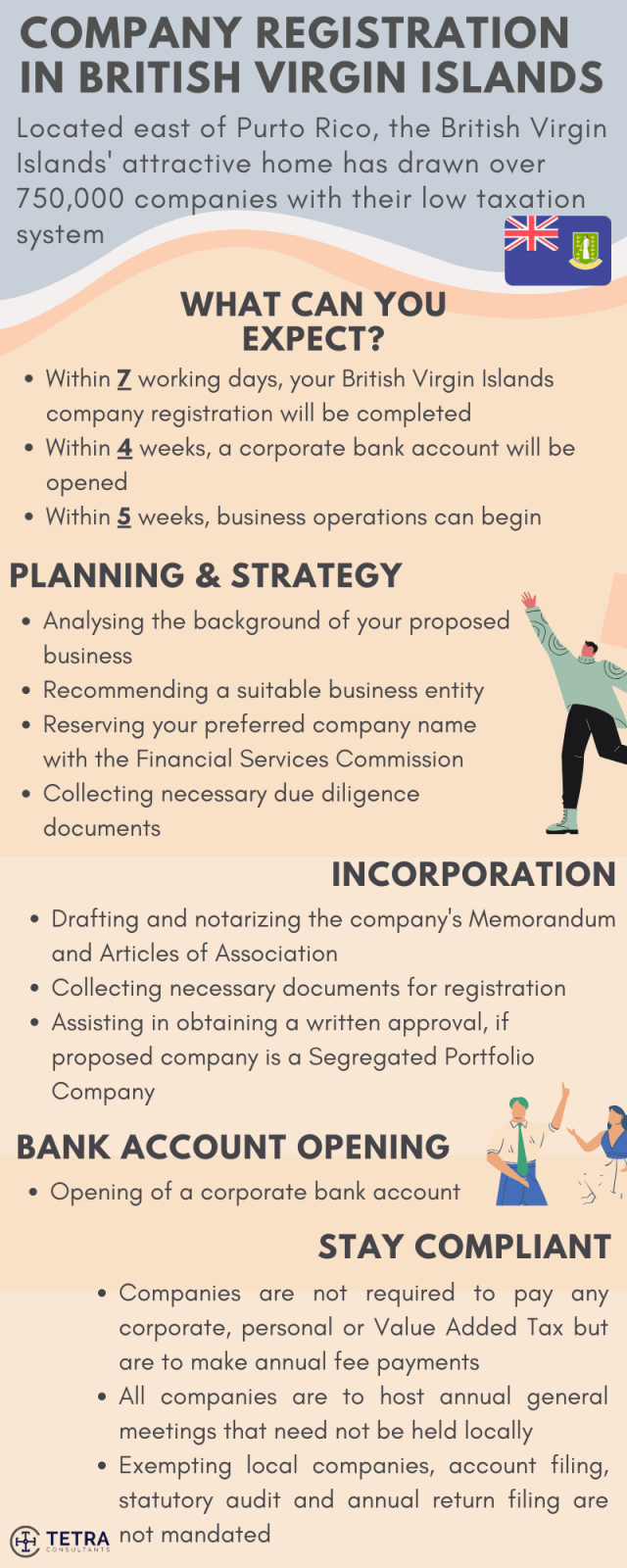 Step 1: Planning and Strategy
The first step to understanding how to incorporate a company in BVI is to choose the correct business entity. The myriad of business form options may leave one in a dilemma. Determining the optimum business entity to adopt is no easy feat. After considering the advantages and disadvantages of each business structure, Tetra Consultants will recommend a suitable business entity.
This recommendation will also be made based on the type of business activity, tax obligations and nationalities of your shareholders and directors. Generally, for most clients, Tetra Consultants will recommend incorporating a company limited by shares.
Tetra Consultants will reserve your preferred company name with the Financial Services Commission. Necessary due diligence documents will also be collected at this point.
Step 2: Incorporation
After you have understood how to incorporate a company in BVI, Tetra Consultants will proceed to draft and notarize the company's Memorandum and Articles of Association. Based on the British Virgin Islands laws, a registered agent and registered office are necessary for BVI company incorporation.
As such, Tetra Consultants will also provide you with a registered agent and office. The address will be used to manage process service requests and official notices. An application to incorporate will be filed by the proposed registered agent to the Registrar.
Documents such as the Memorandum, articles signed by the proposed registered agent and an approval form signed by the proposed registered agent will be submitted. If you are intending to incorporate a segregated portfolio company, our dedicated team of consultants will obtain the written approval of the Commission to ensure a successful incorporation process.
Within

1 week

of receiving the required due diligence documents, Tetra Consultants expects to provide you the corporate documents of the newly established British Virgin Islands company. Some of these documents include a Certificate of Incorporation and the unique number allotted to the company.
Step 3: Bank Account Opening
After BVI company incorporation, Tetra Consultants will proceed to open an offshore corporate bank account. Our team has established partnerships with multiple international reputable banks in the British Virgin Islands.
Tetra Consultants' banking team is experienced in this field and we will be able to timely secure banking solutions within the stipulated deadlines. Typically, a corporate bank account opening will take roughly

4 weeks

. In most cases, Tetra Consultants will provide you with non-travel banking solutions.
However, if travel is required, Tetra Consultants will have a representative to accompany you to the bank meeting. Alternatively, our team will negotiate with the banks to conduct a conference call instead or to request for a waiver. This is to minimize any engagement delay and to secure corporate bank account numbers at the soonest.
Step 4: Staying Compliant
Bookkeeping in the British Virgin Islands is also a simple process. There is no requirement imposed when it comes to account filing, statutory audit and annual return filing. For local corporations, an annual financial statement is to be published and the company is to be audited annually by an independent director.
However, it is to note that an annual fee is to be payable by all companies. All corporations are also mandated to host annual general meetings. Fortunately, that meeting is not required to be held locally and can be done anywhere else, minimizing travel needs.
Staying compliant requires you to stay updated with the regulations. As such, we will continue to remind you annually about the necessary due charges. This is to ensure that you can continue to legally conduct business with your British Virgin Islands entity while staying compliant to regulatory obligations.
Contact us to find out more about how to complete BVI company registration. Our team of experts will revert within the next 24 hours.
FAQ
Why do companies incorporate in BVI?
BVI company registration can be completed in a few days and the government requires only minimal financial reporting obligations. There is 0% corporate tax within the jurisdiction, and companies are not required to conduct audits nor have any paid-up capital requirements.
How much is payroll tax in BVI?
The self-employed and employers doing business in the BVI must pay payroll tax, levied at a rate of 10% for smaller companies and up to 14% for large employers.
What kinds of taxation are payable for my company in BVI?
Business corporations in the British Virgin Islands are free from taxation, regardless of their source of revenue. The only tax in the BVI is payroll tax for companies employing a workforce; the current rate is 8%, with the first US$10,000 tax-exempt.
How can I name my BVI company?
The BVI company name has to be unique and once engaged, Tetra Consultants will help you with the search for availability of the name and get it registered with the BVI Commercial Registry.
Are there any requirements for the annual renewal of the BVI company after incorporation?

To maintain the legal standing and recognition, a BVI corporation is normally required for renewal 12 months following the date of incorporation. To ensure that your company remains in good status, our service package includes assistance for yearly renewal by email notifications a few weeks before the due date.
How long does it take to register a company In BVI?
Tetra Consultants will register a BVI company within 1 week.
What are the minimum formation requirements for setting up in BVI?
A minimum of one director and one shareholder are necessary for a standard BVI company formation. In addition, they do not need to reside in the British Virgin Islands and can be corporate bodies.