Introduction to China Free Trade Zones
China Free Trade Zones (FTZs) are part of the category of Special Economic Zones often seen in other countries and are a crucial tool in the Chinese government's economic reforms and liberalization policies. Special economic zones usually offer generous tax exemptions for companies and might also include preferential business and trade laws to attract investment from abroad in China as well as China Free Trade Zones.
China Free Trade Zones have all these characteristics, and also serve as preliminary testing grounds for new trade and governmental policies such as streamlined customs clearance and liberalization of specific sectors before they are implemented on a national level. This forms part of the new mechanisms adopted by the Chinese government to reform and open the financial sector and increase FDI, helping to facilitate international trade and innovation. Often, this means that China tax-free zones offer some of the best taxation and regulatory systems for you to do business in since these policies will be a lot more responsive and flexible than national-level policies.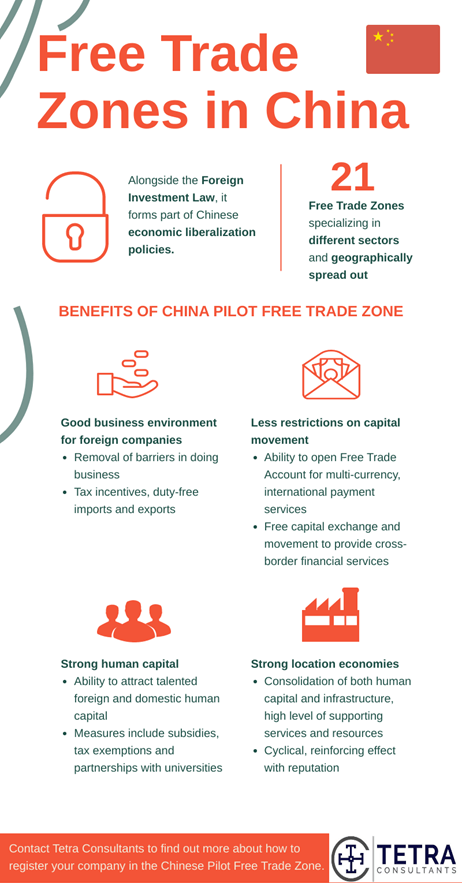 Evolution of China Free trade Zones
China established its first free trade zone in Shanghai in 2013 as a testing ground for new regulations. In 2015, three coastal provinces announced strengthening regional economic integration. Two years later, the government set seven more FTZs to support western China and the Belt and Road Initiative (BRI).
Shanghai seemed the most obvious choice to pilot a Free Trade Zone as it was a historically international city, positioned strategically on the Yangtze River Delta. Its location provides a convenient port for trade and is significantly more developed economically than many other major cities. The Shanghai FTZ was founded with four clear goals in mind:
Maintaining and increasing competitive edge

Transitioning to a more market-friendly regulatory environment

Internationalizing the RMB

Testing out new strategies for reform with the intent to duplicate
 Shanghai's FTZ became the example case for FTZs across China and proved that the policy could be successfully implemented. Once implemented, the Shanghai FTZ saw many new practices take holes such as relaxing incorporation requirements, adopting the use of the Negative List for pre-approval procedures, and implementing a one-stop application process. These measures streamlined the process of doing business in China and eventually would be adopted nationwide.
After the succ
After the success of the Shanghai FTZ experiment, the government announced the plan to open three more FTZs in 2015 in Fujian province, Guangdong province, and Tianjin municipality. The choice of these three locations for China new free trade zones as the second experiment of FTZ policies was largely due to their position in supporting different aspects of China's economic development. Fujian province largely supports China's trade with Taiwan. Guangdong province supports economic integration and transit with Hong Kong and Macao. Tianjin municipality supports the northeastern region and helps develop the offshore financial markets in East Asia. These FTZs had slightly different goals than the original goals of the Shanghai FTZ, but all proved successful and further cemented the FTZ policy as a model that could be applied in other regions of China.
By the year 2016, the Chinese government announced plans for seven additional China new free trade zones in coordination with their Belt and Road Initiative (formerly "One Belt, One Road") which seeks to revitalize the economic and cultural ties between Western China, Central, and Southeastern Asia. These most recent FTZ additions are in Chongqing, Liaoning, Henan, Hubei, Shaanxi, Sichuan, and Zhejiang.
In 2018, China put aside its 120 km2 limitation as for all other free trade zones to make the entire Hainan province (35400 km2) a free trade port. Then, in 2019, six of China's new free trade zones were established with a focus on specific policy areas or to facilitate cooperation with certain countries or regions. In 2020, three more inland FTZs followed, in line with Beijing's recent "strategic emerging industries" plan in Beijing, Hunan, and Anhui, as well as expanding the existing FTZ in Zhejiang.
Infrastructure of China Free Trade Zones
On an infrastructural level, such

free trade areas

also consolidate the supporting services and facilities needed for such industries to operate. They might have their own logistical infrastructure in place or might even have specialized institutions for mediation in business disagreements. The effects on human capital must also be considered.
Many countries have tried to replicate the success that we have seen in the Silicon Valley, with the area around Grand Canal Dock even being nicknamed the Silicon Docks.

China is no exception to this and has also been trying to do the same in its creation of FTZs. Consolidating such industries together often creates location economies that facilitate collective growth and development for all firms within the FTZ. As the reputation of the FTZ develops, it becomes self-reinforcing in helping the zone to develop further. As they develop further, the reputation of the zone increases, making it easier for them to attract both talented individuals and prospective investing firms, which then enables them to develop even further.
FTZs as a mechanism for international trade and cooperation
Some of these FTZs are also set up in conjunction with another trade partner, helping to promote development not only within the free trade zone and the surrounding area of China, but also in terms of

international trade Zone.

Some examples of such zones involving Singapore include the China-Singapore Suzhou Industrial Park and the Sino-Singapore Tianjin Eco-city.
Under the enhanced Free Trade Agreement signed between the two countries, both Singaporean and Chinese firms have seen trade restrictions lifted which grants them greater access to the Chinese and Singaporean market respectively, as well as greater investor protections. Australian investors on the other hand, have the Shanghai Free Trade Zone as the demarcated region for innovative and liberalised Sino-Australian cooperation under the China-Australia Free Trade Agreement.
Futian Free Trade Zone (Shenzhen)

has also been established to link the nation to Hong Kong through subways, expressways for private vehicles, and shuttle buses. Container trucks owned by firms within the zone will also enjoy unimpeded entrance and exit from the zone into Hong Kong. 
This goes two ways, with China also establishing free trade zones within other countries. In partnership with the Djibouti Ports and Free Zones Authority, China's Merchants Holdings Company will manage the largest FTZ in Africa, which is no small feat given that Djibouti is a little known nation with one of the smallest land areas and population size in the African continent. The

Djibouti-China Free Trade Zone

aims to capitalize on its strategic location just ahead of the Suez Canal to become a strategic trade hub for the Horn of Africa area.
Chinese Economic Reforms
The reforms and opening up of the Chinese economy have been an ongoing process since the era of Deng Xiaoping in the late 1970s, all the way to the current day. The extent of its success can be seen from the fact that China has overtaken many of its previous competitors to become th

e second-largest economy in the world by nominal Gross Domestic Product.
Under the current reforms, many previously state-owned industries and monopolies were disassembled and privatized, protectionist policies and price controls were abolished, and the country was gradually opened up to FDI. This increased the level of competition in the country, forcing increases in productivity and efficiency, and the resultant influx of capital in both the form of fiscal investment and knowledge has allowed China's economy to continue its fiscal growth.
As a means of continuing to further encourage and facilitate this, the Chinese State Council has created the

China Free Trade Zones

that have made it significantly easier and more attractive for firms from abroad to set up their business in China. Alongside this, complementary policies have also been implemented to facilitate the operation of these FTZs.
Foreign Investment Law
One such complementary policy was the implementation of the Foreign Investment Law in 2020 that aimed to provide more legal certainty to overseas investors by clearly defining FDI, regardless of if it was from a non-native individual or enterprise. It also serves as a consolidation of the previously scattered regulations on FDI, helping to standardize them on a national level.
This law also puts domestic investments on the same standing as FDI, which would also help to promote fair treatment of enterprises regardless of if it were a domestic enterprise or foreign. Such protection of foreign investor rights and a strong privacy policy has definitely had a reassuring effect for investors, enabling China to continue attracting and retaining investment. This law also takes the first step in simplifying the processes needed for foreign enterprises to incorporate in China. These processes are further simplified and streamlined in the regions available as

foreign trade zone

in FTZs of China.
Restrictions that are still in place  
Despite this, certain restrictions have remained in place for sensitive industries. The Special Administrative Measures for the Access of Foreign Investment specify the 33 sectors that still have restrictions on FDI and ownership. Industries in the Free Trade Pilot Zones are less restricted, but similar restrictions have still been implemented on 30 sectors that are on the

China Free Trade Zone negative list

. These sectors include the agriculture, rare earth mining or domestic transport industry, and require that Chinese companies have a majority stake.
Where are the China Free Trade Zones located?
The

full list

currently includes 21 free trade zones spread out across the country. Apart from the specific overall aims of all the FTZs that have already been mentioned above, each zone also has an additional "specialty". For example, Beijing's free trade zone is designated a

digital free trade zone

focused on digital innovations specifically in the field of services and the financial services sector whilst Anhui's free trade zone is focused on fintech, artificial intelligence and smarts cars and appliances. 
These 21 FTZs are located in Liaoning, Shaanxi, Henan, Hubei, Chongqing, Sichuan, Zhejiang, Hunan, Yunnan, Guangxi, Heilongjiang, Beijing, Hebei, Tianjin, Shandong, Jiangsu, Shanghai, Anhui, Fujian, Guangdong and Hainan.
Out of these 21 FTZs, it is likely that you will be able to find one that suits the business needs and goals of your prospective company since they cover a broad spectrum of activities. 
Company registration in the China Free Trade Zone
While the

China company registration

procedure is usually shortened and simplified in the FTZs, there might be additional requirements from the authorities. FTZ companies usually have economic substance and minimal capital requirements as compared to a standard Chinese Wholly Foreign-Owned Enterprise. Such

free trade zone requirements

include creating a certain number of jobs and having a minimum number of local employees. Most of the time, the benefits gained by your company in opening a free trade zone company will more than justify the requirements in setting one up, hence it should not be seen as a deterrent.
Structures of foreign enterprises
Foreign enterprises in the free trade zone can take several forms:
Wholly Foreign Owned Company.

WFOEs are the most popular option for overseas investors to enter the Chinese market since they allow for full foreign ownership. This offers them greater flexibility and control over its operations, and you will get to enjoy the freedom and independence without the need to source for a Chinese partner. 
Equity Joint Venture. I

nvestors who prefer to tap on the business experiences of their pre-existing networks in China to ease their entry into the Chinese market and do not mind sacrificing some flexibility and control can choose to conduct an equity joint venture instead. In this structure, both the local and non-local partner own equity in the business. 
Co-operative Joint Venture.

Similar to an equity joint venture, except that there is greater flexibility in deciding what each partner contributes and in what form.
Benefits of China Free Trade Zones
Good business environment for foreign companies
As we have mentioned, even though China has seen drastic improvements in terms of the openness of its economy and FDI, some barriers still remain that have been lowered in the free trade zones. In particular, some industries may only be fully foreign-owned when they are located within these zones, such as in the financial sector.

China free trade zone tax benefits

, duty-free imports and exports, as well as streamlined and simplified customs procedures are also additional factors that help to create a good business environment for foreign companies.
Less restrictions on capital movement
Locating your company in a FTZ allows you to open a Free Trade Account offering free conversion between multiple currencies, including the Renminbi. This would not be possible in other locations without the prior approval of the State Administration of Foreign Exchange, and helps your business in receiving and sending payment to international customers and suppliers. Capital exchange and movement is also made easier in certain FTZs, such as in Shanghai, where financial institutions may conduct cross-border financial activities and services. 
Strong human capital
This refers to both domestic as well as foreign domestic capital. The removal of the many restrictions on foreign businesses has also been extended to talent sourced from outside the country as well. Many housing and transport subsidies alongside tax exemptions have been put in place to attract talented individuals from abroad. On a local scale, universities have also offered partnerships with such companies to nurture young talent in the country.
Strong location economies
The consolidation of human capital and infrastructure within one location will also provide additional business economies for investors, granting them access to both quality and quantity in supporting services and resources. This will also have a cyclical effect with the reputation of the free trade zone that will mutually reinforce it. Having your company within such a

free trade zone benefits

in terms of branding if the business activity has strong synergies with the area of focus of the zone.  
Considerations before China company registration in the Free Trade Zones
Ultimately, foreign investors must weigh if it is appropriate for their company to be incorporated in a FTZ given the additional economic substance requirements. In particular, businesses who are conducting activities that would require extra effort to meet these requirements should consider if the trade-off is worth it. Thus, it might not be worthwhile for investors to force-fit their companies into a FTZ when the activities conducted by the company do not have good synergy with that of the zone. 
The

benefits of free trade zones

with regards to China company registration can be taken as one-off unless the business activity is restricted in non-free trade zone areas. Hence, companies should do a cost-benefit analysis as the duties and tax savings they get might be lesser than the additional costs they might incur through other operations. Furthermore, the volatility of FTZs might work against investors since the same responsiveness in policies might also mean that certain policies will change over time or get implemented on a nationwide basis. 
Contact us to know more about how to register your business in China Free Trade Zones. Our dedicated and experienced team will revert within the next 24 hours and answer all your queries.
FAQ
Why were free trade zones created in China?
They were part of China's reforms, and was part of the Government's plan to help the economy transit from a socialist planned economy to a free market economy.
Are there any disadvantages to free trade?
Specifically in China, the major disadvantage of free trade has been that the fact that it has increased income inequality.
Where are most of the Special Economic Zones in China located?
Most zones were located along the coast and near major airports and ports. Newer zones have also been designated further inland to further diversify and increase the options available to foreign investors in recent years.
Are there any economic zones in North China?
North China only has one FTZ, the Tianjin Pilot Free Trade Zone.
Where are the financial hubs in China?
Major financial hubs are located in Beijing, Shanghai and Shenzhen.
What happened to Waigaoqiao Free Trade Zone?
Waigaoqiao Free Trade Zone was subsumed under the China (Shanghai) Pilot Free Trade Zone.
Is China part of the World Trade Organization?
Yes, China joined the WTO in December 2001. This is testament to the extent of reforms undertaken by China.
What is an EPZ?
EPZ stands for export processing zone. It is designed specifically with exporting in mind, and as such allows for duty-free imports on components as long as all finished products are exported.
What is a SEZ?
SEZ stands for special economic zone, and is the overarching term of zones that includes free trade zones.
Are there areas in China where free trade and enterprise is allowed?
Yes, FTZs have been set up in China as part of its economic reforms and the government of China's plan to help the economy liberalize and move from a socialist planned economy to a free market economy.
How many free trade zones does China have?
There are currently 21 spread around the nation.
What are China's special economic zones?
This refers to FTZs in China. There are currently 21 found in the regions of

Liaoning, Shaanxi, Henan, Hubei, Chongqing, Sichuan, Zhejiang, Hunan, Yunnan, Guangxi, Heilongjiang, Beijing, Hebei, Tianjin, Shandong, Jiangsu, Shanghai, Anhui, Fujian, Guangdong and Hainan.