Saudi Arabia Company Incorporation: Ultimate Guide
Prior to the engagement, it is essential for you to understand how to open a company in Saudi Arabia, Tetra Consultants advises you to read through this guide to fully understand the steps required for successful Saudi Arabia Company incorporation.
Simply put, we can break down each engagement into four different phases:
Planning & strategy
Incorporation
Bank account opening
Staying compliant
By systematically following the above four phases, you can expect to start conducting business with your Saudi Arabia company within 9 months. 
Step 1: Planning & Strategy
As mentioned, the first step is for you to understand how to open a company in Saudi Arabia. Depending on your business activity, Tetra Consultants will advise on the most optimum business entity, paid up capital, and requirements regarding the company license in Saudi Arabia.
During the planning & strategy phase, you must determine the following items:
The name of their business
The type of business entity to be incorporated
For our international clients, Tetra Consultants would recommend setting up a Saudi Arabia Limited Liability company as it is the most common legal entity in Saudi Arabia and can be registered by a single shareholder.
Other popular types of business entities would include registration for joint stock companies as well as branch offices.
The following documents are also to be prepared in advance to notarize and legalize the parent company's documents in Saudi Arabia, which Tetra Consultants will assist in obtaining for you:
Parent's M&AA
Business License
Certificate of Incorporation
Board Resolution
Power of Attorney
Step 2: Incorporation
Once everyone is on the same page on how to open a company in Saudi Arabia, Tetra Consultants will begin the Saudi Arabia Company incorporation process. Although there are many steps involved, Tetra Consultants will simultaneously work on different applications.
Application for Investment License
This form of

company license in Saudi Arabia

is necessary for non-GCC foreign investors and only pertains to the pursuance of commercial activities other than those set out in the aforementioned "Negative List".
To obtain an investment license, an application has to be submitted to the Saudi Arabian General Investment Authority (SAGIA), which is a government entity with the sole responsibility of providing licenses for 100% foreign-owned companies to operate in Saudi Arabia.
A detailed report that will outline important information such as the nature and size of the investment activity and key financial information about the company's operations will be submitted. The SAGIA application forms will also have to be filled in and subsequently submitted to SAGIA.
SAGIA will then issue a pre-approval certificate, a confirmation that the company can be registered as well as whether the company can have 100% foreign ownership or not.
Articles of Association
For entities moving forward with

Saudi Arabia Company incorporation

is required to prepare Articles of Association. It will be submitted to the

Ministry of Commerce and Investment

. Once approved, the document must be signed in front of the notary public in order to register for CR certificate. After this, the name and the Articles of Association have to be published in the newspaper.
Registering Company's name
The company name will have to be reserved with the Unified Centre and then approved before any other forms can be submitted. Such forms include incorporation forms, articles of associations and deed of establishment
Registering with MERAS
Meras is a government program under the Saudi Business Center which aims to facilitate procedures and provide services for conducting business. This is an effort by the Saudi government to increase efficiency and create ease in business setup. This is seen in how clients are able to register their company online with the Ministry of Commerce.
Firstly, clients need to obtain a commercial registration (CR), where Commercial Registration is an operating license (Certificate of Registration), as well as their tax number.
According to the Law of Commercial Register Article 3, managers of companies must apply for the CR. It must be submitted within 30 days of the date on which the articles of association were recorded by the notary public.  With reference to Article 3, the application has to include the following:

The type of the company and its trade name.
The company's activity.
The company's capital.
The date of the company's incorporation and expiration.
The names of general partners in general or limited partnerships and the place and date of birth, address and nationality of each of them.
The names of the managers of the company and the signatories on its behalf and the place and date of birth of each, his address, nationality and a specimen of his signature, and a statement specifying the extent of their powers with respect to management and signature, and specifying the actions which they are not authorized to take (if any).
The addresses of the head office of the company and its branches and agencies, inside and outside the Kingdom.
Every person registered in the company shall deposit with the office within 30 days of registration, a certificate of membership in the Chamber of Commerce and Industry.
The complete registration application would have to be submitted to Saudi Arabia Ministry of Commerce and Industry (MOCI). The CR will then be issued approximately 6 weeks of submission. At this juncture, the company may also register for tax.
Under Meras, clients will also be able to process their registration with the municipality, and a physical office will have to be set up in order for the company to register with the local municipality.
Furthermore, clients will have the ability to notarize the articles of association electronically, register with the Ministry of Labor and Social Development (MLSD), the General Organization for Social Insurance (GOSI), the General Authority of Zakat & Tax (GAZT) as well as automatic registration with Wasel.
Issuance of SAGIA foreign business license:
To obtain a SAGIA License, all of the documents such as the CR, tax registration, municipality license and bank's share capital deposit letter to SAGIA for review and approval. SAGIA will subsequently issue the foreign business investment license which will allow the company to sign contracts, issue invoices and hire employees. Securing such type of

company license in Saudi Arabia

ensures the smooth operation of your business.
Creation of Company Seal
The seal must be created with the inclusion of its CR number as well as its company name. The company seal is required to attest signatories at the Chamber of Commerce, register with the General Organization for Social Insurance, as well as for company invoices.
The seal is also needed for the following:

Contractual Agreements
Shareholder & Management resolutions
Official Letters & Notices
Government Documents
Registration at the Chamber of Commerce
All company registrants will submit the Certificate of Membership obtained from the Chamber of Commerce and Industry (CCI). This has to be completed within 30 days of registration of the CR.
Contact us to find out more about how to open a company in Saudi Arabia. Our team of experts will revert within the next 24 hours.
Step 3: Bank Account Opening
It is required that a local bank account be opened within 90 days of the issuance date of the commercial certificate of an LLC. Tetra Consultants will assist you in opening a company bank account at a bank of your choice. Once the Certificate of Registration is issued, you will be able to activate your bank account and proceed to unfreeze your initial capital deposit.
Opening a corporate bank account has to be done after the company registration numbers are issued and any foreign employees need to obtain an Iqama beforehand.
The registration process requires Saudi Arabian companies to open a capital account to deposit the required paid-up share capital. This account will then be converted into an operating business account upon issuance of the company registration number.
A couple of banks in Saudi Arabia offers internet banking in English which would ease the opening process. When opening an account digitally, This is simply done by filling in the account opening form and authenticating through the National IAM Platform which banks offer access directly from their own website.
A certificate of share capital deposit may also be obtained.
The process of opening an account in Saudi Arabia stretches for longer periods of time, where opening a capital account can be 5 weeks and the conversion to an operating bank account may take 8 weeks. The issuance of bank account numbers may also take 3 months.
Step 4: Staying Compliant
Assurance in Tetra Consultants to deliver quality when we undertake your Saudi Arabia company's accounting and tax services are guaranteed. Tetra Consultants will timely prepare your firm's financial statements, corporate tax returns as well as bookkeeping on your behalf.
If the company were to appoint foreign employees to be the bank signatory to a Saudi Corporate bank, a Saudi Employment visa (Iqama) is required. Notably, Saudi nationals must have already been on the payroll of the company before the foreign national may apply for an Iqama.
Documents required usually include a passport-sized photograph, an original, valid passport, a visa referral note, a letter of sponsor from the Saudi Company, highest academic qualifications, and an employment contract. Tetra Consultants will advise on the most applicable le work visas as well as the stipulated timeline for each application.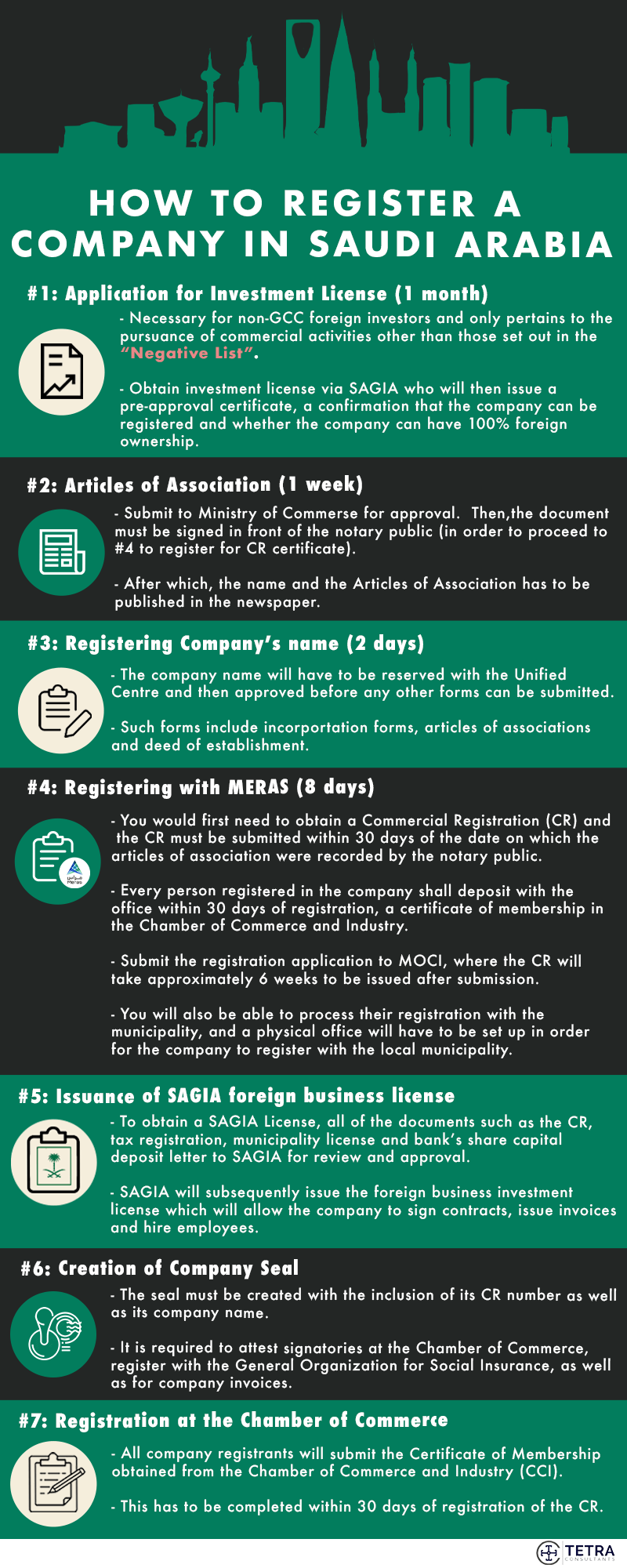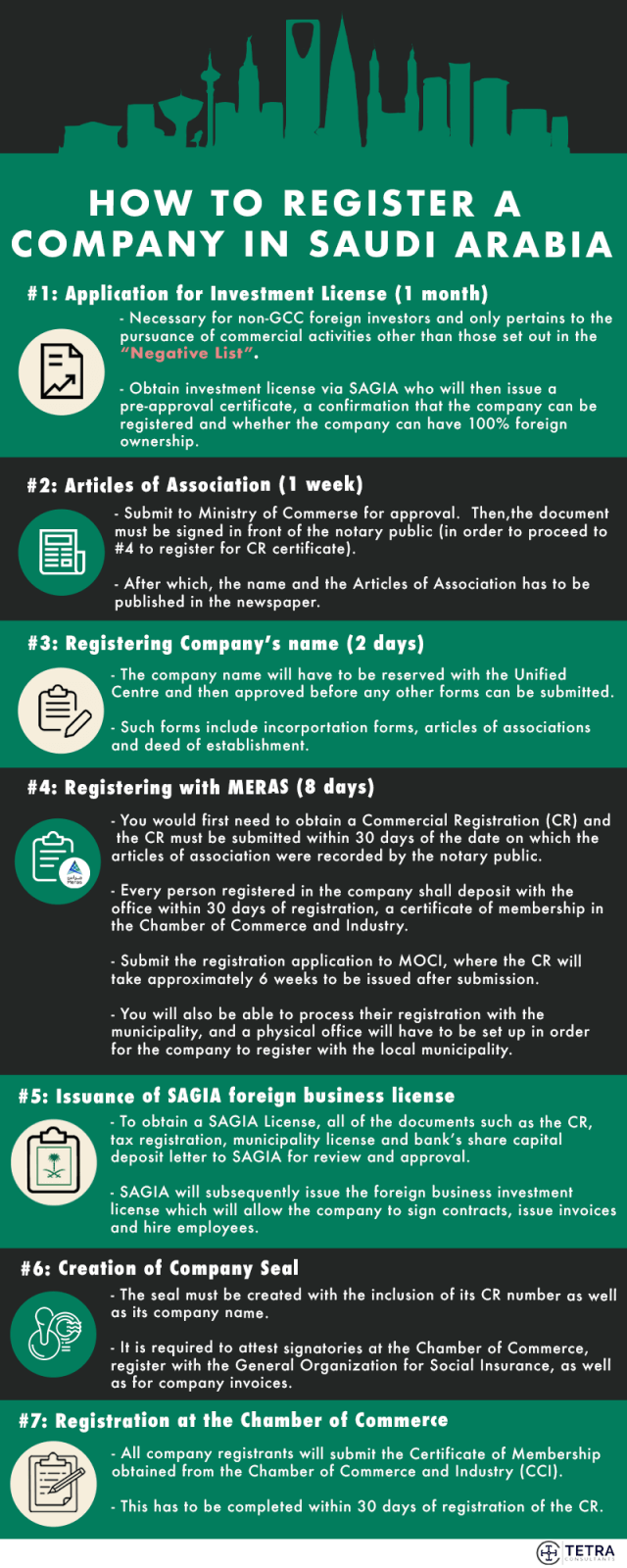 Contact us to find out more about the process of Saudi Arabia company incorporation. Our team of experts will revert within the next 24 hours.