South Africa Forex License (FSP)
South Africa Forex License is more commonly known as the Financial Service Provider (FSP) License. Tetra Consultants assists our international clients to obtain South Africa FSP License for businesses who wish to provide financial services and foreign exchange trading in South Africa. The collapse of VBS Mutual Bank in 2018 led a to a general loss of faith in the country's then-regulator, the Financial Services Board. Over a three year period in 2015 to 2018, it is estimated that at least US$ 130 million in South African citizens' deposits and pension funds were lost to corruption and fraud. In order to mitigate the loss of confidence as a result of this, the Financial Services Board were drastically restructured in order to better allow them to carry out their duty as the main regulator for the financial services sector in South Africa. The implementation of the Financial Sector Regulation Act in 2017 has allowed the Twin Peaks regulatory system to come into fruition, with the Financial Sector Conduct Authority (South Africa) overseeing market conduct supervision and the Prudential Authority overseeing prudential supervision. Together with this, the Financial System Council of Regulators (FSCA) has been created to supervise the financial services sector from a high-level, birds eye perspective. This council comprises of key representatives from both the FSCA and PA, as well as senior authorities from the relevant governmental bodies such as the Financial Intelligence Centre, South African Reserve Bank and even the Director-General of the National Treasury. This overhaul in the regulatory structure of the financial sector is expected to benefit forex broker firms by ensuring that the system is able to operate more transparently and effectively, making a South Africa forex license an attractive option for those looking to start a forex brokerage free of the same leverage restrictions imposed by the European Securities and Markets Authority.
Introduction to South Africa FSP License
While most countries have chosen to ban or discourage trading in cryptocurrencies, with countries such as China going as far as to ban cryptocurrency mining. Some countries at the other extreme of things such as The Bahamas on the other hand, even have their own national cryptocurrency, the Sand Dollar (the Bahamian Central Bank Digital Currency). The South African financial regulatory body takes a different approach to cryptocurrencies as compared to majority of the African continent, and perhaps even other countries in general by adopting a middle of the ground approach that allows them to capture the best of both worlds. By recognizing and classifying cryptocurrencies as investments and taxable assets, cryptocurrencies now fall under the purview of the FSCA, allowing them to regulate and manage trading in cryptocurrencies under both its inhouse regulations and code of conducts, but also under the Financial Intelligence Centre Act and the Financial Advisory and Intermediary Services Act.
These regulations aim to increase transparency and minimize the abuse of cryptocurrency platforms. This comes at a particularly good time as South Africa becomes the fourth largest volume trade in Bitcoin in the first quarter of 2021, with daily cryptocurrency trading volume even exceeding US$145 million for the first time in January 2021. However, alongside the rise in volume, many fraud cases have been reported in the country, including cases where kidnappers have tapped on the anonymity of cryptocurrencies to exert ransom demands and high-profile cases such as the Africrypt scam which saw the loss of almost US$4 billion worth in Bitcoin.
With this in mind, the FSCA has its work cut out to ensure that investors and businesses operating under its regulations are able to enjoy the certainty and protection of a well-defined regulatory framework. With one of the most sophisticated financial sectors on the African continent, the FSCA has made progress towards this aim, making South Africa one of the up and coming jurisdictions to base your cryptocurrency business in, especially if you would like to tap on the immense potential of the African continent.
When will you require a South Africa FSP License?
You will require a South Africa FSP license when you want to offer financial services to South African citizens. Even if you are doing so on behalf of a foreign company or operating on behalf of a foreign-licensed broker, you would not be allowed to do so without a South Africa FSP license. Such firms would face fines and penalties from the FSCA.
In general, as long as you are operating financial firm, such as such as forex traders or forex brokers in South Africa, you would need to apply for a license and secure the necessary authorizations from the South African government and FSCA beforehand.
Types of South Africa FSP License
Category I
Category I FSPs may only offer advice or intermediary services with respect to the relevant subcategories of financial products.
Category II – Discretionary FSP
A discretionary FSP offers intermediary services of a discretionary nature but may not offer any bulking.
Category IIA – Hedge Fund FSP
Hedge funds must apply for this category of license in addition to a Category II license. Hedge funds FSPs are those who pool investment funds in order for trading in liquid assets using more complex techniques usually not available to retail investors.
Category III – Administrative FSP
Administrative FSPs can offer intermediary services referred to in the above license categories but may not offer short-term insurance or policies. Unlike a Category I license, they can use the method of bulking, which refers to combining several orders to jointly execute them as one consolidated order.
Category IV – Assistance Business FSP
Assistance business FSPs work with insurers to offer intermediary services to administer assistance policies.
Most of our clients will need to apply for a Category I or Category II – Discretionary FSP License. If you are unsure as to the type of South Africa FSP License your business requires, feel free to contact us for a non-obligatory consultation. Our team of experts will revert within the next 24 hours.
Requirements for South Africa Forex License (FSP)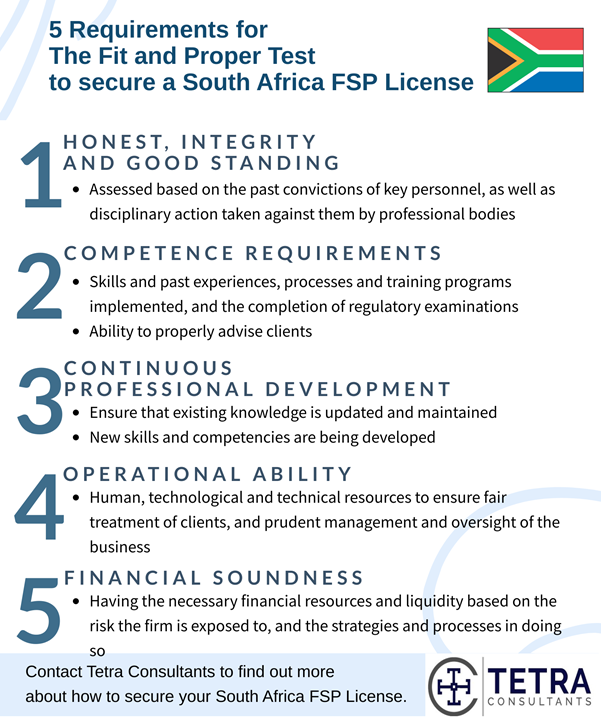 Company structure and staff
You will have to have at least one shareholder and one director. You will also require one representative that must be based in South Africa, and at least one Key Individual that must also be resident in South Africa. In addition to this, you will also require a compliance officer. All appointed Representatives and Key Individuals must pass regulatory examinations in order to be recognized by the FSCA.
Regulatory examinations
Two exams must be passed, Regulatory Exam 1 and Regulatory Exam 5. The passing score is 65% for both exams, and cover the legislation and financial regulations that govern the financial services sector in South Africa, specifically the Financial Advisory and Intermediary Services Act, Financial Intelligence Centre Act and the Board Notices and Code of Conducts from the FSCA. These exams are administered by Moonstone, and cost R1,226 (US$83).
Minimum capital requirement
Unlike other cryptocurrency jurisdictions, there is no set minimum capital requirement. Rather, the specific amount depends on the amount of current liabilities and operating expenses.
Fit and proper test
As listed out in Board Notice 194 of 2017, the FSCA must deem you to be a fit and proper director before they will entrust you with a FSP license. These requirements can be briefly classified into five categories, and given their rigour, are often considered to be the most tedious and time consuming portion of the application process.
Honest, integrity and good standing. In the most general sense, the key individuals and representatives of all forex brokers must be a person that is honest, and has integrity, and is of good standing. This will largely be defined by several more specific criteria, such as whether the candidate has outstanding or past criminal or civil convictions, especially with regards to theft, fraud, forgery, perjury, misrepresentation or any other dishonest, unprofessional or dishonourable activities. Past actions or appointments will also be taken into account, meaning that persons who have managed firms subject to prosecution or disciplinary action by professional bodies or courts for the above offences will also be less likely to be accepted.
Competence requirements. This criterion is in relation to the skills and past experiences of the candidate, as well as the processes and training programs put in place to ensure the continued competency of these appointment holders despite changes in the market environment. This is so that key appointment holders have the technical knowledge and the ability to apply it, as well as the skills and expertise, to properly advise and prescribe financial services and products to their clients based on factors such as needs, risk tolerance and capacity of the client to understand the features and complexity of the product being offered. This also includes the regulatory examinations mentioned prior.
Continuous professional development. This relates to the ability of the firm to ensure that existing knowledge is being updated and maintained through relevant continuous professional development activities, as well as for them to develop new skills and competencies. Adequate hours must also be spent on this, as well as other criteria such as proper recording of sessions attended, and supporting evidence of each session.
Operational ability. This refers to the ability of the firm to attain and maintain the human, technological and technical resources to ensure the effective functioning of the FSP, as well as having the governance framework to ensure the fair treatment of clients, and prudent management and oversight of the business. Other criteria include those mentioned above, such as having a registered office address, access to communication facilities, storage and filing systems, bank account, and key individuals being appointed.
Financial soundness. This is in relation to the minimum capital requirement listed above, such that aspiring regulated forex brokers must have sound, effective and comprehensive strategies, processes and systems to ensure the firm has the necessary financial resources and liquidity to cover the business with regards to the level of risk it is being exposed to.
Application and licensing fees
Each regulated broker is required to pay a category specific application fee of:
R2,544 (US$172) for Category I FSPs and Category IV FSPs
R15,390 (US$1,045) for Category II FSPs and Category IIA FSPs
R46,241 (US$3,142) for a Category III FSP
Thereafter, licensing fees will be calculated based on the size of our firms and profits earnt.
Supporting documents
The supporting documents for your application will be as follows:
Notarized personal documents
Secondary form of personal identification
Bank reference letter and character reference letter
Educational qualification certificates
Detailed curriculum vitae
Anti Money Laundering Policy
Risk Management Procedures
Professional Indemnity Cover
Much like other jurisdictions, you will need professional indemnity insurance which will cost R5,000,000 (US$340,000).
How long to secure South Africa Forex License (FSP)?
Each South Africa FSP license application will be individually reviewed by the FSCA to ensure compliance to all the stated requirements and determine the suitability of the company. The whole process is very thorough, and is thus expected to take around 1 year, accounting for delays in the process. These delays occur when information provided is inaccurate, incomplete or inconsistent, which then necessitates that the FSCA revert back with a clarification request or request for further information.
How to apply for South Africa Forex License (FSP)?
The first step to applying for a South Africa FSP License would be for Tetra Consultants to do the necessary KYC verification and due diligence checks. After which, we will proceed to help you register for the relevant examinations and certifications. Thereafter, we will assist in registering a South Africa company and opening a corporate bank account which will be used to hold the capital. We will also help you to draft the necessary documents, such as the business plan and manuals, as well as prepare you for any possible questions they might ask you during the interview.
Contact us to find out more about how to secure South Africa FSP License and conduct forex activities. Our team of experts will revert within the next 24 hours.
FAQs
Is cryptocurrency legal tender?
Legal tender currencies refer to currencies issued and guaranteed by the regulatory body of a country and recognized as a legitimate form of payment. Since cryptocurrencies are not issued or guaranteed by the South African Reserve Bank, they are not legal tender.
Are there any countries where cryptocurrency is legal tender?
Countries such as The Bahamas have issued the Sand Dollar, which is their Central Bank Digital Currency. Some other countries like Estonia have also proposed plans to implement similar cryptocurrencies (Estcoin), but they have not yet done so.
Is forex trading legal or regulated in South Africa?
Yes, forex trading is regulated by the Financial Sector Conduct Authority, and is considered legal if you do so through an entity licensed by the FSCA.
Are there any other licensed forex jurisdictions in Africa?
You can consider the Mauritius for one of the best forex brokers licenses.
How do I check who are the current licensees in South Africa?
You may check the FSCA register, which also includes expired and revoked licensees.
Do forex trades need to pay tax in South Africa?
Yes, they are subjected to a 28% tax on net profits.