Germany is a country part of Central Europe, and represents the largest population within the European Union (EU) with an estimated population of 84 million in 2021. The country practices a "social market" economy given its historical background but largely follows mainstream market principles faced with a considerable degree of regulations and varying social welfare programs. Germany's trade businesses go far and well beyond its own border. Distinct from being the largest consumer market in the EU given its natural large population size, the country hosts just some of the largest international trade shows in the world prior to the outbreak of the pandemic. Some of the enormous volumes of trade is conducted in these trade shows such as the Medica Trade Fair, Automechanika, Hannover Messe as well as the ITB Tourism Fair. Given its sophisticated economy, advanced technology, and quality engineering, many investors proceeded to register a company in Germany as a foreigner to tap on those opportunities. In this article, Tetra Consultants presents the 3 best businesses to start in Germany in 2023.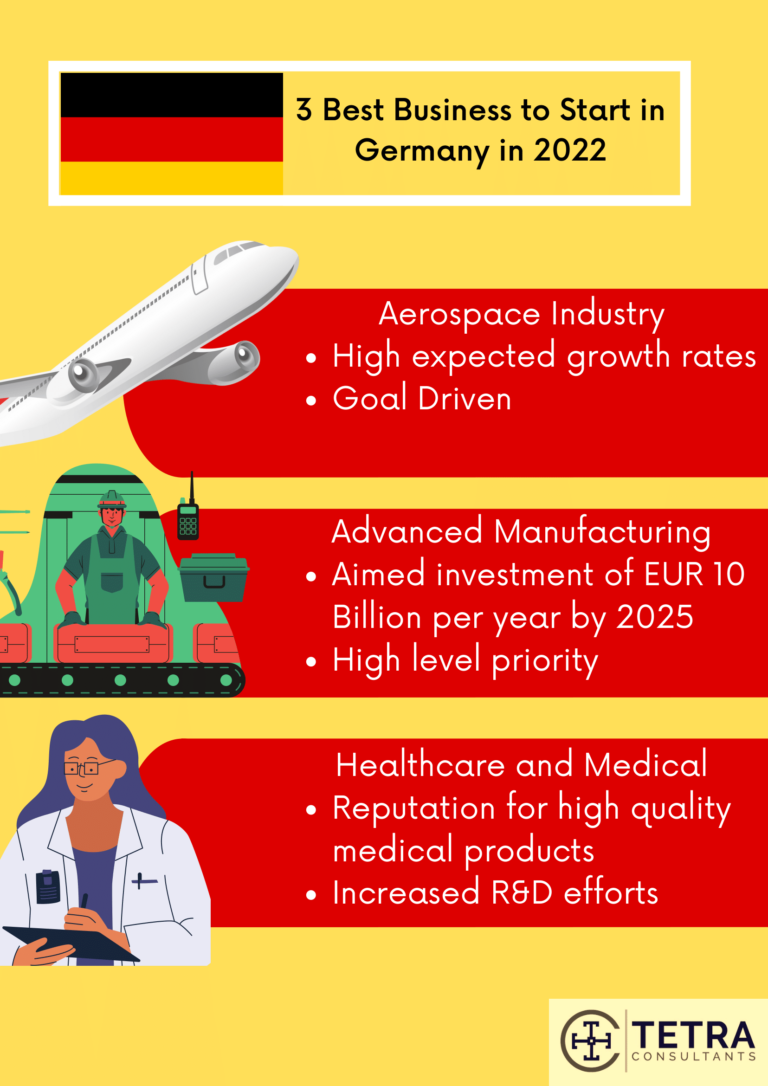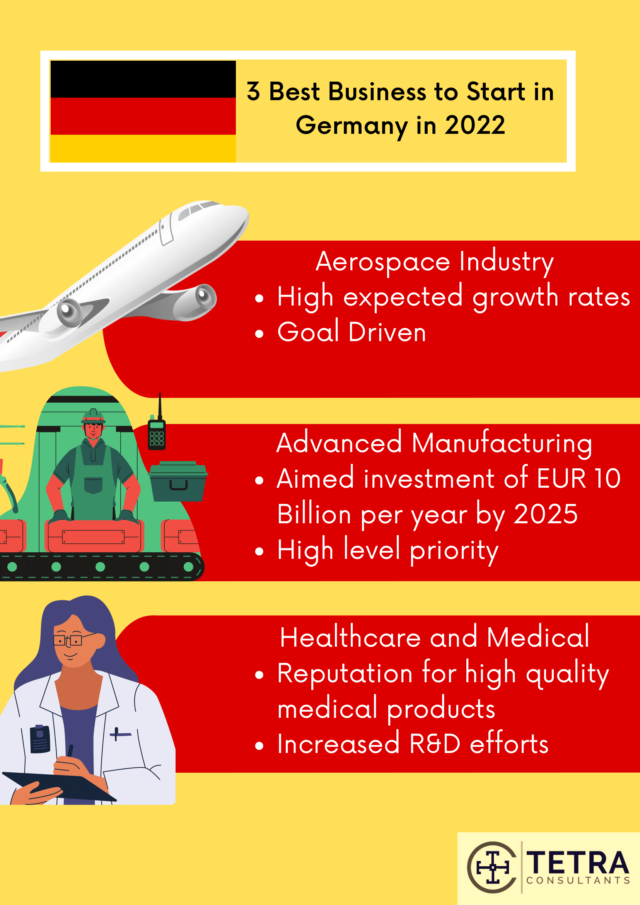 #1 Aerospace Industry:
The aerospace industry is one of the best businesses to start in Germany in 2023. The aerospace industry represents a prominent placing in Germany's strategic considerations, for both its domestic industrial growth as well as various positive societal goals. The Federal Ministry of Economics and Energy (BMWi), one of Germany's federal authorities, lists aerospace as a key industry that is an essential and strong industrial core to the country, with high expected growth rates. This means that the government underlined the importance of this particular industry, for both technological and economical growth purposes. Additionally, the German government is targeting to direct its aerospace sector to meet societal goals, primarily in the direction of achieving climate neutrality and the development of sustainable aviation fuels. The BMWi also implements an Aerospace Research Program (LuFo) which provides grants to aerospace research and technology projects. During May 2020, the government of Germany approved a USD10.26 billion aid package for their German national air carrier Lufthansa, signifying their intent on maintaining and developing the aerospace and aviation industry despite the effects of Covid-19. Apart from the governmental grants and aids, Germany is a popular destination that has traditionally held plenty of trade shows which provides significant opportunities to make inroads into this industry. Some of the largest trade shows include the ILA Berlin Air Show, Aircrafts Interiors Expo/AIX as well as AERO which is Europe's largest trade show for general aviation  include Given the support at governmental level as well as increasing demand and push for aerospace developments, this makes the industry one of the best businesses to start in Germany in 2023.
#2 Advanced Manufacturing:
The second best business to start in Germany in 2023 is in the industry of advanced manufacturing. Advanced manufacturing refers to the convergence of information of technology and manufacturing processes in order to propel productivity, costs and information across factories and companies. It is the elevation of traditional manufacturing by incorporation progressive technology to produce higher level products. Similarly, the advanced manufacturing industry was also identified as one of the highest-level priority areas to focus on by the federal authorities of Germany. This particular industry has seen many collaborations and joining of parties in virtue for joint efforts to achieve the betterment of technology. In 2016, the OPC Foundation (Open Platform Communications) cooperated with German Mechanical Engineering Industry Association (VDMA) and managed to build a protocol which assisted all automation companies to implement information of technology as well as Industry 4.0 in regards to robotics, automation and machine software incorporation into their products. In the near future, the advanced manufacturing industry is expected to help develop the industries of machine tools,  general industrial equipment and Information Technology. By 2025, German manufacturers are aiming to invest EUR 10 billion per year into the aforementioned industries in order to develop higher levels of digital solutions and advanced manufacturing potential in the country, making this industry one of the best businesses to start in Germany in 2023.
#3. Healthcare and Medical Industry:
The third best business to start in Germany is in the industry of healthcare and medical. Germany is known for its robust and well-established market in terms of medical equipment, with big names such as Siemens, Carl Zeisss and Drägerwerk originating from the country. Germany has a long history of developing and creating high quality medical equipment, specialising in diagnostic imaging as well as equipment of precision nature. The country is third in terms of the largest medical technology market, falling behind the United States and Japan. However, it is by far the largest market in the EU and represents twice the size of the French market. The healthcare and medical industry is of key importance for both the EU and Germany itself, as indicated by the tendering of the "Horizon Europe" programme which focuses on research and innovation that focuses on the health sector. The programme creates a platform to target various segments of healthcare, ranging from the development of potential solutions to life-imparing illnesses such as cancer, to developing smart health and digital models of care. Alongside governmental expression towards offering additional support, this makes the healthcare and medical industry one of the best businesses to start in Germany in 2023.
Conclusion:
Engage Tetra Consultants as we guide you on how to start a business in Germany in a smooth and hassle-free process. The team provides a comprehensive service package that includes planning and strategizing with our clients to select a suitable business entity, completing the registration and documentation processes, obtaining required licenses, opening a corporate bank account, and ensuring your compliance with the government regulations. 
Contact us to find out more about company registration in Georgia and our dedicated and experienced team will revert within the next 24 hours.