Germany Company registration
The company incorporation process in Germany is straightforward if you know the steps and requirements. With ample experience in this field, Tetra Consultants' team of experts can assist our international clients to register company in Germany.
Our business expansion service package includes:
Set up company with the German Companies Register
Company secretary service
Registered office address
Tax and trade registration
Opening a local German corporate bank account
During the process, Tetra Consultants will advise and guide our clients through the capital injection process as well.
How long to register a German company and open a corporate bank account?
Tetra Consultants will complete registering the company with the German Companies Registry. On average, the company setup process will be completed within 2 weeks of engagement.
Once the company is registered, Tetra Consultants will complete the tax and trade registration within 4 weeks.
Within 4 weeks of company registration, Tetra Consultants will open a corporate bank account with a local reputable German bank. Most reputable German banks will require our international clients to travel to a local German bank branch for face-to-face interviews. As always, our banking team located in Germany will accompany our clients to the bank meetings. See this webpage for more information on opening a German corporate bank account.
All in all, our international clients can expect to start operations in Germany within 8 weeks upon engaging Tetra Consultants.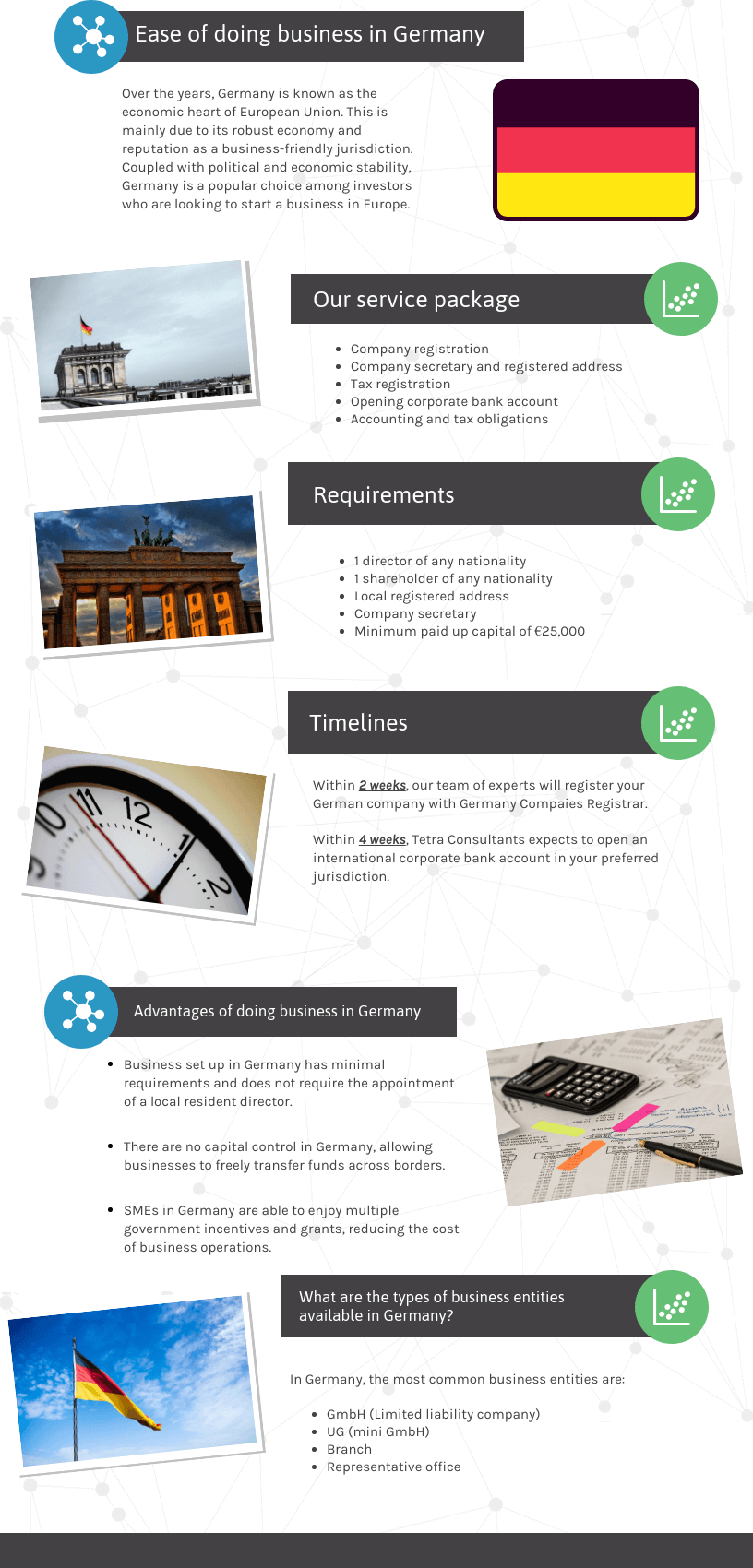 How to register company in Germany?
Step 1: Planning and Strategising
Our team of experts will first understand your business activity, needs, and resources before recommending the most suitable legal entity for you.
In Germany, there are two common business entities known as GmbH and UG. Both are limited liability companies but have different paid-up capital requirements.
Our team will communicate closely with you to determine the optimum paid-up share capital and corporate structure.
Step 2: Reserve your preferred business name
Once the business entity is confirmed, Tetra Consultants will proceed to check for the availability of your preferred business name in the commercial register.
We will then reserve it with the German Chamber of Commerce and Industry (IHK).
Step 3: Prepare the required documents
On the receipt of the due diligence documents including the articles of association and document showing the management board structure and shareholder's list, our legal team will start preparing the articles of incorporation and other corporate documents according to the intended business activities.
Before submitting the documents to the government, it is required for these incorporation documents to be translated and notarized. In most cases, the German notary will require the director of the company to travel to Germany for notarization.
In case you are not comfortable travelling to Germany for this, we will recommend you to use this fast solution, which is to purchase a ready-made shelf company so that you do not need to travel. Alternatively, Tetra Consultants will provide our clients a nominee German director to assist with the online company registration
Step 4: Check to see if you meet all the requirements
Before the foreign company registration in Germany is completed, the paid-up capital is required to be injected into a corporate bank account. Tetra Consultants will open a capital account with a local reputable German bank.
However, most banks will require our international clients to travel to Germany for a face-to-face meeting. If needed, Tetra Consultants will recommend our international clients to consider purchasing ready-made shelf companies or to utilise Tetra Consultants' local nominee director service.
See this webpage for more information on opening a German corporate bank account.
Step 5: Company registration
Once the company is registered, Tetra Consultants will courier the Germany company registration certificate, Memorandum & Articles of Association, Register of Directors, and Register of Shareholders to your preferred addresses.
Since these corporate documents will be in German, you can employ our translation service so that you can understand the same.
Step 6: Tax registration
After this, Tetra Consultants will begin with tax and trade registration with the Finanzamt (tax office) and Gewerbeanmeldung (trade office).
Step 7: Corporate bank account
After the company is officially registered, Tetra Consultants will convert the capital bank account into a trading account. Tetra Consultants will courier the internet banking token and access codes to our clients' preferred addresses.
Step 8: Staying compliant
Post-registration, it is important that you stay compliant with the local laws, and hence, you must complete all additional requirements promptly. This includes getting mandatory insurance for your business and completing German company filings annually.
Tetra Consultants can assist you even after registration is completed to ensure you are compliant with the local law.
Ready-made shelf company
If our international clients require a German company to sign a contract, Tetra Consultants has ready-made shelf companies. Within 1 business day, Tetra Consultants will provide you the company name and company number. Within 1 week, our team will change the corporate structure and appoint your preferred directors, shareholders, and managing director of this German shelf company. Our international clients can choose to purchase a shelf company with an existing corporate bank account or open a new account. See this webpage for more information on this fast solution to meet your business needs.
Types of companies in Germany
There are multiple forms of business entities that are available for the companies to choose from. Our team of experts will fully understand your business model, objectives, and resources before making a recommendation for the most suitable business structure for you.
GmbH (Gesellschaft mit beschränkter Haftung)
When foreign investors and entrepreneurs choose to set up a company in Germany, they usually go with the equivalent of a limited liability company. This is the most popular and common business entity in Germany. Regardless of whether you are conducting onshore or offshore business, you are legally able to complete GmbH registration as it caters to many business sectors. According to Germany Companies Registry, the minimum requirements for a GmbH are:
1 director of any nationality
1 shareholder of any nationality
Minimum paid-up capital of €25,000
Legal registered office address
UG (haftungsbeschränkt)
UG is a mini GmbH that is suitable for entrepreneurs who are looking to put less capital at risk. There is no minimum paid-up share capital for this business entity. However, 25% of the company's profit must be contributed to its reserves until the reserves sum up to a total of €25,000. Thereafter, the company will be converted to a standard GmbH. The benefit of setting up a UG is that businesses will face lower risk and initial costs.
Simply put, UG has the same characteristics as GmbH, without the initial paid-up capital. If your business has more than 3 shareholders, you will not be allowed to complete the Germany UG company formation and must register a GmbH.
General commercial Partnership (Offene Handelsgesellschaft- OHG)
For such a legal entity, at least two individuals come together to set up a common company to conduct business activities. For its establishment, the company will need to submit the Articles of Association which must include the shareholders' details, the purpose of business, deposits made, and more. This must be notarised and then submitted to the commercial registry. The business should also be registered with the Trade Office. All partners in this business have unlimited liability such that they are accountable for the business's debts and liabilities.
Limited Partnership (Kommanditgesellschaft)
To set up such a business, at least two individuals are needed with a capital of €50,000. The partners must sign the Articles of Association, get it notarised, and register with the Trade Register. The general partner in this business has unlimited liability and is completely liable for all the debts of the company whereas the limited partner is only liable up to the value of his or her shares owned in the business.
Branch
A branch office is an extension of the parent company and can only conduct business activities in Germany similar to that of the parent company. The parent company is 100% shareholder and is fully liable for the debts incurred by the German branch office. In addition, the German branch office is considered part of the foreign company and will be subject to the German taxation system applicable to them.
Representative office
A representative office is only allowed to conduct market research and marketing for the parent company. It is not allowed to sign contracts, sales agreements, and earn income in Germany.
Why start a business in Germany?
Over the years, Germany is known as the economic heart of the European Union. This is mainly due to its robust economy and reputation as a business-friendly jurisdiction. Coupled with political and economic stability, Germany is a popular choice among investors who are looking to start a business in Europe.
Before you complete online company registration, you need to understand the political and economic environment of the jurisdiction. This is to ensure that you can safely conduct your business to achieve your business objectives.
Political
Germany is a member of several global organizations including the European Union, World Bank Group, International Monetary Fund, and OECD.
Incorporating a company in Germany is complicated and will take approximately 4 weeks to complete. According to research conducted by World Bank, Germany is ranked 125th in the world for "Ease of Starting a Business" in 2020.
Economical
According to Global Finance's ranking in 2019, Germany has the world's safest bank.
There is no capital control in Germany, allowing businesses to freely transfer funds across borders.
Germany has the fourth-largest economy in the world and the largest in Europe. However, due to the Covid-19 pandemic, its GDP has declined.
According to the Global Competitiveness Index 2019 by the World Economic Forum, Germany has a rank of 7th out of 141 countries.
Social
Germany is a multi-cultural country, with a variety of lifestyles.
Germany had an unemployment rate of 3.16% in 2019 which increased to 3.9% as a result of the Covid-19 pandemic. It is forecasted to decrease to 3.5% in 2021.
The government has recently adopted a strategy to promote gender equality in the country- providing equal rights, pay, and treatment to women and men.
Technological
Germany gives emphasis on national science and technology which can be seen through a large number of laboratories and the policies set up by the Ministry of Science and Technology.
The telecommunication systems available in this country are modern and sophisticated, serving as a huge advantage for businesses in or depending on the IT industry.
Legal
Business set up in Germany has minimal requirements and does not require the appointment of a local resident director.
SMEs in Germany can enjoy multiple government incentives and grants, reducing the cost of business operations.
Environmental
The government passed the Renewable Energy Act (EEG) in 2014, which focuses on the use of renewables and provides compensation to those who use such energies.
Germany has a rank of 10th out of 180 countries as per the Environment Performance Index. This suggests that the government has implemented adequate environment-friendly laws, while also achieving high economic growth.
Accounting and Tax Considerations:
It is compulsory for all businesses to file an annual tax return and must pay a fine in case of any delays.
All businesses must pay a corporate income tax of 15% with an additional municipal trade tax of 7-17%. Moreover, VAT and withholding tax is also levied on the company. Thus, businesses must pay relatively high taxes.
Germany has signed more than 90 Double Tax Avoidance Agreements (DTAAs) with other countries, minimizing tax obligations of businesses.
Contact us to find out more about how to set up a company in Germany. Our team of experts will revert within the next 24 hours.
FAQ
Can a foreigner register a company in Germany?
Yes, foreigners can register a company in Germany. In fact, foreigners can have complete ownership of the business. If you wish to set up your business in Germany, it may be compulsory for you to travel to Germany, and hence, you may require a visa.
You can refer to our website for more information on how to open company in Germany for non-resident or contact us and our team of experts will revert within the next 24 hours.
How do I verify a company in Germany?
In order to verify a company, you can check the company name at the Chamber of Commerce and Industry, Germany.
How much does company registration cost in Germany?
The total engagement fee depends on the services you require from us. Our service package includes planning and strategizing, incorporation of the company, the opening of bank account, registration for tax, and more.
This total fee includes the government fee needed to complete the incorporation process.
What is a good business to start in Germany?
An individual can start any business they wish and there is a wide range of opportunities available. If you choose to set up a company that makes use of renewable energy such as solar energy, hydro energy, and more, you will receive multiple benefits and compensations from the government. You can also choose to enter the Biotechnology industry. This is because the government is developing infrastructures, funding research, and more. However, entering this industry may require high capital.
Is Germany a good place to start a business?
Yes, Germany is a good place to start a business. This is because of the stable political and economic environment maintained by the government. Moreover, there are business-friendly policies implemented that can be extremely advantageous. Besides this, according to the Ease of Doing Business, Germany had a rank of 22nd out of 180 countries in 2020.
Is it easy to register a company in Germany?
The process to register the business is straightforward if you know the steps. However, it is slightly cumbersome to set up a business. As per the "Ease of Starting Business, 2020" by the World Bank, Germany had a rank of 125th which shows that the current system is not as easy as other countries.
However, we at Tetra Consultants can support you through the incorporation process so that you can better focus on operating your business. Our team of experts is highly skilled in this field and will help you complete this process in up to three weeks.
What does HRB mean in German?
HRB is an abbreviation of Handelsregisternummer. This is the registration number given to all businesses listed in the Trade Register of Germany.
Is there a German equivalent of Companies House?
Companies House in the United Kingdom primarily checks and maintains all the relevant information on Limited Companies and Limited Liability Partnerships.
Yes, there is a German equivalent of Companies House. It is the Bundesanzeiger Verlagsgesellschaft mbH which is the European Business Register (EBR) member of Germany. This contains all the relevant German company register information.
What does a German company registration number look like?
The Germany company registration number has the format of HR_12345, which is followed by the district court where the company was set up. You may be wondering how to find company registration number in Germany. This number is located on the company's Certificate of Incorporation. This number can also be found on the company website in a link called "Impressum" or "Imprint", which companies are compulsory to have.
What is GmbH in Germany?
GmbH is an abbreviation of "Gesellschaft mit beschrankter Haftung". This term means "limited liability company". Like a standard LLC, the shareholders of this company have limited liability restricted to the amount they have invested in the company as paid-up capital. They are not liable to cover the company's debts and liabilities. This is the most common form of legal entity used in Germany.
How to open GmbH company in Germany?
To open a GmbH company in Germany, you must first reserve your preferred trade name. Then you must check to see if you meet all the requirements for such a company:
One director and one shareholder of any nationality.
The minimum share capital of €25,000.
Registered local office address.
Once, all these requirements are met, you must prepare all the relevant documents such as Memorandum and Articles of Association and get them notarised. The minimum share capital amount should also be deposited in your bank account. Once all the formalities are completed, you will obtain the Certificate of Incorporation.