The United Kingdom (UK), is one of the world's top business locations to invest in the world. It offers both an advanced and diverse market that is supported by world-class infrastructure to facilitate the conduct of various businesses, attracting both foreign investors as well as multinational corporations to incorporate in the jurisdiction of the UK. 
The country is also home to some of the world's most advanced and contemporary industries, offering business opportunities and developments in the field of Life Sciences, Aerospace, Information and Communication Technology (ICT), Automotive Engineering and Financial Services. All these make the jurisdiction an attractive location for investors to register a business in UK but it is important to understand just how the entire process works. Before you register company in UK, you might find it difficult to navigate the entire process yourself. In this article, Tetra Consultants will share X things to know before you register a business in UK.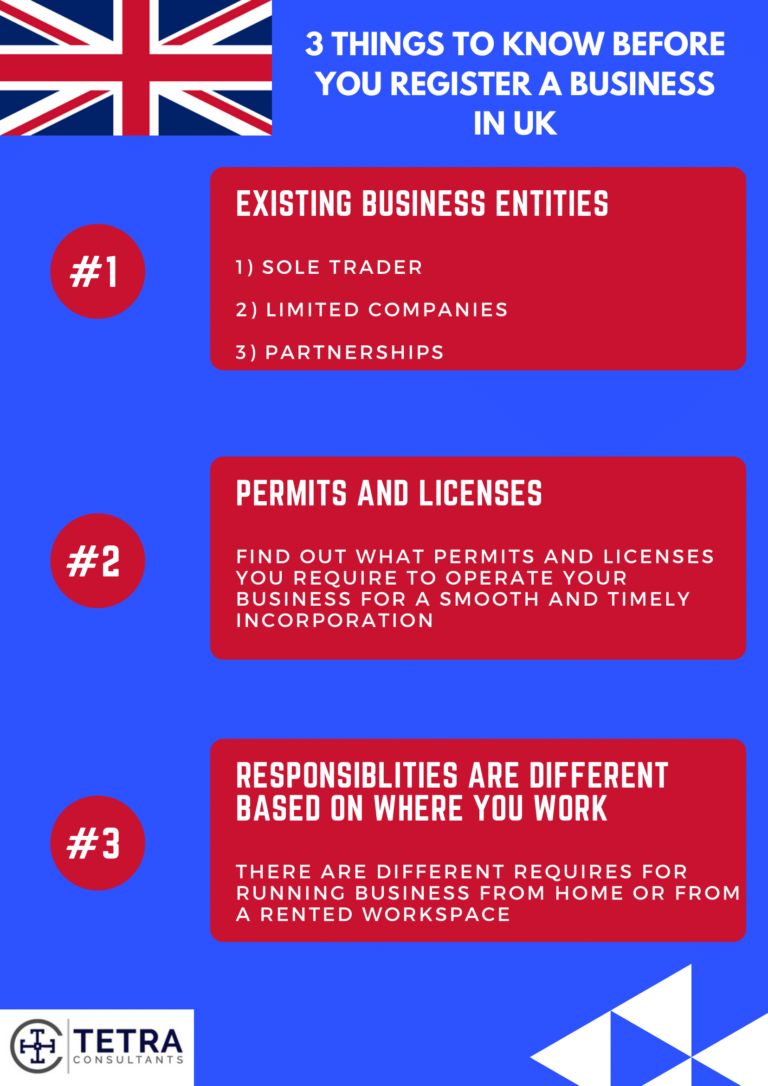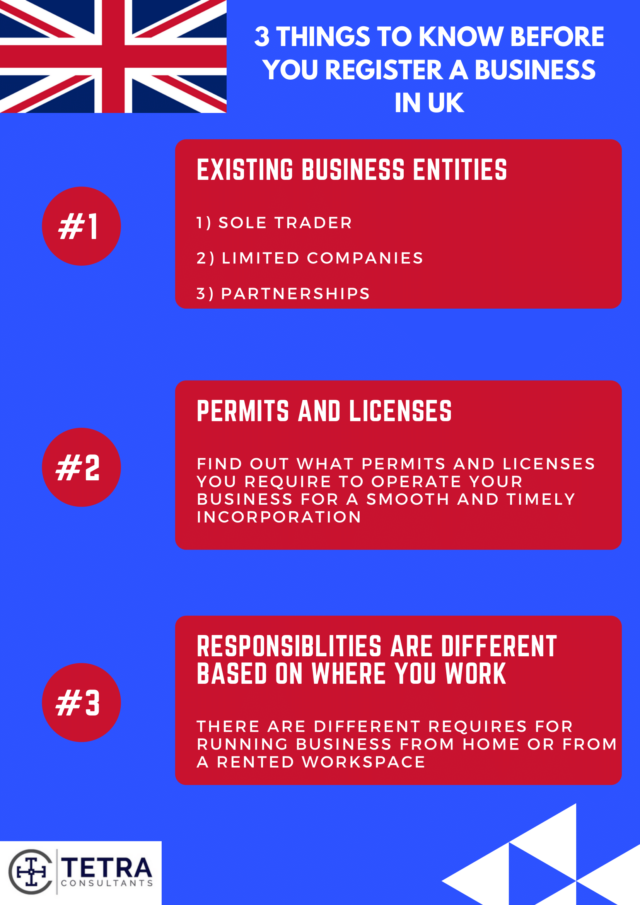 1) Existing Business Entity
The first thing to know before you register a business in UK is the type of business structures you can set up in the UK. Under the jurisdiction of the UK, there are mainly three different forms of business entity that you can choose to set up:

1) Sole Trader
Sole traders run businesses by themselves as an individual and are subject to unlimited liabilities. Owners are responsible for the debts and obligations of the business and are able to keep all the business's profits after taxes have been paid. To register as a sole trader, you might have earned at least more than EUR 1,000 within a year and you have to prove that you are self-employed in order to claim incentives like tax-free childcare. Proof of self-employment includes retaining your business's sales and expenses records. Operating as a sole trader will also require you to file a self assessment tax return every year.

2) Limited Companies
The types of limited companies in UK that can be formed are either limited by shares or limited by guarantee. If your company is limited by shares, shareholders' liability is limited to their respective amount of unpaid shares they hold. If your company is limited by guarantee, shareholders' liability is limited to a "guaranteed amount". In accordance with the UK Companies House, limited liability companies have to have a minimum of 1 shareholder of any nationality, 1 director of any nationality, an official UK registered office address and there is no minimum paid up capital required. If you wish to raise capital by selling shares to the public, you can also opt to set up a public limited company (PLC) and list your company on the London Stock Exchange. In accordance with the UK Companies House, PLC requires a minimum of 2 directors of any nationalities, 2 shareholders of any nationalities, an official UK registered office address, company secretary to be identified and a minimum capital of EUR 50,000 of which 25% has to be paid upfront.
3) Partnerships
In a partnership formation, you and your partner will share responsibility for the business in terms of any profits and losses. It is important to note that a partner does not require to be an actual person, so long as the entity counts as a "legal person" (For e.g. limited companies). In the UK, you are allowed to form either a limited partnership or limited liability partnership. In a limited partnership, there is a minimum of 1 general partner and 1 limited partner. The general partner holds greater risk given that he has unlimited liability and the limited partner only holds limited liability. But due to the higher risk undertaken, general partners tend to hold greater control over the business and are able to make binding decisions for the business. In a limited liability partnership, partners are limited to their agreed contribution in the partnership.
2) Permits and Licenses Requirements:
The second thing to know before you register a business in UK is to find out what permits and licenses to acquire in order to operate your business smoothly and on time. Depending on your type of business operation, you have to check if you require any licenses or permits for various activities such as playing music or selling food in the street. To find out exactly what permits or licenses you are required to attain, you can head over to the UK government website and use their licence finder service.
3) Responsibilities are Different Based On Where You Work:
The third thing to know before you register a business in UK is that responsibilities are different based on where you work. If you run a business from your home, you may require seeking permission from your mortgage provider or landlord, the local planning office or even the local council. You may also require insurance for your business as simply personal insurance does not cover assets like stocks, computers and other assets. If you are renting a property for business, you are obligated by law to follow certain practices. First, you are required to carry outa health and safety risk assessment in your workplace and remove any identified risk or hazards. There are also added responsibilities in meeting the following criterias: providing a reasonable temperature, sufficient working space, ventilation and lighting, toilet and washing facilities, safe drinking water and also safe equipment. In the event of winding of business or moving out of the property, you may be subjected to additional repairs costs if the state of the property is not of a considerable condition.
Conclusion:
Engage Tetra Consultants as we guide you on how to register a company in UK through a smooth and hassle-free process. The team provides a comprehensive service package that includes planning and strategizing with our clients to select a suitable business entity, completing the registration and documentation processes, obtaining required licenses, opening a corporate bank account, and ensuring your compliance with the government regulations. 
Contact us to find out more about company registration in UKand our dedicated and experienced team will revert within the next 24 hours.