Isle of Man has gained increasing attention among foreign investors, as the jurisdiction is recognized as being a well-regulated offshore finance centre with progressive developments across a range of international financial products. According to the International Monetary Fund (IMF), Isle of Man has been able to maintain and improve on high compliance with the Insurance Core Principles (ICP) under their assessment program known as the Financial Sector Assessment Program (FSAP). In general, countries with low tax requirements or zero corporate tax rates face condemnation and criticism from various authorities but Isle of Man has managed to establish itself in high regard as they maintain a high standard of regulatory framework. As a result, many foreign investors choose to invest in the Isle of Man, and the country receives a high level of Foreign Direct Investments (FDIs). Before you register company in Isle of Man, allow Tetra Consultants to share 4 benefits of registering a company in Isle of Man.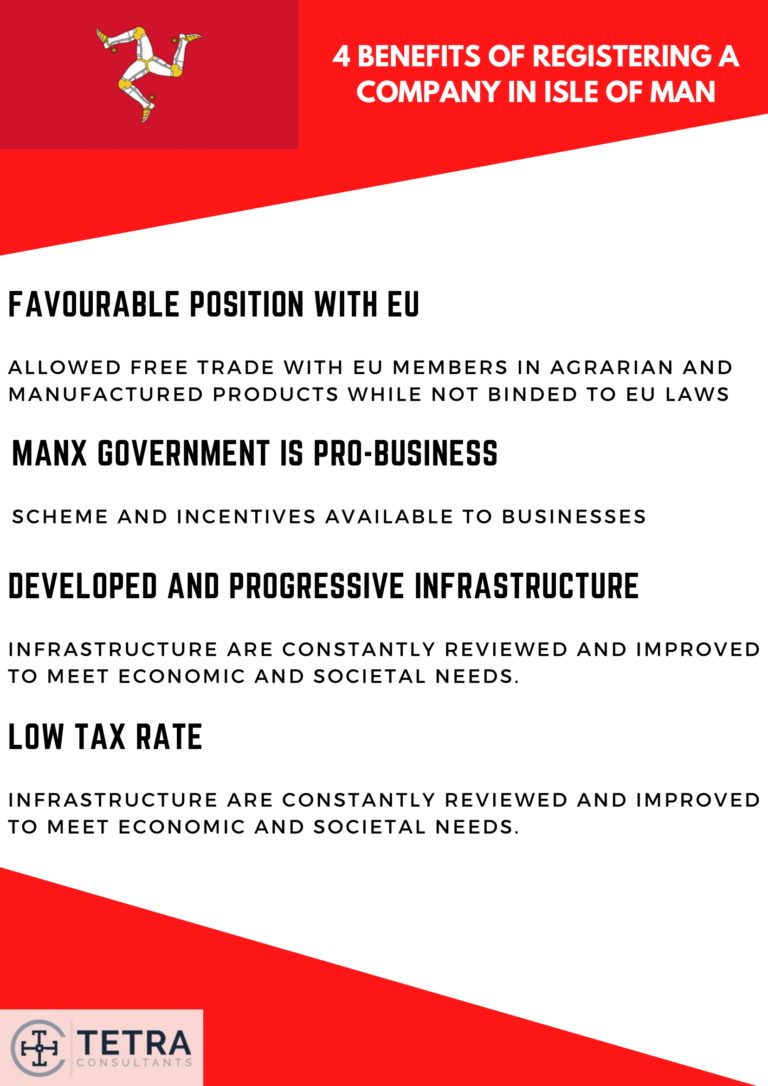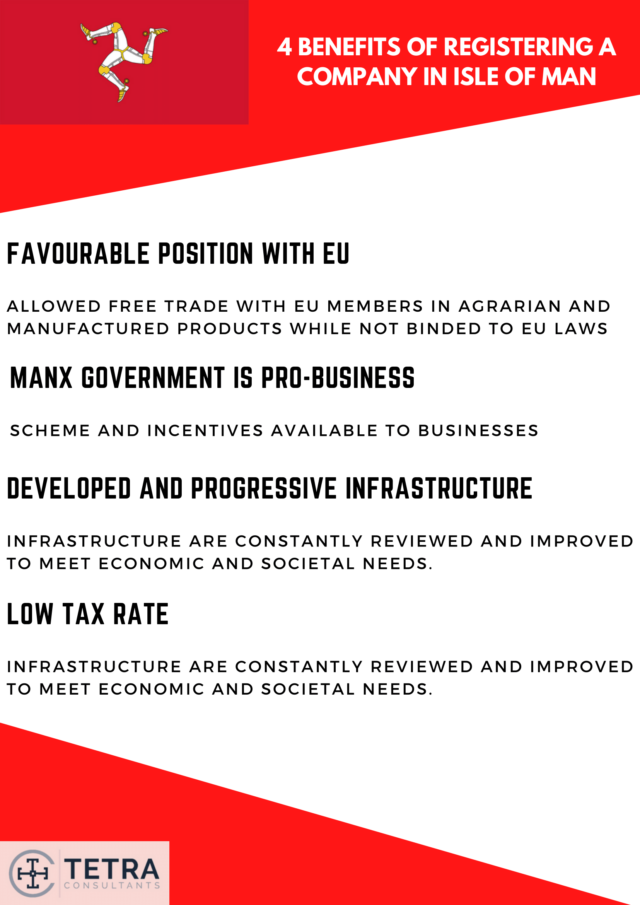 1) Favourable Position with EU:
The first benefit of registering a company in the Isle of Man is its favourable position with the European Union (EU). The Isle of Man is often confused or misconceptualized by many to belong to part of the United Kingdom (U.K.) or even a member state of the EU but that is not true. According to the constitution of the country, Isle of Man is in fact a self-governing British Crown Dependency which has its own parliament, government and laws. Given its British royalty relationship, the U.K., on behalf of the Crown, is responsible for its international relations and the Lieutenant Governor of the country acts in proxy of The Queen. Having clarified the origins, the island actually managed to enter a special and limited relationship with the EU although not being a member state nor belonging to the U.K. in England directly. When the U.K. joined Europe back in 1973, "Protocol 3" was negotiated under the UK's Treaty of Accession and it allowed free trade in agrarian and manufactured products between EU members and Isle of Man. This meant that the country was able to participate in favourable trading conditions without being bound to EU laws. Apart from trading matters relating to this agreement, the island pays nothing additional to the EU and does not receive back any additional EU funds. This peculiar and secular agreement is beneficial to the Isle of Man as it allows the country to conduct itself in flexibility without being binded to any EU laws and guidelines while being able to access the EU market.
2) Manx Government is Pro-business :
The second benefit of registering a company in the Isle of Man is that you will be conducting business in the jurisdiction of a pro-business government. The Manx Government, alongside the various authorities working with them (for e.g. The Department of Environment, Food and Agriculture and The Department of Enterprise ), acknowledges the importance in ensuring a range of financial support and schemes are available to businesses. As such, the Isle of Man offers a supportive ecosystem for interested parties who are hoping to start, grow and develop their business. The series of schemes and support available ranges from training and mentoring, to providing grants, loan and investments, allowing business owners many opportunities to scale their business. Some of the schemes that are available include: Business Energy Saving Scheme, Business Improvement Scheme, Corona Business Adaptation Scheme, Vocational Training Assistance Scheme and many more that can be found on their official government webpage over here.

The desired aim of the schemes are to encourage growth and diversification in the Manx economy by allowing business to further develop and pursue new opportunities, even during the trying times of the pandemic.
3) Developed and Progressive Infrastructure:
The third benefit of registering a company in the Isle of Man is that the country has well developed infrastructure that allows for smooth transportation. Aside from the existing well-developed infrastructure, the Manx government plays an active role in ensuring that the country's infrastructure is maintained and developed progressively to meet their social and economic requirements. The National Infrastructure Strategy was developed to ensure an integrated, reliable and secure provision of islandwide infrastructure to meet its aforementioned goal. By constantly monitoring and reviewing their infrastructure quality and level of development, it helps maintain the country as a competitive landscape to invest in and the Manx local stands to benefit as well.
4) Low Tax Rates:
The fourth benefit of registering a company in the Isle of Man is that the jurisdiction offers relatively low tax rates and requirements for incorporated firms. The standard corporate tax rate for all resident and non-resident companies lies at 0% till date except for certain exceptions. Specifically for banking business income, property-related income and retail businesses with profits above EUR500,000, their corporate tax rates are at 10%, 20% and 10% respectively. Furthermore, there are no capital gains tax, inheritance tax or stamp duty fees applicable. The personal income tax ranges between 10% with a cap on 20% for its local. For non-residents, the income tax rate is maintained at a fixed 20% bracket for all income.
Conclusion:
Engage Tetra Consultants as we guide you on how to register a business in Isle of Man as a non-resident in a smooth and hassle-free process. The team provides a comprehensive service package that includes planning and strategizing with our clients to select a suitable business entity, completing the registration and documentation processes, obtaining required licenses, opening a corporate bank account, and ensuring your compliance with the government regulations. 
Contact us to find out more about company registration in Isle of Man and our dedicated and experienced team will revert within the next 24 hours.