Hong Kong is the central heart of many leading companies in the world, given its low corporate tax rates and beneficial free trade agreements. The country is ranked third amongst 190 economies in terms of ease of doing business in 2019, shifting up a rank from fourth place in 2018. Many investors choose to register company in Hong Kong given its strategic location and gateway to mainland China, providing investors with numerous business opportunities and trading partners. The country is also recognised to be a free market economy, attributed to the fact that the government has made business registration in the country to be seamless and efficient. The business operating environment in Hong Kong allows investors to tap onto its varied talents, multicultural environment as well as natural resources, creating ideal conditions for varied foreign investors. With that, many have also come to wonder how to register a company in Hong Kong as a foreigner in hopes of participating in one of the largest free-trade economies of the world. In this article,  Tetra Consultants will share with you 4 steps to know about Hong Kong limited company registration.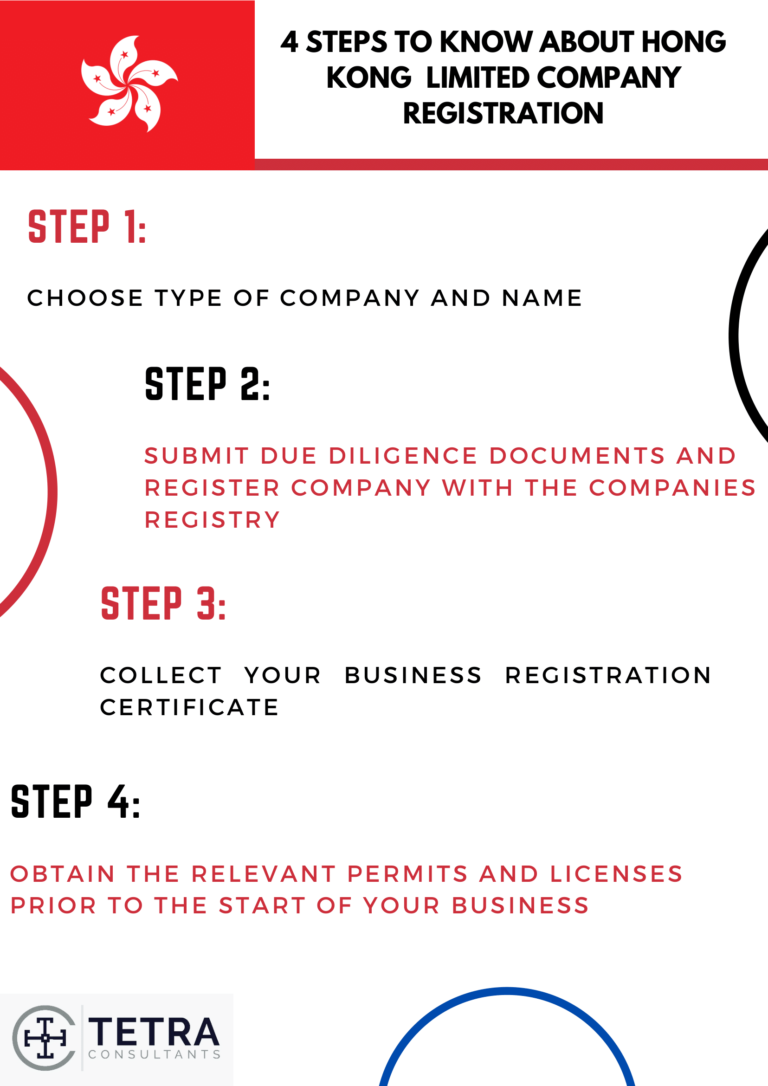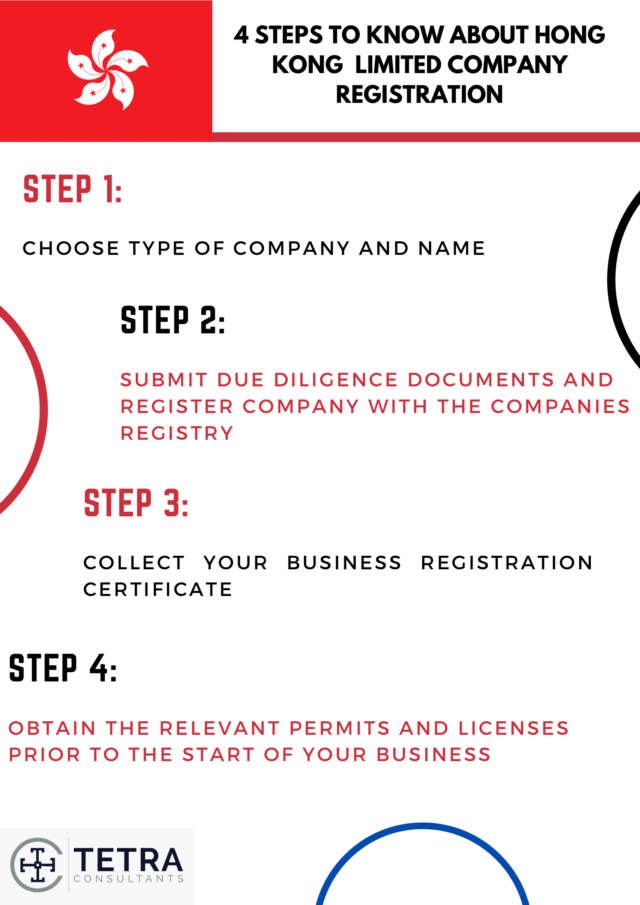 1. Choose the Type and Name of Company:
The first step to Hong Kong limited company registration is choosing the type of company structure and a name for your company. In Hong Kong, a local limited company can be split into two structures:

1) Company limited by shares – liabilities of members are limited according to the articles of association to the amount of shares held respectively by them.
2) Company limited by guarantee – there is no share capital and the liabilities of members are limited according to the article of association in regard to the amount that each respective member will undertake to contribute to the asset of the company in the event that the company wounds up.

Once you have decided between the two variations of a limited company, the next step is to register the name of your company. The company name is the official name that will appear under the company name index. The company name index is kept and recorded with the Registrar of Companies in Hong Kong. The general rule of thumb is that companies are not allowed to use existing names. To conduct a search beforehand, parties interested in Hong Kong limited company registration can head over to their Cyber Search Centre or use their Company Search Mobile Service for their preliminary search. A note of caution for interested parties would be not to pick company names that may infringe on intellectual property rights of various firms. Interested investors are also recommended to conduct a preliminary search in the Trademark Registrar in hopes of preventing any infringement of rights.
2. Submission of Due Diligence Documents and Company Registration :
The second step to Hong Kong limited company registration is to submit your necessary application documents alongside the payment of correct incorporation fees. The application process can be done either electronically through the Companies Registry "e-Registry" platform or "CR eFilling" which is done through mobile application, or via hardcopy submission at their Government Offices. The registration fees vary according to the entitlement duration of the certificate. In general, larger members and longer duration of certificates will incur a higher registration fee. For detailed breakdown of the fees, it can be found here.
Documents that are required include: incorporation form (based on your decision for the company either limited by shares or guarantee), a copy of the company's articles of association as well as a notice to the Business Registration Office.

To note, if the founder who signs the incorporation form is also helming the director position of the company, he/she will be required to sign the "Consent to Act as Director" section in the registration form.
3. Collecting Certificate:
The third step to Hong Kong limited company registration is to collect your certificate of business registration. Once your application has been successfully approved, you are able to receive your Certificate of Incorporation and Business Registration Certificate either through electronic or physical copy form in accordance to your initial mode of registration (both holding the exact same legal effect). For applications done electronically, the digital certificates will normally be issued within 1 hour via email notification. For physical applications, the certificates will normally be issued within 4 working days and the applicant will be notified usually via fax or alternative means of contact. Do note for collection of physical certificates, they have to be done in person at the Registry.
4. Obtain Relevant Permits and Licenses:
The final step to Hong Kong limited company registration is to apply for necessary permits and licenses in accordance with your business operation. To find out about which permits or licenses are required for your company, head over to the Trade and Industry Department of Hong Kong for more details.
Conclusion:
Engage Tetra Consultants as we make your registration of business in Hong Kong a smooth and hassle-free process. The team provides a comprehensive service package that includes planning and strategizing with our clients to select a suitable business entity, completing the registration and documentation processes, obtaining required licenses, opening a corporate bank account, and ensuring your compliance with the government regulations. 
Contact us to find out more about company registration in Hong Kong and our dedicated and experienced team will revert within the next 24 hours.