Register company in Hong Kong
To register company in Hong Kong with Hong Kong Companies Registry is easy and hassle-free with Tetra Consultants' assistance. Our Hong Kong business set up package includes company formation, provision of company secretary and legal registered address. If required, our team will assist our international clients to apply for financial licenses or work permits in Hong Kong.
Over the years, Hong Kong is one of the most popular country to set up an offshore company. This is mainly due to its reputation and straightforwardness of the process to register company in Hong Kong. A Hong Kong offshore company is perfect for offshore banking, international trade and asset protection.
Can foreigners register a Hong Kong Company too?
Yes, they can. There are official requirements for the country of origin of the directors and shareholders. However, by the requirements of the Companies Ordinance and Companies Registry CR, your entity must first have a registered address, company secretary and an approved business name. You must also go through rounds of KYC checks to confirm your company's compliance.
Timelines to register Hong Kong company
Tetra Consultants will complete the process to register company in Hong Kong within 1 week after receiving required due diligence documents. Our team will submit a quality incorporation form and register the Hong Kong company without requiring our international clients to travel.
Once company is registered, Tetra Consultants will courier the business registration certificate and certificate of incorporation to our clients.
Within 4 weeks after the company is incorporated, Tetra Consultants will advance corporate bank account opening with either a reputable Hong Kong bank such as Citibank, HSBC or Hang Seng Bank.
Alternatively, some of our international clients choose to open multi-currency business banking accounts with overseas bank in Singapore or Switzerland.
All in all, our international clients can expect to start operations in Hong Kong within 5 weeks upon engaging Tetra Consultants. See this webpage for a step by step explanation of all steps required to successfully register Hong Kong company.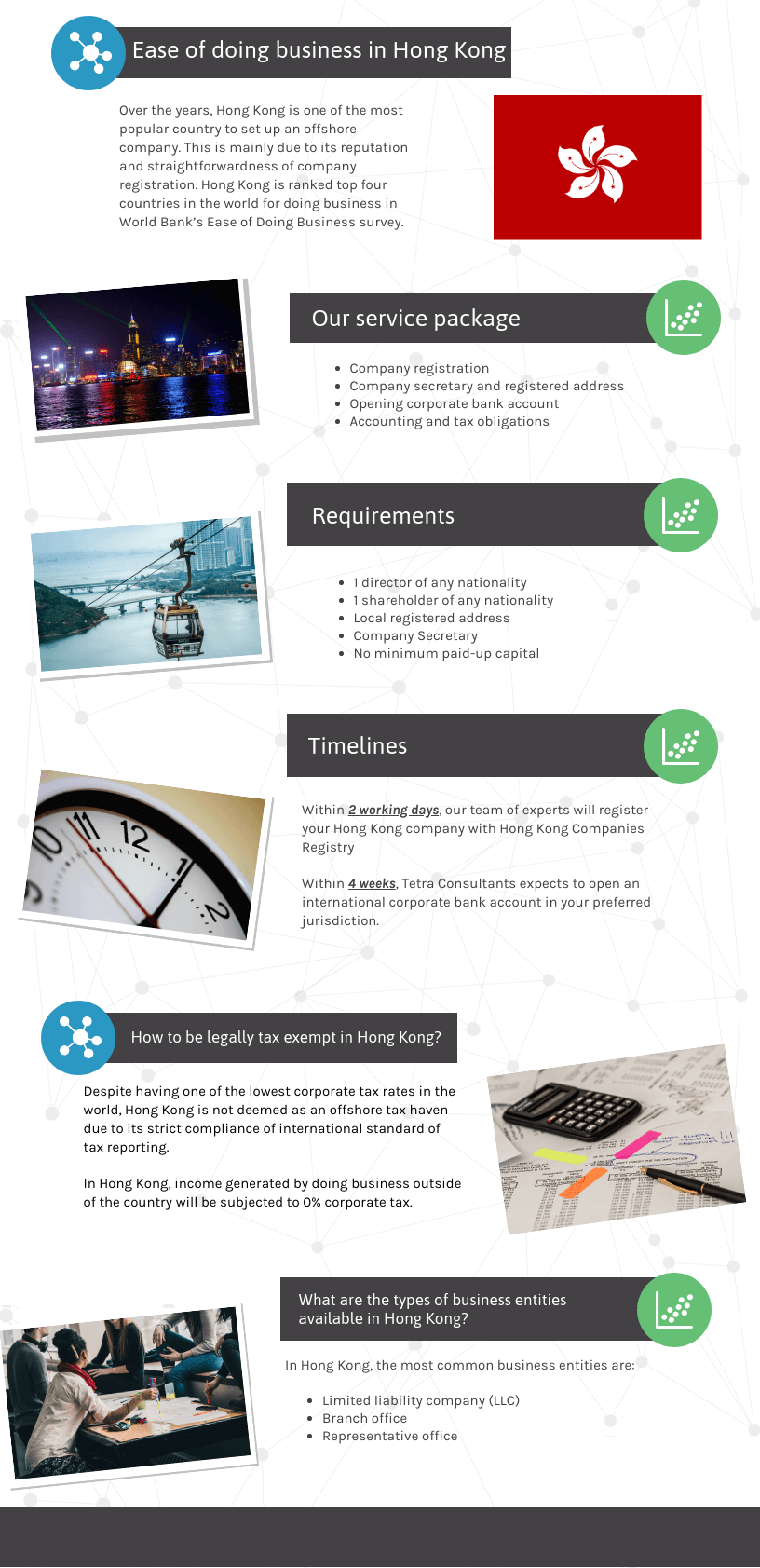 How to register company in Hong Kong
Step 1: Choosing an optimum business structure 
Prior to company formation, it is essential to choose the correct type of company.
Based on your business structure and long-term goals, Tetra Consultants will advise you on the most optimum business entity, paid-up share capital, corporate structure, and relevant licenses if applicable.
Step 2: Reservation of company name
Before Tetra Consultants proceeds to set up a company in Hong Kong, we will search and reserve your company name through the Hong Kong Companies Registry. Our team will reserve your company's name for up to 30 days.
Step 3: Preparation of the required documents
All companies in the country require a Memorandum of Association and Articles of Association to be incorporated.
Tetra Consultants will assist in drafting the Memorandum of Association, which includes the company's name, registered address, business objective, amount of registered share capital and personal information about the applicant. Tetra Consultants will also draft the Articles of Association based on your business plan.
In addition, documents needed for the KYC information check during the incorporation process include the passport copies, proof of address and other valid proof of identity documentation of the Kong shareholders or directors.
Step 4: Filing for registration
Tetra Consultants will provide you with a registered secretary and registered address as mandated by corporate laws in the jurisdiction.
After receiving approval, Tetra Consultants will courier the Hong Kong Business Registration Certificate, Memorandum and Articles of Association and other documents to your preferred address.
Step 5: Corporate bank account opening
After registration, Tetra Consultants will assist you in opening a corporate bank account. Our team has established partnerships with multiple reputable banks in both Hong Kong and globally. We will present your business to each relationship manager and compliance team to find the one most suitable for your unique needs.
Typically, the account opening will take roughly 4 weeks. In most cases, the directors and shareholders are not required to travel. However, if travel is required, we will have a representative accompany you to the bank meeting. Alternatively, our team will negotiate with the banks to conduct a conference call instead or to request a waiver.
Once your account has been successfully opened, Tetra Consultants will courier the internet banking token and access codes to your preferred address.
Step 6: Financial reporting and taxation obligations 
After successful incorporation, Tetra Consultants will continue to provide you with the necessary accounting and tax services to ensure that you can continue to legally conduct business while staying compliant with regulatory obligations.
Our team of dedicated consultants will prepare your firm's financial statements, corporate tax returns and manage bookkeeping on your behalf.
We will also assist you to apply for any relevant financial licenses or work permits in Hong Kong needed for your business to begin operations.
Our team of dedicated consultants will continue to clarify any doubts you may have with regard to your company's obligations.
Advantages of doing business in Hong Kong
Business set up in Hong Kong is straightforward and the country is ranked as one of the easiest jurisdictions to do business. Hong Kong government is open to the idea of foreign director and shareholders and there is no need to attain any special approval during the process of company set up.
There are minimal requirements to set up a limited company in Hong Kong. You will only require a local registered office and company secretary. The registrar of companies will approve your company registration without any mandatory paid up share capital. However, every Hong Kong company is required to submit annual return.
Hong Kong's corporate tax rate is one of the lowest in the world at 16.5%. In addition, the tax system is beneficial to offshore companies as there are no capital gains tax, no VAT/GST and no withholding tax on interest or dividend.
A Hong Kong offshore company will be legally tax exempt if it earns all income from overseas.
According to a survey conducted by the Political and Economic Risk Consultancy (PERC), Hong Kong is ranked as the second best Asian bureaucracy.
Compared to other offshore jurisdictions, Hong Kong is not deemed as an offshore tax haven by OECD. The country is committed to the international standard of tax reporting and exchange. As such, your business will not be viewed negatively by potential customers or partners.
Disadvantages of doing business in Hong Kong
To open a corporate bank account in Hong Kong, our international clients are most likely required to travel to Hong Kong for a face-to-face meeting with bankers.
Politically, Hong Kong is not as stable as before due to the outbreak of riots and protests. However, this does not affect the jurisdiction's reputable as Asia's financial hub. Properly structured, it is still an idea jurisdiction for our international clients to set up their offshore businesses.
Find out more!
Contact us to find out more about how to set up business in Hong Kong. Our team of experts will revert within the next 24 hours.