Company registration process in Saudi Arabia has become popular within the past decade as it is the dream of many investors to conduct business in the future-forward economy. The Sultanate land of Western Asia offers unique business opportunities and exciting potential for developments to multinational corporations as well as interested foreign investors. Saudi Arabia belongs to the part of G20 economy, an international forum that consisting of the world's top economies to focus on international cooperation regarding matters of international economic and financial agenda. Apart from its strong international presence on various boards, the country also boasts a strategic location at the crossroads of major trade routes that leads to three different continents, holding major market access for potential investors. Before you register company in Saudi Arabia, it is important to fully understand the business entity revolving about the limited liability company as it is one of the most popular choices for foreign investors. Tetra Consultants has prepared 4 things to know about a limited liability company in Saudi Arabia.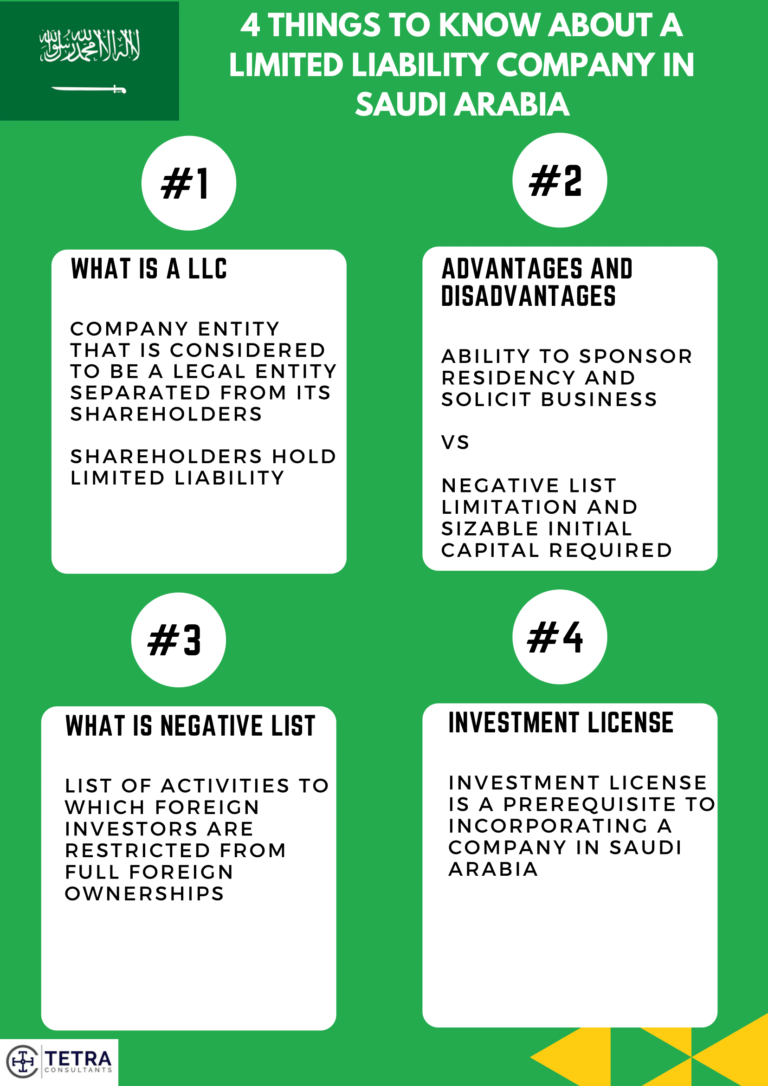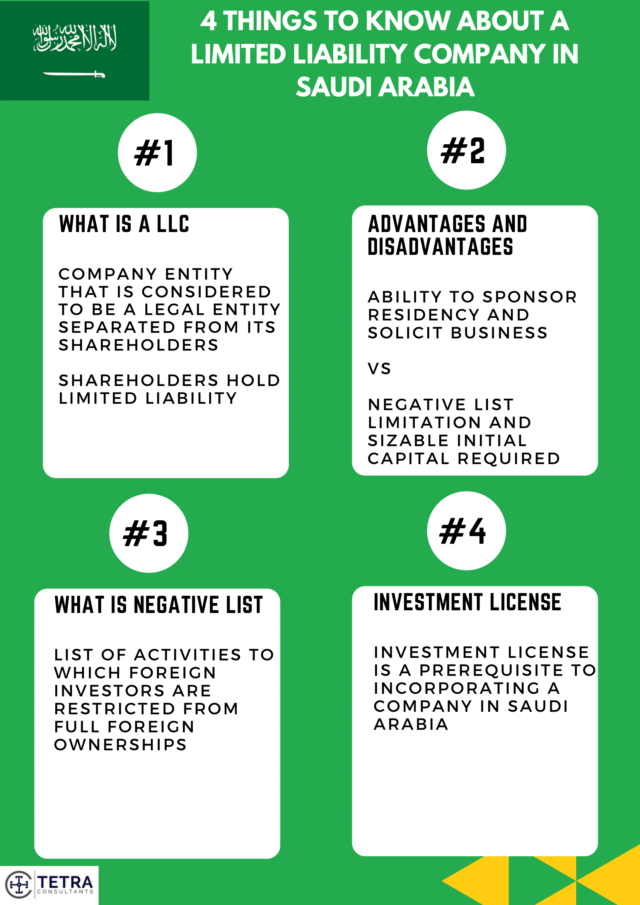 1) What Is a Limited Liability Company (LLC)
The first thing to know about a limited liability company in Saudi Arabia is to understand its entity structure. The limited liability company (LLC) is one of the most popular choices of business structure among foreign investors to incorporate their business in. A LLC is considered a legal identity on its own and seen separately from its shareholders under the eyes of the law. Shareholders' liability are limited in the sense that they are only liable to their individual respective invested sum of shares and will not be responsible for the company's debts or obligations.

The LLC can be formed with a minimum of 2 shareholders but is limited to a cap of 50 maximum shareholders. According to the Saudi Arabia General Investment Authority (SAIGA), regulator of foreign investment license providers, there are certain fulfillments that have to be met prior to operating in different fields of businesses. For firms operating in the industry of agriculture, they would have to first meet a minimum capitalization of SAR$25 million (an approximate of USD$6.65 million). For firms operating in the industrial industry, they would have to first meet a minimum capitalization of about SAR$1 million. Apart from the 2 earlier mentioned industries, there is no other minimum capitalisation for other projects.
2) Advantages and Disadvantages of LLC:
The second thing to know about a limited liability company in Saudi Arabia is the advantages and disadvantages of incorporating in this structure. By incorporating as a LLC in the jurisdiction of Saudi Arabia, foreign investors will have the ability to sponsor residency to its employees and also qualify for favourable financing terms from the Saudi Industrial Development Fund as the main business activity of the company is in the field of industry. Additional, LLC firms will be able to promote and solicit business throughout the jurisdiction for business from both private and public sector.

One of the main disadvantages of setting up a limited liability company in Saudi Arabia is that the range of business activities is limited to only those approved by SAIGA. This is known as the 'Negative List' in which certain levels of industries are restricted from being set up by foreing investors in the country. Additionally, sizable initial capitalisation is required to enter specific industries.
3) What is the Negative List:
The third thing to know about a limited liability company in Saudi Arabia is about the negative list and what kind of industries are listed there. The Negative List issues a list of activities that are excluded from the scope of foreign investments. The various industries in the list include: petroleum exploration, financial services, defenses-related activities, wholesale and distribution, medical services, television, radio and electronic transmission, education, fisheries and air and sea transports. The industries on the Negative List are subjected to periodic reviews to be kept updated.
4) Apply for Investment License:
The fourth thing to know about a limited liability company in Saudi Arabia is to apply for an Investment License with SAIGA. This is the first requirement for incorporating a company in the jurisdiction of Saudi Arabia with foreign shareholders. In order to receive your Investment License, you have to submit your application to SAIGA, which will roughly take a 3 to 4 weeks long processing time. Documents that need to be included are:

1) A completed standard license application form that is signed by the applicant and it must include an authenticated declaration that applicants have read through the Foreign Investment Regulation and its Rules.

2) An authenticated resolution of the applicant's board of directors to incorporate a LLC in Saudi Arabia.

3) Authenticated copy of the applicant's certificate of incorporation and articles of association.

4) Authenticated copy of applicant's balance sheet for a period of 2 years prior to the year of application.

5) Complete copies of passports of the company's proposed manager as well as each person listed in the applicant's articles of association.

The application fee for the Investment License will cost about SAR$ 2000.
Conclusion:
Engage Tetra Consultants as we guide you on how to register a company in Saudi Arabia through a smooth and hassle-free process. The team provides a comprehensive service package that includes planning and strategizing with our clients to select a suitable business entity, completing the registration and documentation processes, obtaining required licenses, opening a corporate bank account, and ensuring your compliance with the government regulations. 
Contact us to find out more about company registration in Saudi Arabia and our dedicated and experienced team will revert within the next 24 hours.