Hong Kong earned its world's freest economy title through its seamless incorporation process coupled with low corporate tax rates and beneficial free trade agreements. The country is ranked third amongst 190 economies in terms of ease of doing business in 2019 and became the financial hub of Asia for investments and entrepreneurships. Many investors choose to register company in Hong Kong as its strategic location acts as the gateway for many western parties to reach mainland China businesses. Apart from its strategic location, Hong Kong hosts an ideal business operating environment, allowing foreign investors to leverage upon their competitive talents, natural resources and its multicultural environment. With compelling reasons for investors to register business in Hong Kong, it figures that many investors are interested in setting up a business in this free market economy. In this article,  Tetra Consultants will share with you 4 things to prepare before setting up a business in Hong Kong.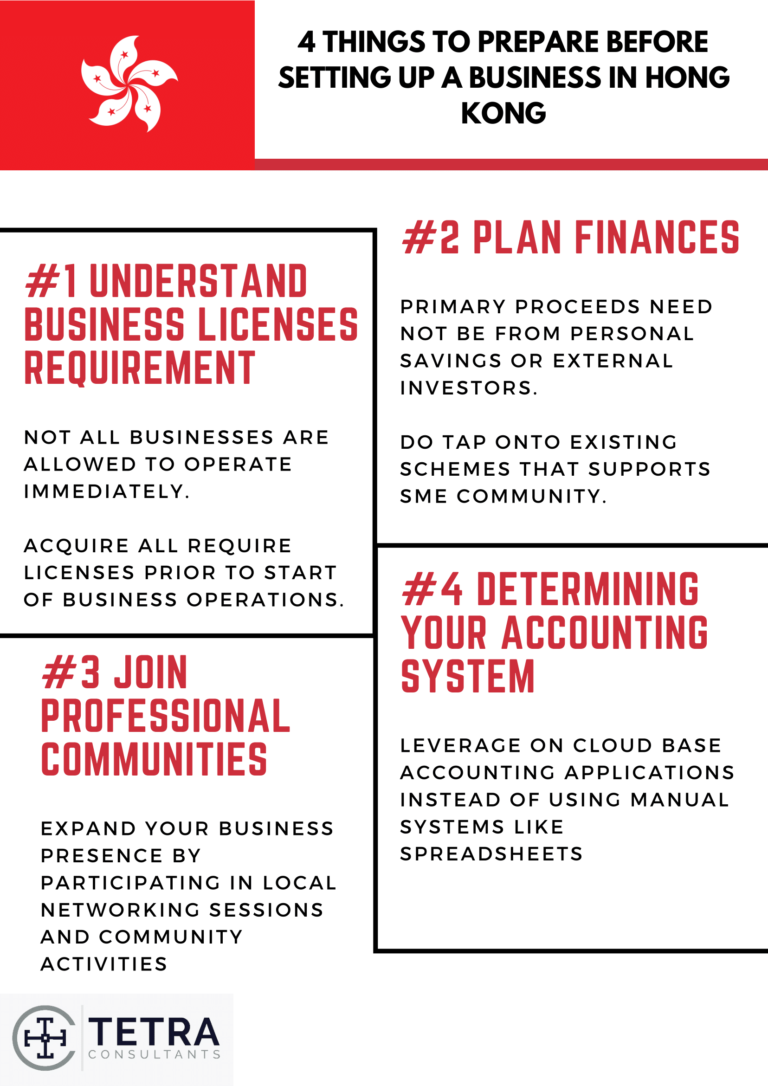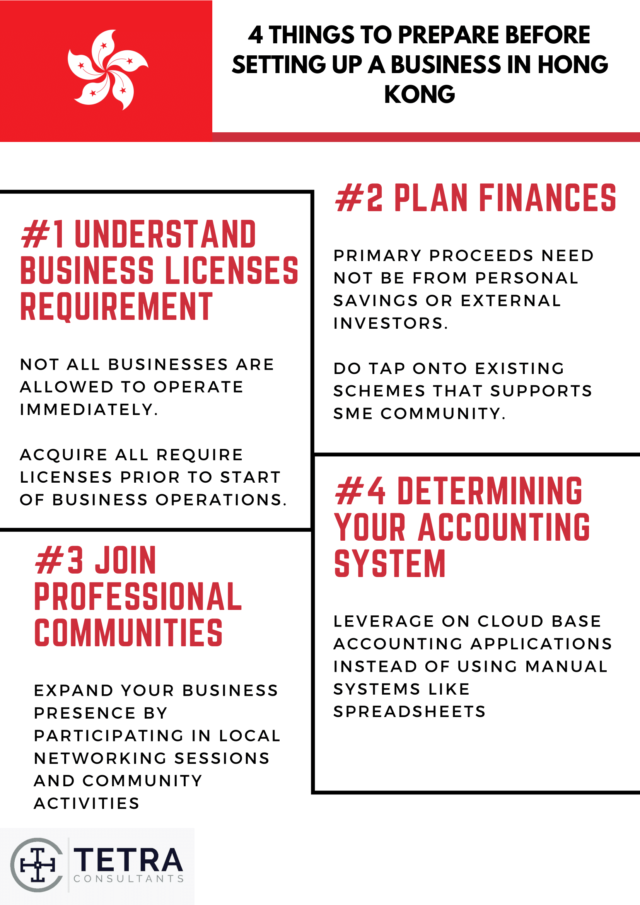 1. Understand Which Business Licenses are Required:
The first thing to prepare before setting up a business in Hong Kong  is to understand which business licenses are required for your line of business operations. In Hong Kong, businesses may not necessarily be allowed to operate the moment they manage to be incorporated. It is on the onus of the business owners or company directors to find out and acquire all necessary business licenses in accordance to their type of business operations prior to operating. Some of the most common licenses you may require include: education business, travel agency, employment agency, food and beverage, financial services, event management, retail and trading.
Contact Tetra Consultants for a full and complete registration when setting up a business in Hong Kong. Many entrepreneurs incorporate their businesses without completing these necessary steps, resulting in slowdown of business' developments and operation. This issue can be potentially damaging if the business faces difficulty to obtain the required licenses. With Tetra Consultants acting on your behalf, you can expect a smooth and hassle free registration experience.
2. Plan Your Finances:
The second thing to prepare before setting up a business in Hong Kong  is to plan your finances. When incorporating in Hong Kong, the registration fees differ from company to company as it is based on your choosing of membership size as well as the years of validity of the certificate. Many business owners assumed that to start a business, their primary source of funding should come from their own personal savings or acquired proceeds from venture capital firms and angel investors. This is not necessarily the case when incorporating in Hong Kong as the country offers additional financing options that not many are aware of. In a bid to support Small and Middle Enterprises (SMEs) as well as entrepreneurs, the government has financed numerous initiatives to support them. Some of the initiatives include the Employment Support Scheme and Distance Business Programme. The Employment Support Scheme aims to support Hong Kong SMEs by helping to pay wages of staff. The Distance Business Programme aims to help companies transit and adopt solutions for remote working, which is particularly useful during the pandemic outbreak. If you are a foreign SME business, you can also opt for the assistance of InvestHK (Hong Kong government funded SME department) to tap on their resources as they offer free marketing and public relations support.
3.  Join Professional Communities:
The third thing to prepare before setting up a business in Hong Kong  is to engage yourself and try to participate or hold an active role in the Hong Kong's SME community. By actively participating in the community, business owners and companies can stand to gain from signing up for frequent community events, seminars and networking sessions hosted by the communities. These events not only provide potential key relationships from forming but also cements your business presence in the local community. Do not underestimate the strength of networking as joining such events can actually provide significant traction for your business.
4. Determining Your Accounting System:
The fourth thing to prepare before setting up a business in Hong Kong  is to determine your accounting system. While it differs based on the size and entity of the business you decide to incorporate in, a proper accounting system is vital to the company's internal infrastructure. A proper reflection of the company's account will reflect the business's health and identify key points to improve on. It is natural for most entrepreneurs to adapt and rely on manual accounting methods such as the usage of excel spreadsheets during the early phase of their business. While this method might suffice, it will start to be increasingly difficult to maintain the accounts when the business starts to grow and such processes might become increasingly inefficient. Instead, companies and businesses can opt for cloud based accounting to avoid any bookkeeping and accounting complications.
Conclusion:
Engage Tetra Consultants as we make your registration of business in Hong Kong a smooth and hassle-free process. The team provides a comprehensive service package that includes planning and strategizing with our clients to select a suitable business entity, completing the registration and documentation processes, obtaining required licenses, opening a corporate bank account, and ensuring your compliance with the government regulations. 
Contact us to find out more about company registration in Hong Kong and our dedicated and experienced team will revert within the next 24 hours.