Deciding on which countries to expand your business to can be a complex and difficult decision.  As an aspiring entrepreneur, you might have heard of the lucrative business environment of Ireland and might be wondering about the benefits of choosing to register a limited company in Ireland too.
In this article, Tetra Consultants will offer insights into the 5 key advantages of deciding to register a limited company in Ireland so that you may better understand this business phenomenon and make a more informed decision about whether you should register company in Ireland.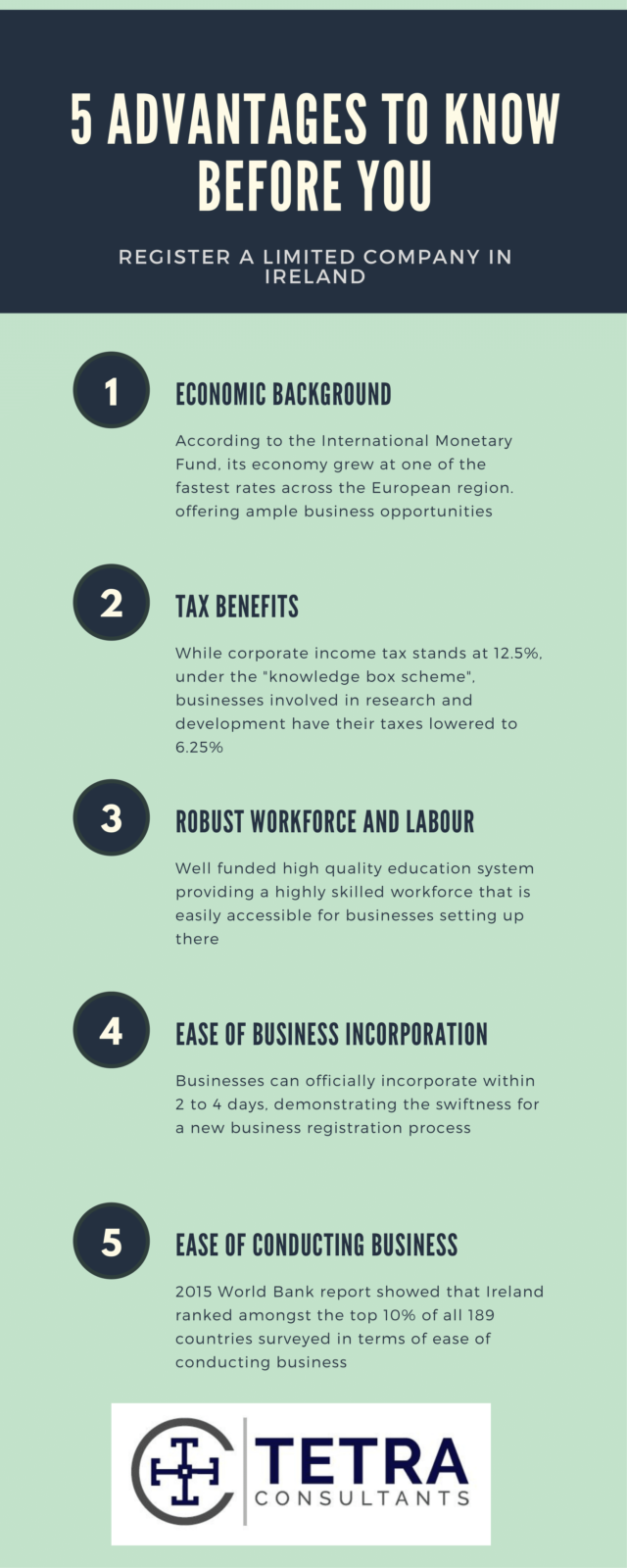 1. Economic Background
As a country within the Eurozone, one of the largest and most affluent regional economies across the world, choosing to register a limited company in Ireland provides access to a variety of economic opportunities and a diverse range of consumer markets.  This is further bolstered by the highly globalised nature of Ireland's open, business friendly economy, ensuring ample economic opportunities for new firms.  In fact, according to the International Monetary Fund (IMF), it's economy grew at the fastest rate across the European region in 2014, and achieved similar feats in the next few years as well.  As such, the economic background of Ireland ensures that businesses setting up in the country are bound to succeed.
2. Tax benefits
Amongst the different countries in the European region, Ireland has one of the most lucrative tax policies and environment.  At the same time, it maintains complete transparency and consistently abides by any regulations set by the Organisation for Economic Cooperation and Development (OECD).  
While the country's previous current corporate tax rate stood at 12.5%, after recent additions in the country's budget for 2016, businesses associated with the Research and Development industry are only subject to a tax rate of 6.25% under what is known as the knowledge box scheme.  This further provides businesses the ability to lower costs in terms of the taxes paid.  
3. Robust workforce and access to labor-related resources
With a relatively substantial emphasis on proper education and a well funded, high quality education system ranking within the top 10 amongst all countries in the world, Ireland is home to a highly skilled, well educated workforce.  In fact, the nation's commitment to upholding a strong education system, as well as its consistent investments into upskilling students and preparing them for the future has earned the country a reputation of being a business environment where the issue of employment is never a concern.  
In fact, the Irish government has further invested in educational and developmental programmes which aid in enhancing the skill sets of the local population, further boosting employment opportunities while benefiting new businesses looking for hire.  
Language barriers commonly associated with working in the European region are no longer an issue as well.  Ireland is one of the only english speaking countries in the Eurozone and thus serves as an ideal location for new businesses to set up to target and cater to European consumer markets.  In fact, more than 500,000 Irish residents have the ability to speak a foreign language fluently, ensuring effective communication even for foreign companies hoping to register company in Ireland.  
4. Ease of business set up and incorporation
Apart from the relatively low corporate tax rate and ideal positioning for business to access European consumer markets by setting up in Ireland, the process of initiating a business there and officially registering your company is convenient and accessible as well.  In fact, one can officially incorporate within Ireland is merely 2 to 4 days, demonstrating how swift the process of setting up a business there really is. 
5. Ease of conducting business and engaging in commercial activities
According to the World Bank's business report published in 2015, the ease of doing business in Ireland has been ranked amongst the top 10% of all 189 countries studied.  Additionally, Ireland excels in 3 out of the 11 metrics used to judge and determine the ease of conducting business in these countries, namely the payment of taxes, protections given to minority investors and its resolution of insolvency.  The country has evidently performed exceedingly well especially in these 3 categories, ranking 6th in the world when it comes to the payment of taxes, 8th in terms of protections for minority investors, and 20th for the resolution of insolvency.  
The ease of conducting business has only improved even further, especially due to the large amount of structural reform introduced by the government since 2011 to make the process of initiating and managing commercial activities even easier.  It is thus no surprise that Ireland is viewed by many international investors as one of the premier locations for one to set up to access European consumer markets with a new business, prompting many to register a limited company in Ireland.
Conclusion
Navigating a new country's different and unique business climate might be a challenging process – a hassle to say the least.  However, with the key business and corporate benefits outlined above, it is easy to see why many entrepreneurs will choose to register a limited company in Ireland.  As such, Tetra Consultants hopes that this article has provided you a much better understanding about the 5 main advantages of choosing to register a limited company in Ireland. so that you can truly decide on whether you should register company in Ireland yourself.
So, what are you waiting for? Contact us to find out more about the process of starting a business in Ireland, and our dedicated and experienced team will respond within the next 24 hours.  Tetra Consultants will not only empower you by helping to navigate the different regulations of Ireland, but also aid in facilitating the registration of your company there while providing invaluable, nuanced insights into any potential challenges.