Ireland, part of the European Union (EU) and Eurozone, adopts a pro-business environment that offers low corporate tax rates and a competitive talent pool of workforce. As of date, there are more than 1,200 multinational companies that have incorporated their business in Ireland, some of which include world's leading companies like Intel, Twitter, Pfizer, Citi, Huawei and more. As such, it has naturally developed a status for itself, and is known to be a country that receives a high level of Foreign Direct Investments (FDIs). The ideal conditions present attractive opportunities for foreign investors and alike to set up company in Ireland. However, it is also important to understand the operating environment and any risks it poses prior to incorporating in the country.  Before you decide to go ahead and  register company in Ireland, follow Tetra Consultants as we share 5 disadvantages of setting up a business in Ireland to help you in your decision making.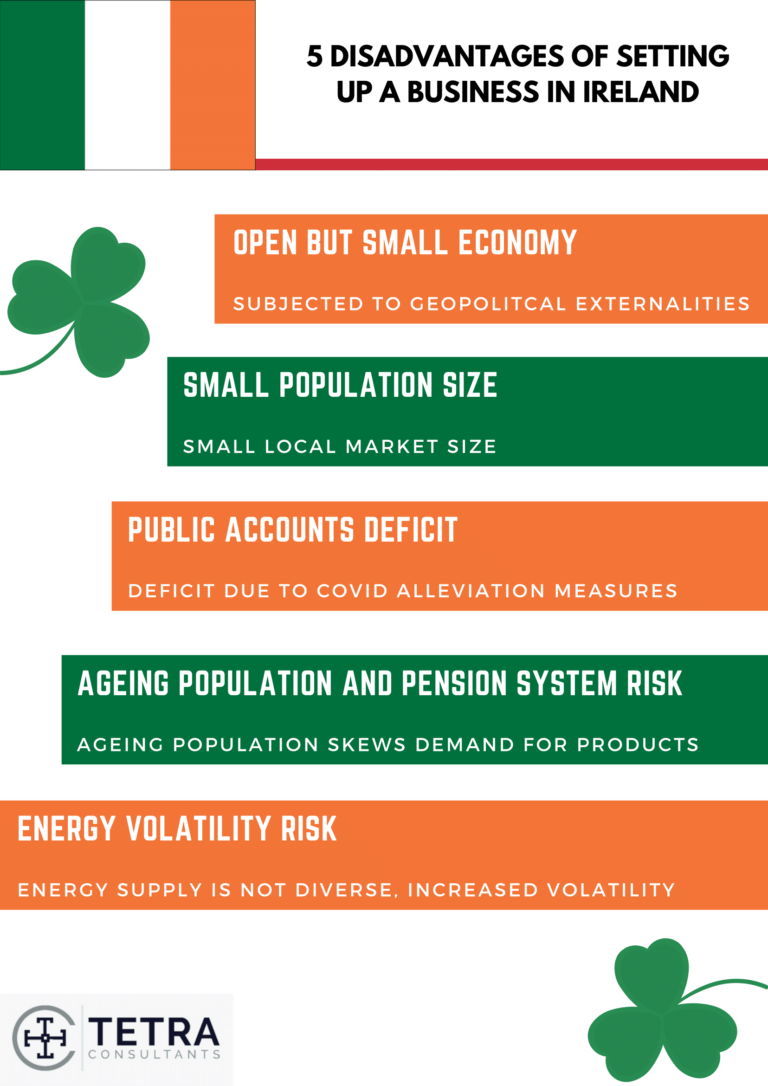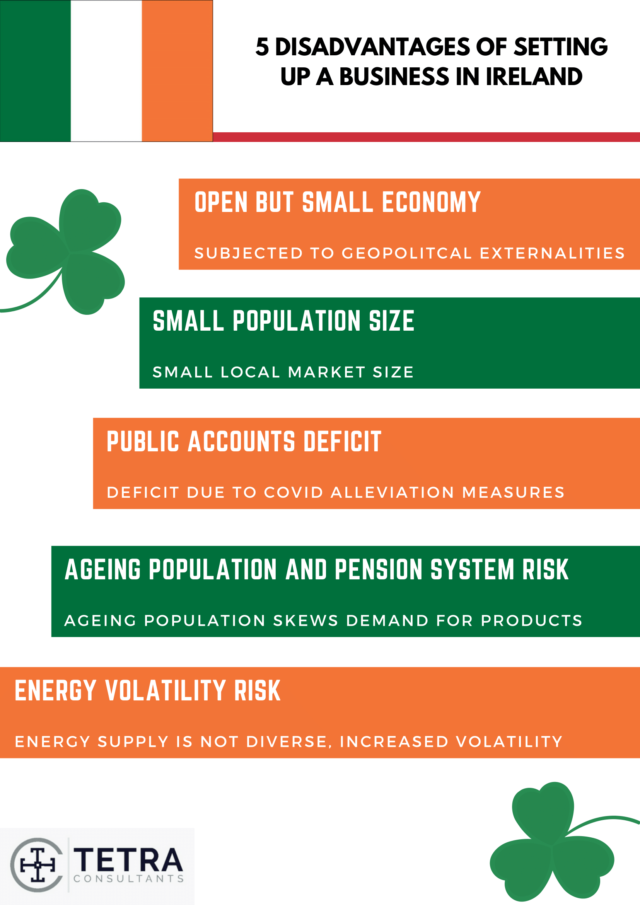 1) Open Economy but Small:
The first disadvantage of setting up a business in Ireland is that the country has a smaller economy when compared to others, with the GDP of Ireland expected to reach USD440 billion by the end of 2021. This leaves the country prone and vulnerable to externalities such as geopolitical and global economic pressures. For example, Ireland is uniquely exposed to Brexit given its very high trade intensity with the United Kingdom (UK). Prior to the leaving of the UK from the EU state, Ireland had approximately 15% of their Irish goods and services export depended on the country.  It is expected that there will be increased trade costs which will lower Irish exports by approximately 3%~8% until 2030. The impact of global externalities on small economies will be significantly felt.
2) Small Population Size :
The second disadvantage of setting up a business in Ireland is its small population size. According to the Central Statistics Office of Ireland, the estimated population size of Ireland stands at 5.01 million in April 2021. This presents a relatively small local market for foreign investors who are looking to register companies in the country and target the local consumers of Ireland.
3) Public Accounts Deficit:
The third disadvantage of setting up a business in Ireland is that the public accounts of Ireland remain in deep deficit. The public accounts of Ireland have deteriorated sharply in 2020 due to alleviating the after effects of the Covid-19 pandemic that took the world by storm. The country was hit with two lockdowns in 2020, hampering and stunting overall domestic sales and purchases which affects the overall economy of the country. In an effort to limit the impact of the pandemic on households and businesses, the Value-Added Tax (VAT) was cut from 13.5% to 9% in the hotel and catering industry and such measures  were extended into the 2021 budget.
4) Ageing Population and Pension System Risks :
The fourth disadvantage of setting up a business in Ireland is that the country is currently facing an increase in ageing population. Ireland faces an overall significant risk in ageing population, with the estimated share of population aged 65 and over to change from one in eight to one in six by 2030. Furthermore, the number of people aged 85 and above is projected to almost double within the same time frame. Older age brackets tend to be the highest users of healthcare and social services, meaning that demand will be primarily driven towards these related industries which creates a skew across different lines of businesses. For firms who are not targeting the ageing population or planning to do so, their business demand might deteriorate over the years. Apart from the skew in consumer demographics, the increase in ageing population poses an additional challenge in terms of the coverage of pensions in Ireland. With a larger ageing population, more funds will be directed to maintaining the social welfare expenditure of the country which might impede growth potential in other economic sectors.
5) Energy Volatility Risk :
The fifth disadvantage of setting up a business in Ireland is that the country's energy market is not diverse enough. All of Ireland's energy interconnection runs through Great Britain and ever since the departure of the U.K. from the EU member states, both countries have been suffering from an increase in supply volatility. After the Brexit incident, the U.K. still trades electricity with Europe except for the fact that it no longer does so on the terms of the European Power Exchange (A hyper efficient energy exchange agreement). This gives rise to issues such as increasing supply volatility especially during winter seasons, and trading of energy will become increasingly expensive and less efficient on both terms.
Conclusion:
Engage Tetra Consultants as we guide you on how to register a company in Ireland as a non-resident in a smooth and hassle-free process. The team provides a comprehensive service package that includes planning and strategizing with our clients to select a suitable business entity, completing the registration and documentation processes, obtaining required licenses, opening a corporate bank account, and ensuring your compliance with the government regulations. 
Contact us to find out more about company registration in Ireland and our dedicated and experienced team will revert within the next 24 hours.