Deciding on which countries to expand your business to can be a complex and difficult decision.  As an aspiring entrepreneur, you might have heard of the lucrative business environment of Malta and might be wondering about the benefits of choosing to register business in Malta too.  In this article, Tetra Consultants will offer insights into the 8 key advantages of deciding to register business in Malta so that you may better understand this business phenomenon and make a more informed decision about whether you should register company in Malta.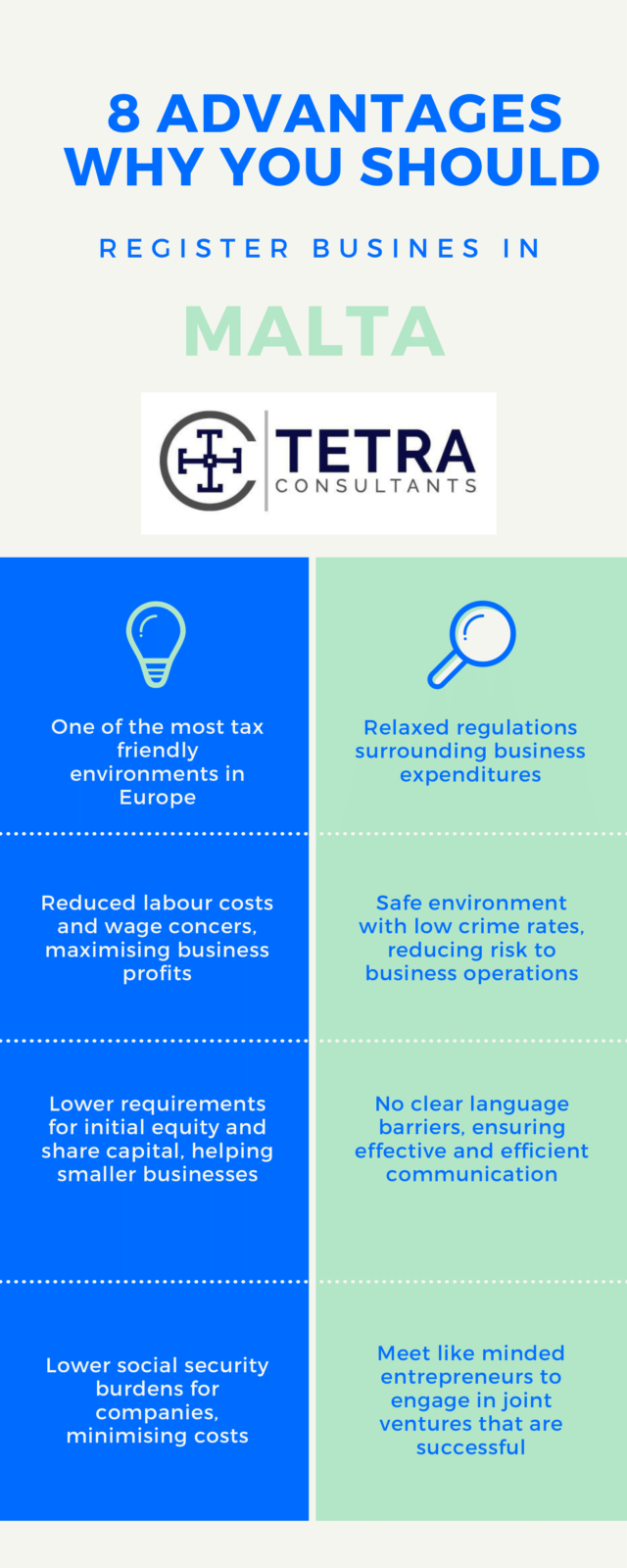 1. One of the most tax friendly environments in the European Union
Upon initial inspection, the corporate income tax rate of 35% may seem exorbitantly high and un-competitive in contrast to the rest of the countries within the European Union. 
However, it is very possible for your company to lower this tax rate to between 5 and 7% by dividing all of the profits earned to a holding company which is set up in another country. The best and most commonly used countries to consider for this objective include Cyprus, the Seychelles or Gibraltar.  Moreover, Malta has several tax benefits which aid in lowering the company income tax through the full imputation.  In addition, various sources of credits are available when dividing profits amongst the different shareholders, thus allowing your business to further minimise its tax burdens.
With regards to another form of tax rates, personal income tax rates, while it may be true that Malta has relatively significant income tax rates and that in the instance where one were to receive a high salary one would face a heavy tax burden, there are multiple ways of reducing and optimising this.  As a business owner, by opting to only withdraw as much income as is required, this can effectively lower the tax rate because the income tax rates are in bands.   In fact, the country of Malta has an intuitive income tax system in that earners only pay the higher percentages owed on the amount where they have exceeded a certain band. 
2. Reduced labour costs and wage concerns
Malta only has a minimum wage requirement of €720 per month, with most employees being satisfied with a monthly salary around €1000 to  €2000 for any given job on average. This means that by minimising the wages paid to each of your employees, you can effectively lower labour costs, and thus, maximise profits for your business in Malta. 
3. Lower requirements for equity and share capital
In Malta, the share capital requirement to officially start and register a new business in the country is merely €1,165.  This means that setting up a company in Malta is far cheaper and more cost efficient than most other places around the world.  In addition, only a mere 20% of such capital is required to be kept in the corporate bank account, translating into less physical cash being required to start up your new business.   However, one must be aware of the fact that an annual fee of €100 still applies for these businesses.  Despite this, low requirements for equity and share capital further lower the costs of starting a new business in Malta.  
4. Low social security burdens
While social security is still paid both by the employee and the employer, both parties only have to pay 10% of salary.  This percentage is relatively lower than the average social security requirements for many other countries in the world, especially those within the European region, thus ensuring that these costs do not contribute to significant to the cost of hiring employees.
5. More relaxed regulations surrounding expenditure
The legislation of Malta is very relaxed in terms of costs that you can claim back through your business. Business travel costs, for example, are very rarely questioned, meaning that those who like to travel and work can claim back much of the costs through their business. This means that such external expenditure can be minimised as far as possible for your business.
6. Safe environment with low crime rates
The crime rates of Malta are relatively low, offering a safe environment for foreigners despite it being an unfamiliar and different place.  While this may seem like a trivial factor, it can contribute to the willingness of your foreign employees to work in Malta for instance, meaning that security and safety can contribute to the ease of setting up or even expanding your business to the country of Malta.  Fortunately, its low crime rates and safe environments ensure that this factor is not a concern.
7. No clear language barriers impeding your business
English is spoken by many people in Malta that it is considered, alongside Maltese, to be an official language of the country. While some of the older citizens may  not be very fluent in English, it is common practice for all official paperwork and signs to be translated into English.  This means that forming a Malta company incorporation is an easy and convenient process.
8. Meeting like-minded entrepreneurs
The ease of setting up a company in Malta has attracted entrepreneurs from all over the world to the island. This can make it easy to find advice to help you successfully run your business but is also great for making social contacts and ensuring that your business can expand well.
Conclusion
Navigating a new country's different and unique business climate might be a challenging process – a hassle to say the least.  However, with the key business and corporate benefits outlined above, it is easy to see why many entrepreneurs will choose to register business in Malta.  As such, Tetra Consultants hopes that this article has provided you a much better understanding about the 8 main advantages of choosing to register business in Malta so that you can truly decide on whether you should register company in Malta yourself.
So, what are you waiting for? Contact us to find out more about the process of starting a business in Malta, and our dedicated and experienced team will respond within the next 24 hours.  Tetra Consultants will not only empower you by helping to navigate the different regulations of Malta, but also aid in facilitating the registration of your company there while providing invaluable, nuanced insights into any potential challenges.