Malta has one of the most advantageous business legislation and taxation in Europe. Apart from that, it has a low effective corporate tax. Hence, the benefits of setting up a business in Malta enable Malta to remain attractive to foreign investors to start a business. In this article, our team at Tetra Consultants has highlighted 8 benefits of setting up a business in Malta to help understand whether you should register company in Malta.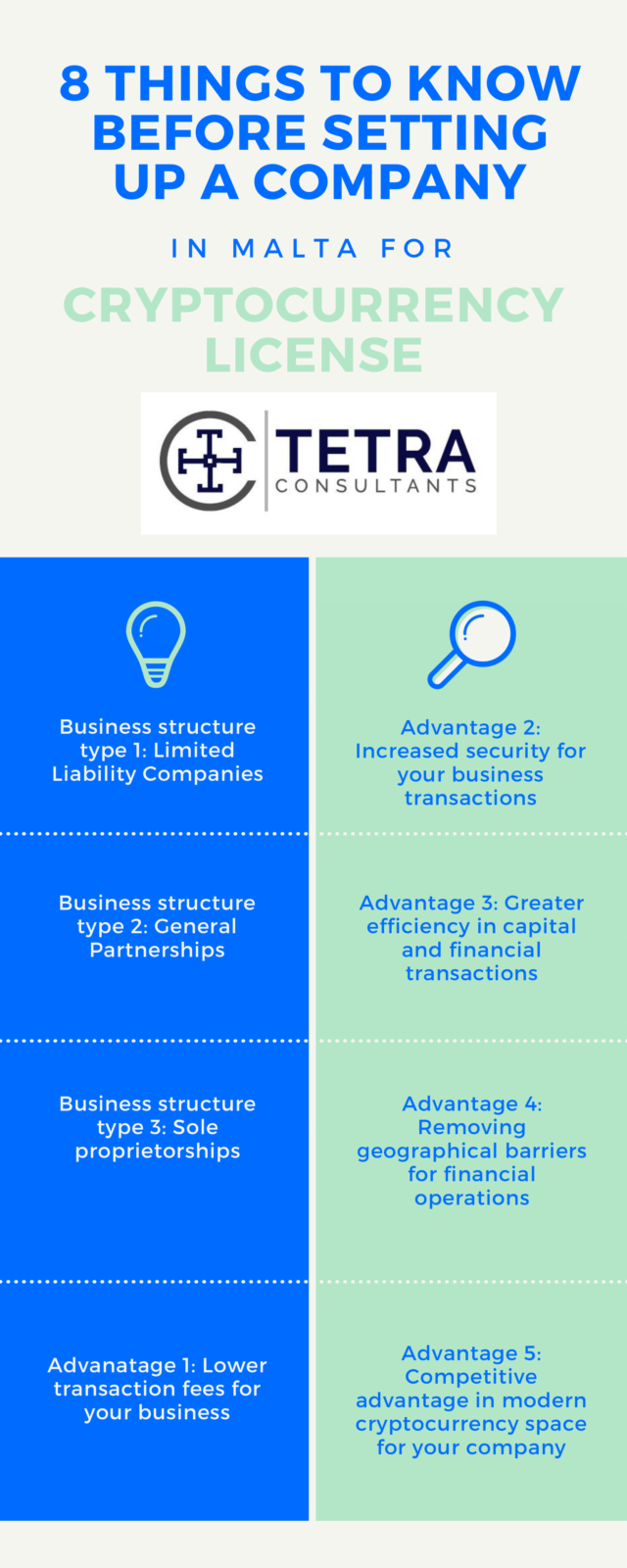 1. Geographical Advantage:
Known as the hidden gem of the Mediterranean, Malta's location is geographically strategic for businesses. Malta is very accessible, due to its position and the international airport. The 4-star Malta airport has flights to major airports over the world, including Singapore, Shanghai and New York where only one stop is required. Furthermore, cities such as London, Paris and Frankfurt are less than 3 hours away from Malta by flight. Therefore, it would be much easier for you to deal with businesses across borders if you start a company in malta.

2. Tax Benefits:
Malta is well-known for having the lowest effective corporate taxes in the European Union. The standard rate of taxation in Malta is 35% of the company's chargeable income. However, the shareholder of the company is entitled to a refund of the tax paid by the company. This is due to Malta's full-imputation system of corporate taxation, where the income tax paid by a company in Malta is credited to the shareholder through receiving dividends. This brings the effective tax rate down to about 5-7% by distributing the profits to the holding company. Furthermore, as a resident of Malta, you would only be liable to pay taxes on income remitted to Malta. However, note that the refund may be reduced if double taxation relief is claimed in certain circumstances. Therefore, the low taxation rates are one of the benefits of setting up a business in malta.

3. Double Taxation Treaties:
Malta has signed double taxation treaties with over 70 countries, which includes almost all of the important Organisation for Economic Co-operation and Development (OECD) countries. The double tax agreements not only ensure that you do not need to pay tax in two countries but also act as a tool to promote investment from certain countries. Therefore, this can not only allow you to reduce the costs of your business, but it also expands the potential of your company to global investors, bringing about strong benefits to your company if you were to set up a business in Malta.

4. Official Language:
With English as one of the official languages of Malta, you do not have to worry about the language barrier while setting up a business in Malta. With most of the people having the ability to speak English in Malta, the process of setting up a business is much easier, with steps such as sourcing for customers and employees being more straightforward as there will be reduced miscommunications due to the language barrier. Therefore, this is an important benefits of setting up a business in malta.

5. Strong Workforce:
A benefits of setting up a business in malta would be enjoying the highly qualified workforce at a low cost. The standard of education in Malta is known to be world-class, which is beneficial for your company. Yet, the cost of living in Malta is relatively cheaper compared to the other countries in the European Union. Therefore, the wage you are required to pay the employees would be slightly lower than the neighboring countries. This can be seen from the minimum wage of approximately €785 per month. Furthermore, Malta has a strong multilingual workforce that is able to increase your potential to expand your business globally in the future.
6. Social Security:
In Malta, the effective rate of social security is 20% of the employee's salary. Although it may seem like it is a huge sum of money, it should not be the source of worry. This is because 10% of the social security is paid from the employee's salary. Your company would only be required to pay the other 10% of the social security. Therefore, you do not need to worry too much about the safety and security of your workers, as well as the costs required for social security. In this case, it would also be easier for you to allocate your funds better and earn more profits.
7. Incorporation Costs:
One of the benefits of setting up a business in malta is the low incorporation costs required. If you are interested in starting a Private Limited Liability Company, the minimum capital share is only €1,165. Furthermore, only 20% of the issued share capital is required to be paid up when starting your company. There is also a standard registration fee of approximately €375 when setting up your business. Additionally, there is a registry fee of €245. The cost of starting a business in Malta is definitely very affordable, and thus would not be the main concern when you are deciding whether you should open a company in malta.
8. High Standards of Living:
Compared to the neighboring countries of the European Union, Malta stands highly in terms of factors such as GDP per capita, healthy years of life expectancy, and social support. Furthermore, Malta does not have a high cost of living. In the event you wish to migrate to Malta to start a business, you would be able to enjoy the high quality of life that is readily available in Malta.
Conclusion:
After this article, you would have understood that the benefits of setting up a business in malta. If you are unsure of the process of Malta company registration, you may engage the service of Tetra Consultants. With Tetra Consultants by your side, the registration process of your business in Malta will be smooth and hassle-free. Our comprehensive service package includes planning and strategizing with our clients to select a suitable business entity, completing the registration process, obtaining required licenses, opening a corporate bank account, and ensuring your compliance with the government regulations. 
Contact us to find out more about how to register business in Malta and our dedicated and experienced team will revert within the next 24 hours.