Lithuania is widely known for its economic powerhouse reputation, providing a business friendly environment for entrepreneurs, foreign companies and skilled professionals to develop their businesses. The country is home to not only a skillful talent pool but also presents one of Europe's fastest internet connections among its rapidly growing start-up ecosystem. The country has developed one of the leading infrastructure among other member states of the European Union (EU), alongside progressive developments in innovation and technology field, enticing foreign investors to register company in Lithuania. According to the 2021 Index of Economic Freedom, the country was able to rank 15th place amongst other jurisdictions, suggesting the efficiency of the business environment. Before you decide to open company in Lithuania, allow Tetra Consultants to share a detailed comparison of 6 types of companies in Lithuania for you to decide to incorporate as.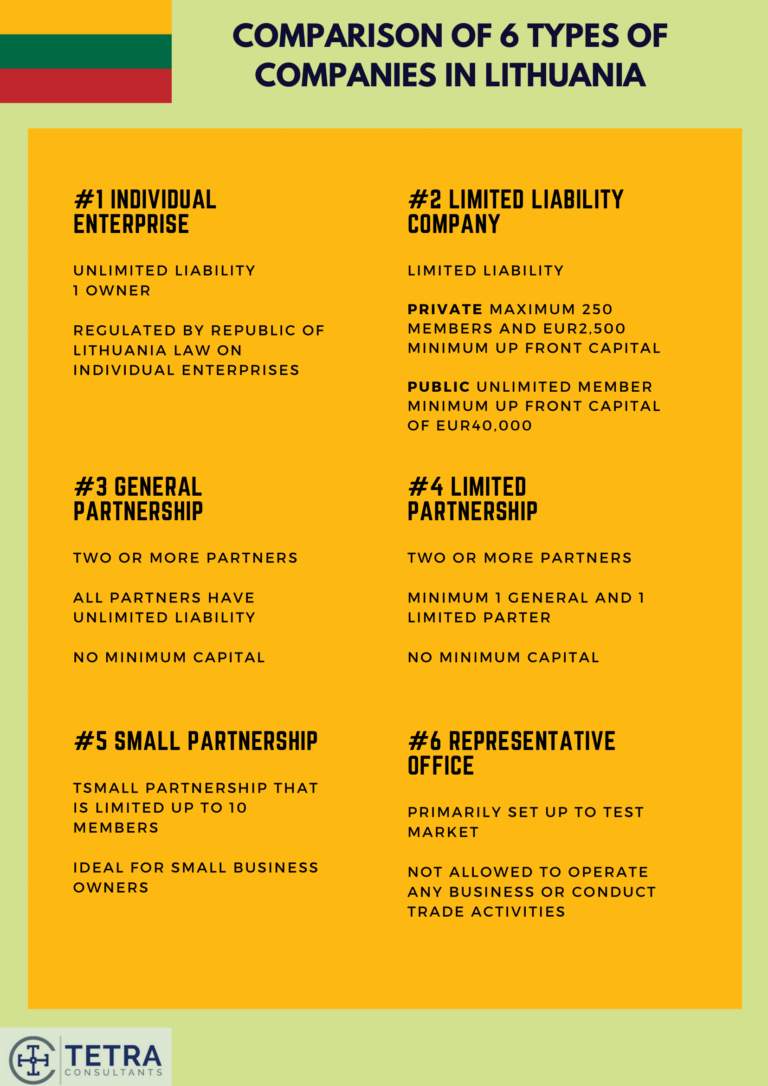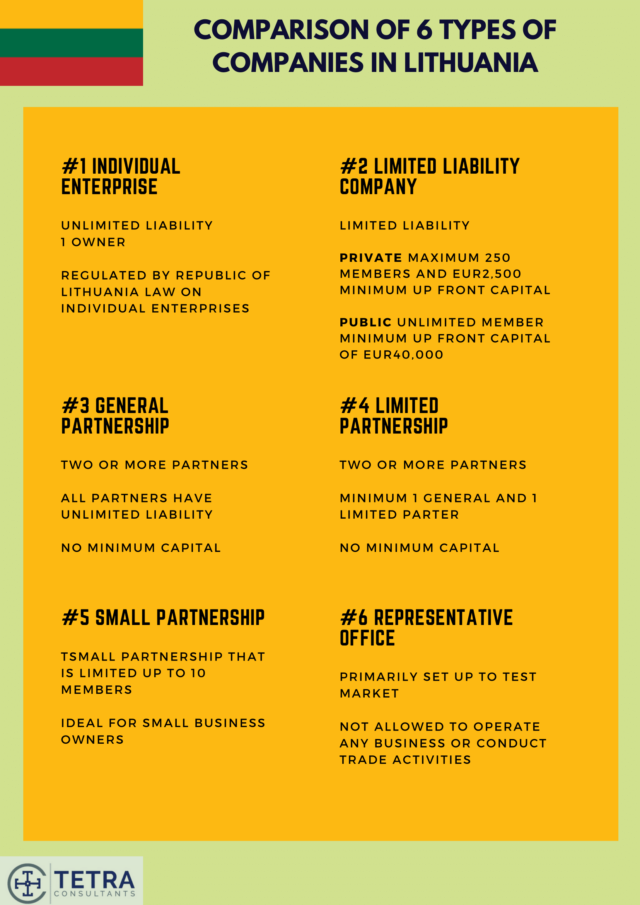 1) Individual Enterprise  (IĮ):
The first type of company in Lithuania that you can register is known as the Individual Enterprise. An individual enterprise is owned by a single owner and the owner is subjected to unlimited liability. This means that the owner will be liable for the business' profits and debts obligation, where the personal owner's assets will not be separated from the business' assets. The individual enterprise legal entity can be viewed as what is more commonly known as sole proprietorship and this entity is regulated by the Civil Code and Republic of Lithuania Law on Individual Enterprises.
2) Limited Liability Company (UAB or AB):
The second type of company in Lithuania that you can register in the country is a limited liability company (LLC) or more specifically, the UAB or AB which denotes whether the LLC is privately held or publicly shared.

The UAB is a private limited company entity. Members and shareholders of UAB have limited liability, which means that their personal assets are separated from the company's. Shareholders and members will only lose their own share of investment in the company should it fail or wind down. The minimum share capital cannot be lower than EUR2,500 and is allowed to have a maximum of up to 250 shareholders. Companies who form as a UAB will be regulated under The Republic of Lithuania Law on Companies. One incentive to note is that shareholders of UAB may be of any nationality as there are no restrictions under the Law of Companies that would refrain foreign shareholders from taking membership interest in private companies. However, it is important to note that should foreigners take on board positions or high level managerial executive positions, they are required to obtain temporary residence permits.

The AB is a publicly traded company that is similar in nature to a private limited liability company, where shareholders are separated from the assets of the company and only liable to their own personal investments. Shares of a public limited company can be traded publicly and there is no limit on the number of shareholders. The minimum share capital of registering a public company is EUR40,000. Although shareholders are liable to the extent of amount due to be paid for their shares subscribed, the Civil Code of Lithuania has introduced a provision that in the event the company is unable to perform its obligations due to unfair actions of any shareholder, they will possibly incur subsidiary liability. 
3) General Partnership (​​TŪB):
The third type of company in Lithuania that you can register as is a general partnership, where it is formed with a partnership of two or more partners. Members in this legal entity are recognised as general partners and their business and they are seen as one and the same by law (unlimited liability). There is no minimum capital requirement imposed for the formation of general partnership. There is a need to audit financial statements as a general partnership.
4) Limited Partnership (KŪB) :
The fourth type of company in Lithuania that you can register as is a limited partnership. Limited partnerships have both general partners and limited partners and as the name implies, limited partners have limited liability whereas general partners have more entitlements to them as they carry additional risks. There is a need to audit financial statements as a limited partnership.

5) Small Partnership (MB) :
The fifth type of company in Lithuania that you can register as is a small partnership and is limited to up to 10 members. As the name suggests, it is a type of partnership catered towards small business owners who are all holding limited liability.

6) Representative Office :
The sixth type of company in Lithuania that you can register is a representative office. Representative offices are primarily set up to test the market and your products. However, most often representative offices are limited in their actions to only marketing or advertising. They are not allowed to operate any business or conduct trade activities.
Conclusion:
Engage Tetra Consultants as we guide you on how to register a company in Lithuania in a smooth and hassle-free process. The team provides a comprehensive service package that includes planning and strategizing with our clients to select a suitable business entity, completing the registration and documentation processes, obtaining required licenses, opening a corporate bank account, and ensuring your compliance with the government regulations. 
Contact us to find out more about company registration in Lithuania and our dedicated and experienced team will revert within the next 24 hours.