Brazil is part of various international trade and business alliances, such as the World Trade Organisation (WTO), Southern Common Market (MERCOSUR) as well as BRICS. The country has shown immense progression in its economy, decreasing poverty rates and achieving a dynamic increase of 6 million middle and affluent class consumers within recent years. The emerging market is enticing many to consider doing business in Brazil 2022. Follow Tetra Consultants as we share some of the main key advantages to register company in Brazil for the year of 2022.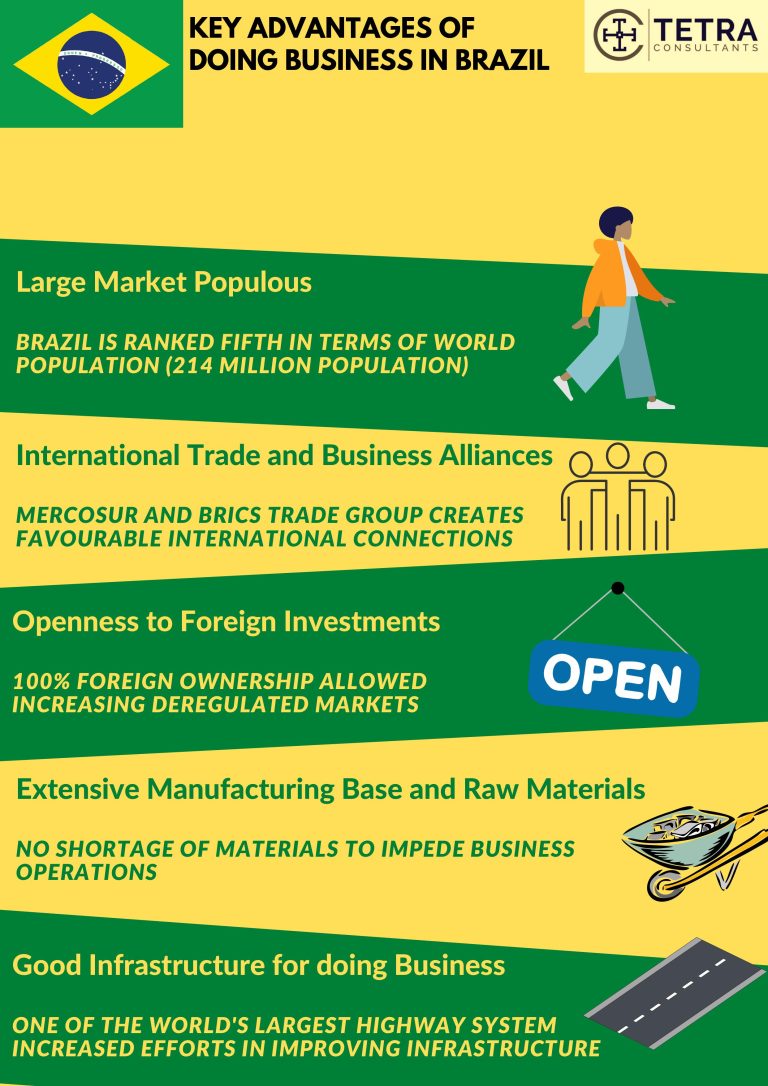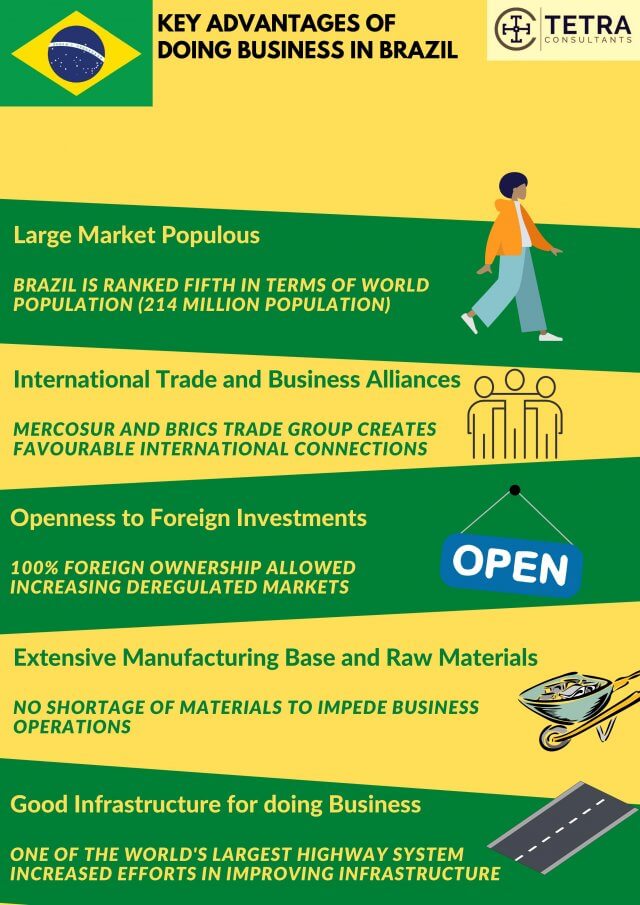 1. Large Market Populous 
Doing business in Brazil automatically grants you access to one of the largest local markets in the world. Brazil is ranked fifth in the world in terms of world population, with an estimated number of 214 million people. The consumer profile of Brazil is dominated with 62% of Brazilians aged 29 and below.

The sheer size and diversity of the consumer market creates major commercial opportunities for doing business in Brazil 2022 as opposed to other countries.  
2.International Trade and Business Alliances:
Incorporating your business in Brazil gives you easy access to reach other markets in nearby regions of Brazil as the country is a member of varying international trade and business alliances. Brazil being a member of the MERCOSUR, commonly known as the Southern Common Market creates strategic benefits for doing business in Brazil.

The trade group, MERCOSUR, allows for free movement of goods and services through non-tariffs initiatives as well as the exemption of custom duties. The group standardised external tariffs and streamlined their commercial policies in various industries like: agriculture, industrial, fiscal capital, services and transportation. This creates an ease of operating business across the member countries, extending your reach to the various trade countries as well. Incorporated businesses in Brazil can expect to have direct access to Argentina, Paraguay and Uruguay as well as associated members of the MERCOSUR trade group.

BRICS, the acronym used to coined emerging economies (Brazil, Russia, India, China and South Africa), is another trade group which investors in Brazil can expect to see greater cooperation among the various countries as they act in each other's interests. The BRICS trade group is known for their low labour costs, favourable consumer demographics as well as their abundance of natural resources.

The MERCOSUR and BRICS trade group creates favourable conditions for doing business in Brazil 2022 given its strong international connections with various countries.
3.Openness to Foreign Investments :
Brazil is a country that welcomes foreign investments and incorporation of businesses. In Brazil, 100% foreign ownership of businesses is allowed. Furthermore, the local incorporation of businesses can be done and completed from abroad, and there is no need for the owners to physically visit Brazil; the completion of processes can be done through their legal representation in the country.

The government of Brazil supports foreign investments, and has made intentional efforts to reduce the barrier of entry, particularly on the stock market. Many sectors across Brazil were seen to have been deregulated, making it easier for foreign businesses to conduct their operations in Brazil. The openness to foreign investments makes doing business in Brazil 2022 a viable choice. 
4.Extensive Manufacturing Base and Raw Materials:
 Brazil is considered to be one of the world giants in the mining, agriculture and manufacturing industries. Home to a plethora of natural resources, it is a leading producer of various metals and ores used in the productions of automobiles, electronics and consumer goods. The country is also the world's primary coffee and orange exporter, demonstrating the extensive resources that Brazil owns. Starting a business in Brazil is beneficial, given the ease of access in terms of supplying the necessary materials for your business operation. Doing business in brazil 2022 removes any concern of materials shortage given the extensive manufacturing and raw materials supply in the country.

5. Good Infrastructure for doing Business
The infrastructure for conducting business in Brazil consists of railways, ports, highways and airports, which are excellent advantages that the country holds over its neighbouring countries. Brazil has one of the world's largest highway systems, multiple airports and maritime ports, allowing for extensive connection and logistical support across the country and internationally. The primes Brazil to be optimally set up as a trading hub in South America.

The government is constantly improving the infrastructure of Brazil to further improve logistical connectivity, scheduling additional infrastructure projects to make inter and intra connectivity even more seamless. This makes doing business in Brazil 2022 a considerable option for many.

Conclusion:
With Tetra Consultants by your side, we recognise the key advantages to registering a business in Brazil and are well specialised to make your application process smooth and hassle-free. Our comprehensive service package includes planning and strategizing with our clients to select a suitable business entity, completing the registration and documentation processes, obtaining required licenses, opening a corporate bank account, and ensuring your compliance with the government regulations. 
Contact us to find out more about company registration in Brazil and our dedicated and experienced team will revert within the next 24 hours.