Register company in Brazil
To register company in Brazil is straightforward if you know the exact steps required. With Tetra Consultants at the wheel, you will be able to dedicate your time and resources to other more important business channels.
With our lean-and-mean mentality, you can rely on our team of experts to provide you a seamless experience throughout the whole process to register company in Brazil. Our ultimate goal is for your Brazilian company to be operationally ready within the stipulated time frame.
Our service package includes everything you will require to set up a business in Brazil:
Brazil company registration
CNPJ registration
The local company secretary and registered address
Local nominee resident director
Opening a local or international corporate bank account
Annual accounting and tax services
How long does it take to register company in Brazil?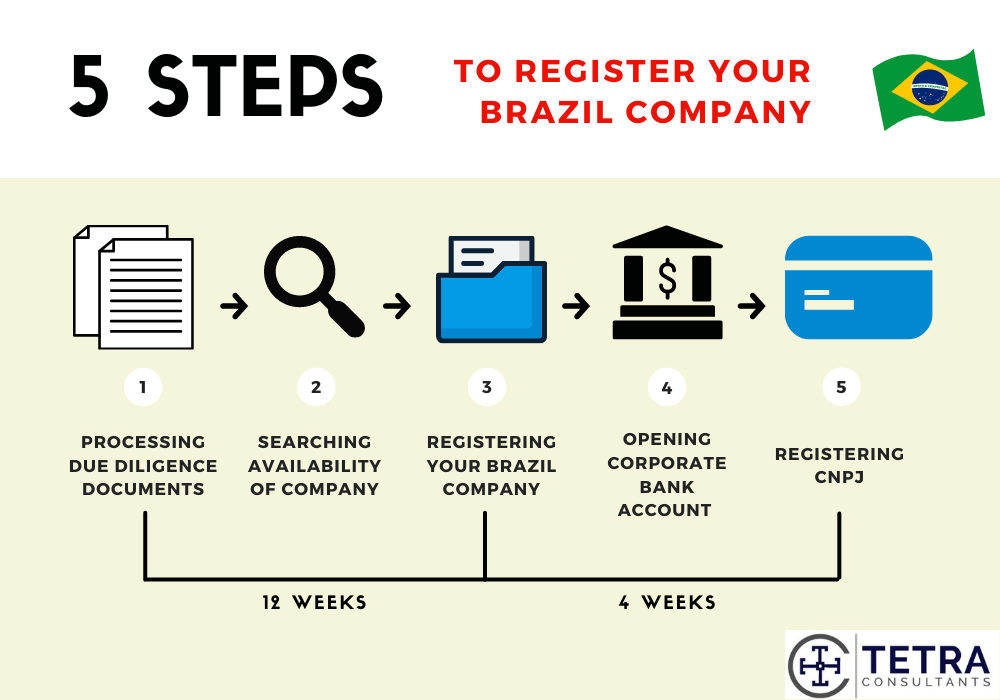 Tetra Consultants will complete the process to register company in Brazil within 12 weeks. Upon receiving the required due diligence documents and paperwork of the directors and shareholders, Tetra Consultants will proceed on ahead with the Brazil company registration search to check for the availability of your preferred business trade name and legal registration under Brazil's Board of Trade or with the Brazil commercial registry.
Incorporating in Brazil can be carried out remotely and you will not be required to travel to Brazil during the registration process.
After Tetra Consultants has registered your Brazilian company, you can expect to receive the documents of your new company including certificate of incorporation, memorandum & articles of association as well as a register of directors and shareholders. These documents will contain the Brazil company registration number.
Within 4 weeks upon registration, Tetra Consultants can assist in opening a corporate bank account with a local Brazilian bank or with an overseas global bank depending on your business goals and objectives.
Simultaneously, Tetra Consultants will work on registering CNPJ for your newly established Brazil company. This allows your company to be recognised as a taxpayer in Brazil.
Consequently, you can expect to start operations and issue invoices with your Brazilian Company within 16 weeks upon engaging Tetra Consultants.
You may be wondering how to set up a company in Brazil and for this reason, Tetra Consultants has prepared a step-by-step explanation of all steps required.
Can foreigners open a business in Brazil?
Brazil, officially the Federative Republic of Brazil is located in South America. Brazil is the largest country in both South America and Latin America. In recent years, there has been an escalation in interest in starting a business in Brazil as a foreigner. Furthermore, the country has seen an increment in pro-foreign investment policies and preferential Gross Domestic Product (GDP).
In accordance with the IMF World Economic Outlook Database, Brazil ranked 1st in terms of Gross Domestic Product (GDP) derived from the Purchasing Power Parity method amongst Latin American and Caribbean Countries. Brazil's favourable economic trade agreements and strategic geographical proximity to the rest of America serve as remunerative benefits for foreign investors.
Brazil serves as a privileged location for investors to set up a business due to the nation's large economy, vast domestic market, and pro-investment policies introduced to facilitate the growth of foreign direct investments into the country. With the presence of a proactive government, accompanied by the availability of a sizeable labour force, Brazil is an exceptional jurisdiction for doing business.
To start a business as a foreigner in Brazil, you must register with the National Trade Register Office. Moreover, you should be aware of the requirements of setting up a business in Brazil.
What are the different types of companies in Brazil?
Brazil's authorities offer international investors several options on the different types of business entities to choose from when registering a company in Brazil. Tetra Consultants will advise you on the steps required to register a company in Brazil with the Ministry of Development, Industry, and Foreign Trade.
You can expect to own your newly established Brazil-based entity without needing to travel to Brazil personally. The procedure to register company in Brazil can be carried out remotely under the assistance of Tetra Consultants.
An entity or group of corporations under the same management with total assets exceeding US$46million or annual gross revenue above US$57million are classified as large companies in Brazil. Large companies must comply with the Corporations Law. A statutory audit by a certified auditor duly registered with the Brazilian Securities and Exchange Commission is mandated.
Limited Liability Company
A limited liability company is a private limited company regarded as a separate legal entity by the Brazilian authorities. Business owners are not personally liable for the company's debts and liabilities. A Limited Liability Company is often the common choice amongst foreign investors to complete the process of company formation in Brazil as liability is limited to share capital.
Minimum 2 shareholders of any nationalities required with full foreign ownership of the company's share capital granted. Each shareholder must be represented by an agent which is commonly known as the representative.
Minimum 1 local resident Director required.
A Brazil resident manager is required. Tetra Consultants will assist in the appointment of a trusted local manager on your behalf if necessary.
While there is no paid-up share capital requirement, Tetra Consultants would highly recommend a minimum accessible fund of US $20,000 to fund future basic operations and business activities.
A company must have a locally registered address or lease agreement before business registration.
Branch Office
A branch office is a viable option when international companies wish to expand their business in Brazil. International business owners can establish an extension of the parent company by setting up a branch office in Brazil. The purpose of a Branch Office is to facilitate operation and revenue generation in Brazil on behalf of the foreign parent business entity.
A Brazil resident manager is required. Tetra Consultants will assist in the appointment of a trusted local manager on your behalf if necessary.
There is no minimum quantity for Directors as Branch Offices are considered as part of overseas headquarters.
Representative Office (RO)
Overseas investors interested in gaining an in-depth understanding of doing business and exploring investment opportunities in Brazil have the option of setting up a Representative Office (RO) within the jurisdiction.
A Representative Office aids foreign investors to comprehensively evaluate the viability of doing business in Brazil before finalizing a decision to set up a business entity in Brazil. As such, Representative Offices are only allowed to conduct limited and non-commercial activities such as market research and marketing for their parent company.
Tetra Consultants would encourage overseas investors interested in promoting the company's presence in Brazil to set up a Representative Office.
A Brazil resident manager is required. Tetra Consultants will assist in the appointment of a trusted local manager on your behalf if necessary.
How to register a company in Brazil?
Step 1: Choosing an optimum business structure
Prior to company formation, it is essential to choose the correct type of company. Tetra Consultants will advise you on the most optimum business entity to suit your needs. Generally, the most common type of company in Brazil is the limited liability company, also known as the Sociedade Limitada (LTDA) in Brazil.
Although there is no minimum paid-up share capital required to set up a Brazil company, Tetra Consultants will recommend that your company has at least US$20,000 reserved to conduct business activities.
Step 2: Reservation of company name
Tetra Consultants will search and register for your company's name with the Brazil Junta Comerciais (Board of Trade).
Step 3: Preparation and submission of relevant documents
If your company has foreign directors or shareholders, you will be required to prepare the documents required for a foreigner for incorporation of the company. This includes the notarized passport copy and proof of address of individual directors and shareholders.
Tetra Consultants will assist in the preparation of corporate documents required for company incorporation such as the business plan and Contrato Social (Articles of Association).
If you are planning to appoint a corporate shareholder, Tetra Consultants will also require the Certificate of Incorporation, Memorandum & Articles of Association, minutes of the relevant Board of Directors' meeting, power of attorney to appoint corporate shareholders' representative, directors' personal information and other relevant documents.
Once all the required documents have been prepared, Tetra Consultants will submit the documents to the Board of Trade for company formation.
Upon successful registration of company, you will obtain a Certificate of Incorporation and NIRE (Company Registration Identification Number),
Step 4: Corporate bank account opening
After you have registered your company, you can proceed to open a corporate bank account.
Tetra Consultants will assist in consolidating the documents and opening a corporate bank account with a reputable bank of your choice.
Typically, directors and shareholders are not required to travel to Brazil to open the corporate bank account. However, if travel is required, we will have a representative accompany you to the bank meeting. Alternatively, our team will negotiate with the banks to conduct a conference call instead or to request for a waiver.
Once the bank account has been successfully opened, Tetra Consultants will courier the internet banking token and access codes to your preferred address.
Step 5: Tax Registration
Tetra Consultants will assist your company in meeting its annual accounting and tax obligations.
Generally, companies in Brazil pay a net annual corporate tax rate of 34%. Brazilian resident companies are taxed based on worldwide income.
Step 6: Business license application
Based on the sector and location your business operates in, it may require a business license. Tetra Consultants will assist in applying for a business license from the local City Hall if necessary.
Once your company has received the business license, your company may also be required to apply for a sanitary permit to prove that the sanitary requirements for your company have been met.
What is the best business to start in Brazil?
The business sectors in Brazil currently revolve heavily within the services, industrial and agricultural sectors. There have been several efforts and incentives that are emplaced in hopes of diversifying the country's economy beyond traditional business sectors. As such, international investors can benefit from Brazil's traditional and booming industries.
The Services sector is the country's largest contributor of Gross Domestic Product, with almost 70% of the nation's GDP originating from the Services business industry. Additionally, the bulk and source of Brazil's employment come from the Service sector. Brazil's Service sector is the largest employer for the nation's work population. Workers in the Service industry are spread across various departments and services such as financial services, hospitality services, and tourism.
Similarly, Brazil's agricultural sector contributes a substantial amount of 5% to the jurisdiction's Gross Domestic Product. In accordance with the World Bank national accounts data, Brazil ranked 6th, as one of the world's largest agricultural exporters. The country's agricultural sector serves as a foundation for agribusinesses which has contributed significantly to Brazil's economic progress in recent years. Agribusiness technology has been gaining momentum and attention with agricultural businesses looking for technology to improve the industry's efficiency.
Not to mention, Brazil's Ministry of Agriculture initiated a farm program that offers subsidies to alleviate the financial burden derived from the production of agricultural commodities. Through the government initiative, a sizeable government-supported fund of US $58billion was made available to Brazil's agricultural sector.
As the second-largest component of Brazil's Gross Domestic Product, the Industrial sector ranges from automobiles, aircraft, petrochemicals, and many more. The growth and development of Brazil's industrial sector are largely attributed to the country's access to cheap labour and an abundance of raw materials.
The manufacturing sector, a considerable subset of the industrial sector contributes approximately 10% to Brazil's Gross Domestic Product. Moreover, the manufacturing business sector generates employment opportunities for Brazilians as it employs up to 15% of the country's workforce.
In addition, Brazil's road to adopting a highly advanced, digitised economy has seen exemplary growth as the number of Financial Technology companies and solutions in the jurisdiction increases over the past few years. A push in the population's digital literacy arose from an expansion in Brazil's high-spending middle class. As a result of having a higher disposable income, it has inevitably led to the pursual of the latest technologies, stimulating the demand for tech solutions.
Also, Brazil's competitive and booming FinTech industry succeeds in both quantity and quality. Firstly, Brazil has the highest number of FinTech firms in Latin America, with an impressive number of over 771 companies and start-ups. Not to mention, Brazil is home to established and well-performing FinTech service providers as well.
Nubank is a Brazilian internet-only bank (Neobank), operating exclusively without a traditional physical branch office and customer interactions are carried out through a mobile application. The neobank experienced considerable growth and achievements as consumers soared to 20million. Currently, Nubank is the largest FinTech in Latin America and it has obtained a private valuation of US $10billion. Brazil's tech-savvy business environment provides overseas investors with the latest and most innovative business solutions, making it an attractive jurisdiction for investments.
There are various business opportunities to choose from which will depend on your knowledge base, skill set, resources, and more.
Is Brazil a good place to start a business?
The Brazilian administration highly values FDI and has provided international investors with a business-friendly environment in Brazil. The nation lays out numerous attractive benefits to facilitate and ease the integration of international business owners into the nation's economy, consequently increasing the number of registrations in Brazil.
Tetra Consultants will address any queries you have at any point in time during the process to register company in Brazil.  Additionally, Tetra Consultants adopts a PESTLE framework to help you comprehensively analyse the feasibility and practicality of setting up a business in Brazil.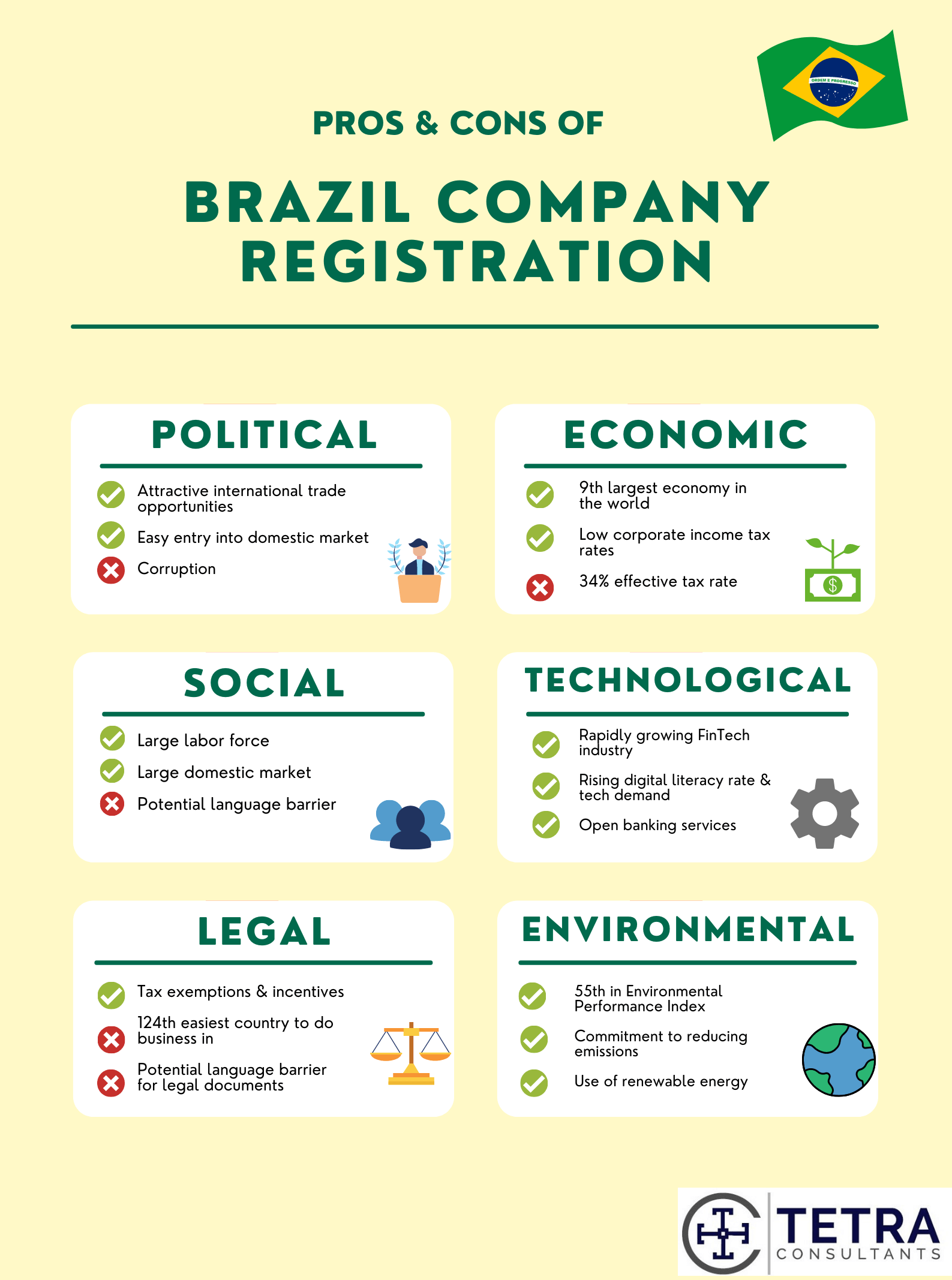 Political
Brazil forms and maintains stable political relationships with multiple nations and is a member of the World Trade Organisation, Southern Common Market (MERCOSUR), and BRICS. As such, business owners in Brazil can leverage the jurisdiction's strategic trade agreements and integrated legislation for free movement of goods and services partnered with the removal of customs duties and non-tariff restrictions.
Brazil's membership in international trade organisations generates trading and commercial opportunities for investors. It has opened a wide array of business opportunities for the nation due to high market exposure across multiple regions. As such, investors are granted easy entry into members' foreign domestic markets.
According to the Corruption Perceptions Index (CPI) published by the Transparency International Organisation, Brazil ranked 103rdout of the 180 countries evaluated. The CPI measures perceived levels of corruption in Brazil. As such, Brazil's less-than-ideal ranking suggests a higher risk of corruption which negatively affects an investor's confidence in the nation's political stability.
Economic
Brazil is the 9thlargest economy in the World according to NASDAQ, with total earnings amounting to approximately US $1.85 trillion. In accordance with the IMF World Economic Outlook Database, Brazil ranked 1st in terms of Gross Domestic Product (GDP) derived from the Purchasing Power Parity method amongst Latin American and Caribbean Countries. The nation's commendable economic size provides overseas investors with multiple exploitable resources and opportunities.
Business entities in Brazil are subjected to an Average Corporate Income Tax Rate of 15%. Brazil's Corporate Income Tax is significantly lower in comparison to the Worldwide Average Statutory Corporate Income Tax Rate of approximately 24%, measured across 176 jurisdictions.
Despite relatively low Corporate Income Tax rates, corporate taxpayers with income exceeding US $47,000 are subjected to a surcharge of 10% on annual taxable income. Additionally, legal entities in Brazil are subjected to a mandatory Social Contribution on Net Income (CSLL) at a rate of 9%. As such, the effective tax rate in Brazil amounts to 34% which may be disadvantageous to foreign investors as it leads to lower profits.
Social
According to the EF English Proficiency Index, Brazil has a relatively low proficiency in English. Brazil ranked 59th out of the 100 nations listed under the EF English Proficiency Index. In addition to the nation's less than satisfactory performance on the EP English Proficiency Index, the official language of Brazil is Brazilian Portuguese.
Hence, foreign investors may face difficulties when communicating with the local Brazilian authorities and bankers. If required, Tetra Consultants will arrange for a translation service conducted by a certified translator.
Furthermore, per the United States Census Bureau, Brazil is the 7thmost populous country in the world with a vast population size of approximately 213 million based on data provided by the World Bank. Brazil's extensive population size grants entrepreneurs with access to a strong domestic market.
Technological
Brazil takes progressive steps towards the Financial Technology (FinTech) industry in tandem with the increasing demand for FinTech services by digitally active Brazilians. The nation observed a 60% increase in FinTech adoption as the number of FinTech start-ups surged in recent years. Brazil, with a commendable statistic of 771 FinTech companies, has the highest number of FinTechs in Latin America.
In midst of the nation's financial technology boom, Brazil's Central Bank introduced open banking, releasing a new regulation that enables licensed financial institutions to share customer data. The open bank initiative will aid the jurisdiction in keeping up with the age of digitalisation. Upon successful implementation of new regulations, Brazil is set to experience the emergence of new business models and market players.
The growth of the jurisdiction's economy led to the rise of Brazil's high-consuming middle class. Brazil has seen an increment in the nation's digital literacy in recent years, ranking 5th globally in terms of smartphone penetration rate. With an uptake in online presence and connectivity in Brazil, the demand for technology and its services sees a steady growth in the coming years.
Legal
Despite the Brazilian government's efforts to attract foreign direct investments, the nation's ease of doing business is relatively weaker than others. Per the World Bank's Ease of Doing Business Index, Brazil ranked 124thout of the 190 countries listed under the Ease of Doing Business Index.
As Brazilian Portuguese is the official language in Brazil, most legal corporate documents are in Portuguese. As such, Tetra Consultants will assist you to have the documents translated by a certified translator if required.
Despite having high barriers to entry for foreign investments, business sectors such as Infrastructure Development can benefit from a special regime of tax incentives and exemptions. Tax exemptions and incentives help to alleviate the financial fiscal responsibility of investors.
Environmental
The Brazilian government emplaces initiatives to balance the nation's industrial growth and environmental well-being. As such, the jurisdiction ranked 55thout of the 180 nations assessed on the Environment Performance Index. Brazil's favourable ranking illustrates the results of stringent governmental efforts and laws.
Brazil actively participates in World Bank-funded projects to reduce deforestation, carbon emissions, and global warming. Brazil has committed to environmental efforts to reduce the nation's greenhouse gas emissions. By establishing Rural Environmental Registry in selected cities, the government aims to reduce deforestation and forest degradation. With improved and sustainable forest management, Brazil drives down carbon emissions.
In accordance with the Clean Energy Ministerial, 47.5% of Brazil's primary energy demand is provided by renewable sources of energy. As one of the least carbon-intensive energy sectors globally, Brazil's contributions and green efforts are commendable and satisfactory.
Find out more!
Contact us to find out more about how to register company in Brazil. Our team of experts will revert within the next 24 hours.
FAQs
How much does it cost to register a company in Brazil?
The total engagement fee depends on the services you need from Tetra Consultants. We provide you with multiple services ranging from planning and strategizing to assisting you through the incorporation process. We can provide you with further assistance in opening a bank account and ensuring that your business is compliant with the government policies in Brazil.
This total fee that will be charged will be inclusive of the company registration fee in Brazil and any additional cost that may arise.
We will discuss with you the total engagement fee charged in detail before we begin the registration process so that you have a better understanding of what you are paying for.
Is it easy to start a business in Brazil?
The process of starting a business in Brazil is slightly more complex. In fact, it has a rank of 124th out of 190 nations in terms of the ease of doing business. However, with Tetra Consultants, this process will be more convenient and less time-consuming. With our help, you can focus on your business while leaving the incorporation process to us.
Why is it hard to start a business in Brazil?
In Brazil, the ease of doing business is very low such that it has a rank of 124th out of 190 regions, according to World Bank. Despite pro-business measures undertaken by the Brazilian government, it is still slightly hard to start a business. This is because of the high barriers to trade for foreign investors and a very challenging tax system. However, with Tetra Consultants' help, this incorporation process can be made less complex. Contact us if you wish to discuss more about setting up your business in Brazil.
Is it expensive to start a business in Brazil?
The total engagement fee that you will be required to pay will depend on the services you require from Tetra Consultants. This total fee includes the cost of starting a business in Brazil which depends on the type of business entity, business activities, and more. Despite having a relatively higher cost of starting a business in Brazil, the government is taking measures to promote a pro-business environment. We will further discuss this with you before we start the registration process.
What is a CNPJ in Brazil?
Cadastro Nacional de Pessoas Juridicas (CNPJ) is a tax identification number issued by the Federal Revenue Service. All businesses who own an asset in Brazil must apply for a CNPJ number to carry out business in the country.
This is different from a CPF number (Cadastro de Pessoas Fisicas) which is issued to individuals which along with the birth certificate serves as Brazil national ID.