Many foreign investors are choosing to set up company in Thailand and for good reasons. The country stands at the heart of ASEAN economic activity, which presents a combined common market of close to 660 million consumers. The kingdom of Thailand is no longer what it used to be, being recognised only as a destination for shopping and tourism. Thailand is seeing its economy growing at an unprecedented rate in recent years, due to increasing investments and the number of expats choosing the country as their home to stay. In addition, the government of Thailand adopts a business friendly stance that welcomes foreign direct investments (FDIs), ensuring that the economy is free and open for the conduct of business. With many investors drawn to its strategic location that offers beneficial and convenient trade conditions within the Asian markets, Thailand has been experiencing a higher number of incorporation efforts within the country. Before you register company in Thailand, it is important to understand the market conditions of the country. Tetra Consultants has prepared the 4 advantages of setting up a business in Thailand for your reference.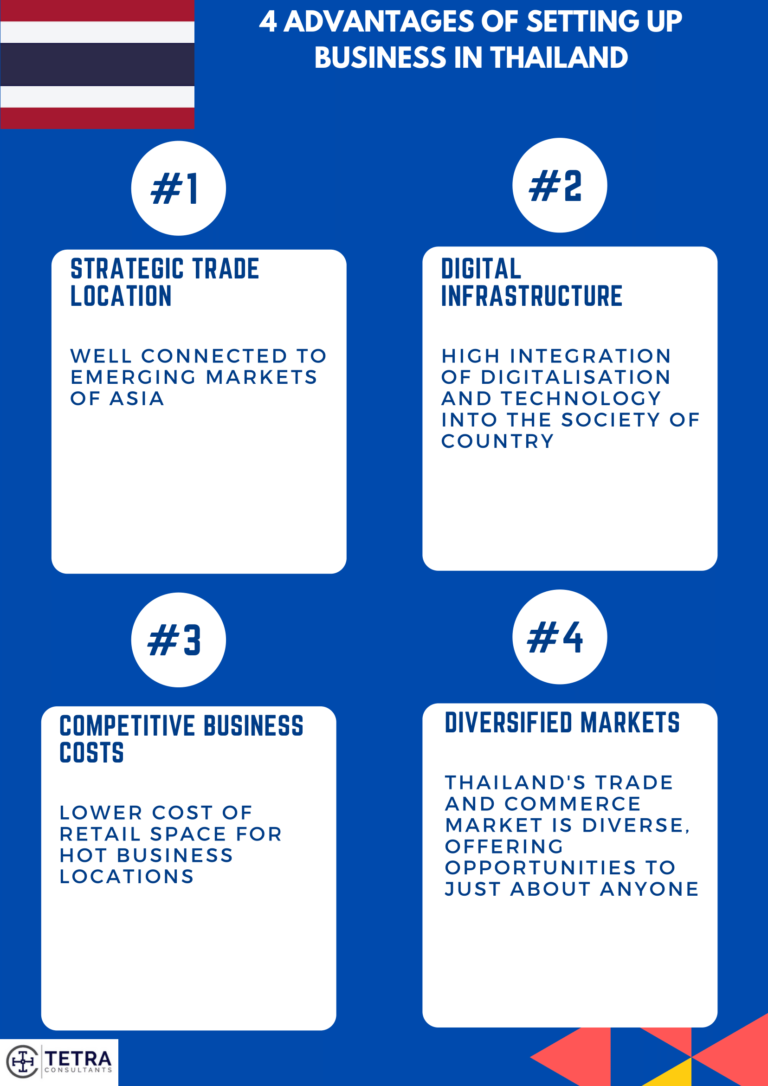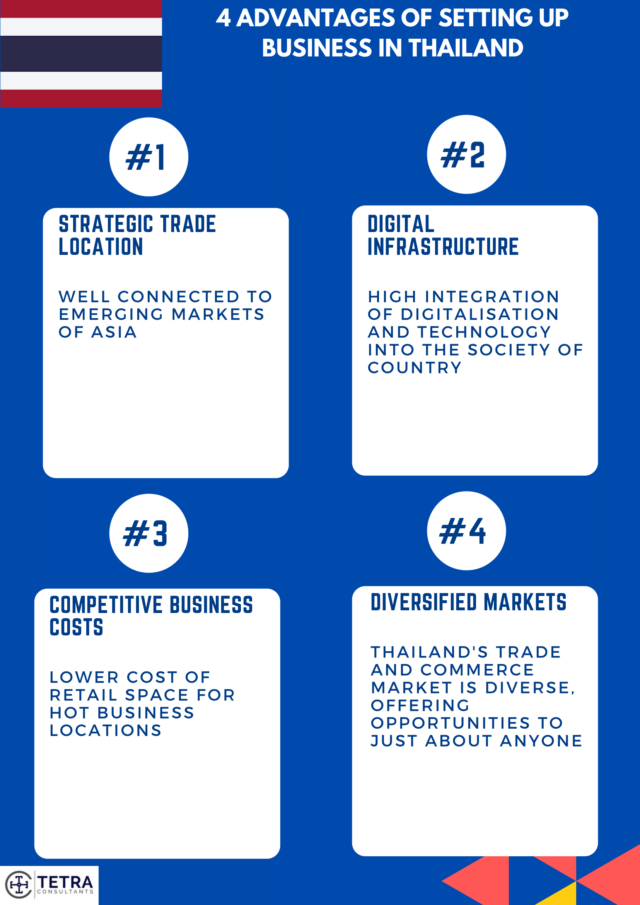 1) Strategic Trade Location
The first advantage of setting up a business in Thailand is the strategic trade location that Thailand possesses. The country of Thailand is considered to be well-connected to the emerging markets of Asia, termed as CLMV (Cambodia, Laos, Myanmar and Vietnam), by various means of transport. Interested investors who wish to target the local consumer market of Thailand itself will also be delighted to learn that conducting business in Thailand will grant access to approximately 69 million consumers of which about 52 million of them are considered middle class consumers.

The CLMV region as aforementioned presents roughly 242 million consumers and the ASEAN countries present a total of 660 million consumers, offering great market access to foreign investors who conduct in various trade exports and imports, making the jurisdiction of Thailand even more attractive than before. Not to mention, the country also offers benefits of tariff-free trades with different nations and has signed 13 Free Trade Agreements (FTA), extending its beneficial trade relationships.
2) Digital Infrastructure:
The second advantage of setting up a business in Thailand is the digital infrastructure that has been developed in the kingdom of Thailand. The government of Thailand has diligently been phasing the country into what is known as Thailand 4.0 economic model, through various digital developments which seeks to move the country past agrarian dependent economy. Now, the focus of the government is to rather create a 'value-based' digital economy that focuses on driving economic prosperity, increased social well-being, raising human values as well as protecting the environment and being eco-friendly. As such, there has been excessive funding channelled into the development and improvement of the digital infrastructure, resulting in the advancement of local technology that is primarily evident in its support of smartphones as well as broadband network that provides affordable high-speed internet.

Another major development is the 'Digital Park', a project started in hopes of strengthening  Thailand's software and technological capabilities and competitiveness through promoting technological transfers and providing courses for training on Internet-Technology (IT) related knowledge. Moreover, enhanced incentives from the Thailand Board of Investments (BOI) have also been established to help make advances in Research and Development (R&D) to further engage the industry.
3) Competitive Business Costs:
The third advantage of setting up a business in Thailand is the competitive business costs that the country offers to interested investors. Prime office space in Bangkok, the capital of Thailand, is currently being offered at an outstanding value as compared to other leading Asian countries in the market. The cost of a retail office space in Bangkok is nearly half the cost of the space if it was set up in Ho Chi Minh City, Vietnam, and only about 40% of the cost when compared to developed economies like Seoul or Singapore. Naturally, the cost of employee wages are generally lower on average when compared to the earlier mentioned countries and Thailand has one of the lowest wage inflation rates amongst the ASEAN countries in the region.
4) Diversified Markets:
The fourth advantage of setting up a business in Thailand is the diversified market that Thailand possesses. Thailand has a big and dynamic manufacturing sector that provides a wide range of products and services. This means that there are opportunities to enter various markets and your business activity is not limited to just the primary few industries. Thailand possesses' this robust quality of its fast-moving consumer goods (FMCG) that has lead to the jurisdiction to become a leader in commerce and trade within the Southeast Asia region.
Conclusion:
Engage Tetra Consultants as we guide you on how to register a company in Thailand through a smooth and hassle-free process. The team provides a comprehensive service package that includes planning and strategizing with our clients to select a suitable business entity, completing the registration and documentation processes, obtaining required licenses, opening a corporate bank account, and ensuring your compliance with the government regulations. 
Contact us to find out more about company registration in Thailand and our dedicated and experienced team will revert within the next 24 hours.