Tetra Consultants' ultimate guide on Ajman Free Zone company registration in Dubai is catered to help our clients fully understand the steps needed to be undertaken and remain hassle-free. We would advise you to read through this comprehensive guide to understand the benefits and the requirements to register company in Dubai. 
Established in 1988, companies in this Free Zone are regulated by the Ajman Free Zone Authority (AFZA). The AFZA has created a competitive environment with various opportunities available to businesses.
Guide to Ajman Free Zone company registration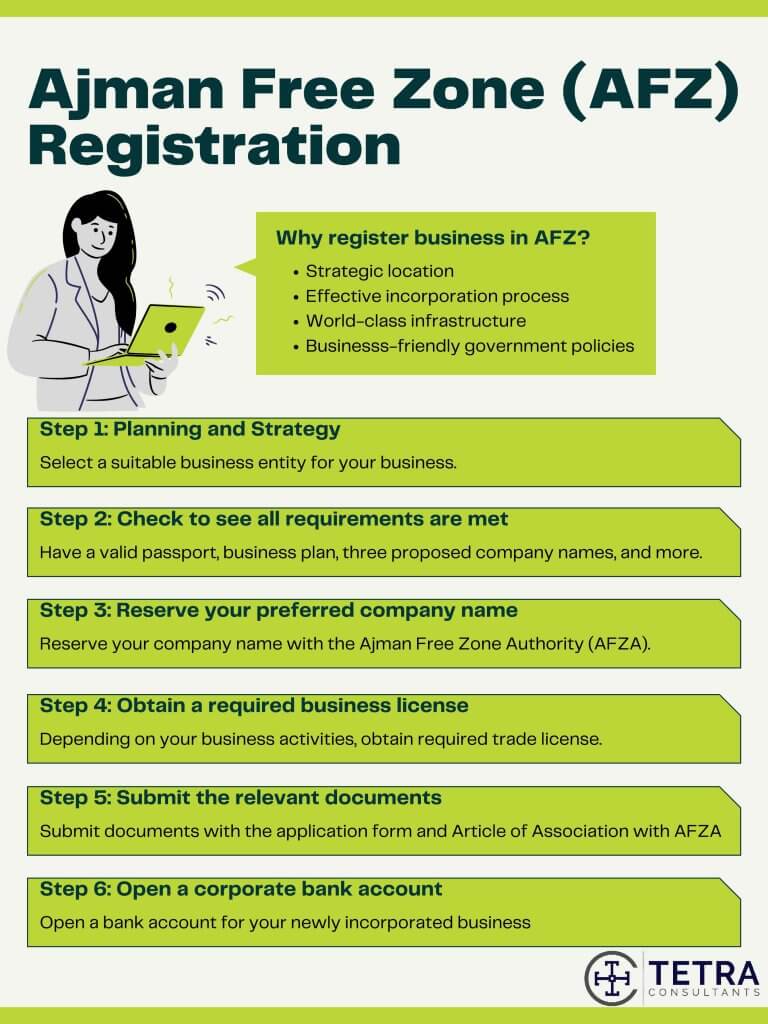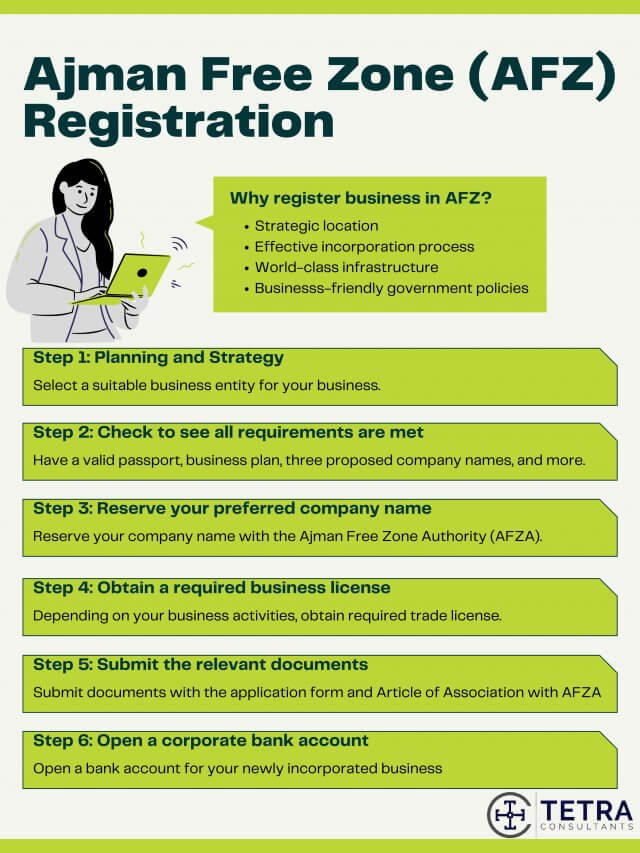 Why choose Ajman Free Zone company registration?
This location is a good choice if you wish to register company in Dubai. This is because of the following reasons:
Strategic Location:
The Ajman Free Zone (AFZ) is strategically located in the Ajman region in the United Arab Emirates to serve both the Eastern and the Western markets. 

It is a short distance away from the international airports of Dubai and Sharjah. Moreover, it is also adjacent to the Ajman Port and three other major ports. Thus, the high connectivity allows for better international trade, shipping, and logistics and is advantageous for businesses set up in this region. 
Effective incorporation process:
The incorporation process is relatively convenient to complete because of the availability of an online portal for this jurisdiction. Thus, foreigners need not travel to Ajman Free Zone to

set up company in Dubai. It is also

fast, taking approximately two days to complete.

It is relatively inexpensive to set up when compared to other Free Zones in the United Arab Emirates. This is because of lower capital requirements and operating expenditure. Additionally, payment for the

Dubai company registration

can be made in instalments.
World-class infrastructure:
There is the availability of well-developed infrastructure for the businesses including office facilities, security services, banking services, and various other facilities.

Additionally, there are different sizes of storage facilities equipped with environmental control units and more, available for businesses.

Companies set up in this region have access to a large and inexpensive workforce, which can be advantageous for the business.
Business-friendly government policies:
Foreigners can have complete ownership of the business and there is complete repatriation of capital gains and profit.

Businesses that have completed the Dubai company registration for this zone will benefit from a complete exemption on corporate taxes and personal income tax.

Moreover, businesses face minimum import and export duties.

There is a high level of privacy and security as information about directors and shareholders is not public information.

With a stable and business-friendly legal system, the authorities also have strong Intellectual Property laws that protect assets.

Companies are not required to file annual financial reports, making it more convenient.
How to begin Ajman Free Zone company registration?
To complete offshore company registration in Dubai, you must follow these steps:
Step 1: Planning and Strategy
Tetra Consultants will first learn more about your company-its activities, requirements, and more. Based on this, we will recommend the most suitable business entity for your business. The following are some types of companies that can be set up in this area:

Free Zone Establishment (has a single shareholder)

Free Zone Company (has at least two shareholders)

Branch Office of local or foreign company
Step 2: Checking to see if all requirements are met
Depending on your chosen business entity, you will have to meet certain requirements, which include:
Three proposed company names

Business Plan

Valid passport

Certificate of incorporation of the parent company (For branch office of a foreign company)
For example: for a Free Zone Establishment, there must be a single owner who has invested a paid-up capital of $50,000 along with the relevant fees.
Step 3: Reserve your preferred company name
Tetra Consultants will check for the availability of your preferred company name and reserve it with the AFZA.
Step 4: Obtain a required business license
Businesses must also apply for a trade license to conduct business activities. Some of the activities you will require a license for include:
Commercial

E-commerce license

Services

Industrial

Offshore
Step 5: Submit relevant documents
Tetra Consultants will complete the incorporation documents including the application form, Article of Association, and more, and submit the same to the AFZA.

Upon receipt of the documents, we will courier them to your preferred address.
Step 6: Opening a corporate bank account
Tetra Consultants will assist you in opening a corporate bank account for your newly incorporated business by leveraging our extensive banking network.

Normally, individuals are required to travel to open their bank account. However, our team of experts can negotiate on your behalf to do an online conference instead.
Considering Ajman free zone company registration?
The total cost of setting up a company in the Ajman Free Zone depends on the chosen business entity, the activities performed by the business, the license required, and more. It also depends on the services you require from Tetra Consultants.
Therefore, through this guide, we can see the benefits of setting up a company in the Ajman Free Zone area and understand the steps we need to undertake to successfully complete the incorporation process. We at Tetra Consultants are well experienced with the incorporation process and would like to offer you our services. Our service package includes the planning and strategizing process, the registration process, and ensuring that the newly incorporated firm remains compliant with the government policies. 
Contact us for more information about the Ajman Free Zone and the incorporation process and our team will revert to you within the next 24 hours.