Dubai Free Zones
As of now, 30 Dubai Free Zones are being managed and operated by their respective authority. These special economic zones are set up with the objective of providing tax and ownership benefits to Dubai's foreign investors. Thereby, boosting Dubai's economy. Each Dubai Free Zone is designed around a specific industry. Licenses for that zone can only be given to businesses that lie within the respective industry.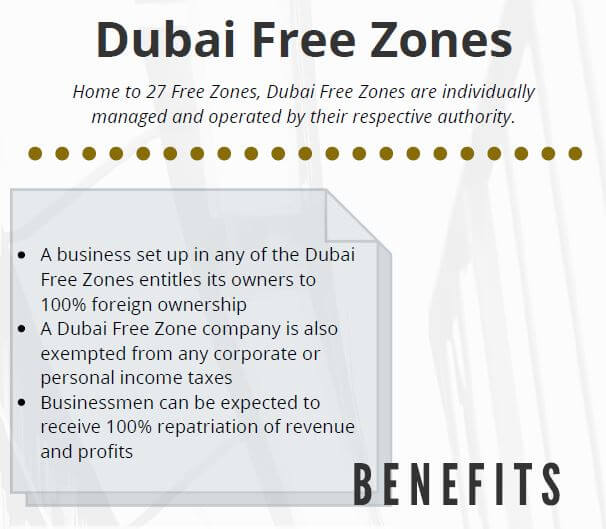 After understanding your intended business activity and long term business goals, Tetra Consultants will recommend the most suitable Dubai Free Zone to set up your business. By registering your company in the Dubai Free Zone, you can be entitled to 100% foreign ownership.
If your business is in the healthcare industry, it will be more ideal to establish in the Dubai Healthcare City free zone. Likewise, if your business is in the energy industry, you may opt to set up in the Dubai Science Park.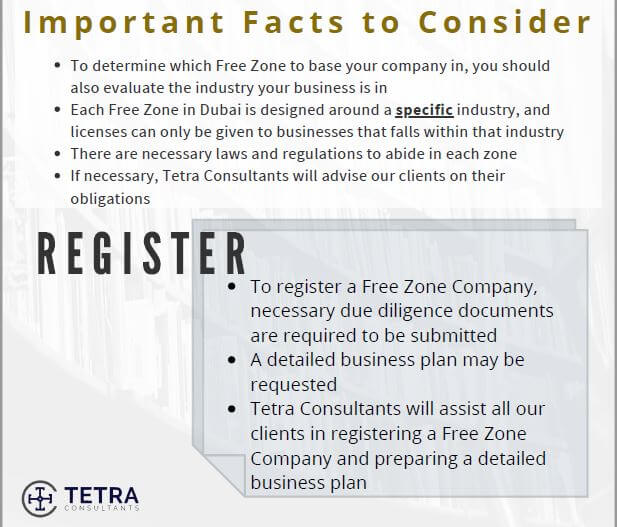 Popular Free Zones
For a start, here are some of the most popular Dubai Free Zones that you should be aware of. Each is catered to a specific industry.
Dubai South
Known previously as the DWC free zone, the 'City of You', Dubai South is home to the logistics industry. Built around Dubai's Al Maktoum International Airport, the Free Zone support many logistics and aviation companies. Its strategic location brings Free Zone companies the benefit of direct access to the Jebel Ali Sea Port and Al Maktoum Airport – making transport much simpler. Connecting air, land and sea, this Free Zone eases any trouble when it comes to logistics movement.
Dubai Multi Commodities Centre (DMCC)
A leading cosmopolitan centre, the DMCC free zone is the largest free zone in the UAE, housing many successful businesses. This trade corridor created specifically for commodities like gold, diamonds, tea, food and industrial materials boasts high interconnectivity and a strong infrastructure. An hour and a half drive away from the capital of UAE, Abu Dhabi, this Free Zone allows you to do business with ease.  Equipped with word-class digital and physical infrastructure, the DMCC free zone has been awarded the 'Global Free Zone of the Year' by the Financial Times's fDi magazine for six consecutive years since 2015. In 2020, DMCC regulations were replaced to introduce more flexibility to companies currently engaging in business activities from the DMCC.
Dubai Internet City
The leading information technology trading park, Dubai Internet City is meant primarily for technology and communications. Hosting many successful multinational businesses such as Facebook, Microsoft and Dell, this Free Zone is a strategic launch pad to your business' success. Setting up your company in Dubai Internet City also have many financial incentives. With 50 years of tax exemption and no import or export duties, tech companies can benefit from higher returns.
Dubai International Financial Centre
A renowned global financial hub, Dubai International Financial Centre (DIFC) has the infrastructure and support services that every finance business would require. The strategic location of Dubai and the simple DIFC business setup makes doing business much less complicated for companies looking to expand abroad. Boasting a strong judicial system, the Dubai International Finance Centre adopts a Common Law framework with an independent regulator and judiciary. If your business unexpectedly lands in a commercial dispute, you do not have to worry because all cases are tried exclusively by professional judges. The Dubai International Financial Centre is often seen as Dubai financial free zone due to its strong reputation and credibility as a financial hub within the Middle East and South Asia.
Dubai Healthcare City
Fostering an integrated healthcare community, the Dubai Healthcare City is an economic zone attracting healthcare and medical education giants. With state-of-the-art facilities, the Free Zone also permits flexible real estate design to suit your business requirements. Additionally, as released on March 2019, Dubai Healthcare City has announced a revision to its set up and operating fees. The reduced fees aim to facilitate the ease of doing business in the Free Zone. With this new revision, the cost of setting up in Dubai Healthcare City is much lower, providing its business residents greater financial earnings.
Ultimately, all Free Zones offer similar benefits: ownership, exemption from taxes, repatriation of revenue and profits, long-term leasing options and simplified recruitment processes. It is, however, critical to understanding the rules and laws of each zone. Once you have determined the Free Zone to locate your company in, Tetra Consultants will continue to advise you on the necessary compliance laws to abide in each zone.
Jebel Ali Free Zone Authority (JAFZA)
Rivalled only by the DMCC free zone, JAFZA is the largest free zone in Dubai. The Free Zone houses more than 7,000 global companies and contributes to approximately 32 percent of total foreign direct investment inflow into the country. JAFZA allows companies from a wide range of different industries and sectors to set up in Dubai. This includes firms in the manufacturing, industrial, trade and logistics sector. Due to the high amount of trade in the JAFZA, imports entering the free trade are subjected to JAFZA customs procedures to allow for greater trackability of goods and equipment.
In the recent years, JAFZA has housed increasingly more healthcare and pharmaceutical companies and has even attracted some of the world's leading healthcare multinational companies. The JAFZA activity list, consisting of up to 335 sectors, lists the type of industries in each sector that is allowed to be conducted in the free zone.
Dubai Airport Free Zone Authority (DAFZA)
Situated near Dubai International Airport, the world's busiest airport measured by passenger traffic, DAFZA is an ideal location for businesses involved in overseas trade. The DAFZA Industrial Park located in the Free Zone has helped to increase the ease of transport and storage of goods and cargos through its innovative warehouse technology. One of the fastest growing free zones in the region,  DAFZA has achieved significant growth in terms of number of exports, trade merchandise and number of companies in the free zone. In 2021, Dubai airport free zone company regulations were revised to allow for a publicly listed company to be set up in the free zone.
Since the distance from Dubai airport to Jebel Ali Free zone is significantly greater as compared to with DAFZA and many of the more recognised warehouses in the list of warehouses in Dubai are situated in DAFZA, DAFZA may be a more optimal location than JAFZA for logistics companies.
Other Free Zones in specific sectors
Dubai Media City (DMC)
The Dubai Media Free Zone authority launched the Dubai Media City in 2001 to encourage and support media-related businesses such as advertising and marketing services, broadcasting agencies and event management firms in the free zone. Known as a global media hub, the DMC offers networking opportunities between individuals with a creative mind and allows the company to have a greater access to a labour force that specialises in different media forms. As a physical office is not required in the DMC, freelance entrepreneurs can easily set up their business in the creative industry with a low start-up cost and less stringent requirements.
Dubai Textile City
Anticipated to be the second largest trading industry after the oil industry, the textile industry has grown rapidly in the recent years. The Dubai Textile City free zone was a joint venture between the Dubai Port and Customs Authority, and TEXMAS that aims to  facilitate the manufacturing and storage of textile fabrics. The Free Zone is equipped with a large number of offices and warehouses, to provide traders with the necessary facilities and infrastructure to store their inventories.
Dubai Silicon Free Zone
Known as a technology park, The Dubai Silicon Oasis Free Zone is a government-owned free zone established by the Dubai Silicon Oasis Authority. The Free Zone hosts many modern technology-based industries and offers an integrated network of telecommunication services and high-tech infrastructure to facilitate business in the free zone. The free zone is an attractive location for companies in the IT, industrial, research and development businesses and provides incubation services for Dubai Silicon Oasis company setup by new entrepreneurs.
Dubai Flower Centre Free Zone
The Dubai Flower Centre free zone caters mainly to companies in the floriculture industry. Due to the heightening worldwide demand for flowers and other perishables, there is an increasing need to ensure that logistics and commercial solutions are sufficient and advanced enough to improve the quality of products, reduce transport time and increase the efficiency in managing imports and exports. The Dubai Flower Centre free zone is also equipped with a system of effective and automated facilities that helps to protects the quality of perishables and maximise their shelf life.
Dubai Free Zone Business Setup
A free-zone company (FZC) is a company situated in a free zone that is allowed to trade both within the free zone and outside of the UAE. A free zone is a  business incorporation zone that tends to specialise in a few specific industries by offering the relevant support infrastructure and facilities. The Dubai free zone location you choose ultimately depends on the type of business you wish to set up in Dubai. You will have to apply for a free zone license to set up a company in a free zone.
There are two main types of company incorporation in Dubai free zones:
Offshore Company
Free Zone Company
Dubai free zone company registration fees tend to be higher because they allow for trade within the free zone. If you do not intend to conduct trade within the UAE, you may wish to consider setting up an offshore company in the free zone instead.
Advantages of Free Zone Companies in Dubai
A free zone company in Dubai allows for complete ownership of the company and does not require a registered agent or sponsor to act as the liaison between the company and the authorities. Companies are also allowed to repatriate all the capital and profits derived from their businesses back to their home country. A free zone company does not need to pay income taxes, corporate taxes or VAT taxes on goods and services imported from outside the UAE.
Unlike offshore companies, business owners in free zone companies can apply for free zone residence visa. Dubai free zone visa benefits for employee include a longer validation period of up to 3 years and the liberty for the employee's direct family members to apply for a dependent visa. It also much simpler for an employee to apply for a visa because the visa can be obtained directly from the Immigration Department without contacting the Ministry of Labour.
As the free zone company will be located in a free zone that has the same area of expertise as the company, it allows for easier access to a pool of skilled professionals that have the relevant knowledge and experience. There will also be numerous supporting infrastructure and communication system in the free zone that can increase the efficiency of the free zone company. Most free zones are also situated near air, ship, rail, or road transport systems, hence allowing for more effective transportation of goods and services.
Disadvantages of Free Zone Companies in Dubai
A Free Zone company in Dubai is not allowed to trade outside the free zone within the UAE. Free Zone companies can only conduct international trade and trade within the Free Zone. If a Free Zone company wishes to trade with companies in other areas of the UAE beyond the Free Zone, they will be required to obtain the appropriate license from the Department of Economic Development (DED) in Dubai. This will allow them to conduct local trade through a separate corporate legal entity that has been licensed by the DED.
Since each Free Zone specialises in a particular sector, a Free Zone company is not allowed to expand its business beyond that sector or switch its business to a different sector. This also means that business owners cannot set up Free Zone companies in free zones that specialises in areas outside the company's field of expertise. However, there are many free zones that allows licenses from a wide variety of sectors such as the JAFZA and DMCC free zone, so this may not be a very significant disadvantage.
If the Free Zone company has a physical office, the office has to be within the Free Zone. This could mean higher rent as the price of real estate in free zones tend to be higher and there are limited spaces where the company can set up its office in.
Unlike an onshore company, the number of visas a company can apply for their employees will be limited by the amount of office space the company rents in the Free Zone. Since Free Zone companies are not required to have an office space, many Free Zone companies may find it difficult to attain a residence visa. However, most free zones will allow companies that do not have a physical office to apply for at least 1 or 2 visas.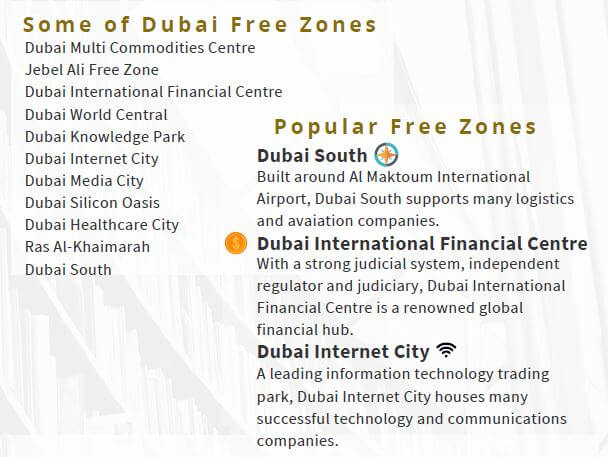 Full List
Dubai Airport Free Zone (Managed by Dubai Airport Free Zone Authority)
Dubai Auto Zone (Managed by Jebel Ali Free Zone Authority)
Dubai Biotechnology & Research Park (Managed by Dubai Technology and Media Free Zone Authority)
Dubai Cars and Automotive Zone (Managed by Jebel Ali Free Zone Authority)
Dubai Design District (Managed by TECOM Group)
Dubai Flower Centre Free Zone (Managed by Dubai Flower Centre Authority)
Dubai Gold and Diamond Park (Managed by Jebel Ali Free Zone Authority)
Dubai Healthcare City (Managed by Dubai Healthcare City Authority)
Dubai Industrial City (Managed by Dubai Industrial City Authority)
Dubai International Academic City (Managed by Dubai Technology and Media Free Zone Authority)
Dubai International Financial Centre (Managed by Dubai International Financial Centre Authority)
Dubai Internet City (Managed by Dubai Internet City Authority)
Dubai Knowledge Park (Managed by TECOM Group)
Dubai Logistics City (Managed by Dubai Logistics City Authority)
Dubai Maritime City (Managed by Dubai Maritime City Authority)
Dubai Media City (Managed by TECOM Group)
Dubai Multi Commodities Centre (Managed by Dubai Multi Commodities Centre Authority)
Dubai Outsource Zone (Managed by TECOM Group)
Dubai Science Park (Managed by Dubai Creative Clusters Authority)
Dubai Silicon Oasis (Managed by Dubai Silicon Oasis Authority)
Dubai Studio City (Managed by Dubai Technology and Media Free Zone Authority)
Dubai Technology and Media Free Zone (Managed by Dubai Technology and Media Free Zone Authority)
National Industries Park (Managed by National Industries Park Authority)
Dubai Textile City (Managed by Jebel Ali Free Zone Authority)
Energy and Environment Park (Managed by Dubai, Technology and Media Free Zone Authority)
International Humanitarian City (Managed by International Humanitarian City Authority)
Jebel Ali Free Zone Authority (Managed by Jebel Ali Free Zone Authority)
Dubai Production City (Managed by TECOM Group)
Dubai South (Managed by Dubai South Authority)
Dubai World Trade Center Free Zone (Managed by Dubai World Trade Centre Authority)
Contact us to find out more about how to register a company in Dubai Free Zones. Our team of experts will revert within the next 24 hours.