In recent times, "cryptocurrencies", "Bitcoins" and digital assets have become buzzwords and are taking the financial landscape by storm as people rave about their massive earnings and upsides. With its influence garnering support and increase in adoption rates, the digital currencies and assets have become an undeniable form of investment and trading for many despites its murky regulation across different jurisdictions. Parallel to the growth of cryptocurrencies, Canada has been relatively successful or is considered to be ahead in terms of its regulation of the digital asset. The central bank of the country, Bank of Canada, has took active steps to experiment with token-based digital currencies which are known as Central Bank Digital Currencies (CBDCs), testing different perimeters which could potentially support a digital payment market for digital currencies. Before you set up cryptocurrency company in Canada, join Tetra Consultants as we dive into the digital currency landscape of Canada and are cryptocurrencies considered legal tender in the country.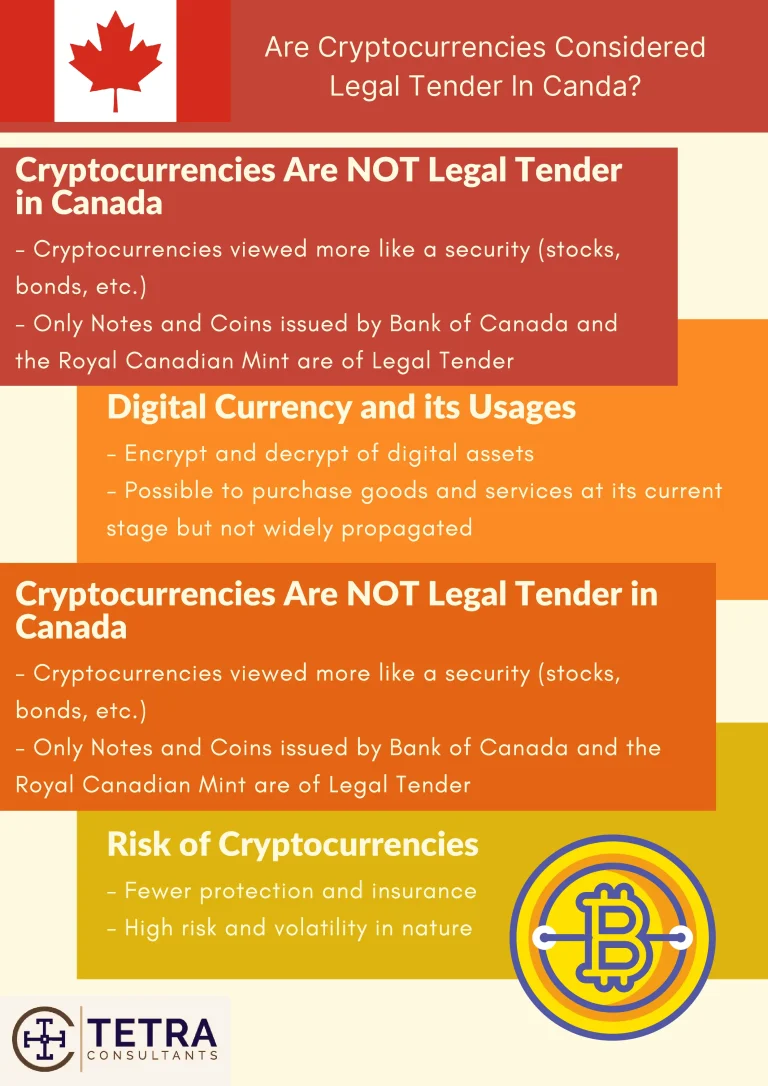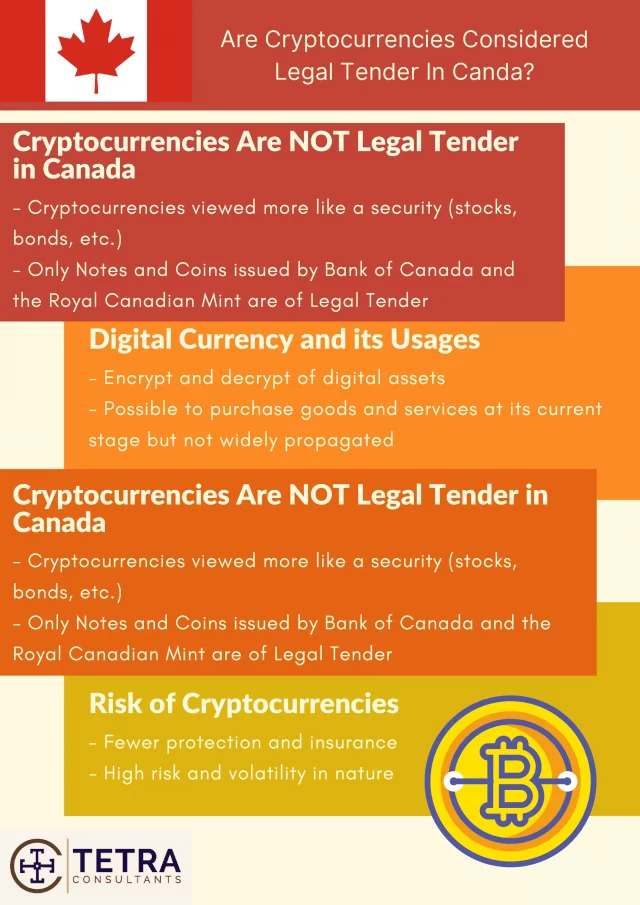 1) Digital Currencies and Its Usages:
The first thing to know about whether cryptocurrencies considered legal tender is to understand what constitutes a cryptocurrency in the first place. Digital currency or cryptocurrency can be viewed as electronic money. They are not available as bills or coins, which are fiat currencies issued by the Royal Canadian Mint and the Bank of Canada for legal tender purposes. Instead, cryptocurrencies belong to a type of digital currency created using supercomputers as well as the usage of algorithms. Some of the most popular cryptocurrencies that you might have come across are "Bitcoin" and "Ethereum". The main characteristics of cryptocurrencies is that the digital currencies are founded upon a decentralised, peer to peer network.

At its current stage, cryptocurrencies allow for the purchase of goods and services in specific online stores, albeit not yet widely propagated. One can also buy, sell and trade digital currencies on open exchanges, which functions similar to a stock exchange market. Prior to the transaction of any cryptocurrencies, one would first be required to create a digital currency wallet which will then finally allow the user to store and transfer digital currencies. To use your wallet, you will need what is known as a "public key" and a "private key" which are formed from a series of random alphanumeric sequences. Public keys are used to identify your digital wallet and private keys are predominantly used to unlock your wallet and access the digital currencies. All digital transactions are recorded to a public ledger, also known as the "blockchain", which everyone has access to see.
2) Digital Currencies are Not a Legal Tender:

To answer the golden question as to whether are cryptocurrencies considered legal tender in Canada, as of date the Canadian authorities do not consider digital currencies such as Bitcoin and any other cryptocurrencies as legal tender in Canada. The Currency Act of Canada defines legal tender as bank notes that have been issued by the Bank of Canada under the Bank of Canada Act as well as coins issued under the Royal Canadian Mint Act. As such, the answer to the question whether are cryptocurrencies considered legal tender is no.

Instead, the Canada Revenue Agency (CRA) views cryptocurrencies as more of a commodity, although given its intangible nature. This is because the value of cryptocurrencies is subject to fluctuation dependent on the market's demand and supply quantity as well as overall market sentiments. Hence, it makes more sense to compare cryptocurrencies to a precious metal like gold or a publicly traded security.

3) Automated Exchangers (Bitcoin ATMs):
Whilst the answer to whether are cryptocurrencies considered legal tender is no, its transaction and pick up rate has increased exponentially throughout the years and especially during recent times. Its popularity has given rise to the birth of automated exchanges which are commonly referred to as "Bitcoin ATMs". The automated exchanges are essentially vending machines that allow you to conduct exchanges between cash for bitcoins and vice versa.
4) Risks of Using Digital Currencies:
There are many reasons that cryptocurrencies are not legal tender in many parts across the world, including Canada. There exists various regulation dilemmas that require further and more in-depth analysis to be conducted before we can even begin replacing fiat currencies with cryptocurrencies as the main form of funds transaction. Additionally, the usage of digital currencies comes along with additional risk which includes:

1) Fewer protections
Users and holders of digital currencies may not have access to an official customer service  unlike others would such as debit and credit card companies. There are no clear defined rules that the wallet provider has to help manage your digital currency and to get your funds back in the event something goes wrong with your transactions.
2) Deposits are not insured

Your funds will not be protected in the event the digital currency fails or goes bankrupt. The federal or provincial deposit insurance plans as of date do not cover digital currencies and the private digital currency insurance coverage is not yet matured and might be considerably hard to find. In the event that you might manage to find an insurance plan that covers digital currency, due to the low market competitors and high risk profile of such securities, there is bound to be a high premium rate tied to the plan.

3) Digital currencies are high risk in nature

Digital currencies are naturally high risk investments because their value can change very quickly overnight, and such behaviour can be hard to predict. Do keep this in mind prior to the set up of any cryptocurrency company. 
Conclusion:
Engage Tetra Consultants if you are interested in setting up a cryptocurrency company  in Canada in a smooth and hassle-free process. The team provides a comprehensive service package that includes planning and strategizing with our clients to select a suitable business entity, completing the registration and documentation processes, obtaining required offshore financial licenses including cryptocurrency license, opening a corporate bank account, and ensuring your compliance with the government regulations. 
Contact us to find out more about cryptocurrency company registration in Canada and our dedicated and experienced team will revert within the next 24 hours.