Cryptocurrency License
In most jurisdictions, you will be required to apply for a cryptocurrency license if you want to set up a cryptocurrency business. This ultimately depends on your intended business activity as there are different requirements involved.
For example, if you are planning to run a cryptocurrency exchange or cryptocurrency wallet, there is a high chance that you will require a cryptocurrency license. However, if you are trading cryptocurrency using your own funds, there is a high probability that you will not require any licenses.
Before committing to incorporate such a business it would be wise to seek legal advice as regards the licensing options, on whether you would need to also apply for a license as the penalties for running a financial services type business without a license can be substantial.
Tetra Consultants is proficient in providing professional legal advice to entrepreneurs who are interested to form a company licensed for a cryptocurrency exchange or cryptocurrency wallet. We will advise you on all the aspects starting from the setting up of an offshore entity to the preparation of documents and many other aspects related to obtaining a cryptocurrency license.
What is cryptocurrency?
A cryptocurrency is simply a virtual currency that acts as a medium of exchange. It is structured by using cryptography to secure financial transactions of the coin ownership, verify the transfer of assets and control the creation of extra units.
Cryptocurrencies are a form of payment to exchange online goods and services (digital transactions). In most cases, cryptocurrencies are beyond the reach of the central authority but are mostly maintained by supporters and communities.
What is a cryptocurrency license?
A cryptocurrency license is a document authorizing an entity to conduct a regulated cryptocurrency business according to the laws of the proposed jurisdiction. In other words, it is a document allowing the entities to carry on the cryptocurrency business as cryptocurrency exchange operators or cryptocurrency depository wallet operators.
What are the types of cryptocurrency licenses?
Companies wanting to apply for a cryptocurrency license should be aware that there are usually two types of cryptocurrency licenses that cryptocurrency companies can obtain.
Cryptocurrency exchange license
A cryptocurrency exchange service provider license allows a company to provide exchange services to those interested in trading cryptocurrencies against fiat currencies or other cryptocurrencies.
Cryptocurrency wallet license
A cryptocurrency wallet service provider license, meanwhile, is issued to companies who wish to offer e-wallets or virtual token wallets.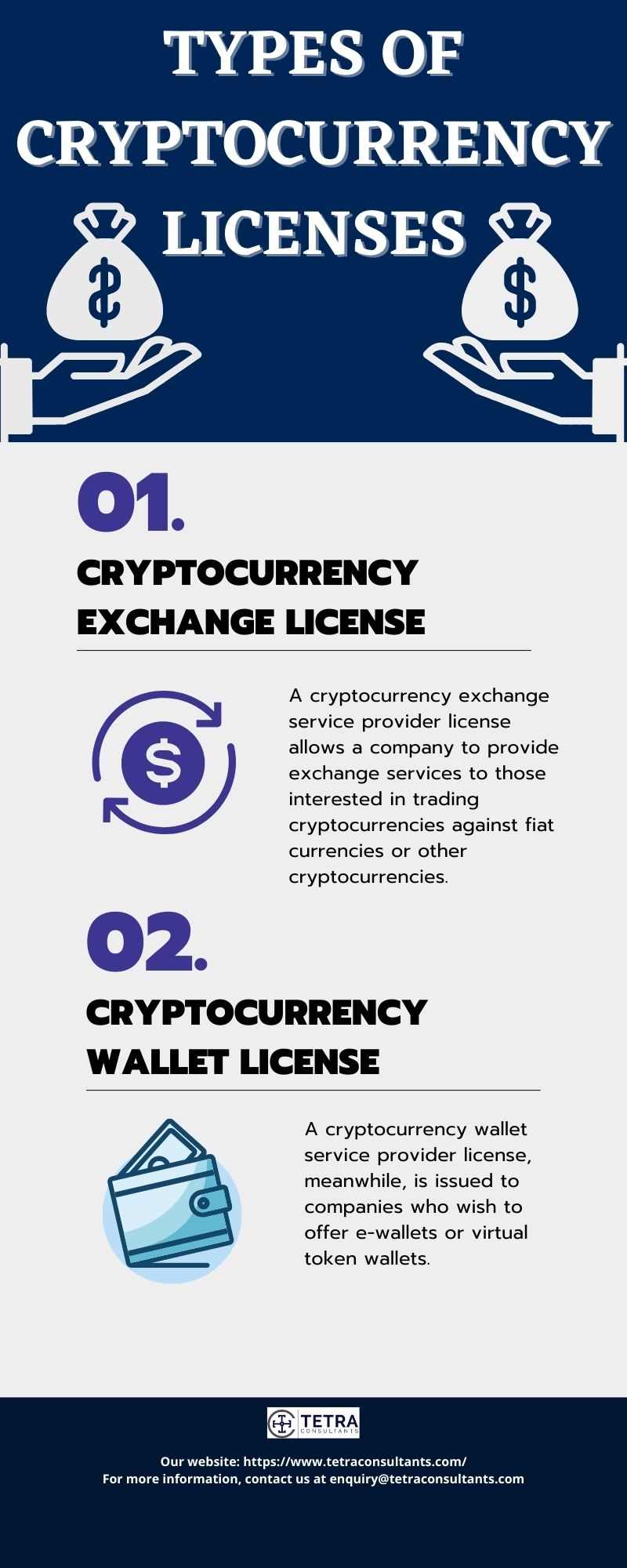 Who is the issuing authority of a cryptocurrency license?
A cryptocurrency license is issued by the regulatory authority regulating the cryptocurrency business or digital assets in the country.
For example in Singapore, cryptocurrency companies are regulated by the Monetary Authority of Singapore under Singapore's Payment Services Act, 2020. Hence cryptocurrency businesses have to obtain a license from the regulatory authority to operate a cryptocurrency exchange or wallet.
Why do we need a cryptocurrency license?
Depending on the choice of your cryptocurrency license, you will be enabled to provide an array of services.
Cryptocurrency exchange license
The cryptocurrency exchange license allows the license holder to provide crypto exchange services, including fiat-to-cryptocurrency, cryptocurrency-to-cryptocurrency, and cryptocurrency-to-fiat exchanges.
Cryptocurrency wallet license
The cryptocurrency wallet license allows the license holder to provide services concerning the generation and storage of encrypted customer keys.
The license allows your company to carry out businesses similar to a cryptocurrency wallet. Wallets are digital offline (cold wallets) and online tools (hot wallets) based on public-key cryptography used to securely send and receive cryptocurrencies. The license covers services where the private wallet keys are created or held, while the funds belong to the user and not to the service provider.
What are the positive implications of having an offshore cryptocurrency license?
Cryptocurrency traders can gain maximum advantages from setting up a company in an offshore jurisdiction and having an offshore cryptocurrency license. The key advantages include the following ones:
Efficient asset protection;
A high level of beneficial owners' confidentiality and separation of company assets from personal assets;
Cryptocurrency friendly policies and banking infrastructure;
Tax incentives;
Several forms of company ownership are available: the choice will depend on your business goals.
What are the disadvantages of not getting a cryptocurrency license?
The company can be blacklisted and international trade activities can be permanently blocked.
Visas can be canceled and restrictions on traveling can be applied by the respective government.
All the managers, shareholders, even owners can be deported.
No local sponsors will make a deal with your company and your business activities will be halted.
The company's expansion plans will be terminated.
A heavy fine will be required to pay and all the company's assets will be ceased.
What are the regulatory requirements and documents for a cryptocurrency license?
For a typical cryptocurrency license, a regulator would want you to consider the following factors before proceeding with the application.
Minimum capital requirement
The foremost point of consideration is to have met the availability of minimum capital requirements to operate a cryptocurrency business in the proposed jurisdiction.
For example, in Malta, for getting a Malta VFA license there is a requirement of having a minimum capital of at least €730,000 for attaining the cryptocurrency license as regulated by the Malta Digital Innovation Authority (MDIA).
Economic substance requirement
Another important aspect is to fulfill the requirement of economic substance to ensure the presence of your cryptocurrency business in the proposed jurisdiction.
For example, in Estonia, a cryptocurrency business operator is mandatorily required to have a physical office, local management team, and compliance officer in Estonia as regulated by the Estonia Financial Intelligence Unit (FIU) for attaining an Estonia cryptocurrency license.
Fit & proper key managerial personnel
While setting up an entity for a cryptocurrency business you need to make sure that the key managerial personnel employed are qualified to take on the responsibility of operating the business.
For example, in the Philippines, when getting the Philippines cryptocurrency license there is a mandatory requirement to have an internal control system in place which also makes sure that the candidates handling such critical internal control is fit & proper.
Cost of the license
The cost of the license may vary depending on the jurisdiction.
Required Documents
For obtaining a typical cryptocurrency license you will be required to provide the following documents to the regulators:
Clean criminal and credit records of all directors, UBOs, and shareholders
CV of all directors, UBOs, and shareholders
A local office address and documents, directed by a local manager
Company webpage
Business plan
Financial forecasts for the first year
Internal control norms of the company
Procedure norms of the company
AML policies
What is the procedure for obtaining a cryptocurrency license?
In order to set up and operate a cryptocurrency exchange venture, a person does require a license first. The procedure to be undergone heavily relies on the jurisdiction your company is going to operate from. Tetra Consultants has summarised the most prevalent steps followed in all the jurisdictions for attaining a cryptocurrency license during a normal engagement.
Step 1: Determining the appropriate jurisdiction and cryptocurrency license requirements
Depending on your planned company activities and the jurisdictions of your customer base, Tetra Consultants will advise you on the most appropriate region and cryptocurrency license for your business model.
Our team of experts will familiarise you with the cryptocurrency license requirements, including paid-up capital requirements, local economic substance criteria, timeframes, and regulations, prior to the beginning of the engagement.
Step 2: Entity formation & registration
Tetra Consultants will conduct due diligence on the management and shareholders of the firm. We will begin registering the company with the local Companies Registry after we have received all KYC documents, incorporation documents, and power of attorney.
After the entity has been properly registered, we will deliver the corporate documents, such as the Certificate of Incorporation, Memorandum, and Articles of Association, as well as other internal documentary evidence.
Step 3: Opening a corporate bank account
Tetra Consultants will open a corporate bank account with a reputable financial institution. The minimum paid-up capital required to secure the license will be deposited into this bank account.
Step 4: Documents preparation
Tetra Consultants' legal experts will begin preparing the required documents for the cryptocurrency licensing application. These documents will include the business plan, financial statements, AML/CFT policy, and insurance policy, as required by local regulations.
After the documents have been created for review, Tetra Consultants will supply you with prototypes. We will then email them to you for e-signature before moving forward with your license application.
Step 5: Meeting local economic substance requirements
In the event, the local regulator requires you to have economic substance like a local registered address and approved suitable persons, Tetra Consultants will assist you to meet them. Our team will assist with the recruitment of local qualified employees to join the team.
Tetra Consultants' HR team will undertake candidate shortlisting and preliminary interviews for key employees, including the compliance officer. Following that, you can narrow down the final list of prospects to choose who is best suited to join the team. Tetra Consultants will assist in the preparation of an employment contract with the agreed terms once the candidate has been selected.
In addition, our team will compile a list of physical offices and deliver it to you. We will include crucial factors such as monthly rental, location, size, and so on so you can better determine which is best for you. Tetra Consultants will prepare the lease agreement to be executed between you and the landlord once the office has been selected.
Step 6: License application Filing
Once the above is completed, Tetra Consultants will submit the application to the local regulator. Depending on the jurisdictions, you may be required to attend an interview with the regulator prior to license approval. In this case, Tetra Consultants will prepare you for the interview and assist with the follow-up actions required by regulatory authorities.
All going well, your firm will receive the cryptocurrency license and will be required to start business operations within the stipulated time frame to maintain the license.


How long does it take to obtain a cryptocurrency license?
Prior to the start of the engagement, Tetra Consultants will send you a project plan with the timelines stipulated for company registration, preparation of documents as well as license application. This is to ensure that all parties are clear on the upcoming project.
Our services
Tetra Consultants assist cryptocurrency companies with their regulatory and licensing needs and provide continued support and assistance to financial companies with regard to all aspects of entity formation and operation.
Tetra Consultants is an international professional consultancy firm that specializes in the preparation of cryptocurrency licenses. We can assist you in obtaining a specific license or authorization from your selected jurisdiction, in order to lawfully operate cryptocurrency business in the foreign exchange industry. We provide licensing services in all major jurisdictions that have introduced advanced legislation regulating such cryptocurrency businesses.
In addition, Tetra Consultants can also assist with attaining other offshore financial licenses depending on your long-term business goals.
Find out more!
Contact us to find out more about how to get a cryptocurrency license. Our team of experts will revert within the next 24 hours.
FAQ
How do you get a cryptocurrency license?
To obtain a cryptocurrency license the procedure and requirements may vary as per the cryptocurrency laws of various jurisdictions which can be overwhelming if you are not familiar with the legal and regulatory jargon. Hence, it is always advisable to enlist a professional for required assistance.
Tetra Consultants assist our international clients with the formation of cryptocurrency business in the best-suited jurisdiction while managing the preparation of required documents to the ultimate filing and submission of cryptocurrency license applications.
What license do I need to sell cryptocurrency?
To trade in the cryptocurrency a business entity is required to obtain the requisite permit in the proposed jurisdiction. If your business is set up to act as an intermediary to convert the cryptocurrency to real funds you may be required to get a money transmitter license.
Is cryptocurrency illegal in India?
The Indian union government and the apex bank that is Reserve Bank of India have yet not recognised cryptocurrencies hence it can be said that cryptocurrencies are not legal in India.
How long does it take to get the cryptocurrency license?
There cannot be any particular answer to this question as it totally depends on your business plan & the choice of the jurisdiction you are going to locate your cryptocurrency business.
Is it necessary to obtain a cryptocurrency license in every jurisdiction?
Most Jurisdictions are still in the process of regulating cryptocurrency activities and their licensing requirements however, it is always suggested to acquire a permit or license in order to maintain the good legal standing of your cryptocurrency business.
What are the best business structures to be adopted for obtaining a cryptocurrency license?
For a cryptocurrency trader looking to move offshore and obtain a cryptocurrency, license is suggested to form an international business company (IBC) or a Limited liability company (LLC). However, it also depends on your long-term business goals while choosing a business structure.
Tetra Consultants assist our international clients with evaluating the best-suited business structure on the basis of your business goals & visions.
Can a cryptocurrency license be acquired online?
Yes, Tetra Consultants will make sure to provide you with such services which require minimal or zero travel possibilities to the proposed jurisdiction for attaining a cryptocurrency license.
What are the factors taken into consideration by the regulatory authority while approving the license application at the final stage?
The regulatory authority scrutinizes the application at the final stage of the application review, taking into account factors such as the entity's understanding of risks related to money laundering and financing of terrorism ("ML/TF") and the technology risks posed by their business model, as well as the efficacy of controls implemented to mitigate such risks.
What is the validity period of a cryptocurrency license?
A cryptocurrency license is issued for an indefinite period taking into consideration that the entity abides by the laws and regulations of the proposed jurisdiction.
Why do we need to deposit minimum capital into a corporate bank account?
The minimum capital deposited is an assurance of holding the amount free from any illegality and it can be used for further financing of the business during the time of business difficulties.