Cambodia serves as an ideal location to register company in Cambodia due to continual growth in the economy and the presence of pro-investment government policies to attract foreign direct investments into the country. The Cambodian government offers benefits such as full foreign ownership of corporations and tax holidays. With a supportive government accompanied by the availability of a sizable labour force, Cambodia is an exceptional country to set up a business. Cambodia business set up is within the reach of everyone, while choosing a good business idea can make all the difference. Before you embark on your entrepreneur journey, here are X best businesses in Cambodia to consider as a foreigner.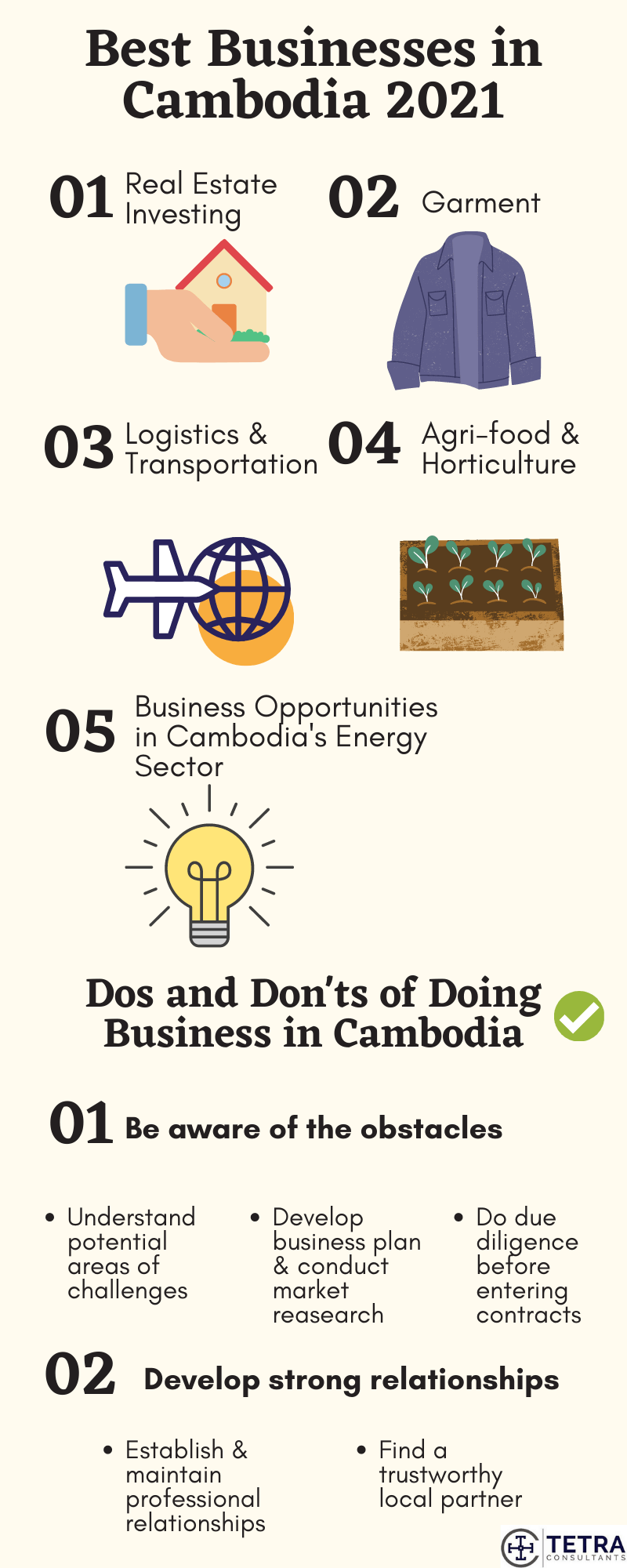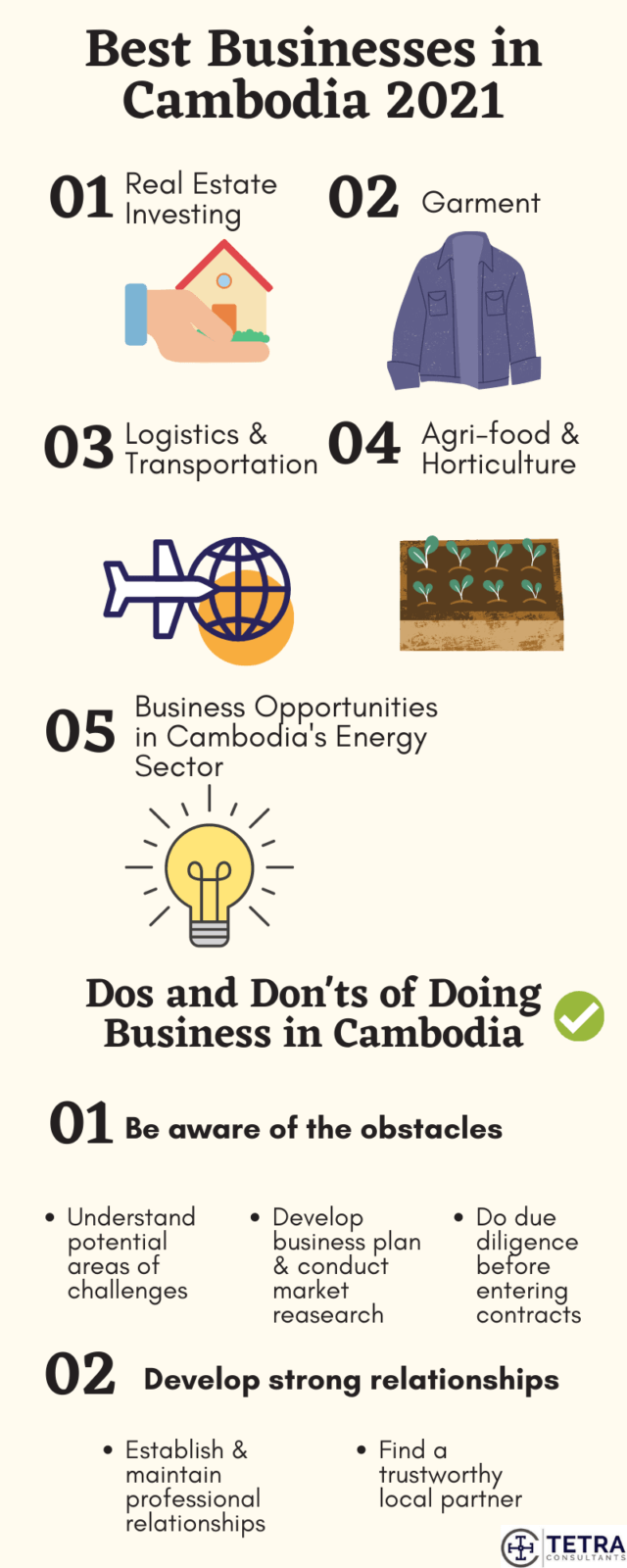 Cambodia is undoubtedly one of Asia's best rising frontier markets for real estate property buyers. Buying properties in Cambodia and renting them out or selling them at a profit later is one of the best investment ideas in Cambodia in 2021. 
Recently, numerous prolific property development projects have emerged through Cambodia, which exhibits design and construction quality that satisfies international standards. 
These projects are usually spearheaded by well-known Cambodian developers, such as Prince Real Estate, which is part of Chen Zhi's Prince Group, one of Cambodia's fastest growing conglomerates with numerous highly acclaimed developments such as Prince Happiness Plaza and Prince Central Plaza. 
The scale and quality of these developments play a significant role in contributing to the investors' overall enthusiasm about Cambodian's real estate market and their eagerness to hop on the bandwagon.
With more exciting and impressive property development projects expected to be completed in the near future, this will definitely present an opportunity to get involved and build up a nice portfolio which will bring about positive investment returns.
Investing in the textile industry is another exceptional business concept for Cambodia in 2021. 
Cambodia's garment industry started approximately 30 years ago (in the 1990s) when expat investors started to establish manufacturing facilities. 
The garment industry in Cambodia has witnessed rapid growth in the last two decades, accounting for 30% of Cambodia's Gross Domestic Product (GDP) and hiring more than 700,000 workers in over 1,000 garment factories.
The ownership of the majority of the factories belongs to foreigners, who utilized Cambodia for the cut, make and trim (CMT) process and managed textile sourcing from other countries, especially China. 
As a result of the Cambodian government's provision of investment incentives, low labor costs and preferential market access to the European Union and ASEAN, this has attracted international organizations to establish factories in Cambodia.
Garment exports account for approximately 60% of the total exports of Cambodia, with the USA and the European Union as the main export destinations for garments and footwear. 
Consequently, investing in Cambodia's textile industry is definitely a lucrative business venture.
Logistics & Transportation
Cambodia's logistics division has become critical to the country's growth strategy, which can be attributed to Cambodia's increased penetration into global and regional supply chains. 
The authorities have plans to increase the port capacity of Phnom Penh to 500,000 TEU over the next five years, while the Sihanoukville port will handle cargo up to 14 meters by 2022. 
These infrastructure enhancements are almost definitely followed by logistical advances. This presents profitable market opportunities in Cambodia, on top of consulting and capacity-building opportunities. 
Moreover, most trailers and trucks operating on Cambodian roads have yet to adjust to Cambodia's unique features. 
The government has started laying down regulations for the purpose of traffic congestion reduction, road wear and tear and excessive carbon emissions. 
Consequently, it is an excellent business opportunity to supply compliant trucks to the Cambodian market. Additionally, Cambodia is in need of intelligent logistics solutions. LCL (Less Container Load) and International VMI (Vendor Management Inventory) offer immense business potential as they are able to help Cambodia minimise overall logistics costs.
Agri-food and Horticulture
Rice is the main crop of Cambodia, whereby 8 million tons of it were produced during the wet season in 2019. Therefore, as Cambodia lacks the ability to process its own rice production, rice milling facilities offer immense potential if you are in search of a feasible business idea in Cambodia.
Currently, Cambodia exports most of its revenue to its neighbouring countries, which it then re-exports. 
Besides rice, some of the most popular export commodities include rubber and cassava. Subsidiary crop production witnessed a 400% growth between 2006 and 2015. Numerous programs offer assistance to farmers such as the provision of training, market intelligence, funding options and technology to aid them with the transition. 
Collaboration with such ventures, in addition to the provision of agricultural inputs to farmers presents an exceptional business idea to engage in Cambodia in 2021.
Due to the greater diversification of food consumption (household) and living standards' improvement, this has led to a soaring demand for meat and livestock. 
You can capitalise on a viable business idea by providing assistance to correct the shortcomings of Cambodia's meat industry if you have prior experience in nutrition and animal care.
This can be accomplished in a wide range of methods, which includes establishing a supply chain company with the purpose of meeting the demand for meat. 
Business Opportunities in Cambodia's Energy Sector
Cambodia's energy sector has recently produced promising results. In 2017, the country's electricity supply rose by 11% and has maintained its growth since then. 
Hydropower is Cambodia's first source of domestic power, which accounts for approximately 40% of the country's consumed electricity. Hydropower expansion presents one of Cambodia's biggest market opportunities and initiatives in 2021. 
You may also consider providing engineering consultancy services about the social, legal and environmental impacts as a result of large scale projects. 
Additionally, Cambodia has significant solar potential which can be attributed to its high average irradiation. More than one quarter of rural households rely on off-grid solutions, coupled with solar power accounting for more than half of the total. 
As there is a current lack of solar farms in Cambodia, you can utilise the absence of competition and turn it to good use by swiftly entering the market. 
Dosh and Don'ts of Doing Business in Cambodia
No matter which business ideal you wish to invest in, it is imperative to keep a few main points in mind prior to starting business in Cambodia.
Be Aware of the Obstacles
While you are provided with numerous business ideas to choose in Cambodia, there are bound to be difficulties when doing business in Cambodia. 
To start off, you have to have a good understanding of the potential areas where you will encounter challenges. Some examples include language and culture, law and legislation, trade barriers, and bureaucracy. 
Secondly, develop a strategic business plan and conduct market research. You should also identify goals and priorities and be knowledgeable of the market and your competitors. 
Thirdly, ensure that you do your due diligence prior to entering into contracts or any other commercial agreements.
Develop Strong Relationships
It is of utmost importance that you establish and maintain professional relationships when doing business in Cambodia and anywhere else.
Finding a trustworthy local partner in Cambodia will significantly quicken the preparation work by providing access to existing networks and business data.
Cambodia company registration is hassle-free if you are familiar with the entire incorporation process. Tetra Consultants strives to provide our clients with a seamless experience when setting up a company in Cambodia. Our team of experts will ensure that your Cambodia company can be operationally ready as soon as possible.