Deciding on what specific type of business to set up and operate can be a headache for many given the vast range of options and opportunities available.  If you are an entrepreneur looking to
register company in Belize
but are unsure of what the
best business to start in Belize
is, this article will resolve your doubts by going over 5 biggest business opportunities in Belize!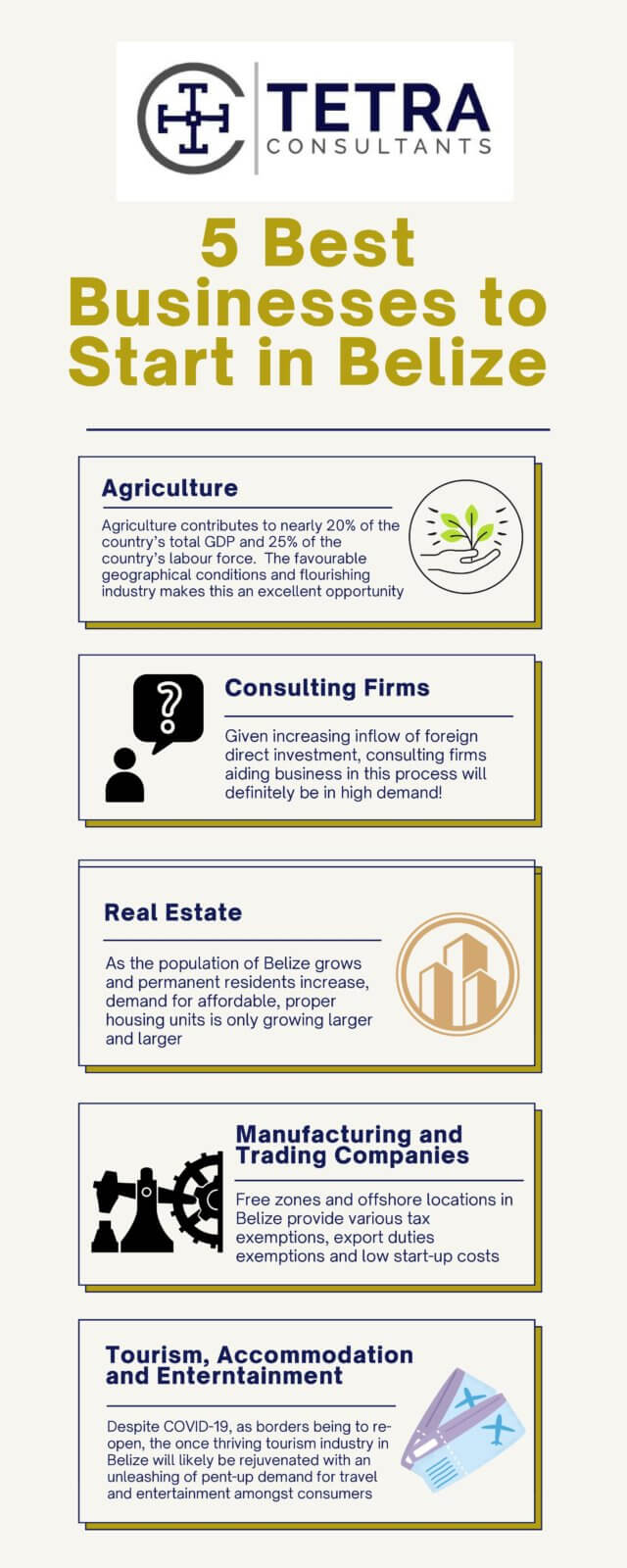 1. Agriculture
One of the biggest industries in Belize is the agriculture industry, as demonstrated by its favourable conditions and geographical landscape.  60% of the country is made up of vegetation, while 20% of its land mass consists of arable lands suitable for crop plantation and agriculture.   The favourable weather conditions in Belize has also made it the center stage for a wide range of crops such as but limited to the following:
Sugar

Bananas

Papayas

Chocolates

Rice

Citrus Fruits
Furthermore, the agriculture industry in Belize has provided a significant amount of employment in the country, frequently exporting its variety of agriculture products to various countries geographically proximate to the American continent.  The exponentially high demand for agriculture products coupled with the favourable domestic conditions of Belize has made agriculture one of if not the most profitable sector actively contributing to the country's economic growth and development.   In fact, statistics have shown that agriculture contributes to nearly 20% of the country's total GDP, with 25% of the country's labour force specialised in working within agriculture related job scopes and responsibilities.
As an entrepreneur considering starting a business in Belize, you can capitalize on this flourishing agricultural scene by obtaining the relevant permits to set up your very own farm plantations.  By cultivating and growing different types of crops, one can most definitely earn a significant profit by selling these agricultural products to both the domestic market and the international market via exports.   Additionally, one can also choose to set up agro-allied industrial cottages which focus on processing farm inputs and transforming them into finished and semi-finished forms for the international export market.  All of these different sources of revenue streams in a thriving industry demonstrate why agriculture is one of the best business to start in Belize.
2. Consulting Firms
With an increasing inflow of foreign direct investment and a rapidly strengthening business network domestically, a wide variety of industries are beginning to expand at an unprecedented pace, especially with this rapid increase in tourist and international interaction with the country.  These new businesses would require help, guidance and support in setting up their new company or expanding their business.  As such, providing consultancy services, much like what our firm, Tetra Consultants, does, would capitalise on this trend of a liberalising economy.  
Nascent businesses would most definitely require help in license registrations, tax service, corporate banking, financial referencing and other administrative work, areas of expertise for a consulting firm.  Furthermore, many businesses are not aware of the specific terminologies, formalities and procedures to starting a business in Belize and will require the assistance of such consulting firms.  Hence, starting a consultancy can successfully capitalise on this trend and domestic need, making it one of the best business to start in Belize.
3. Real Estate
As more and more tourists begin to visit Belize for holiday annually, the demand for proper and affordable housing has increased significantly.  Even despite COVID-19, an increasing population with many visitors intending on staying in the country permanently has meant that such demand remains persistently high.  While the high sunk costs of entering the real estate industry may make this business opportunity seem less lucrative, for many investors and entrepreneurs, real estate can be an excellent opportunity – providing housing units at low prices to meet the needs of those living in Belize. 
4. Manufacturing and Trading Companies
There are two key economic elements within Belize which make the country a favourable business environment for manufacturing and trading companies – free zones and offshore locations.  These initiatives were developed to better attract increased involvement from foreign investors into the country.  
You may be wondering, what exactly are free zones and offshore locations, and what benefits do they bring to the business of manufacturing and trading?  Let us first explain the significance of free zones.  Setting up a production facility or processing plant within a free zone can be very profitable as land and production costs there are low compared to neighbouring countries.  Furthermore, by operating your business within free zones, especially as a trading company, you will not have to obtain a import or export license, and as such, will not be mandated to follow any strict import or export quotas whatsoever, allowing or your business operations to run more smoothly, with a greater level of flexibility.  Within a free zone, your business will also be exempt from a whole range of different types of taxes such as export duties, property tax, excise tax and capital gains tax, all of which can be substantial for companies who actively trade and own large and expensive property in the form of manufacturing plants.  
Similarly, offshore locations serve as one of easiest and most accessible locations to open a company in Belize.  Exclusive benefits to offshore locations include the very short time span required to set up and even build up your business.  Start-up cost and management costs, which can take up a significant proportion of costs for trading and manufacturing businesses, will also be minimised.  Tax benefits are also provided to companies setting up within such offshore locations as well, as these companies are now exempted from all duty payments and income taxes.  
Hence, given the economic benefits of free zones and offshore locations which are especially beneficial for manufacturing and trading companies, setting up this type of business would definitely be very profitable.  
5. Tourism, accommodation, and entertainment 
In the outbreak of COVID-19, the tourism, accommodation and entertainment industry has definitely been impacted negatively, with many unable to travel overseas to the tourist hotspot Belize has been starting to become.  In fact, statistics have shown that close to 500,000 tourists visit Belize annually, and the total income earned from such tourist activities was more than 1.5 billion USD in just one year.  However, as lockdowns have started to ease across the country, we are beginning to see an unleashing of pent-up demand for travel across many countries.  Surveys have shown that many see tourism as the 2nd most desired and anticipated activity to embark on once COVID-19 has been eased, a testament to the rising demand for tourism.  In fact, the savings rate amongst consumers has increased by 10% to 20% during the pandemic lockdown, meaning that as borders are beginning to re-open, households have an increased level of disposable income to spend on travelling overseas or even engaging in domestic entertainment and accommodation services.  Hence, despite the outbreak of COVID-19, tourism remains to be a lucrative industry, especially for a country like Belize which has already received increased attention by international visitors.   
Conclusion
So, what are you waiting for.  If you are looking to open a company in Belize, there are a multitude of lucrative and profitable business opportunities you can tap on.  Contact Tetra Consultants today to find out more about how you can successfully register a new business in Belize to grab these excellent opportunities!