Oftentimes, traditional banks are wary of cryptocurrency businesses because of the high risks and volatility brought about by cryptocurrencies. As such, crypto businesses may find offshore bank account opening with traditional banks challenging due to strict regulations. Therefore, finding crypto-friendly banks for corporate bank account opening will be the best alternative for your cryptocurrency business. In this article, we will explore what is the best offshore bank for cryptocurrency.
Considerations when choosing the best offshore bank for cryptocurrency
While many large banks are still sceptical about digital currencies and technology, there are increasingly more banks that are receptive to cryptocurrencies. Crypto-friendly banks aim to provide their customers with lower transaction fees for moving from crypto to fiat currencies, and vice versa. Some of the key features your cryptocurrency business should look for in a corporate bank account include:
Ease of use

Security 

Reliability

Fees

Moving to and from fiat currencies

Supported cryptocurrencies
Therefore, your company must choose the right bank whereby your cryptocurrency payments are processed by a stable corporate bank.
Best offshore bank for cryptocurrency 
The absence of regulations on cryptocurrencies' legal uses has significantly affected the number of financial institutions which allow involvement in crypto-related activities. This may be worrisome for businesses looking for a business account for foreigners. While there are still numerous countries lacking such regulations, there have been more offshore banks that are integrating traditional bank operations and cryptocurrencies within the same interface. Here are the best banks for business bank account opening:
Goldman Sachs

Barclays

Revolut

Simple Bank

Wirex

The National Bank of Canada

Bankera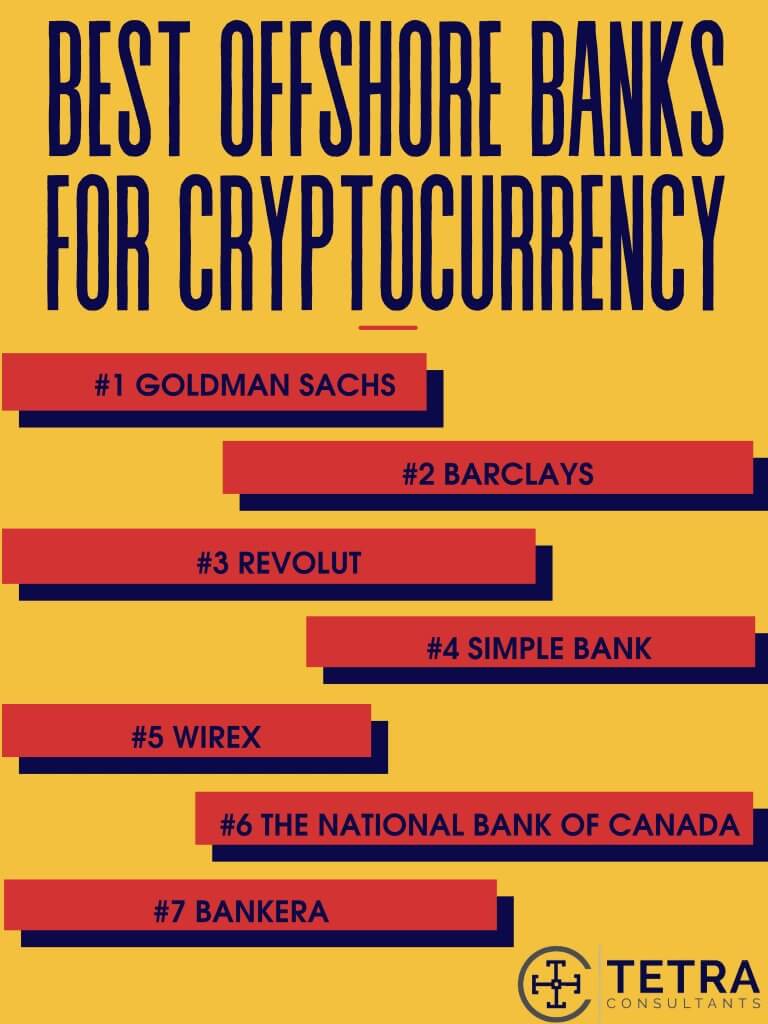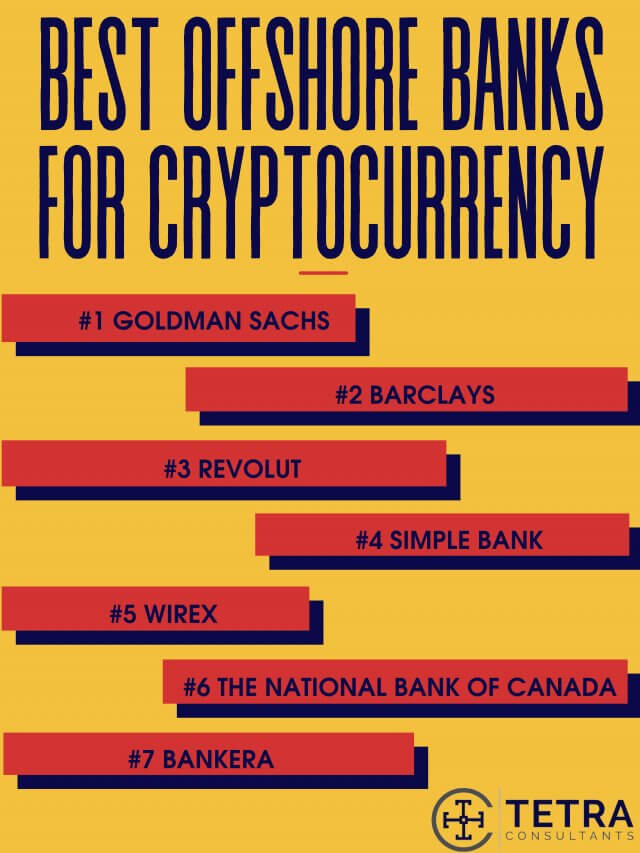 #1 Goldman Sachs
Formed in 1869, Goldman Sachs is one of the oldest multinational investment banking services. They do not offer to check account services, but it provides savings, investment and account services. Among other leading traditional and investment banks which have stayed away from cryptocurrencies, Goldman Sachs has established its reputation as one of the most crypto-friendly banks. As Goldman Sachs is highly supportive of cryptocurrency, this makes it popular among crypto investors and traders.
#2 Barclays
Similar to Goldman Sachs, Barclays holds a strong presence in the investment banking industry. Barclays is one of the biggest banks in the United Kingdom and it is renowned for its strong support for cryptocurrencies and blockchain technology. Additionally, Barclays has partnered with a crypto exchange CoinBase which allows their customers to buy or sell cryptocurrencies.
#3 Revolut
Revolut is a European bank, and it is situated in the United Kingdom. Started as a UK-registered company with no license, it is now operating as a full-fledged bank with over 2 million customers. Businesses and individuals are allowed to use their bank account to purchase crypto. Moreover, Revolut customers can also use their checking accounts to purchase crypto. Revolut offers three types of accounts (Standard, Premium, and metal), whereby all three account types support crypto transactions. 
#4 Simple Bank
Simple Bank started as a Fintech startup in 2009 and it has become one of the best banking options for people in the United States. At the moment, Simple Bank only accepts customers living in the US. As funds of Simple Bank are insured by the Federal Deposit Insurance Corporation (FDIC), you can be assured that your funds are protected. Simple Bank works with numerous cryptocurrency exchanges and allows its customers to purchase cryptocurrencies.
#5 Wirex
Based in London, Wirex is a crypto-friendly banking service and a cryptocurrency wallet. It allows customers to buy and sell cryptocurrencies. Wirex customers are also provided with a debit card linked to their account. One benefit of the debit card is that customers are awarded 0.5% of cashback in the form of Bitcoin whenever they make a purchase in-store. Moreover, the cryptocurrency wallet allows customers to buy, store and manage different cryptocurrencies, which include Bitcoin, Ethereum, Ripple, and Litecoin. 
#6 The National Bank of Canada
Headquartered in Montreal, The National Bank of Canada is one of the largest crypto-friendly banks in North America. Partnering with numerous cryptocurrency exchanges, allows customers to securely buy and sell cryptocurrencies. However, since the bank is heavily regulated, it scrunitizes its cryptocurrency transactions carefully.
#7 Bankera
Based in Lithuania, Bankera can successfully bridge traditional banking and blockchain technology. The European Bank has achieved this by developing SpectroCoin, which is a popular crypto wallet and exchange. With its ability to integrate blockchain technology with traditional banking services, Bankera is a great platform for customers to manage their cryptocurrencies. 
Pros and cons of opening an offshore bank account for cryptocurrency business
Pros:
Tax Benefits:

One of the main reasons to consider opening an offshore bank account for your cryptocurrency business is the potential for tax benefits. Depending on the jurisdiction, offshore banks may offer lower tax rates or tax exemptions that can help your business save money on taxes. This is particularly important in the cryptocurrency industry, where taxes can be complex and vary significantly between different countries and regions. By opening an offshore bank account in a tax-friendly jurisdiction, you can help your business maximize its profits and stay competitive.

Another potential tax benefit of offshore bank accounts is the ability to defer taxes. By keeping your cryptocurrency business's profits in an offshore bank account, you may be able to delay paying taxes until a later date, giving you more flexibility and control over your finances. However, it is important to note that tax laws can be complicated and may vary depending on your specific situation, so it is crucial to consult with a qualified tax professional before making any decisions about offshore bank accounts.
Asset Protection

: Offshore bank accounts can also provide asset protection for your cryptocurrency business. By keeping your funds in an offshore bank account, you can benefit from additional layers of privacy and security. This can be particularly important if your business is subject to legal or financial disputes, as offshore bank accounts can be more difficult for creditors to access. Additionally, some offshore banks offer advanced security features such as multi-factor authentication, biometric identification, and encrypted messaging, which can help protect your cryptocurrency business from cyber threats and fraud.

Diversification:

Opening an offshore bank account for your cryptocurrency business can provide valuable diversification benefits. By spreading your business's funds across different currencies and jurisdictions, you can reduce your exposure to any one country or currency. This can help to minimize the risk of currency fluctuations, geopolitical instability, or other economic events that could impact your cryptocurrency business's finances.

Additionally, diversification can provide your cryptocurrency business with access to new investment opportunities and markets that may not be available in your home country. For example, some offshore banks offer access to alternative investments such as hedge funds, private equity, or real estate, which can help your cryptocurrency business to achieve higher returns and reduce overall risk.
Privacy:

Another potential benefit of opening an offshore bank account for your cryptocurrency business is increased privacy. Offshore banks are often subject to strict privacy laws and regulations that protect the confidentiality of their clients' information. This can be particularly valuable for cryptocurrency businesses, which may be subject to increased scrutiny or regulation due to the perceived risks associated with the industry.
Cons: 
Complexity:

One of the main drawbacks of opening an offshore bank account for your cryptocurrency business is the complexity involved in the process. Opening an offshore bank account typically requires a lot of paperwork and legal expertise, which can be time-consuming and costly. Additionally, maintaining an offshore bank account can require ongoing reporting requirements and compliance with regulatory laws, which can add to the administrative burden of your business. This can be particularly challenging if you're just starting out or have limited resources to dedicate to these tasks.

Regulatory Compliance:

Another potential disadvantage of opening an offshore bank account for your cryptocurrency business is the need to comply with strict regulatory requirements. Many offshore banks are subject to anti-money laundering (AML) and know-your-customer (KYC) regulations, which can be more stringent than those in your home country. This can require your cryptocurrency business to provide extensive documentation and information about its operations and customers, which can be time-consuming and expensive.

Higher Fees:

Offshore bank accounts can also be more expensive than domestic bank accounts, due to a range of factors such as currency exchange fees, international wire transfer fees, and higher account maintenance fees. These fees can eat into your cryptocurrency business's profits, especially if you are operating on a tight budget. Additionally, some offshore banks may require a minimum account balance or charge penalties for falling below a certain threshold, which can make it difficult to maintain an offshore bank account if your cryptocurrency business experiences financial fluctuations. It is important to carefully consider the costs involved in opening and maintaining an offshore bank account and compare these costs to the potential benefits before making a decision. Additionally, it is a good idea to shop around and compare different offshore banks to find one that offers the best balance of fees and features for your cryptocurrency business's needs.
Trouble choosing the best offshore bank for cryptocurrency?
In conclusion, it is crucial to conduct extensive research so that you can select a best offshore bank for cryptocurrency business that can meet your business goals. Some banks such as JPMorgan Chase and Bank of America have voiced their dissatisfaction with cryptocurrency. While numerous traditional banks are still against cryptocurrencies, there are some influential financial players such as Goldman Sachs that have embraced innovation in blockchain technology. Alternatively, businesses may also seek digital banking services which are more crypto-friendly. 
Tetra Consultants assists our international clients with opening a bank account with best offshore bank for cryptocurrency businesses suited to their needs. We have secured partnerships with various reputable banks around the world which have access to well-developed facilities and will leverage this banking network. Therefore, our team of experts understands the different requirements of each of these banks and will recommend one that is appropriate for you.
Contact us to find out more about how to open an offshore bank account. Our team of experts will revert within the next 24 hours.