With a good geographical location, political and social stability, starting a business in Luxembourg is increasingly popular with foreign investors. If you would like to start a business, it is important to understand more about setting a holding company there. In this article, our team at Tetra Consultants will highlight 7 reasons why do companies set up in Luxembourg once you decide to register company in Luxembourg.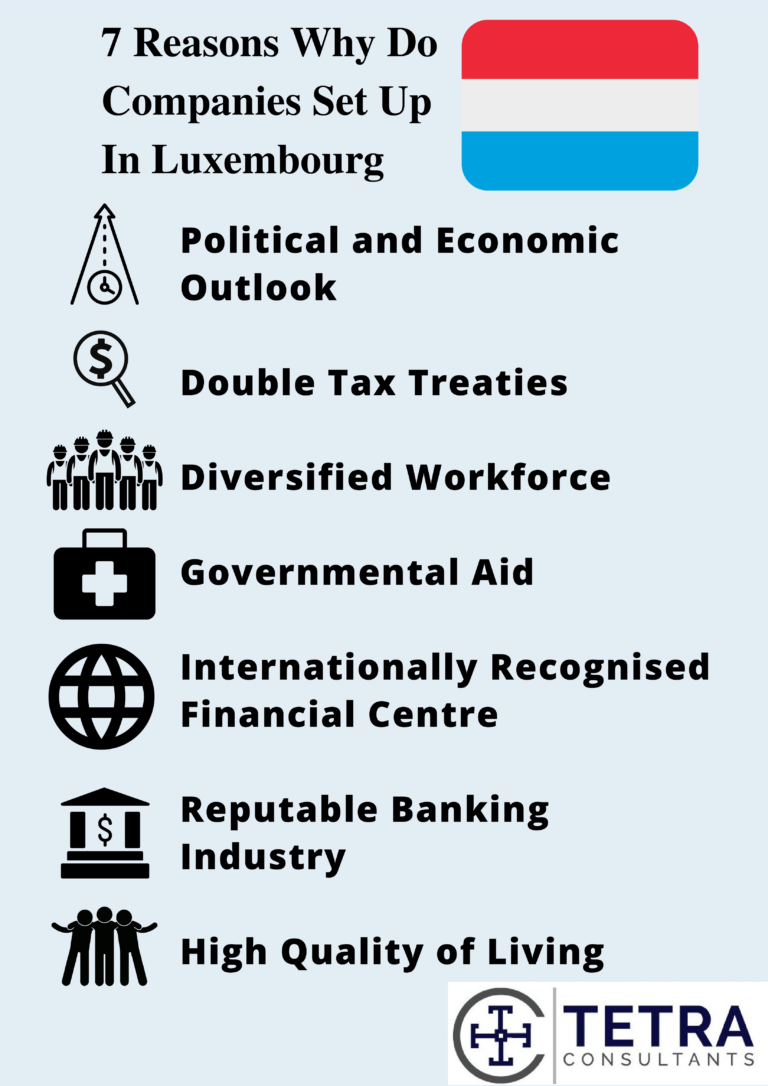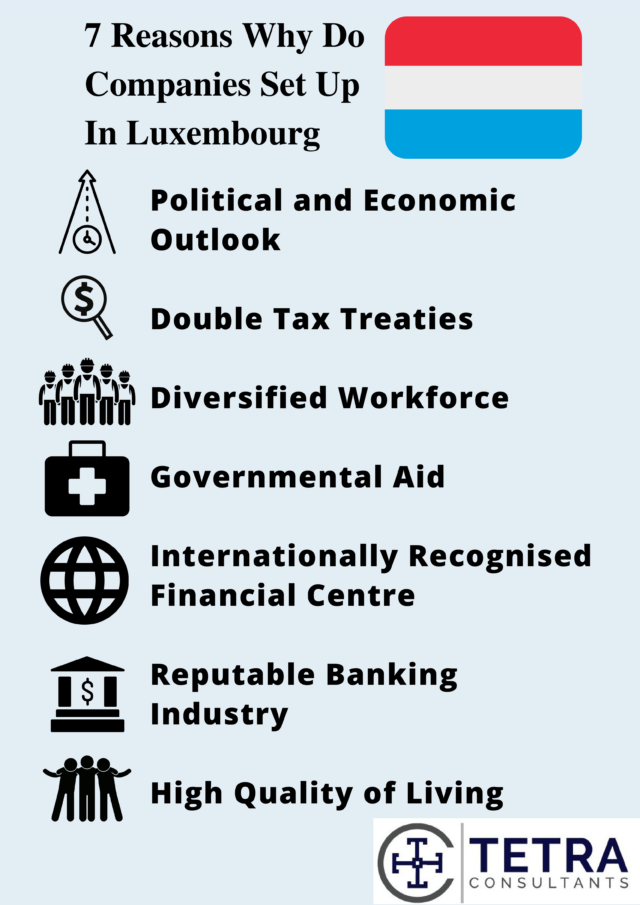 1. Political and Economic Outlook:
Luxembourg is well-known for its healthy economic environment. With a government that is open to social dialogue, the political framework in Luxembourg is relatively stable, with one of the lowest levels of public debt in Europe. The stable economic outlook can be seen from the AAA rating, which implies that Luxembourg would be able to withstand an economic fallout of a health crisis. Therefore, the conducive economic and political environment is a good reason to the question of why do companies set up in Luxembourg.
2. Double Tax Treaties:
One of the reasons why do companies set up in Luxembourg is the tax-friendly system. Luxembourg has signed double taxation treaties with 82 countries around the world, including powerful nations such as the United States, China, and Russia. Additionally, Luxembourg signed the double tax treaties with all European Union member states, and the Organisation for Co-operation and Development (OECD). This attracts many entrepreneurs to set up their businesses in Luxembourg due to the tax-efficient business arrangement made available by the Double Tax Treaties.
3. Diversified Workforce:
The workforce in Luxembourg is made up of lots of foreign nationals, leading to an open and multicultural workforce. This multicultural workforce allows for more efficacy. This is due to employers being able to source for people who are highly specialized in their fields, who come from different parts of the world. Furthermore, work permits are not required for employees from the European Union, increasing the ease and speeding up the process of employment once a potential employee is spotted. This allows them to employ someone who is best suited for the job, increasing productivity. Although English is commonly used in the business context, Luxembourg has 3 official languages, namely French, German and Luxembourgish. This allows for easy communication for many entrepreneurs who have knowledge of different languages. However, with the strong workforce, it is also important to note that your company would be required to comply with the employment regulations of Luxembourg, such as the 40 working hours per week, and the monthly minimum wage is present for both skilled and unskilled workers as well.
4. Governmental Aid:
The support from the Luxembourg government is definitely present where they provide measures the support entrepreneurs who wish to start a business in Luxembourg. These programs help to promote innovation and global expansion, in the form of financial aid. The government provides investment loans, interest subsidies, export credits, and special guarantees or subsidies. This is applicable to different fields, such as Research and Development. There are also initiatives that allow entrepreneurs who are starting up a company to meet investors for funding.
Luxembourg also provides support through entities such as the Chamber of Trades, the Chamber of Commerce, the House of Entrepreneurship, and Luxinnovation, where they can receive advice that is able to aid them in the process of starting up a company in Luxembourg.
5. Internationally Recognised Financial Centre:
Ranked first in terms of the most international financial center in the world, Luxembourg's financial center is highly recognized around the world, where international activity represents 60% of its total activity. This allows Luxembourg to raise large-scale investments and capital, through means of listing the bonds on the Luxembourg stock exchange. This can be seen from Luxembourg being the second largest investment fund center in the world. This not only helps to stimulate the Luxembourg economy, but it is also beneficial for businesses. 
6. Reputable Banking Industry:
Luxembourg has a reputable banking industry, where setting up a bank account is very straightforward. Furthermore, there are many cases where opening an account be done fully online, and would not require you to be at the bank physically. Furthermore, Luxembourg hosts 128 banks of 27 different nationalities, which shows the strength of the banking industry. The multi-currency accounts that are commonly available in Luxembourg make the process of dealing with business from around the world a much easier one. It would also be much easier when it comes to transferring your earnings to your personal account.

7. High Quality of Living:
Ranked as the 12th most popular destination for ex-pats, Luxembourg provides a high standard of living for people in the country. With a generous healthcare system, an abundance of green space, and well-developed infrastructure, Luxembourg is definitely an ideal location for you to consider when looking for a country to settle down as an entrepreneur. Furthermore, the free public transport system is definitely an attractive point. However, especially during rush hours, the saturation of the transport system in Luxembourg might bring about minor inconveniences. Yet, this should not be a major concern for you, as solving this issue has become a priority for the government, where they are actively investing resources and taking measures the mitigate the situation. As the safest city in the world, you could be stress-free as you would not need to worry too much about your safety and security. However, note that the higher quality of life in Luxembourg comes with a higher cost of living, with food and leisure activities being slightly more costly than the neighboring European countries.
Conclusion:
There are definitely many reasons as to why do companies set up in Luxembourg. If you thinking of setting up a company in Luxembourg, you may engage the service of Tetra Consultants. With Tetra Consultants by your side, the registration process of your business in Luxembourg will be smooth and hassle-free. Our comprehensive service package includes planning and strategizing with our clients to select a suitable business entity, completing the registration process, obtaining required licenses, opening a corporate bank account, trade license application and financial reporting and taxation obligations. 
Contact us to find out more about how to register a company in Luxembourg and our dedicated and experienced team will revert within the next 24 hours.